Jowar Flour Flatbreads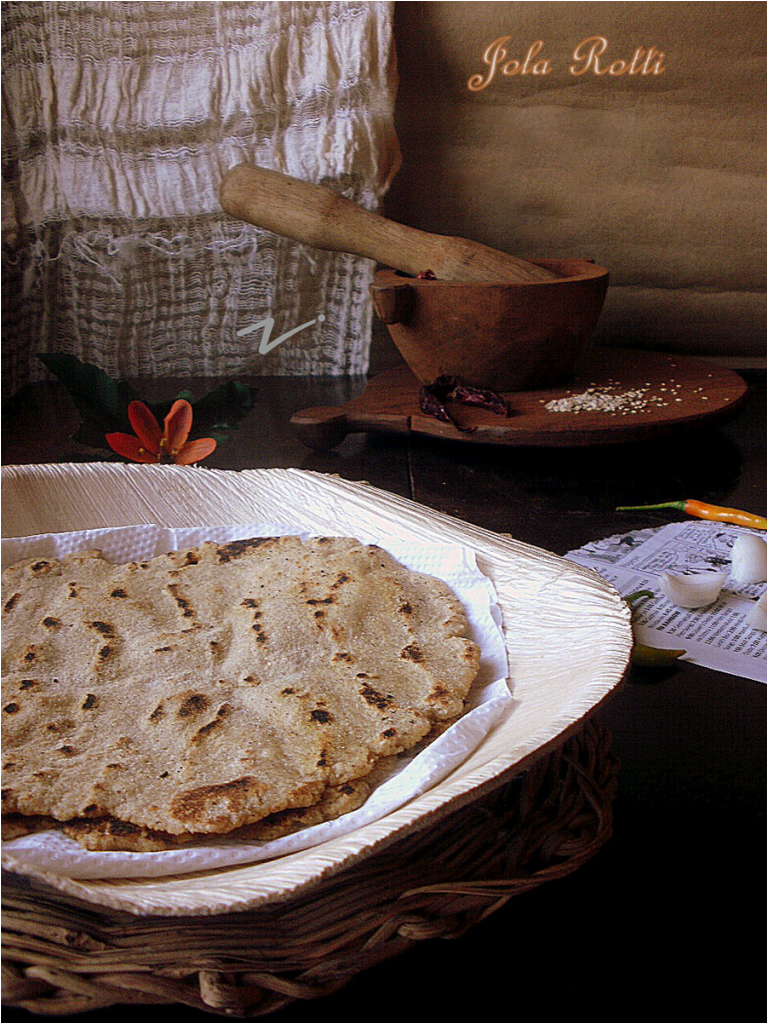 A typical South Karnataka meal differs a lot from the North Karnataka cuisine. A South Karnataka meal mainly includes seafood owing to its nearness to the sea. Rice is a staple of this region and is served with all traditional curries or raw rice is ground and batter thinned down and made into soft and thin rice crepes called neer dosa. Another special of this region – Shemige is also made from rice.
An everyday North Karnataka meal will include bhakris/ thin flatbread made from either bajra flour (pearl millet), Wheat flour, Jowar flour. Bhakris are unleavened bread cooked over fire or on an iron pan. When cooked the traditional way on an iron pan, it will lend the bhakris an authentic smoked flavor that is impossible to replicate on modern non-stick pans.A spicy gravy of locally grown vegetables is served alongside the piping hot flatbreads. A typical farmer from this region would also munch on some raw onions or hot chillies in between! A generous helping of freshly churned homemade butter is usually included, probably to tone down the spice levels from the chillies!
The bhakris may also be served with another special dish from this region called 'Jhunka' which is a spicy mixture made from chana dal flour. A variety of mouthwatering spicy chutneys also often accompanies the flatbreads.
This reminds me of an authentic North Karnataka meal I had once in Bangalore. The ambience of the restaurant was pleasant and typical of a village with the dishes served in traditional utensils & dinner ware. The bhakris were made fresh right in front of us by a lady from the North region itself. An all you can eat buffet with the waiters more than happy and content to serve you a big helping of all dishes each time you went near the buffet table! The setting was so serene, the people so welcoming that one would automatically tune off the sound of traffic and be mentally transported amidst a velvety green field in some part of Northern Karnatak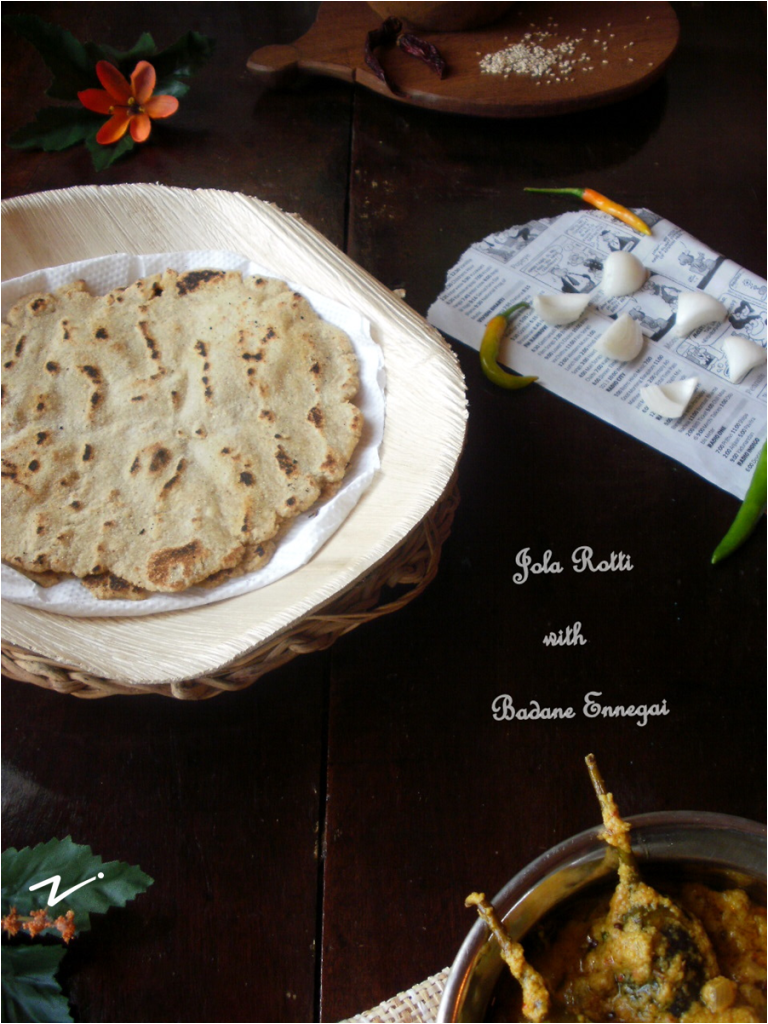 Even with the vast difference in food and culture within the State, the common ingredient that ties both the North & South Karnataka is their love for simple and healthy food made from simple homegrown and locally available grains or vegetables.
This flatbread is to be served with another special dish of North Karnantaka – Badane Ennegai, eggplants in spicy tamarind sauce.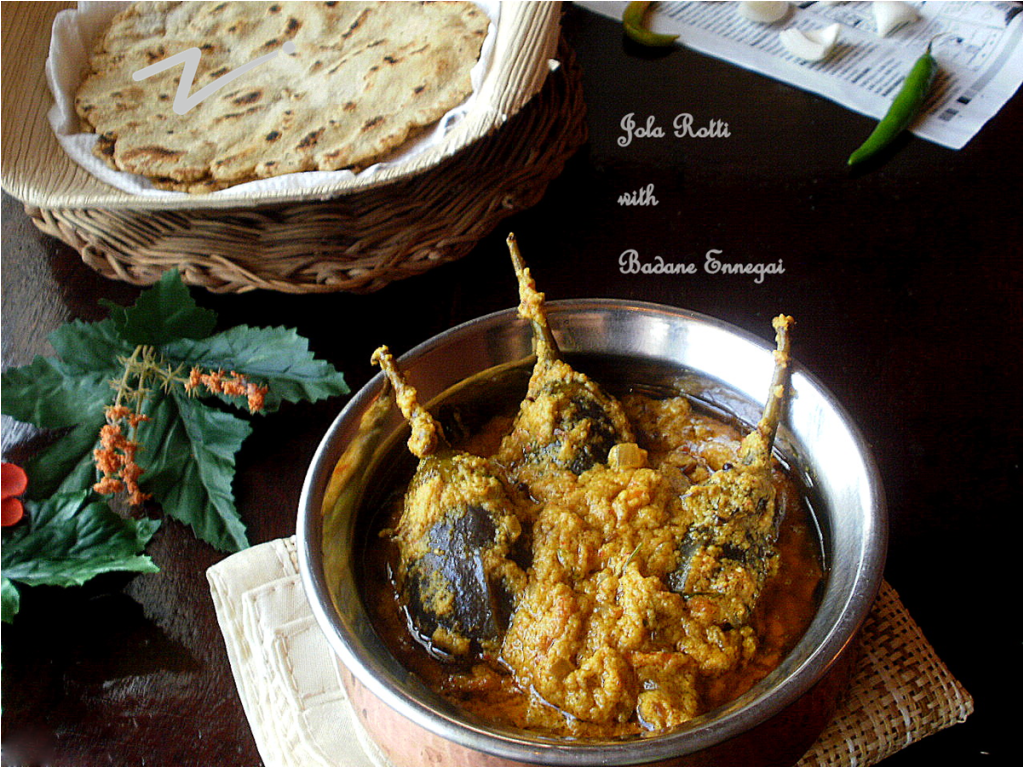 Jola Rotti
Jowar flour flatbreads of North Karnataka
Jowar Flour (Sorghum Flour – 500 gms ( ½ kg ))
Salt – to taste
Red Chilli Powder (optional – ¾ tsp)
Warm water – as required to knead into a dough
A little jowar flour for dusting
Few drops water to cook rotis
To serve
Badane ennegai
Fresh white butter
green chillies
In a mixing bowl put the jowar flour, salt, chilli powder. Mix lightly.
2) Gradually add in some warm water a knead into a slightly stiff dough. Cover with a wet cloth ansd set the dough aside for 20 mins.
3) Then knead once again and divide into big lemon sized balls. This quantity should yield about 12 portions approx depending on the size.
4) Place the dough on a floured flat surface such as a marble rolling board, flatten it and roll out/ spread the dough with your palm into a thin flat discs. Dust with flour in between if it sticks.
If you find it difficult to remove and transfer to pan, lightly grease the surface before you roll out the dough.
You may also place the portions on a lightly greased clean plastic mats (specially meant to roll out rottis etc) and dust with some flour and roll out.
5) Carefully transfer onto a hot iron tava/ iron griddle and cook over medium heat.
When the bottom side of the roti turns slightly dry, sprinkle very little water on the upper side and press with a cloth and continue to cook until the water evaporates very slightly.
Then flip and cook the other side till done. Keep pressing with a cloth so that the rotis puff up in some places. When cooked, brown spots appear on both sides.
Serve hot!