Having assumed that the making of the
Short Crust Pastry
itself would take a lot of time ( and I was not even sure if the experiment would be a success mind you) I chose a simple filling. After browsing through pages & pages of savory tarts recipe, I finally came upon this recipe – a mixture of the various recipes I came across! If the base fell apart, i could at least use the filling as a topping for toasted bread or baked bread moulds or for canapes etc..Well…you get the point..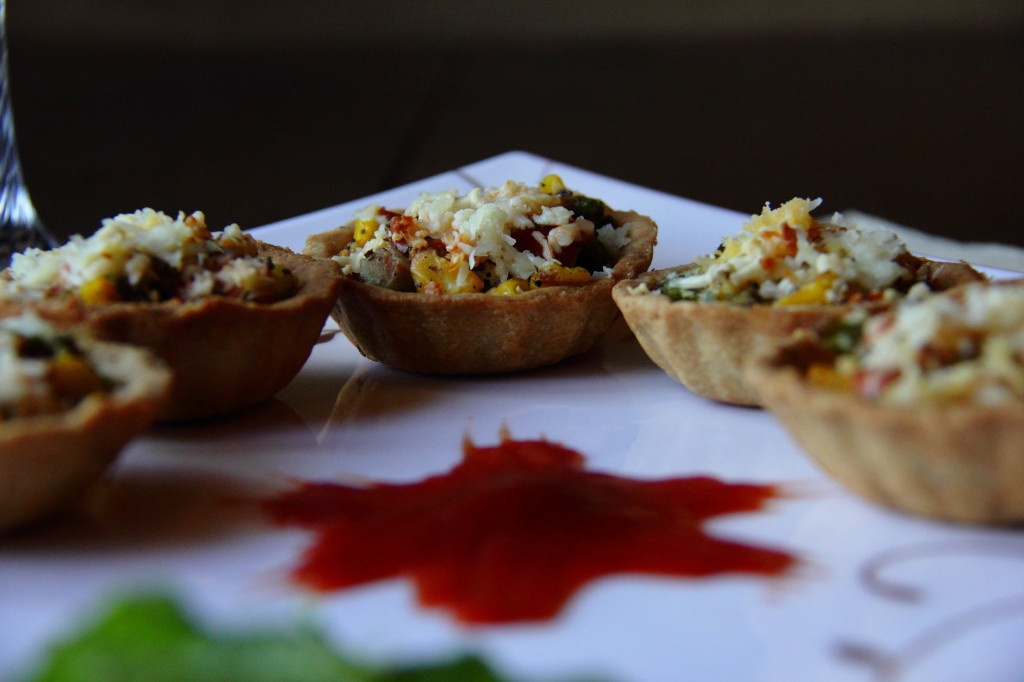 I was worried for nothing as the base came out of the oven basking in all the glory. The simple filling actually worked perfectly with the wheat short crust pastry. The chilled butter used for kneading the base did lend it a slightly flaky & layered texture.I would suggest you use a blend of wheat flour & plain flour as the recipe states as wheat lends a nice taste & aroma.
So you don`t need heavily spiced filling or an overload cheese..Corn and Mushroom based filling topped with tangy tomato puree is quite light ( for a tart ), easy & hassle – free to put together. And like always, I`m not very generous when it comes to adding cheese to any recipe. Hard core cheese lovers too I`m sure will be sufficiently satisfied (read : satisfied enough to ask for a second helping) with just a few sprinklings of cheese the recipe calls for.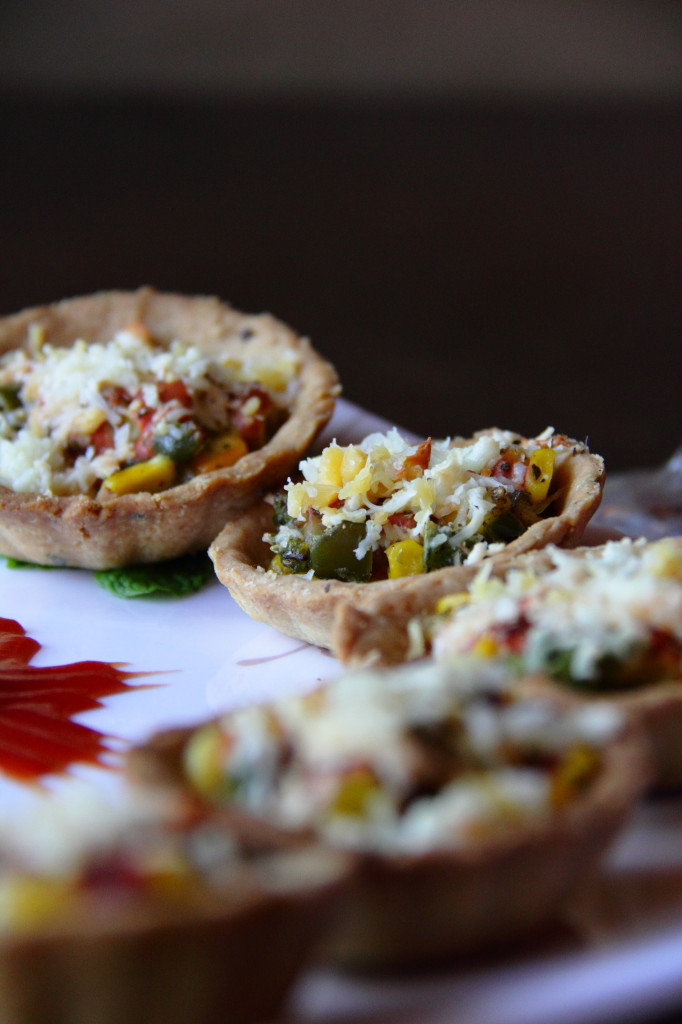 My mantra here is : It is necessary to indulge but in moderation…
And so my conclusion : this savory tart recipe meets the requirement for a tasty, easy to make & easy to eat finger food!!


Check out the recipe for the base/ short crust pastry here.
Corn Tartlets
Easy corn filled tartlets!
For the base
15 tart cases/base – blind baked
For the filling
Olive oil – 1 tbsp
Butter – 1 tbsp
Onion – 1 medium
Boiled corn (frozen – ½ to ¾ cup)
Sliced tinned mushrooms or chopped green capsicum -1 cup
Dried Oregano – 1 ½ tsp
Salt – to taste
Black pepper powder – to taste
Grated cheese (cooking cheese – 4 to 5 tbsp)
Chopped jalapenos (optional – 2 tbsp)
For the sauce
vary quantity as per taste
Tomato puree (tetra pack – ¼ cup)
Cornflour – 1 ½ tbsp
Salt – a pinch
Black pepper powder – to taste
Chopped fresh coriander leaves – 1 tsp
For topping
Grated cooking cheese or mozarella – 1/3 cup (or as desired)
dry oregano (chilli flakes – to sprinkle on top)
For the filling
In a non-stick pan, heat oil & the butter. Add the onions and sauté till they soften. Do not brown them.
Add sliced/ chopped mushrooms and sauté till moisture leaves the mushrooms and turns dry. Or if adding capsicum, add now and sauté for 2-3 mins. You could even add a little of both.
Add the boiled corn, chopped jalapenos and mix for 2-3 mins. Add the seasonings and oregano and mix for a minute or two. Remove from heat and immediately add the grated cheese and mix well. Set the filling aside till serving time.
For the sauce
Mix all the ingredients in a bowl.
Proceed
Take the prepared (pre – baked) tart base and keep a tbsp or two of the filling depending on the size of the base. Pour a tbsp of the sauce over the top. Sprinkle grate cheese, oregano, chilli flakes.
Bake at 190 C for 5 to 7 mins or till cheese melts. Then let cool for 10 mins and serve as a starter with your favourite mocktail or along with soup.
Variations for the filling :
You can skip the mushrooms and add 1 ½ cups boiled corn instead.
May add a tbsp or two of chopped green olives too.