Festivals, vacations and family gatherings call for memorable dinner parties. Dinner party planning include entertainment, music, decorations, venue et al. And one thing that is bound to take center stage is the dinner menu. Loads of pre-planning has already begun. Menu should of course be such that it can be prepared easily in larger quantities and does not need too many last minute assembling. For the host needs to enjoy the party with family and friends too, right? Paneer is one ingredient that will most of the time be present at the buffet table and is always the most sought out one! Paneer Makhni, koftas, tikka masala, pasanda, kadai are some of the popular paneer gravies at dinner parties.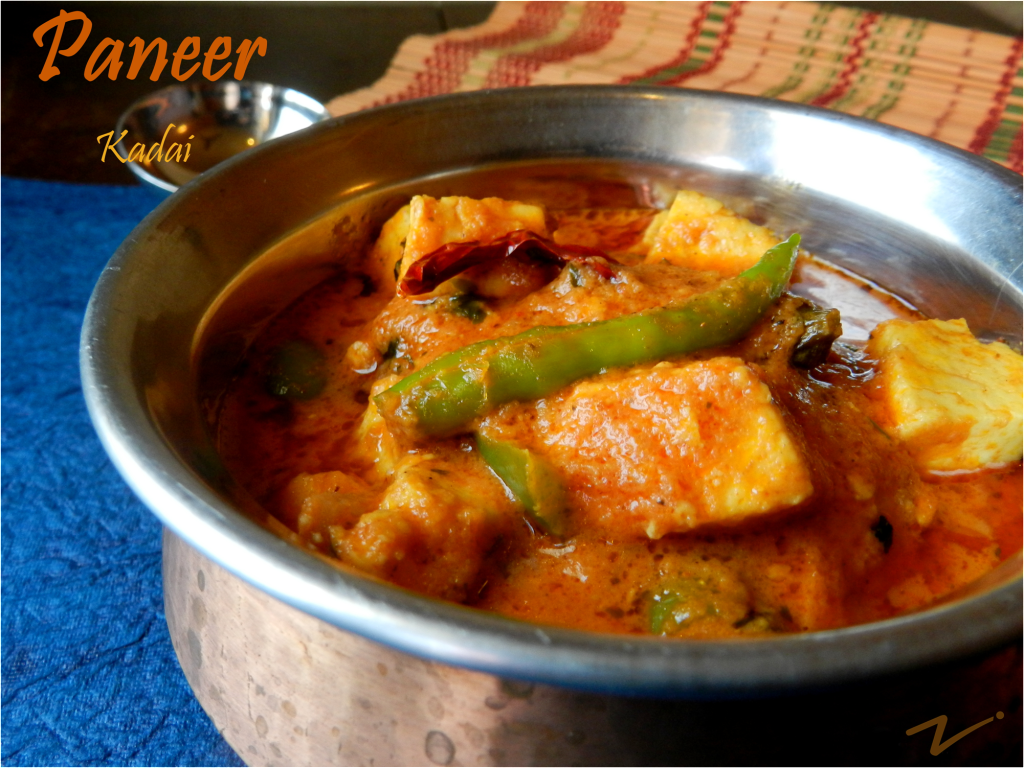 Makhni, as the name says, has the aroma of butter and is a tomato based gravy. For a tikka masala, paneer tikkas are immersed into spicy & hot onion-tomato gravy. Koftas are dumplings of paneer in a rich and creamy gravy. 'Pasande' meaning 'the favorite one' is yet another royal dish where thin slabs of paneer are fried after coating in a marination. They are then immersed into a rich mughlai style gravy consisting almonds, coconut milk, cream.
For today, its `karahi` or `kadai` paneer. A kadai/ karahi is a deep, thick, circular cooking pot with a rounded bottom similar to a wok. Traditionally kadai made of cast iron were used but today they are even made of stainless steel.
The `kadai` is used for deep frying. Some gravy based dishes are also made in a kadai. And the paneer kadai is one such dish.
Paneer kadai has soft chunks of paneer immersed in a spicy tomato-onion based masala. They are usually semi dry but variations can be made as per taste. The dominant spices in a kadai gravy is coriander and dry red chillies. They are both lightly roasted and pounded in a mortar and pestle or a mixer coarsely and added to gravy. Capsicum is another ingredient that is a must in a kadai gravy.
While there are days I make a kadai gravy with freshly ground tomato paste, I sometimes rely on this simplified version for equally satisfying results. Here you may pound the the coriander-red chillies and add or if short of time opt for chilli powder and coriander powder straight from your spice rack. This dry kadai masala of coriander and chillies can be made in larger quantities and stored for few days and use when required.
And not to forget, this dish is perfect for your buffet table!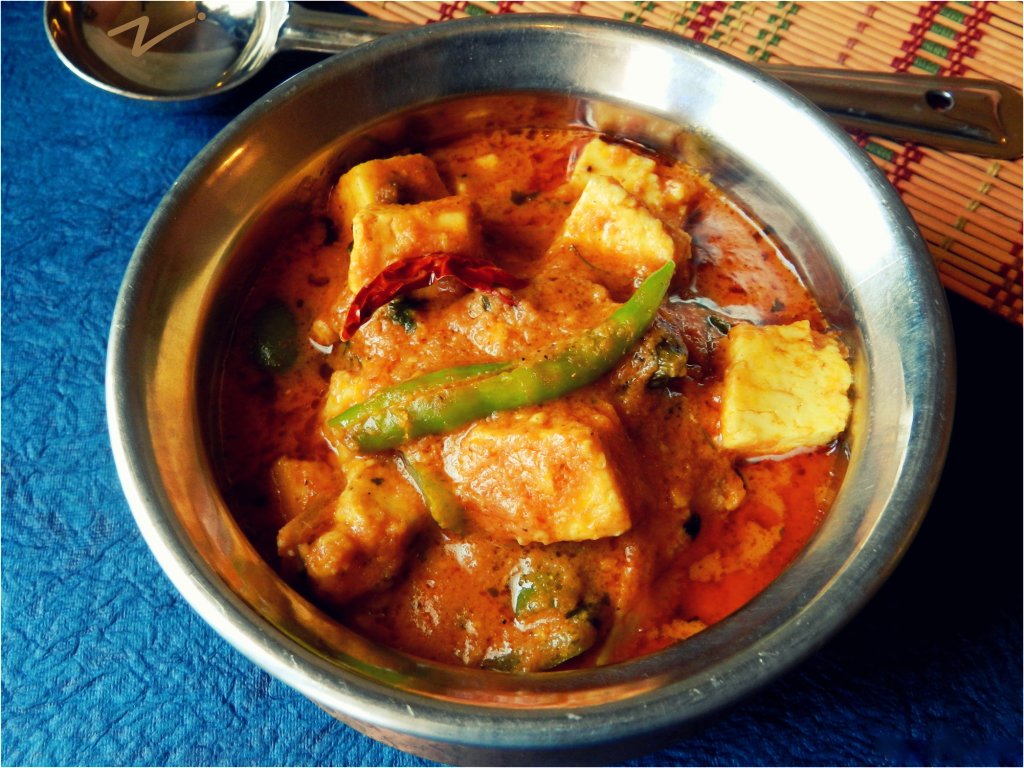 Paneer Kadai
Paneer dunked in spicy onion & tomato gravy
Paneer cubes – 200 gms
Capsicum – 1 small
Green chillies -1-2
Vegetable oil – 3-4 tbsp
Onions – 2 medium to big
Ginger garlic paste – 1 tsp
Dry red chilli – 1 (chopped and deseeded)
Tomato puree –150 ml (tetra pack OR about 3-4 big tomatoes pureed to get 1 cup)
Salt (sugar – to taste)
Kasuri methi – 1 tbsp plus ½ tsp
Cashew paste -3 tbsp OR fresh cream – 3 tbsp
Spice powders
Red chilli powder – 1 tsp
Coriander powder – 1 ¾ tsp
kadai masala (recipe below – optional)
Turmeric powder – ¼ tsp
Garam masala powder – 1 ¼ tsp (or kitchen king masala)
Serving suggestions
Indian bread or toasted bread
Wash capsicum and cut into medium cubes. Slit the green chillies. Peel and cube onions and grind to a paste. Grind about 2 tbsp cashew to a paste with little water if adding.
Heat 1-2 tsp oil in a thick bottom pan/ non stick pan (else paneer will stick to pan), sauté together capsicum, slit chillies, paneer cubes and 1 tsp kasuri methi lightly till you get the aroma of capsicum. Remove and set aside.
To make gravy, heat 3 to 4 tbsp oil in a saucepan or kadai. Add onion paste and fry till oil starts to separate. Add ginger garlic paste, chopped dry red chilli and fry 1 minute.
Add turmeric, coriander powder, chilli powder/ kadai masala if adding, sauté 30 seconds.
Add tomato puree. Mix and sauté for 5 mins or till oil separates.
Add cashew paste if adding, little water for some gravy and cook for a minute.
Add fried paneer-capsicum, salt, ½ tsp sugar, kasuri methi, garam masala. Stir and simmer for few mins. Do not cook for too long.
Lastly add cream if adding, mix once and remove from heat.
Serve hot with naan, kulchas, tandoori rotis, phulkas, roomali rotils, chapathis. Or try serving on top of toasted bread too!
For homemade kadai masala, heat 1 tbsp oil (or dry roast) and fry 1 tbsp coriander seeds and 4 to 5 whole kashmiri dry red chillies till aroma emits/ roasted lightly. Remove from heat, cool and grind to coarse powder without water. Add to kadai gravy as per taste. In that case adjust/ add chilli and coriander powder only if needed.