……ridge gourd & corn in a coconut milk gravy
Another post to share another of our family favorite recipe with you all but have to force myself to type away the words. Yes, while I enjoy cooking & clicking, finally posting and sharing the taste and experience in words is sometimes not an easy tastk. Sigh, how I wish the sentences and words that are framed in my mind magically appear on the screen! To put it in plain and simple words, it is nothing but pure fantasy! While it never will happen in reality, it gives me a chance to engage in day dreaming for a little while. The ringing of the phone brings me back to reality. But I continue and ponder upon this fantasy.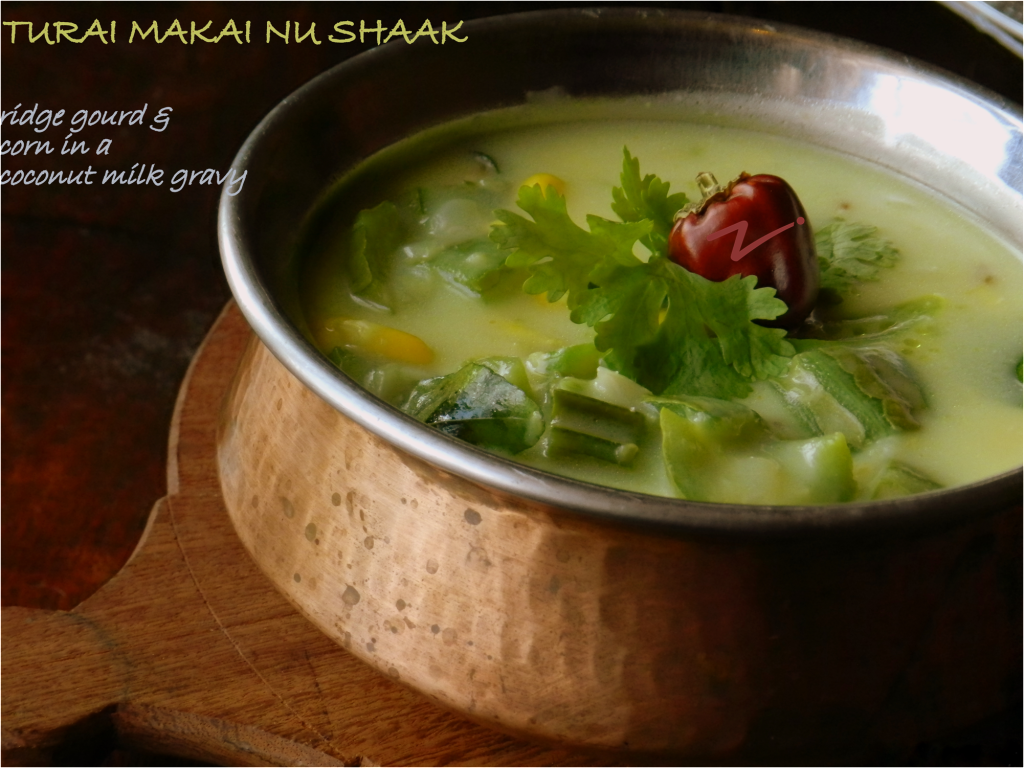 A century ago, did one imagine that it was possible to engage in a long & visual conversation with someone on the other side of the world? And then again, some one who day dreamed about it being possible was probably laughed at! A passing thought in my mind one day as I was day dreaming was to transform vegetables like bitter gourd or ridge gourd or similar vegetables sometimes not given the importance they deserve into a dish that will be the highlight at the lunch or dinner table.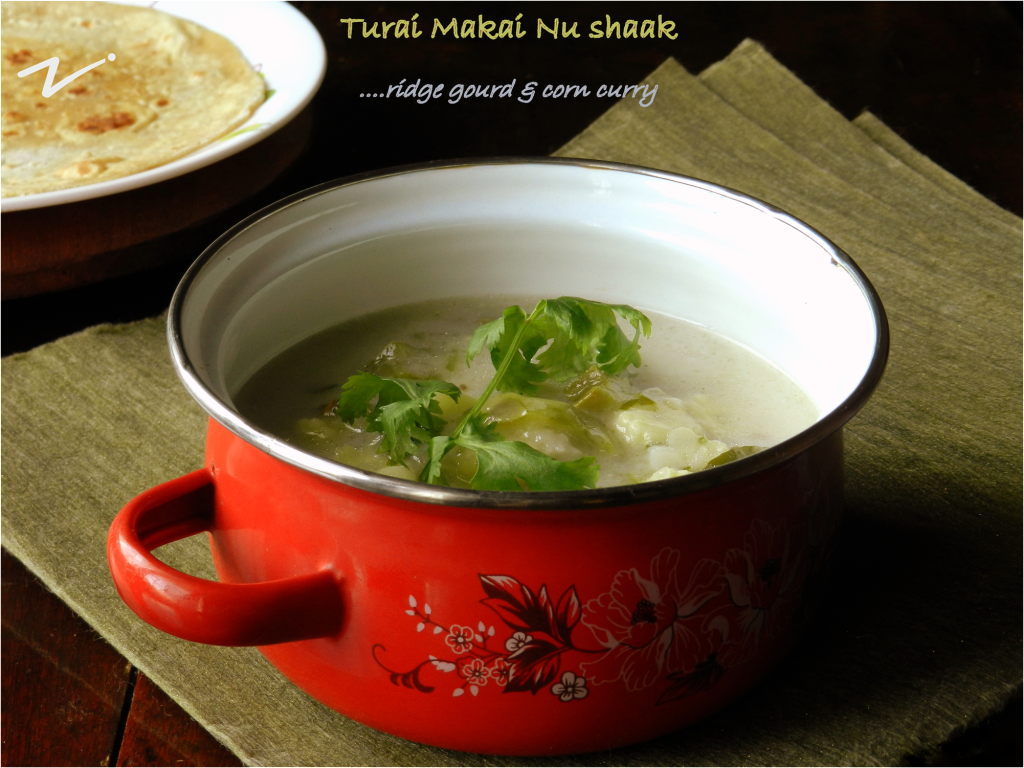 While the first mentioned fantasy of mine remained just that, a fantasy, the second once in fact did happen in reality! The ridge gourd, otherwise made into a simple stir fry most of the times, paired wonderfully with corn and tasted simply fantastic in a coconut milk gravy. The gravy is mildly spiced with undertones of sweetness from the coconut milk & a dash of sugar.
No doubt its a curry to be repeated many times….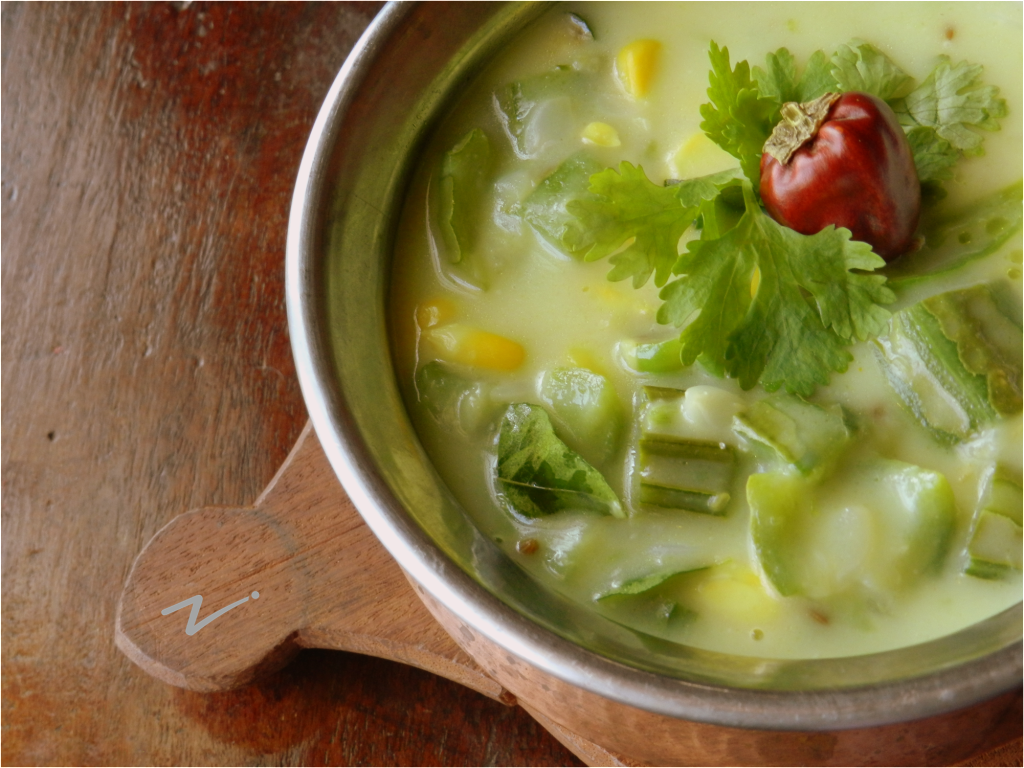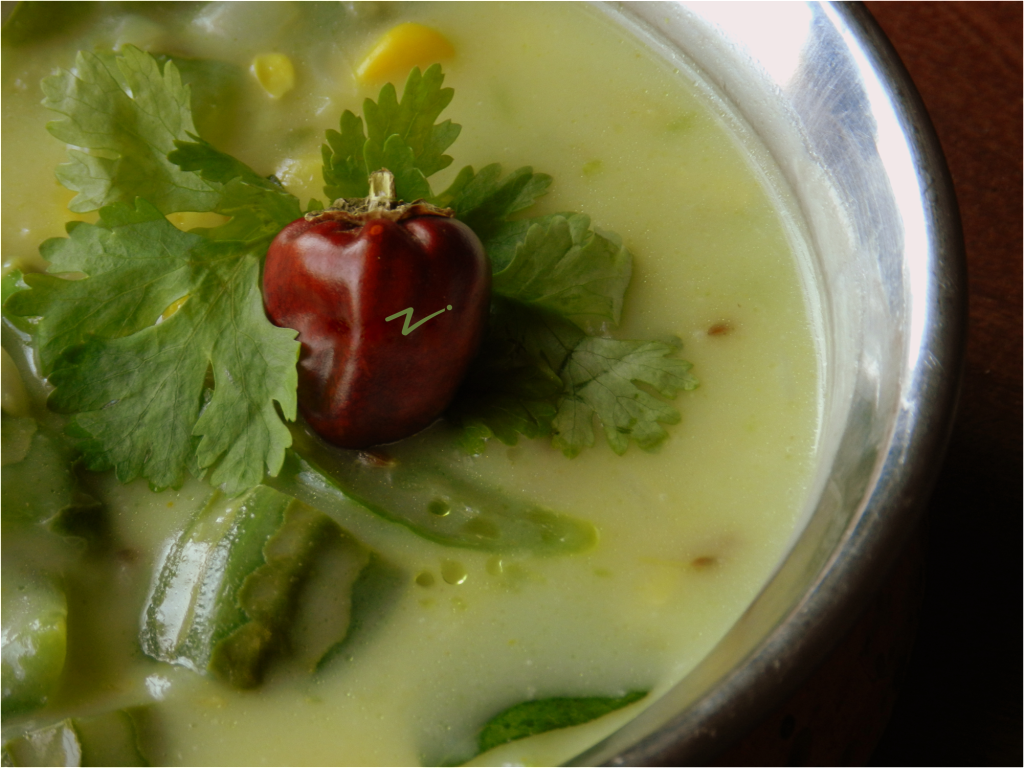 Turai makai nu shaak
Ridge gourd and corn in sweet and spicy coconut milk gravy
Oil – 1 tbsp
Cumin seeds – 1 tsp
Green chillies (slit – 2 to 3)
Curry leaves – 6 to 8
Ridge gourd – 500 gms
Corn kernels (frozen or fresh – ½ cup (OR 12 baby corns))
Ginger – green chilli paste – 2 tbsp
Turmeric powder – ¼ tsp
Sugar – 1 tsp
Thin coconut milk – 2 cups
Corn flour – 1 to 2 tsp
Salt – to taste
Garnish
fresh chopped coriander leaves
To serve
Wash, skin/ lightly peel ridge gourd. Then cut into 2 inch pieces (cube). Boil corn/ baby corn till cooked.
Prepare ginger-green chilli paste (about 1 inch piece ginger & chillies as per taste or 3 to 4).
Extract thin coconut milk (second extract consistency). For method to extract, click here or see notes below. Then mix coconut milk with corn flour, set aside.
In a heavy bottom saucepan heat oil. Add cumin, slit green chillies and curry leaves, let cumin sizzle. Then add cubed gourd, little water. Cook till they turn soft. In case there remains too much excess water, drain.
Then add boiled corn/ baby corn, ginger-green chilli paste, sugar, turmeric, coconut milk-corn flour (stir once before adding), salt.
Stir and cook till mixture comes to a boil. Remove from heat when a bit thick. Do not over boil the gravy or else the coconut milk will curdle.
Garnish and serve hot with chapathis, plain rotis.
You could try using ready coconut milk/ coconut milk powder. Dilute with some water if too thick. But make sure its of good quality as it is the main taste of this dish.
To extract thin coconut milk, add 2 cups water to approx 1 cup fresh grated coconut & blend in a mixer. Then strain through a sieve to extract coconut milk of semi thick consistency. Adjust water & the coconut quantity as required. This is only an approximate.