Potatoes sauteed with cumin, a Punjabi delicacy…
Potato is a vegetable you will find in almost all cuisine recipes, be it Indian, Spanish, Italian, English, American, African and so on. Simply cook and mash them, add few seasonings and a dollop of butter and you have the ever popular and creamy mashed potatoes. Bake potato wedges with few herbs for moreish potato wedges. The sinful and addictive french fries need no introduction! Soft potato gnocchis make for a sumptuous meal.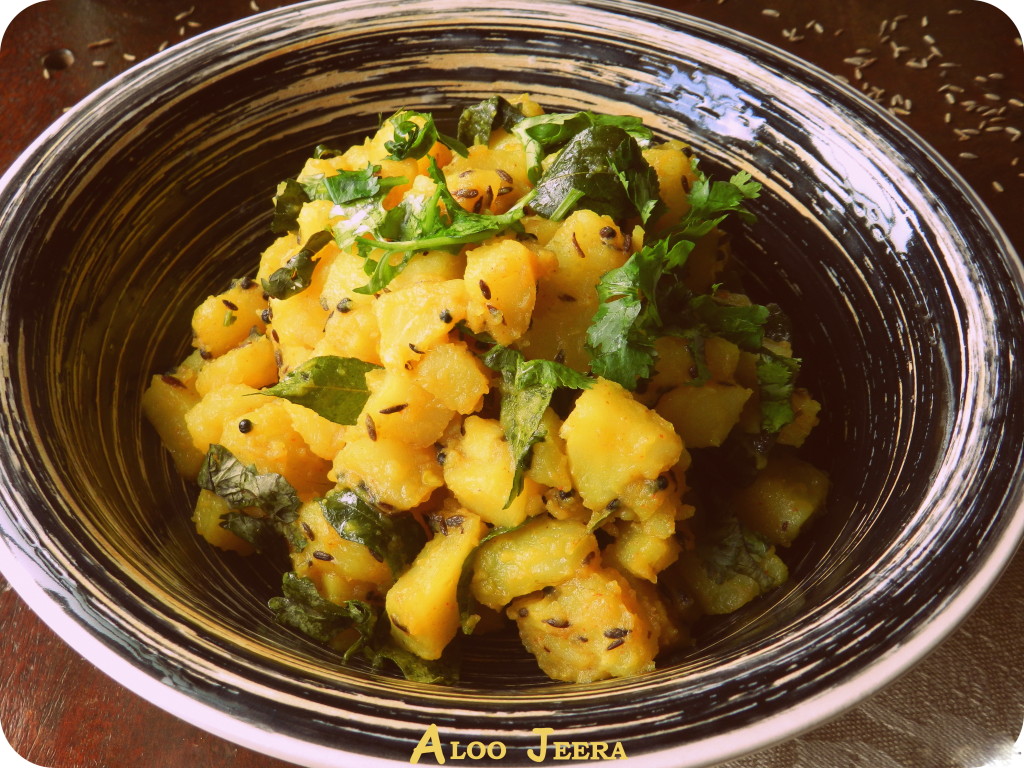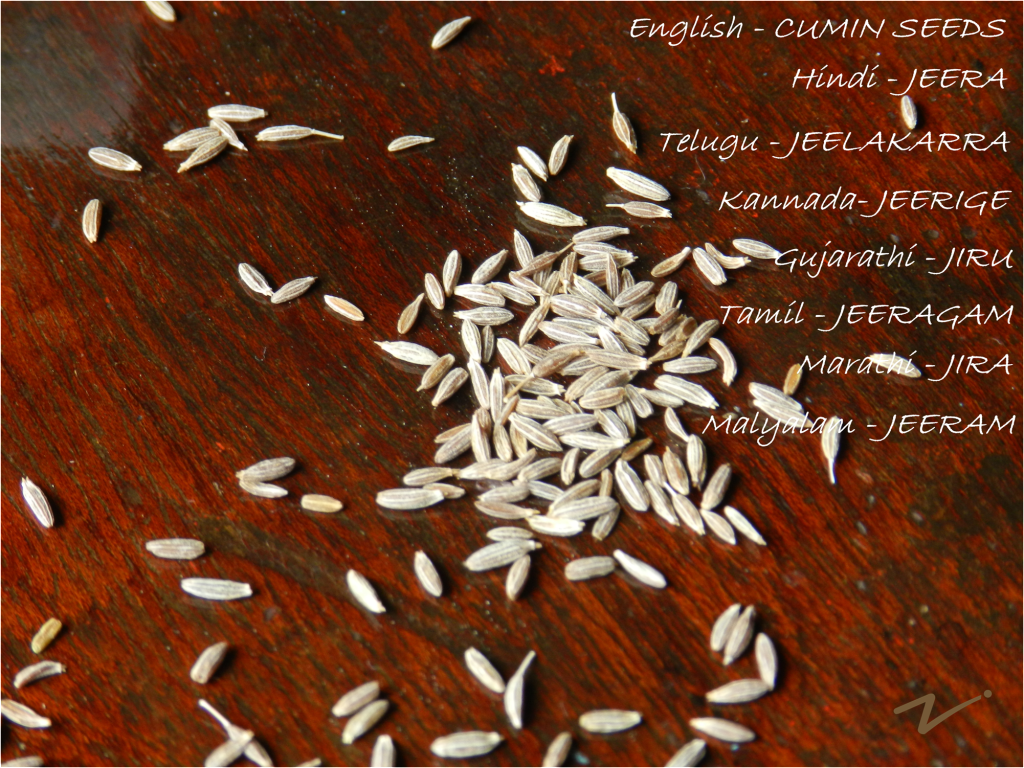 Back home in India, potatoes (aloo in hindi) are a must in almost all homes. The South Indians relish them in form of batata bhaji (potato baji) served with puris or dosa. Or they are mashed with few spices synonymous with south indian cuisine, dipped and gramflour batter and deep fried to make hot bondas!
The gujarathis love their batata nu shaak with rotlis. Think potatoes and the indian street food comes to mind – buttery pav bhajis, spicy vada pavs, ragada pattice dished out by the street vendors! Kashmiri dum aloo is another dish that is relished all over the country. Here, baby potatoes cooked in spicy and aromatic yogurt gravy is a dish you will remember fondly for a long time! More versions of the 'Dum aloo' can be found all over the country, like the Bengali Dum Aloo, Mughlai Dum Aloo. I have even come across recipes where the humble potato is used as a star ingredient in sweet dishes to make potato halwa or the potato burfi!!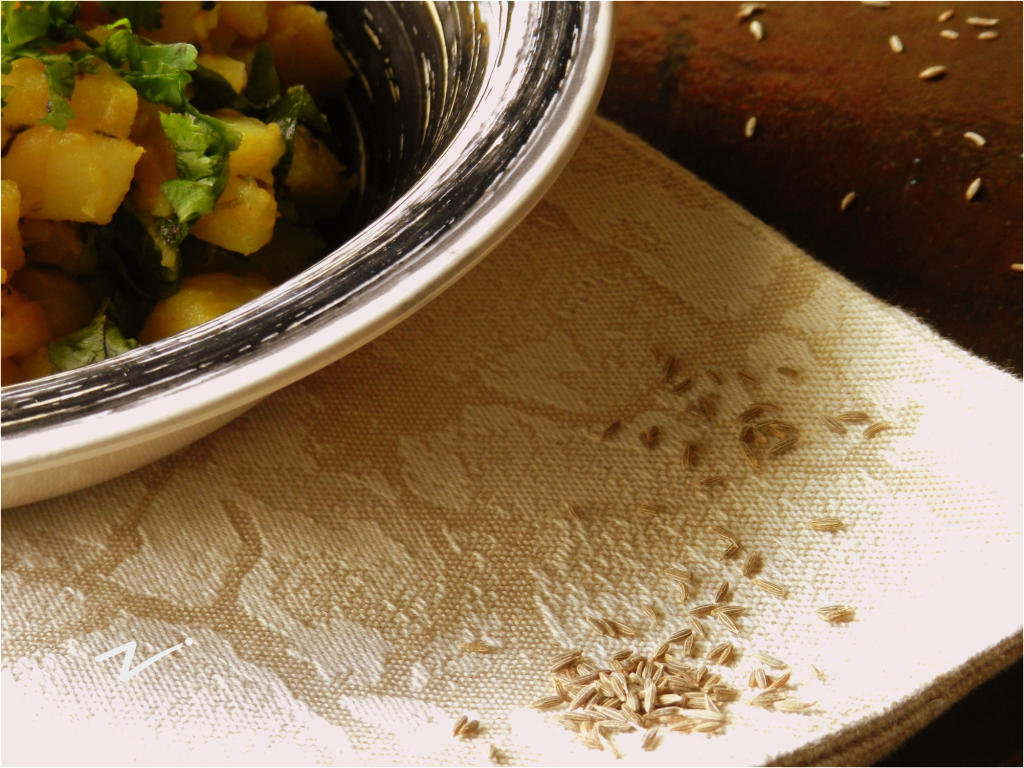 * The English word potato comes from the Spanish word patata.
* There are about 5000 potato varieties worldwide.
* The first potato was domesticated in the region of modern day Peru and extreme northwestern Bolivia.
* Potatoes when cooked the right way are not fattening. Its deep frying them oil that makes it a high calorie food.
* Potatoes are rich in vitamins and minerals.
I could go on and on and list many more delicacies made from the humble/ exotic vegetable. Let me mention few more of them in future posts. For now its over to today`s post – Aloo Jeera.
Jeera or cumin seeds as called in english language is an earthy flavored spice which is again popular in many cuisines. It is the dried seed of the herb Cuminum Cyminum, a member of the parsley family. This warming spice has been used in cooking since ancient times particularly in Mediterranean cuisine.
The pungent spice, cumin, aids in digestion and related problems. It is also rich in iron and so beneficial against anaemia. Cumin also has considerable amounts of vitamin C and vitamin A and thereby boosts our immunity system.
And so here is a perfectly paired and aromatic dish – carbohydrate & minerals enriched potatoes paired with earthy flavor and goodness of cumin. Both these ingredients are the star of this dish which blend in perfect harmony and leave you craving for more!
Aloo Jeera is a real treat for potato lovers!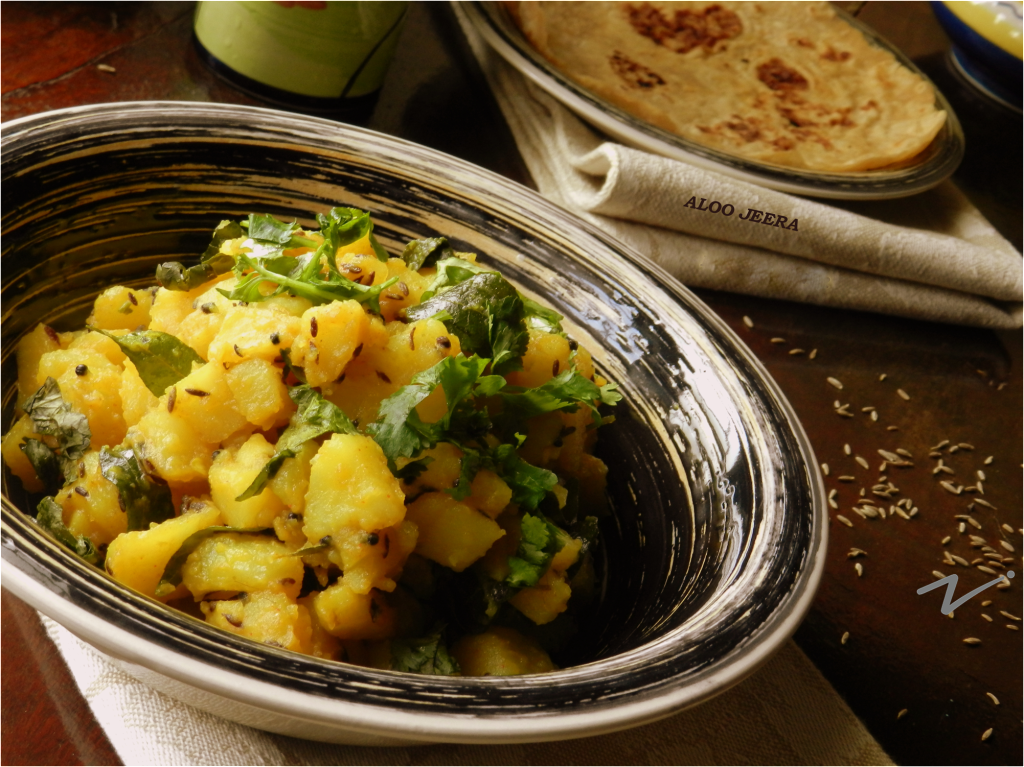 Aloo Jeera
Potatoes flavored with cumin
Potatoes – 3 to 4 (medium to big sized)
Cumin seeds (jeera – 1.5 tsp)
Mustard seeds (rai – ½ tsp (optional))
Onion seeds (kalonji – ½ tsp (optional))
Curry leaves – 8
Green chillies – 1-2 or to taste
Hing/ asafoetida powder – 1/8 tsp
Coriander (dhania powder – 1 tbsp)
Cumin (jeera powder – ½ tsp)
Turmeric powder (haldi – ¼ tsp)
Red chilli powder – 1 tsp or to taste
Salt – to taste
Vegetable oil – 2 to 3 tbsp
Coriander leaves – to garnish
Water – as needed to cook potatoes
Wash and scrub potatoes. Peel and cut into medium sized chunks/cubes. You can keep them immersed in water to prevent color change. Not required if cooking immediately. Chop green chillies.
Heat oil in a pan. Add the cumin seeds, mustard seeds & kalonji (if adding). Let crackle.
Add the curry leaves, hing,green chilles stir 1-2 seconds.
Add drained potato cubes, salt, coriander powder, cumin powder, turmeric, chilli powder sprinkle/ add some water (about 1 cup), cover with a lid and cook. Add a little more water if potatoes stick to pan as it cooks.
Stir in between gently but do not mash/ break the cubes. Cook till done.
Garnish with freshly chopped coriander leaves.
Serve hot with rotis, phulkas, chapathis, puris, rice, bread.
Tastes good served with bread too. Serve as open sandwich or keep between 2 bread slices and toast in a sandwich maker.
You could even cut potatoes into larger chunks, cook as above, keep toothpicks and serve as starter!
You can first boil the potatoes. Then season oil with whole spices and ground spices and add the boiled, peeled and cubed potatoes. Toss the potatoes in the masala to coat well.
Adding red chilli powder is very optional. The main flavour comes from green chillies.