A jam from a different ingredient, than the usual fruits!Made this twice in a gap of two days. The first time round was an experiment batch and so made in miniscule quantities. I was apprehensive on how it would turn out. Did not want to waste a good batch of bright, cheery, plump & fresh carrots.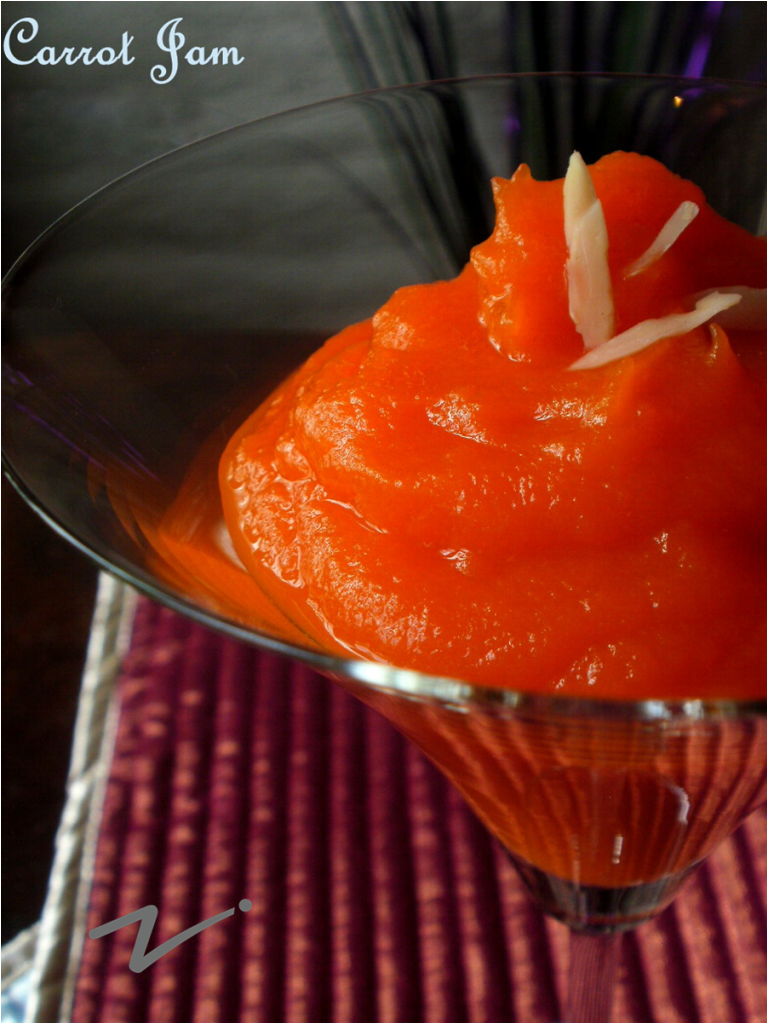 And the same day my uncle and aunt came over for dinner and they loved it! It was a mega hit with mom, dad and sis and with me too… I do not have much of a sweet tooth and usually prefer 'spice' in everything, including jams!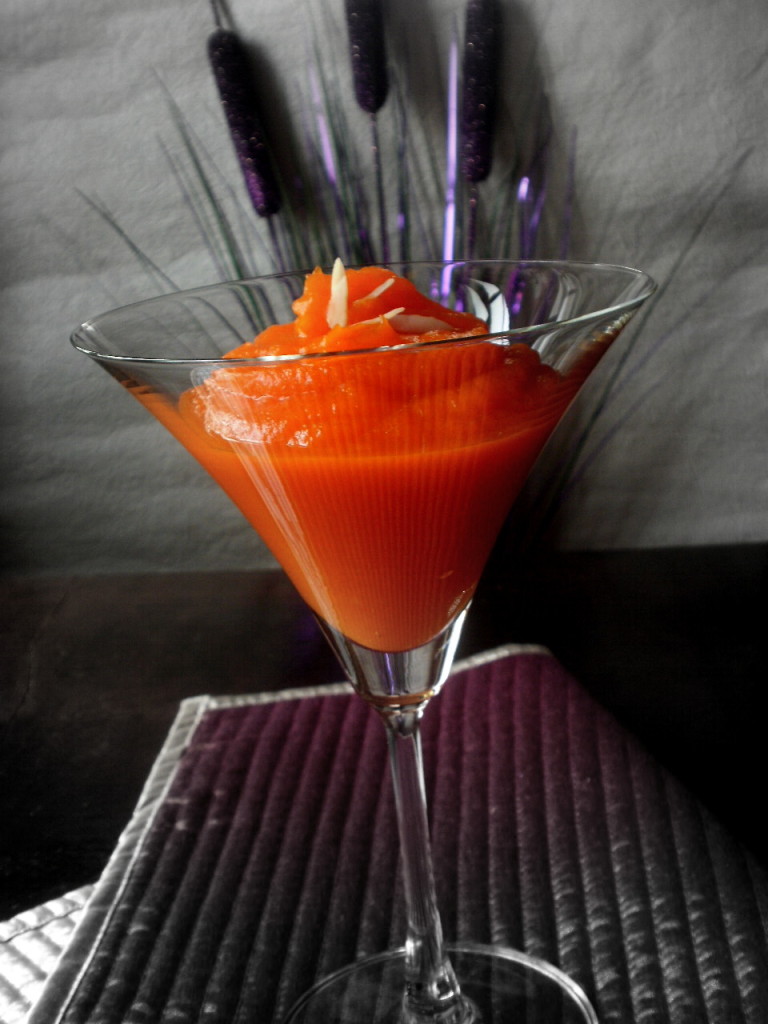 The second batch was made just some two days later and this time in generous quantities. And so everyone at home is happy and contented..This sunny shade jam is a multi purpose one – serve it with some toasted bread slices for breakfast, with crisp & hot pakoras in the evening or with methi theplas for lunch or maybe just enjoy them as is anytime of the day!
No fancy ingredients or complicated procedures needed. Just a handful of few everyday ingredients and a bit of love go in to making this a hit with your loved ones….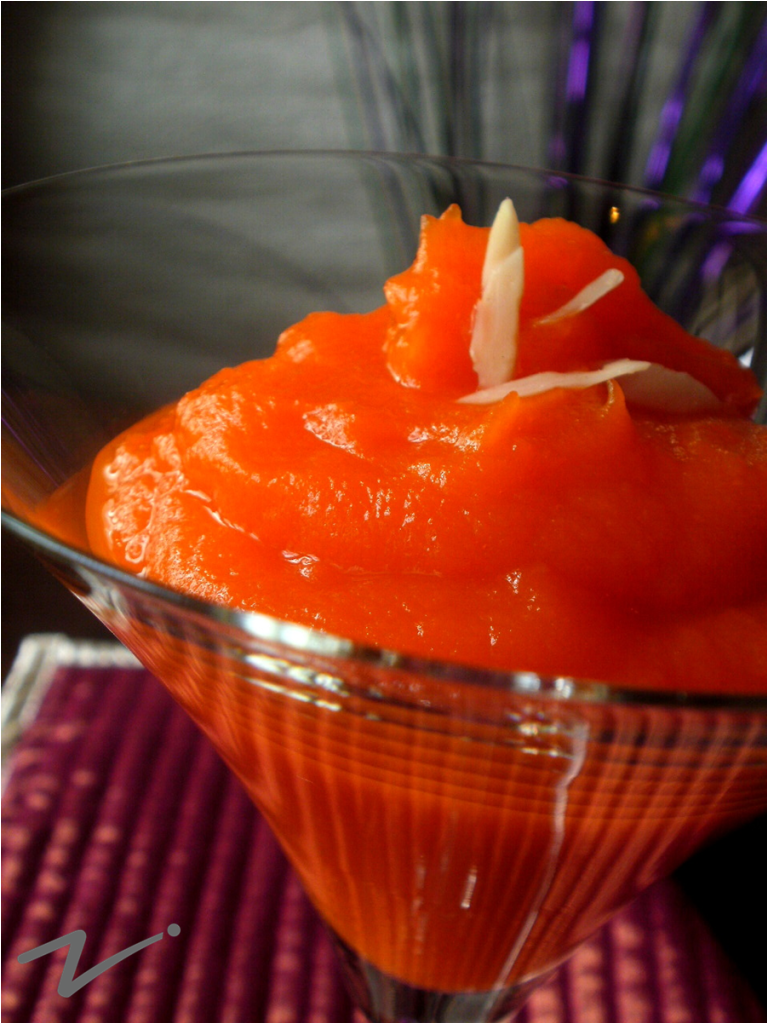 Carrot Jam
Sweet & tangy jam. Makes about 1 cup.
Carrots – 125 gms
Sugar – ½ cup or less
Fresh Lime juice – Of 1 lime
Lime Zest – Of 1 lime
Almond flakes – 1.5 tsp
Water – ¼ cup or less
Peel and dice the carrots. Put the diced carrots in a microwave safe bowl, add water. Cover the bowl with a microwave safe lid and cook/ micro for 10 mins (80% power). Check after the initial 5 mins and stir once.
When cooked after 10 mins, the carrots will be soft & cooked and almost no water remains. Drain if there is any water left and let the carrots cool a bit.
Transfer the carrots to a mixer along with sugar (as per taste), lime juice and grind to a smooth paste. Do NOT add water when you grind.
Put the paste back in the microwave safe bowl, add the lime zest, almond flakes. Microwave for 1 min.
Cool and store in clean, dry airtight container in the refrigerator. This stays good for a few days, maybe 10 days. Not sure beyond this as it has not lasted for even upto 10 days here!
Serve the sweet & tangy jam with bread toasts, pakoras, puris, masala puris, methi parathas, potato bonda to name a few..
1 medium carrot is about 60 gms.
The sugar quantity for 250 gms carrots would be 1 cup. The carrots I used were pretty sweet on their own and I need just 1 cup sugar for 500 gms carrots.
The cooking time in the microwave for 500 gms carrots too would be the same as above.
When choosing a microwave safe bowl to cook, make sure its lid is microwave safe too. Some micro safe bowls will have warning that the bowls are too be used in the micro without its lid.
When you grate the lime zest, wash & wipe the lime well . Then grate only the top surface and not the white portion which will be bitter. The only halve them & extract the juice.
You could also make this jam over gas stove too. Pressure cook carrots about 2 whistles. Let pressure drop, cool and blend till smooth. Add sugar and stir over heat till thick but spreadable consistency. Remove and add the zest, lime juice and almond flakes. Cool and store in refrigerator.