Cauliflower sauteed with loads of curry leaves..
The sizzle and smell of coconut oil or clarified butter as it is being seasoned with quintessential South Indian spices – mustard seeds, fenugreek seeds or the urad dal (split gram gram) are a common comforting sound in all South Indian homes. These spices or dals along with asafoetida or cumin seeds or dry red chillies are some of the most basic ingredients that go into a South Indian tadka for flavoring traditional recipes.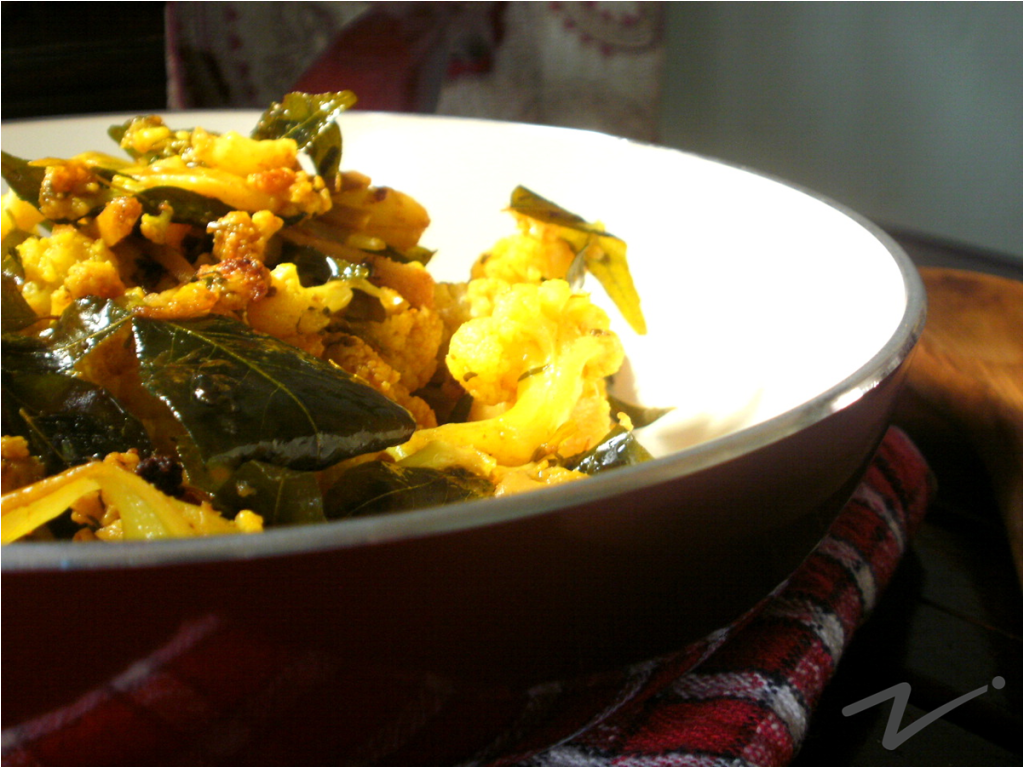 A tadka or bagaar is the process tempering where whole spices are added to hot oil or ghee and fried briefly, not more than a minute but just enough to flavor the oil with the aroma of the spices.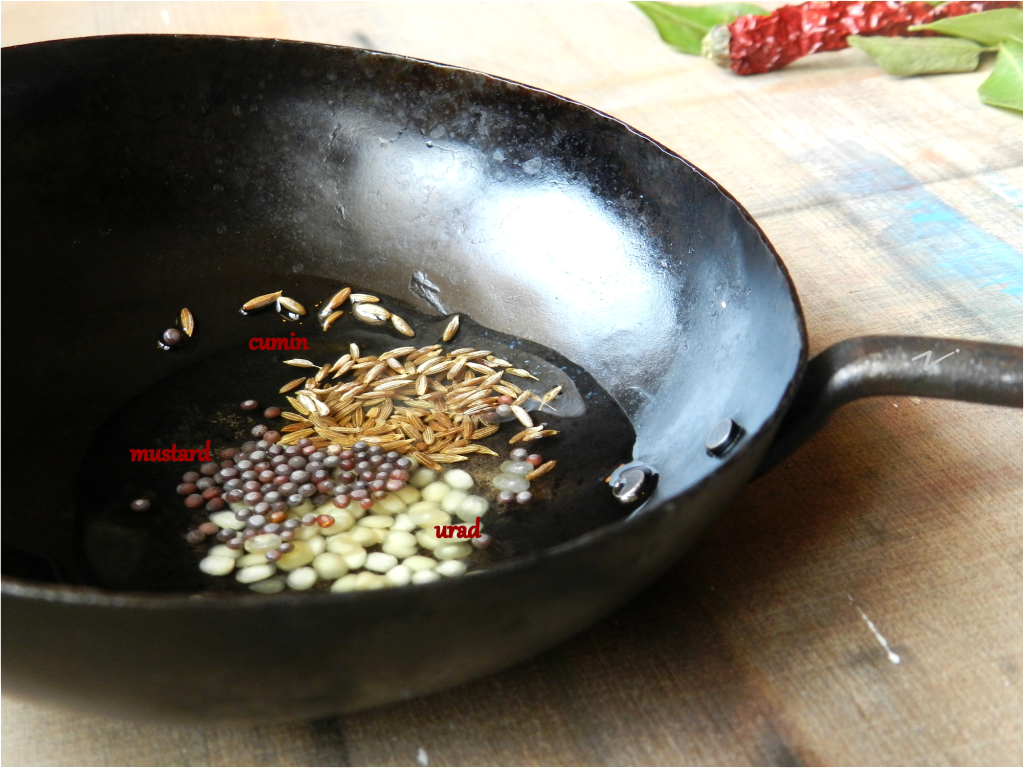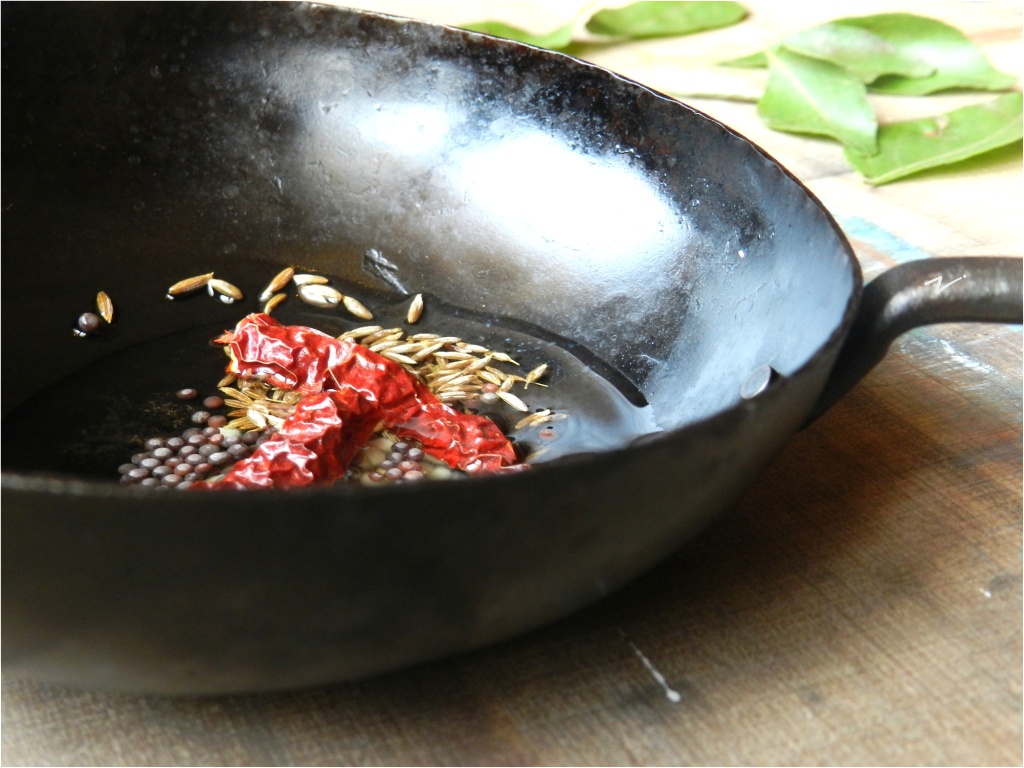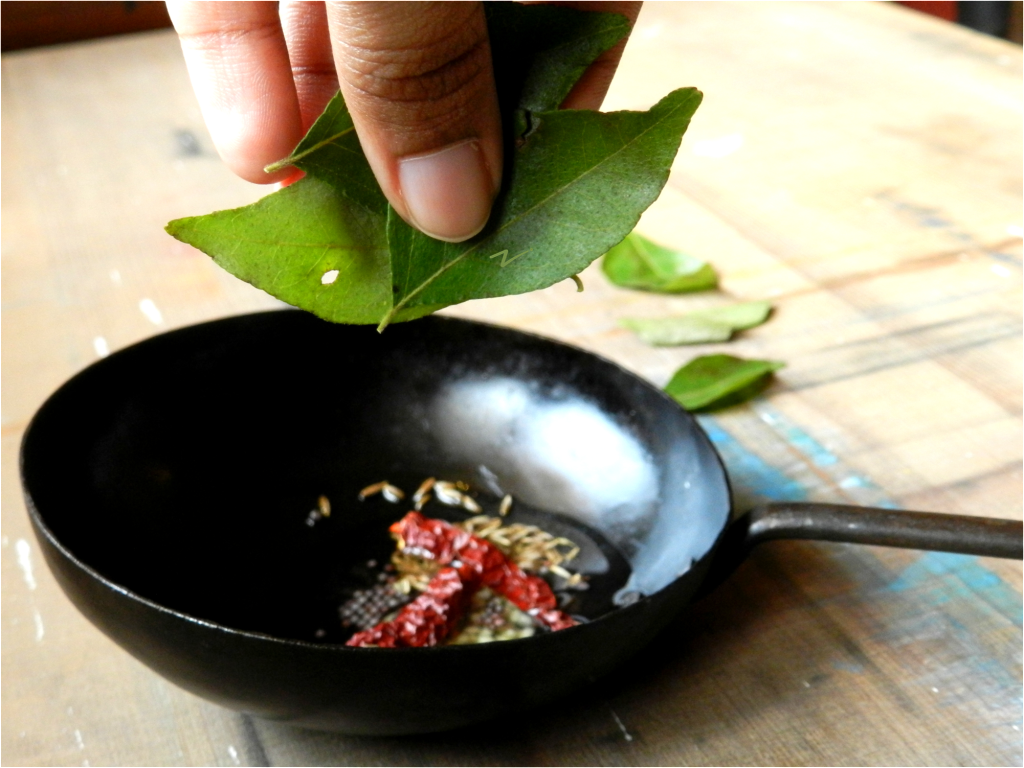 A tadka may be of two 'types'. It may added at the final stage of preparing a dish, where a small pan is used to prepare the tadka. As the seeds & spices start to splutter and dance about in the pan, it is poured into the hot dish and immediately covered with a lid and set aside for a minute or two so as not to lose its flavors. This kind of finishing tadka is usually followed in case of dals, sambhar.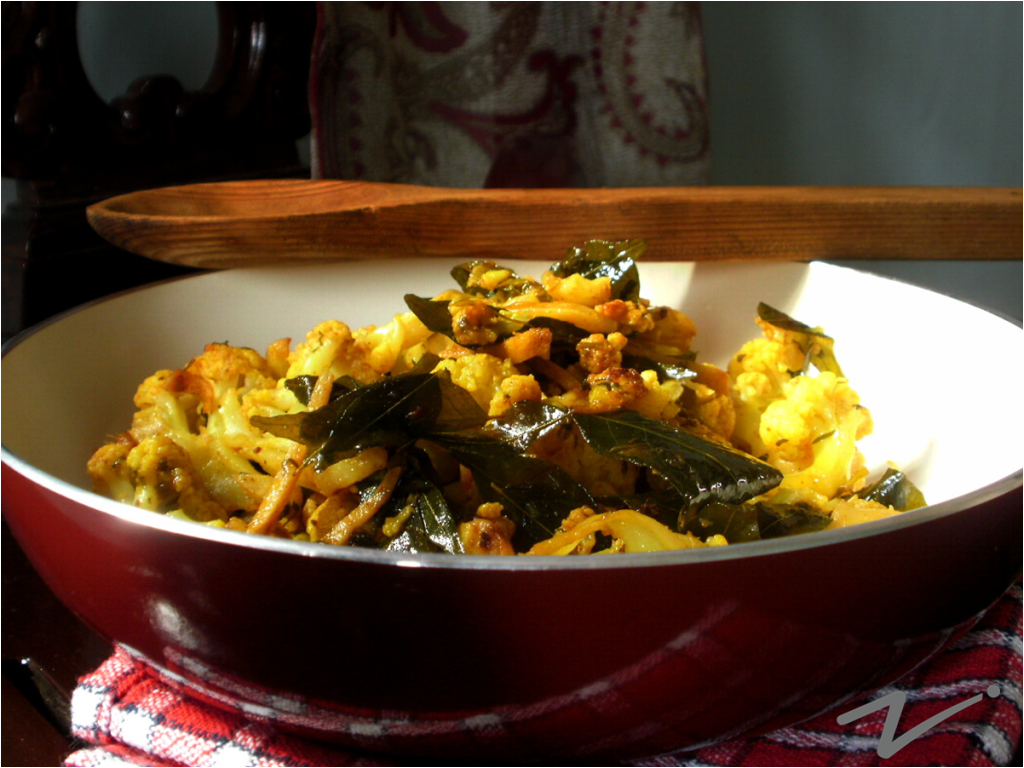 Tempering can even be made at the initial stage, where spices are added to hot oil and then followed by the remaining ingredients. Popular indian curries call for tadka at the beginning. And then there are dishes that demand tempering at the beginning and at the end too!! Imagine the explosion of flavors of that can take place in such dishes!
At whichever point it is added to a recipe, even if both tadkas call for similar ingredients, the taste and flavor both lend to the dish are way different to each other!
Tempering process is also called chaunk in Bengali or oggarne in Kannada or tarka in Hindi and so on. While most of traditional Indian recipes call for a tarka, the spices used vary. North Indian recipes may need cumin seeds, cinnamon, cloves or cardamom or fennel seeds, bay leaves, onion seeds and so on added to hot mustard or vegetable oil or even butter or ghee.
A common ingredient in the South Indian version of a tarka, besides the popular South Indian spices is the curry leaf. It is one plant you will find in many homes in Southern India. They have a nice aromatic flavor and also packed with numerous medicinal properties. They can be used as a remedy for indigestion, good for hair growth, improves eyesight to name a few. All possible ways to cook and enjoy its taste and benefits have been explored – added whole to curries or dals or ground to a paste for some dishes or sauteed and powdered with few spices to make dry chutney. This dry chutney is served as accompaniment to dosas (lentil pancakes) or idlis (steamed idli cakes) or other south indian breakfast dishes.
Onto the recipe now, where the flavor of the curry leaves is dominant and hence simply hearty & tasty! Be generous in adding this wonder herb.
Of course this is not any authentic or traditional recipe but just reminds me of South Indian cuisine because of the liberal use of the curry leaves.
Here a tarka is required at the beginning. And there is no substitute for the fresh curry leaves. A little effort taken to procure this fresh herb from any indian grocers is worth it!
A quick and delicious way of preparing cauliflower, curry leaves lend a nice flavour to this dish. Ideal when you have unexpected guests or even for lunch boxes. A perfect accompaniment for plain rice or chapathis.
Gobi Tawa Fry
Stir fried cauliflower flavored with curry leaves.
1 medium size cauliflower
3-4 green chillies (vary quantity as per taste)
2-3 tsp finely chopped ginger
1/2 tsp garlic paste (optional)
10-12 curry leaves
1 tsp garam masala
1/2 tsp chilli powder
1 lemon (vary quantity as per taste)
3 tbsp oil
a few coriander leaves (cilantro)
salt to taste
To serve
Cut cauliflower in small florets and soak in salt water for 15-20 mins. Drain and pat dry and set aside.
In a pan heat the oil and add green chillies, curry leaves, ginger, garlic paste, garam masala & chilli powder. Fry for 1-2 mins. Now add the gobi. Cover and cook over slow flame for 5 mins. If covered for long they will not become crisp. Do not add water.
Remove lid and add salt and continue to cook on slow flame, stirring in between. You need to remove it from fire when it still crisp and few sides of the cauliflower are browned (not completely). Add lemon juice when it is 3/4 th done. Mix well and remove from fire when done.
Serve hot.