This famous Indian street food needs no introduction. A plate of piping hot bhaji served with pav (square Indian dinner rolls) greased generously with butter is a common sight in Mumbai roadsides. Each one has some special memories associated with a plate of hot pav bhaji topped with butter! For me it reminds me of my college days lunch break.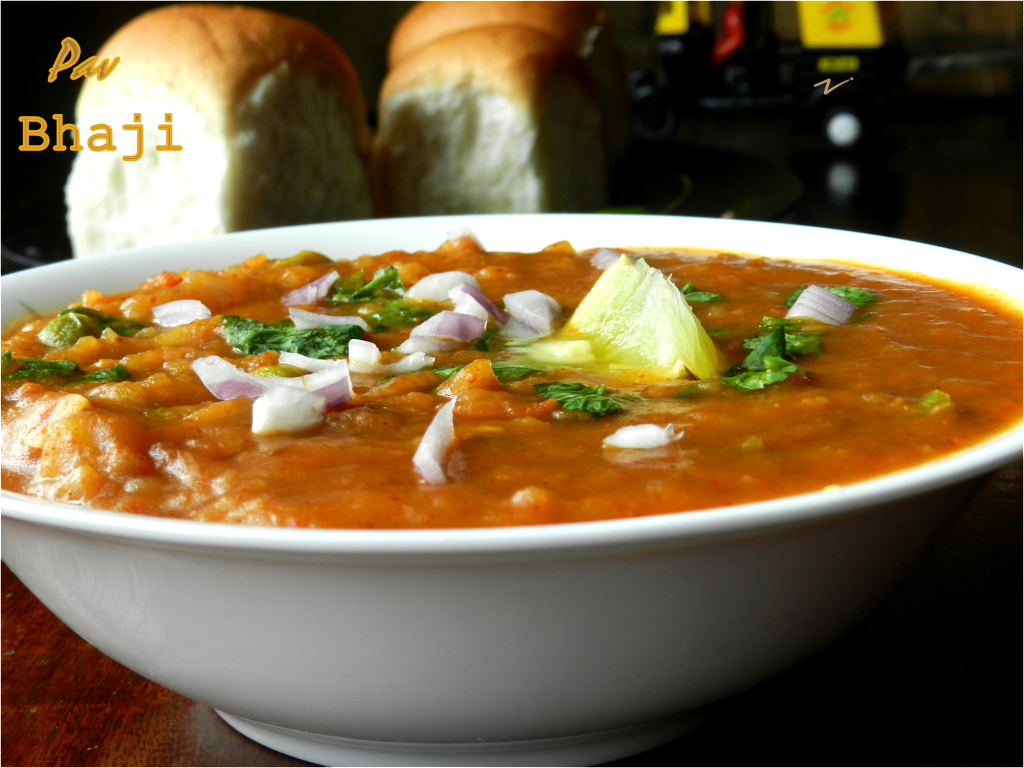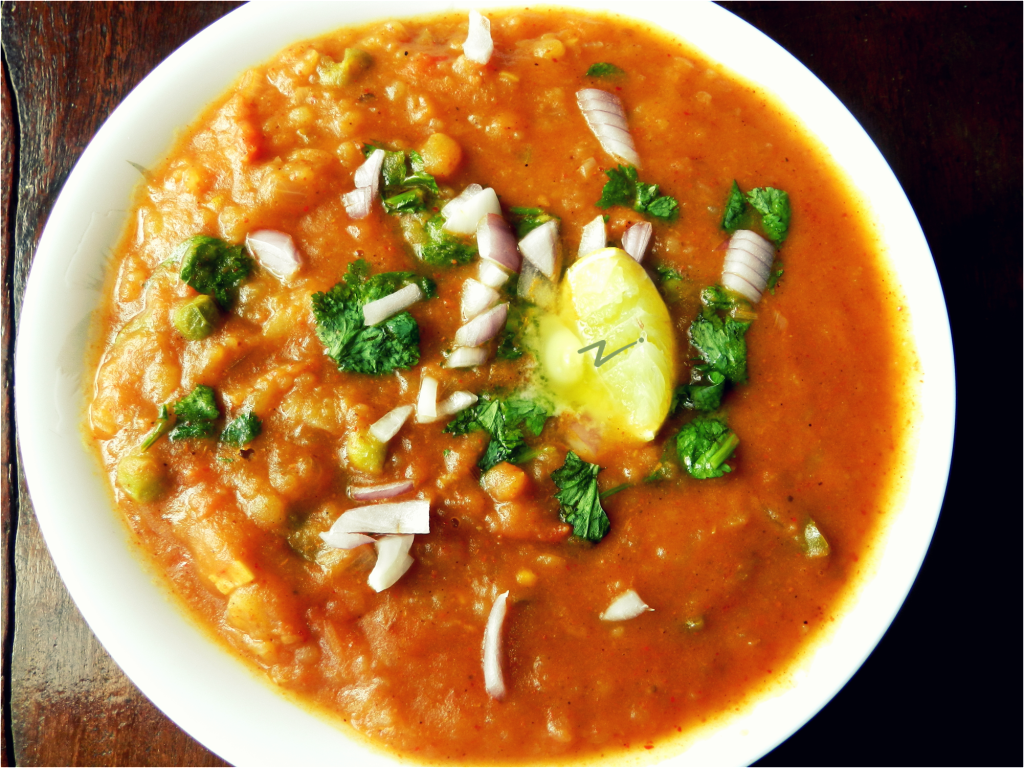 My friends and I would gather under the huge tree in our college ground (which was nicknamed the honeymoon tree for reasons still unknown!) to eat my Amma`s famous Pav Bhaji.. Even now as we talk about the good old college days during our occasional friend`s reunion, those lunch breaks under the honeymoon tree are still remembered with great fondness.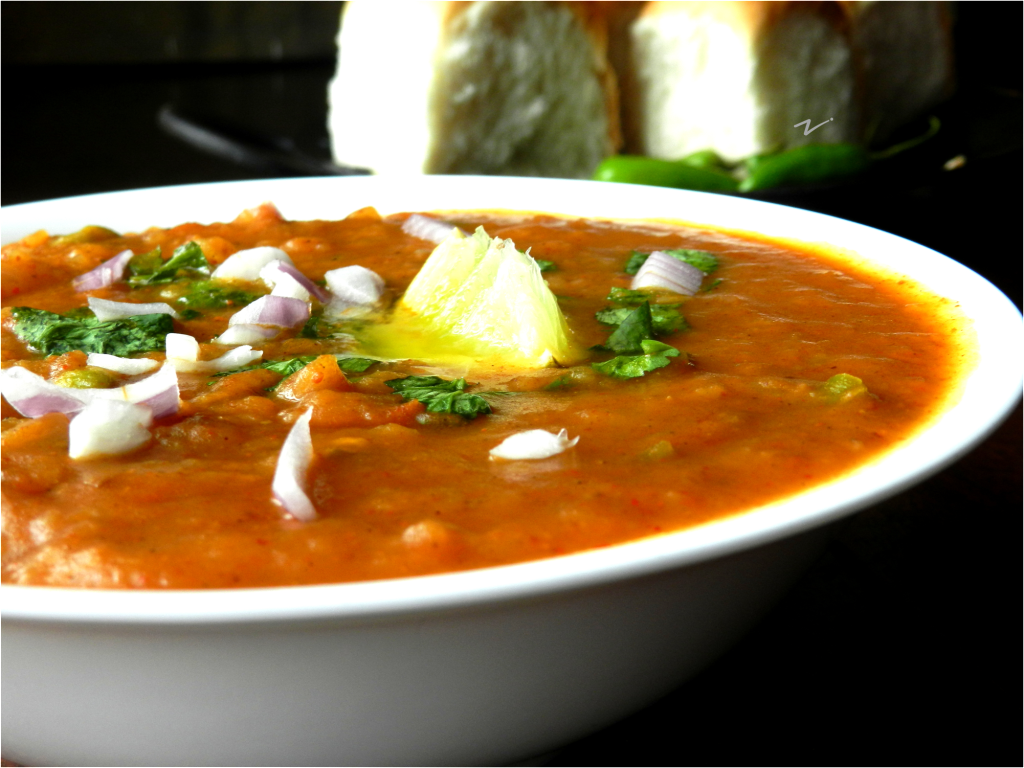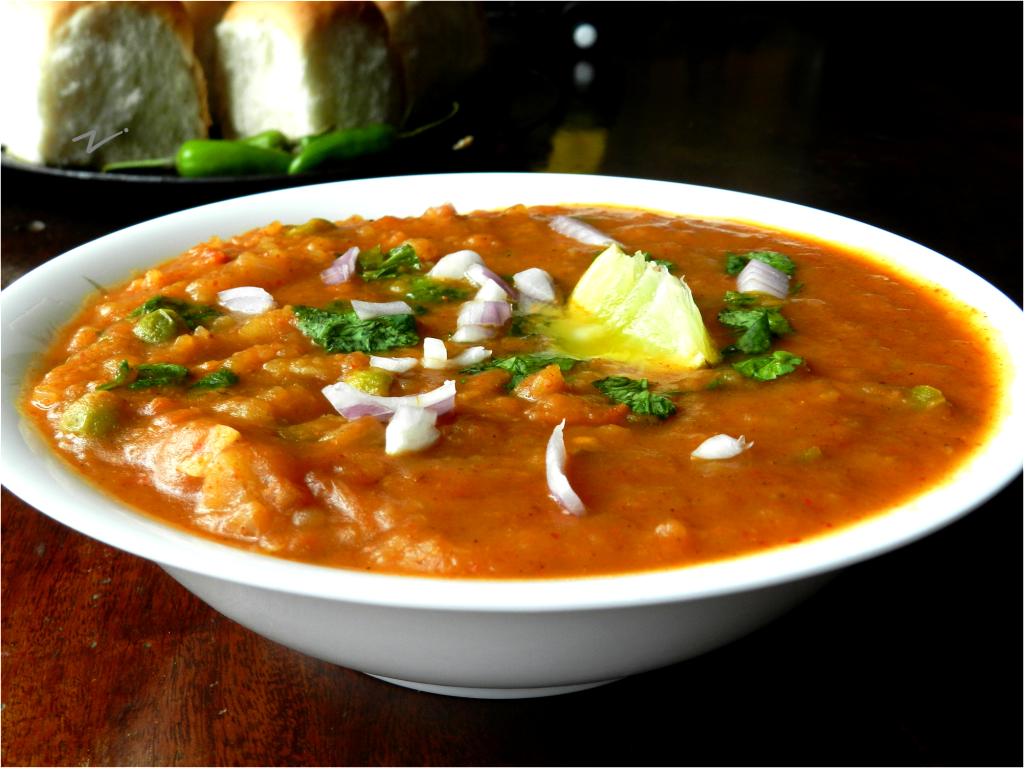 Pav Bhaji
The popular Mumbai street food!
Pav (found in all stores or soft dinner rolls)
Butter – to toast the pav
For Bhaji
Potatoes – 4 big sized
Peas (frozen- 1 cup)
Capsicum – 1 medium sized
Onions – 2 (medium)
Tomatoes – 4 to 5 medium to big
Tomato puree/ paste (readymade – 1 tbsp (optional))
Jeera (cumin – 1 tsp)
Turmeric powder – 1/2 tsp
Chilli powder – 1 tsp
Dhania (coriander powder – 1 tsp)
Pav Bhaji masala – 1 tbsp or per taste
Butter – Approx 4 tbsp or more
Lemon juice – of half a lemon
Salt to taste
Grind together or fine chop together
Ginger – 1/2 inch piece
Garlic – 4 cloves
Green chillies – 2-3
For garnish
Coriander leaves
Chaat masala – to sprinkle on top
To serve
Chopped onions (raw)
Lime wedges
Pressure cook potatoes for upto 5-6 whistles or till cooked. Peel and mash. Boil peas. Mash lightly.
Finely chop capsicum, onions. Grind or fine chop ginger-garlic-green chillies. Coarsely crush tomatoes in mixer or chop finely.
Melt butter in a wide shallow pan, season with jeera.
Add onions. Fry till they turn soft. Add ginger-garlic-green chillies.
Add the tomatoes and fry till it is mashed properly. Add the tomato puree/ paste if adding.
Add capsicum and fry for 2-3 mins.
Add the chilli powder, turmeric powder, dhania powder, pav bhaji masala. Mix well.
Add mashed potatoes and peas. Mix and add water, about 2 cups or as needed. Adjust the
water as per the consistency desired. Add salt.
Let cook. Mash the bhaji in between with a potato masher when the bhaji is getting
cooked. Cook till gravy becomes thick.
Sprinkle lime juice and mix. Garnish. Sprinkle chaat masala lightly if desired.
To serve
Cut the pav bun horizantally into two. Apply butter and heat on tava. Serve the pav with the prepared bhaji on its side. May dot the bhaji with a little butter if desired.
Serve hot bhaji with toasted pav and some chopped onion and lime wedges on the side.