"And so with the sunshine and the great bursts of leaves growing on the trees, just as things grow in fast movies, I had that familiar conviction that life was beginning over again with the summer."
~ F. Scott Fitzgerald, The Great Gatsby
Summer brings with it picnics, fun at the beach, barbeques and so tikkas!
And so here is a quick & easy tandoori dish with an option for Vegan Version
The mention of the word 'tandoori' or 'tikkas' makes many sit up straight & crave for some spicy, flaming hot tandoori fresh from the tandoor (clay oven). Like with any traditional & famed dish, this too has a story.
Back to History Classes
During the 1920`s a Hindu Punjabi named Kundal Lal Gujral ran a restaurant 'Moti Mahal' in Peshwar. After the partition, he fled to India & moved his restaurant to Delhi. He tried out new dishes to keep his customers happy. He experimented dishes on the 'tandoor' which was otherwise used only to cook naans (indian bread made from all purpose flour). One of them was the famed 'tandoori'. The first Prime Minister of India, Jawaharlal Nehru was so impressed by this dish that he made it a regular at official banquets to entertain foreign dignitaries. Such was the taste of the authentic 'Tandoori' or 'tikkas'.Tandoori is and originally was chicken marinated in curd & spices. But today variants are found to cater to vegetarians. We have the paneer, mushrooms, baby corn or even tofu marinated in hung curd & spices & then char-grilled/ cooked on tandoor.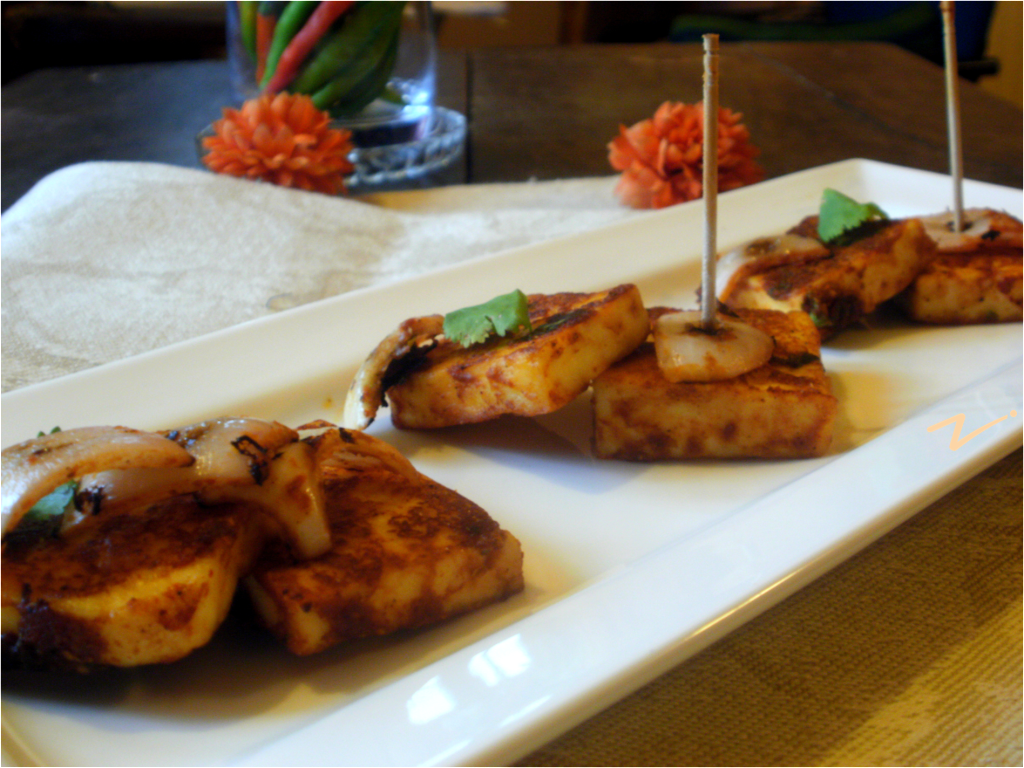 A Punjabi Dhaba
For the authentic taste one must taste this popular dish in 'Punjabi Dhabas'. Dhabas are highway side restaurants owned by a Punjabi. They were initially set up to cater to famished truckers who travel through the highways. Today dhabas can be found all over India.
Now to the recipe after a dose of GK
This dish can be easily prepared at home by marinating the vegetables/ paneer etc in hung curd & powdered spices. One evening I was so craving for this dish but found that we were out of hung curd (curd cheese or thick yogurt). Then I remembered this recipe I had noted down & gave it a shot..And was mighty happy with the outcome!!
Of course this is a contemporary version of the traditional Tandoori dish!
Soft & succulent paneer coated with tangy tomato puree (in place of curd cheese) & mild spices.
Ideal dish to accompany your summer barbeque parties!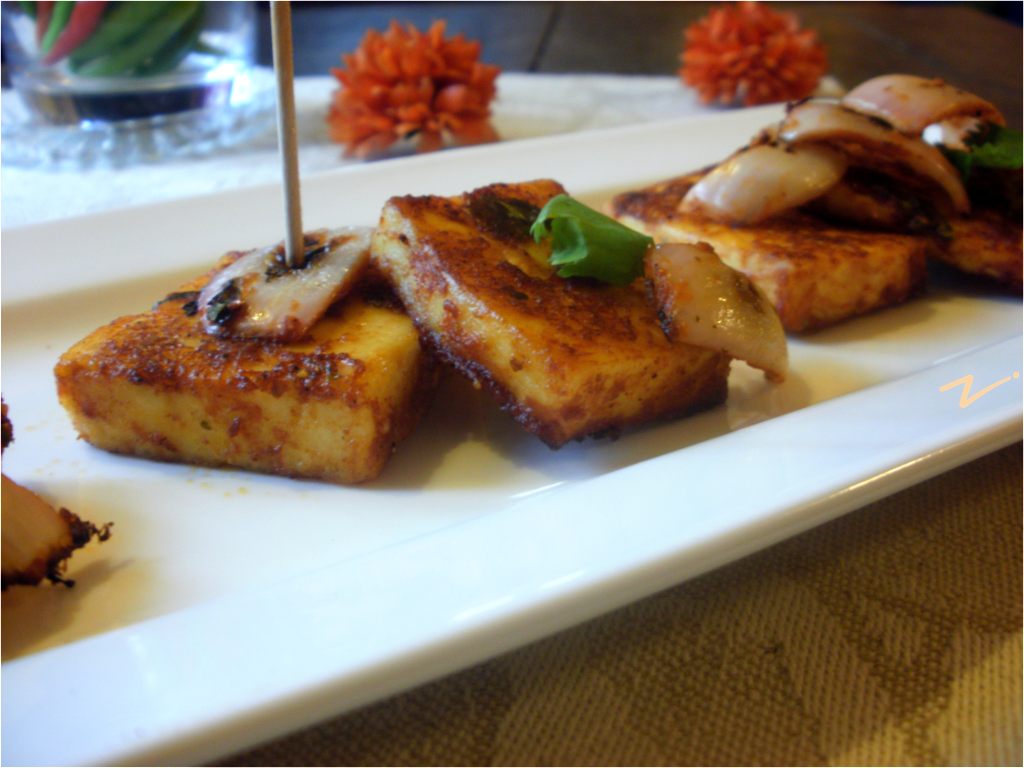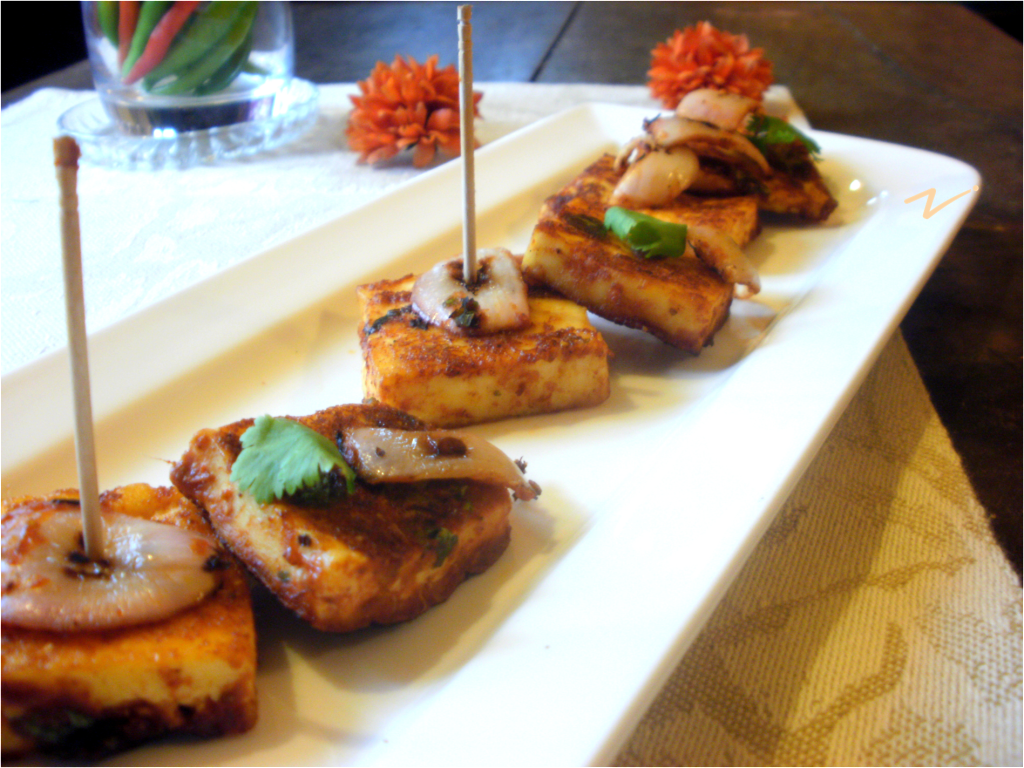 Paneer Tandoori
Paneer fried tandoori paneer.
200 gms paneer (cottage cheese, cut into cubes)
1 big red onion (cubed)
1 big capsicum (cubed)
For the marinade
5 tbsp ready made tomato puree
3 tbsp chopped fresh coriander leaves
1 tbsp cornflour
1 tsp or to taste red chilli powder
2 tsp ginger garlic paste
3/4 tsp ground pomegranate seeds (ground anardaana)
2 tsp or to taste garam masala powder
1 tsp coriander powder
1/2 tsp cumin powder
1 to 2 tsp crushed dried kasuri methi (optional)
salt to taste
Few tsps vegetable oil – to pan fry paneer
To serve
Mint chutney (roomali rotis, pulao)
In a bowl mix together all the ingredients for the marinade.
Now add the paneer, capsicum, onion to the marinade and mix so that the marination coats the veg/ paneer. Let marinate for at least 30 mins or till serving time.
Heat a non-stick pan and sprinkle a little oil. Arrange the paneer and the vegetables in the pan. Cook them over low flame till the marination sticks to the ingredient, the puree dries up and paneer/ veg are lightly charred.
The onion & capsicum will probably cook faster. Cook the veg only till slightly charred. The remove them and continue to cook paneer till done.
Serve hot as starter or as filling for pita bread along with some mint-coriander chutney or as a side dish for pulao & biryanis.
For a Vegan version, you could use tofu in place of paneer.
The marination not tangy enough? You could also squeeze in a tsp or two of lime juice.
And if you want it a bit sweeter, add a tsp or less of brown sugar. Or go ahead and little bit of both for a sweet-tangy flavor!
For extra flavor, you can also add kitchen king masala, pav bhaji masala, tandoori masala etc..
May add other vegetables too into the marinade like par boiled baby corn, par boiled mushroom. Set aside for half hour & pan fry them as above.