Sweet & tangy curry served with rice..
Indian curries are made sometimes with the strangest or some unusual ingredients. A rich & sophisticated curry can be made from all dry fruits combined together or we have traditional South Indian curries made from peels of raw banana, watermelon skins. Mixed fruits like pineapple, grapes are used in a coconut based spicy curry called ' sasam', a traditional konkani (Mangalorean) delicacy.
We have red curries, green curries, brown curries, yellow curries, white curries. Many a times fruits are used in curry form and some vegetables are used in sweet delicacies! And these dishes are very much in demand on festive occasions.Curries made from white portion of a watermelon or the skin is very much a part of traditional Mangalorean cuisine. Dosas are also made from them. Though I am not so fond of sweet based curries, some recipes are an exception. Because, for me curries need to be piping hot with generous additions of chillies and spices.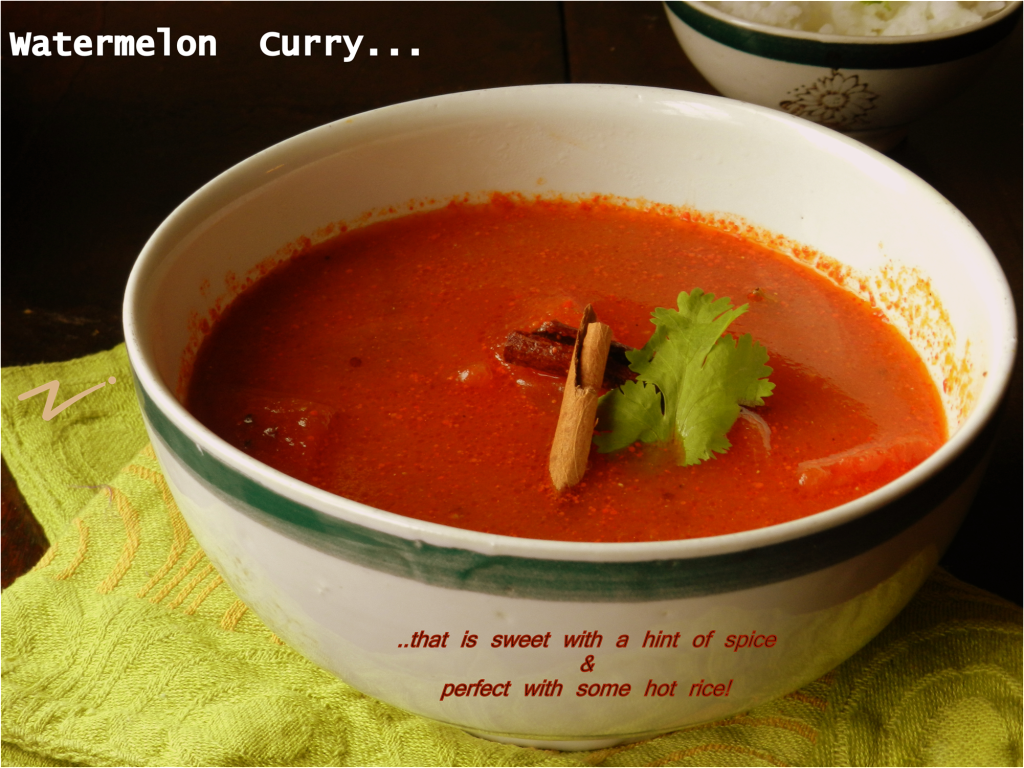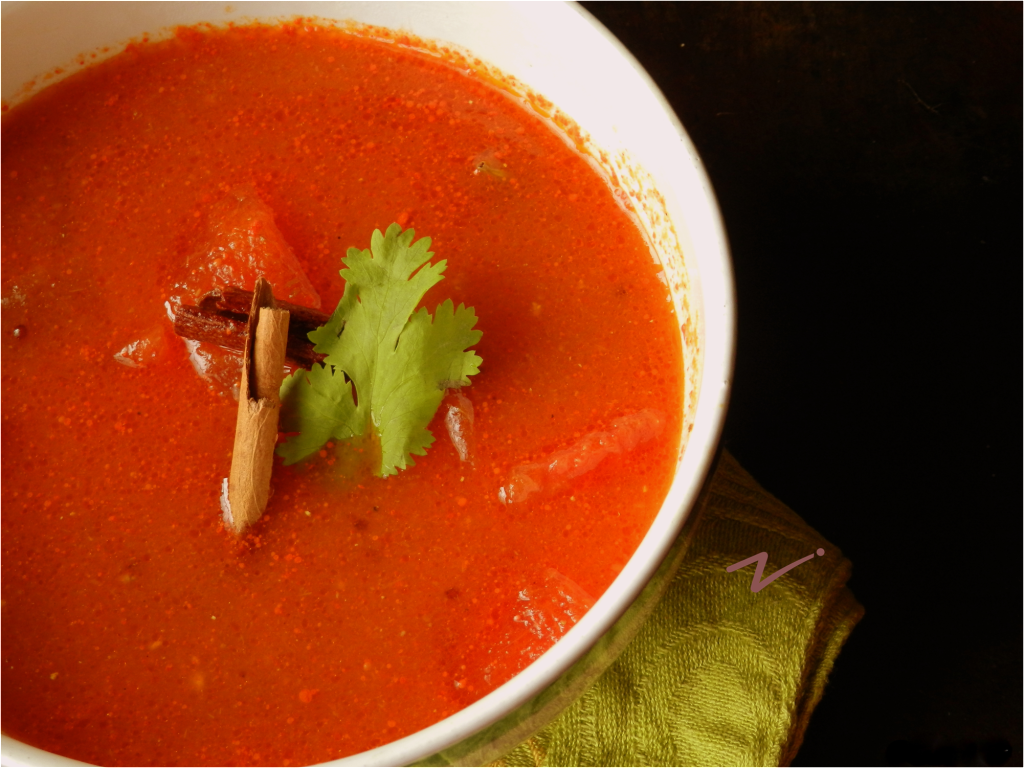 But take for instance this recently tried
Watermelon Curry
from
Good Food India August 2012 Issue
. Just a few basic ingredients go into making this delightful looking curry. Cinnamon, cloves and cardamom & then some mustard thrown in – how I normally detest any other dish that is loaded with them!
Surprisingly, just a spoonful of this curry and I instantly fell in love with it!
'How is that possible?' I was asked.
'What`s not to 'like' here?' I reply.
A slight twist to a classic Rajasthani curry, that is bright and attractive on first glance, sweet to taste from the fruit of course with warm undertones from the whole spices. A dash of chilli powder does highlight the sweetness and also lends it that bit of 'heat', characteristic of Indian curries! Not to forget a sprinkling of fresh lime juice in the end to lift up all the flavors!
To add to the laurels this curry deserves, there is no much chopping involved, except the watermelon. This is a curry ready in 30 mins!
Serve it with saffron infused rice or plain steamed rice sprinkled with cilantro and a spoonful of butter in the end or just some plain ol` rice.
And by the end of the meal, see how happy and content you are for having enjoyed such a delicious lunch!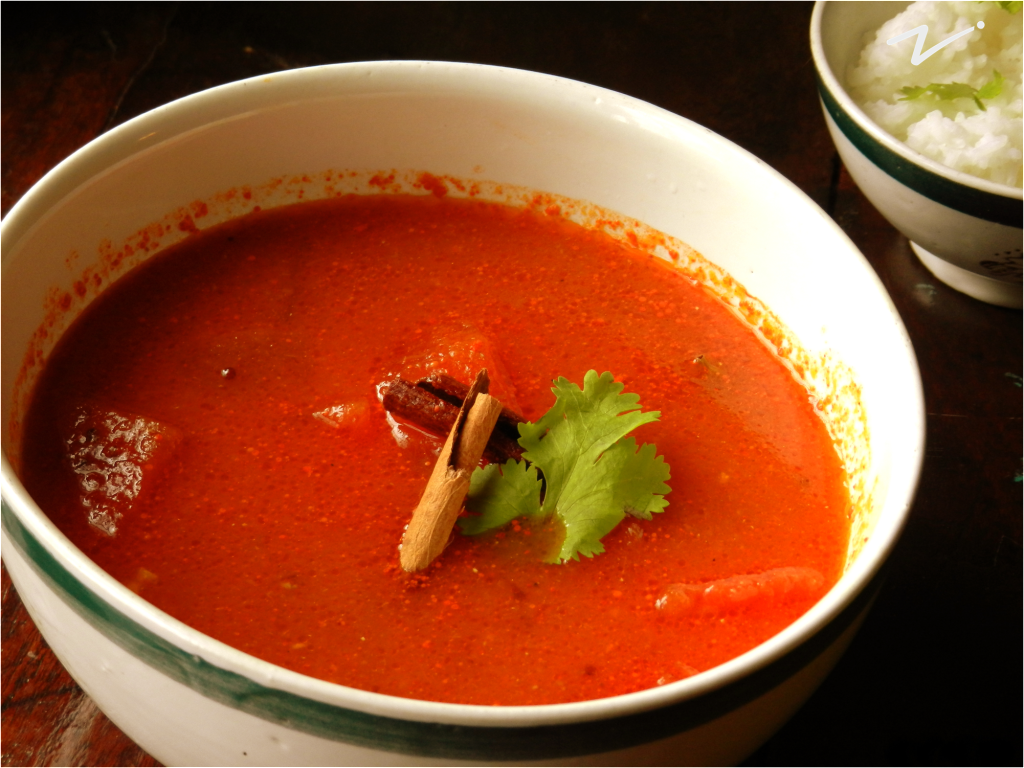 Watermelon curry
Sweet, tangy curry with a hint of spice
Watermelon – 1
Ghee (clarified butter – 1 to 2 tbsp)
Mustard seeds – ½ tsp
Cinnamon – 1 small piece
Cloves – 2-3
Green cardamom – 2
Ginger-garlic paste – 1 tsp
Red chilli powder – 1 tsp
Turmeric powder (haldi – ½ tsp)
Garam masala powder – ½ tsp
Salt – to taste
Juice of half lime
To serve
plain rice (saffron rice)
Cut watermelon into quarters. Cube and deseed the red portion. Puree half of the cubes.
In a pan heat ghee, add mustard, cinnamon, cardamom, cloves. Let mustard start to splutter. Add the ginger garlic paste and sauté for 5 seconds.
Add the pureed watermelon and bring to a simmer.
Add in the chilli powder, turmeric, salt. Continue to simmer for 3 to 4 mins. May add a tbsp or two of water if needed.
Lastly add in the watermelon cubes, garam masala powder, stir for a minute. Add lime juice and remove from heat.
Serve hot with saffron rice, coriander flavoured rice or just some plain hot rice.
Choose bright red, sweet watermelon for more depth, flavour and color.
Do not substitute oil in place of ghee. Ghee gives the curry a more rich taste.
Adapted from BBC Good Food India, Aug 2012 Issue