"You`ve gotta dance like there`s nobody watching,
Love like you`ll never be hurt,
Sing like there`s nobody listening,
And live like its heaven on earth."
~William W. Purkey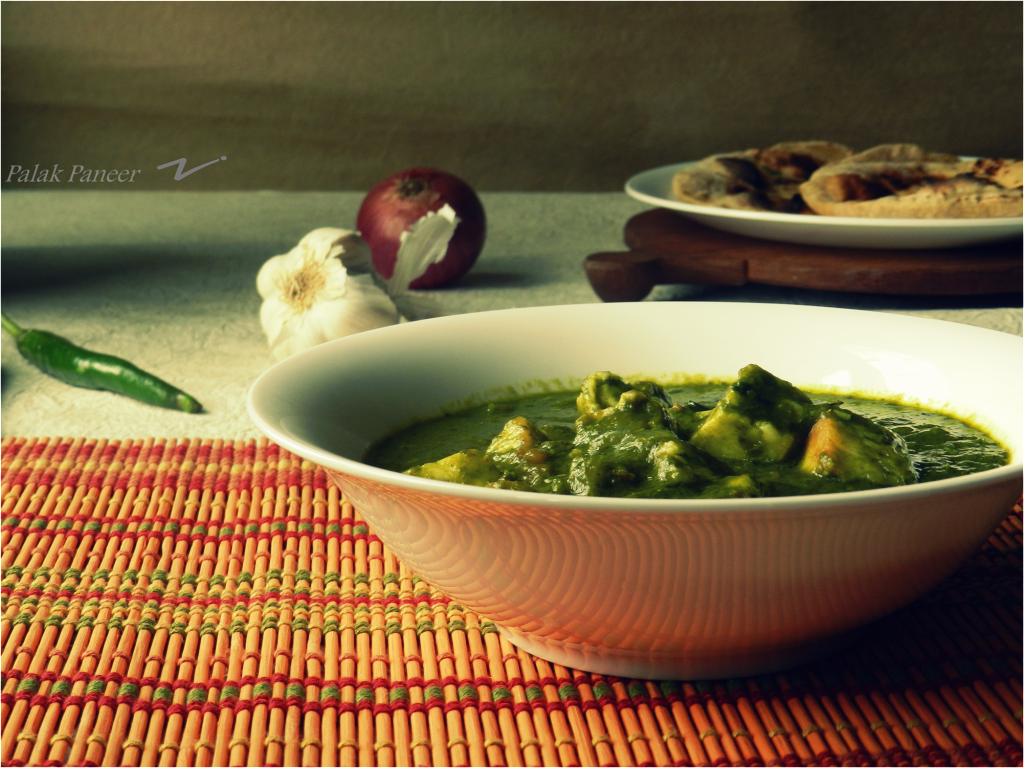 Often the simplest things give great pleasure.Walking barefoot on the sand admiring the sun set over the sea. Sitting by the window looking out at the numerous shades of green of nature with the sound of raindrops as background music.Sighting a rainbow. An evening spent with loved ones. A mug of coffee, laughter and chilling out with friends. To dance, to laugh, to sing out loud.Laughing till you have tears in your eyes. A hug from your mother. The fragrance from a flower.The welcoming sight of the rising sun signalling another brand new day, newer opportunities.And having
palak paneer
for lunch!How can something with just a handful of everyday ingredients taste so good and exotic?Since we were kids, Palak Paneer has always been my favorite dish and my sister`s. This was a dish that was made once a week – to pack for our lunch boxes or a part of our Sunday feast.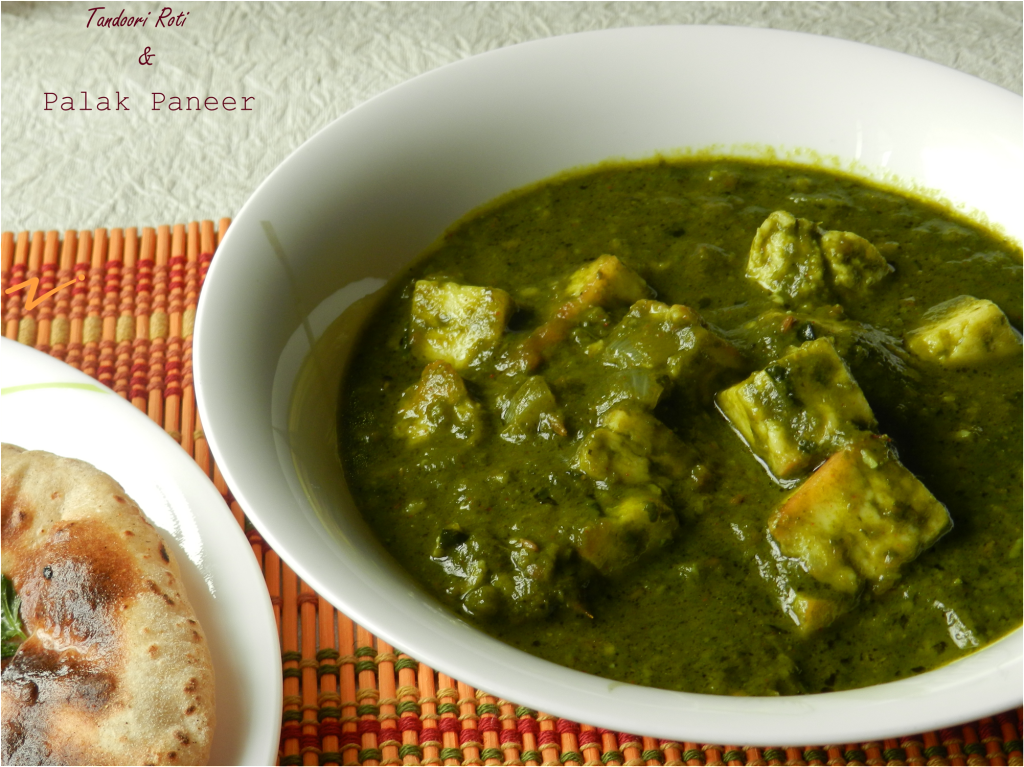 In school we would always eagerly wait for the lunch break to relish palak paneer scooped into some soft and melting chapathis.
Each time the sight of this vivid green, creamy saag with soft chunks of paneer always made be assume that it called for lengthy processes.
And then I happened to watch mom cook this one day. I repeatedly kept pestering her by asking had she added the garam masala or coriander because I did not see her put in any of these. And I thought she had forgotten some of the ingredients.
She patiently smiled and answered – its just these few ingredients that go into making Palak Paneer.
And that`s when it occurred to me – simple pleasures in life give great joy!
Ps : I ask my sister what gives her great joy and she says – the sight of my sister cooking!! Guess its time for me to head towards the kitchen then :))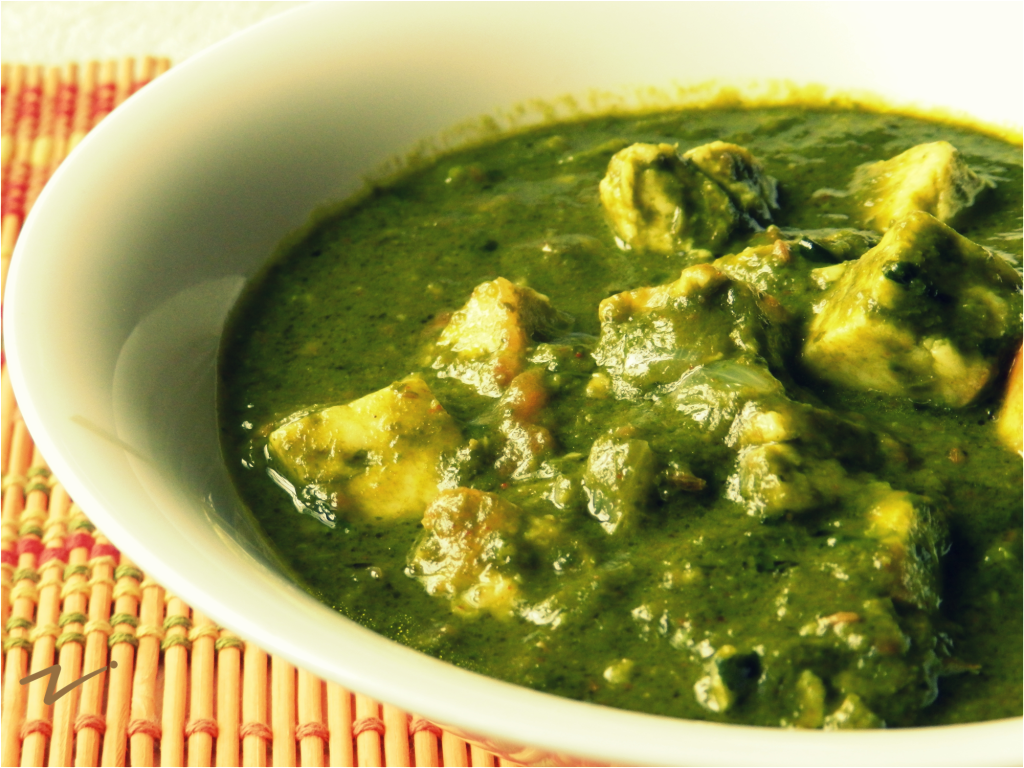 Palak Paneer needs no introduction. This spinach based gravy with soft chunks of paneer is relished all over the state of Punjab. Is it the way of cooking this dish or the way the ingredients used? I am not sure what but this dish has become popular all over India.
Not laden with heavy spices or cream, one can willingly accommodate this dish in their – comfort food menu or even a special occasion menu!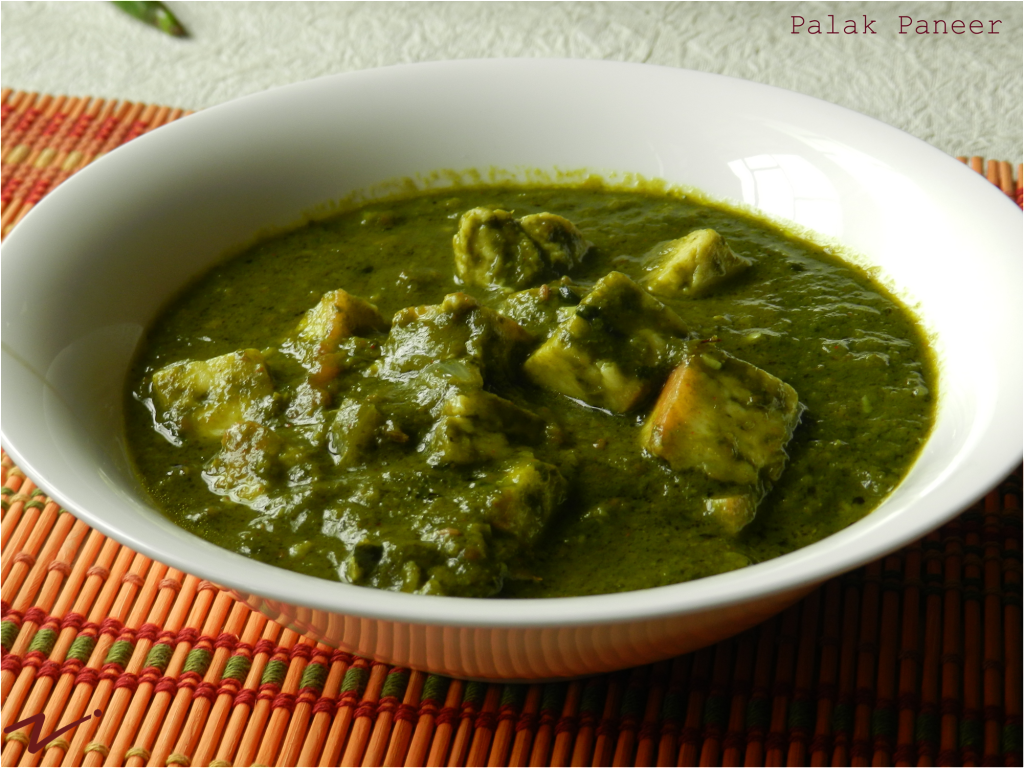 Palak Paneer
Cottage cheese in a creamy spinach sauce, a Punjabi dish!
Spinach/Palak – 2 bunches
Paneer/ Cottage cheese – 150 gms (cubed)
Vegetable oil – 1 to 2 tbsp
Cumin seeds/ jeera – 1 tsp
Onion – 1
Tomatoes – 2 medium to big ones
Turmeric powder – ¼ tsp
Kasuri methi/ dried fenugreek leaves – 1 tsp (optional)
Salt to taste
Garam masala powder – 1/2 tsp (optional)
To grind to a coarse paste
Ginger – ½ " piece
Garlic – 4 to 5 cloves
Green chillies – 2 to 3
Wash the palak/ spinach leaves and steam them for 5 to 7 mins. Cool and blend to a puree.
Chop the onions and tomatoes.
Grind together the ingredients for the paste.
Shallow fry the paneer cubes in few teaspoons oil till light brown. Set aside.
Heat oil in a pan, crackle cumin. Add onions and sauté till softened and translucent. Add the paste and stir fry for 30 seconds.
Add the tomatoes, sauté till softened. Add turmeric powder. Mix.
Add the spinach puree, salt, kasuri methi, dash of water to adjust consistency. Simmer for 2 to 3 mins till well blended. Add the paneer cubes, garam masala. Mix and simmer for 2-3 mins.
Serve hot with rotis, naan, phulkas.
You could add about ½ cup milk or 1-2 tbsp cream/ malai instead of water to adjust consistency of puree. This makes the dish even more creamier.
Adjust the quantity of green chillies as per the spice level desired.
You could add the kasuri methi along with spinach when you grind it to puree.
Do not fry the paneer for too long as it will turn rubbery. You could skip the frying stage and add soft paneer cubes instead.
In case paneer turns a bit chewy when fried, you could dip them in some salted water for few mins.Drain and add to gravy.
You could add a pinch of sugar if desired as you grind the spinach to retain its green color.
For Mushroom Palak :
Follow this Palak Paneer recipe to make Mushroom Palak.Wash mushrooms well and slice. Put them in boiling water for 3 to 5 mins. Drain. Then to the palak gravy instead of paneer.Skip the kasuri methi. Also add lightly pounded whole spices – 2 to 3 cloves, 1/2″ cinnamon, 2 to 3 green cardamoms
For Aloo Palak :
Follow this Palak Paneer recipe to make Aloo Palak/ Potatoes in spinach gravy.boil the potatoes, peel and chop into chunks.Then add to the palak gravy instead of paneer .Also add 1/2 tsp chilli powder,1/2 tsp coriander powder,1/2 tsp amchur powder along with garam masala powder.