I love engaging in long conversations with aunts and grandmothers. Besides telling interesting stories and experiences of the past, they so wholeheartedly share some interesting family recipes! Some may be traditional, almost forgotten ones or some with a modern twist they come up with to appeal to all family members.Well, you guessed it right. Today`s recipe is one such dish I learnt from my aunt who was visiting us. A simple sauteed apple bursting with flavors to tickle your taste buds.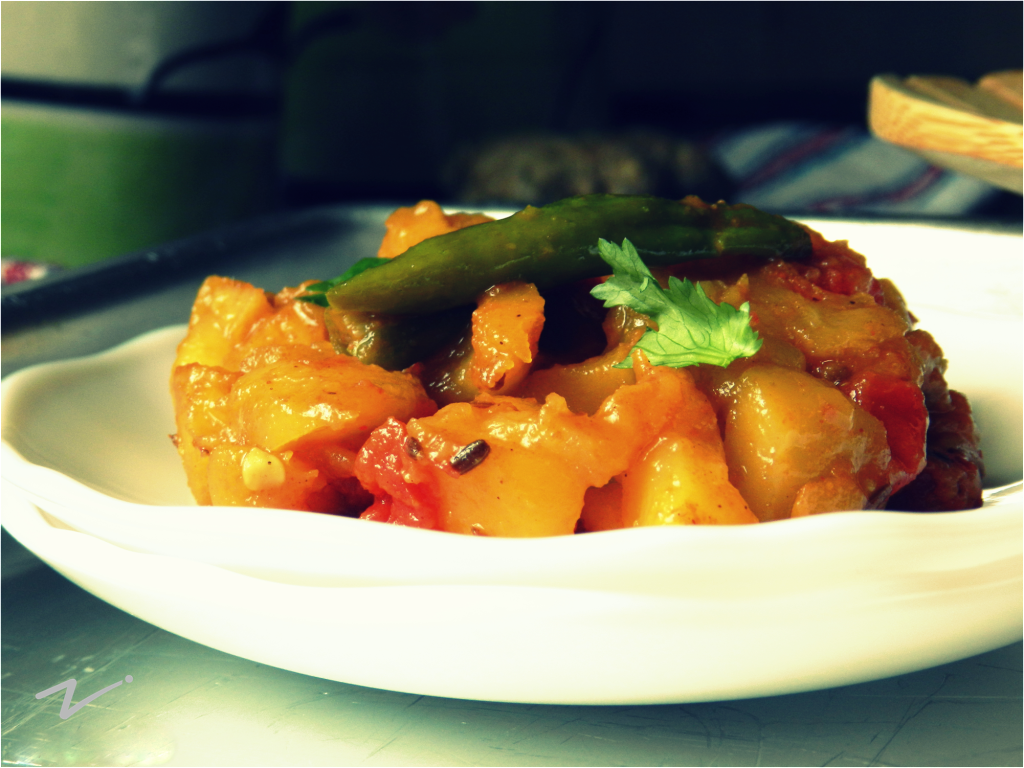 Apples are one of those fruits that lends itself well to sweet, dessert recipes and curries and savory alike. Spicy fritters from apples also make a more-ish snack! Lip smacking and tangy apple chutney is another mouthwatering dish. They go perfectly when added to potato curries. For savory recipes, select cooking and slightly firm apples so that they do not turn mushy on cooking.
My aunt makes this dish with even fewer ingredients than mentioned below – just apples, rasam powder for spice and jaggery for sweetness. But me being me had to throw in few more ingredients when trying it out. Taking few flavors I added when making Apple chutney recently like ginger and cumin, this stir fry tasted simply fabulous with hot chapathis!
This is one dish not to be missed out on. Super easy to remember it and you need not go hunting for the recipe each time you make it, which is a common sight here at home!
A perfect go-to recipe for quick weeknight dinners or when unexpected guests drop in for lunch!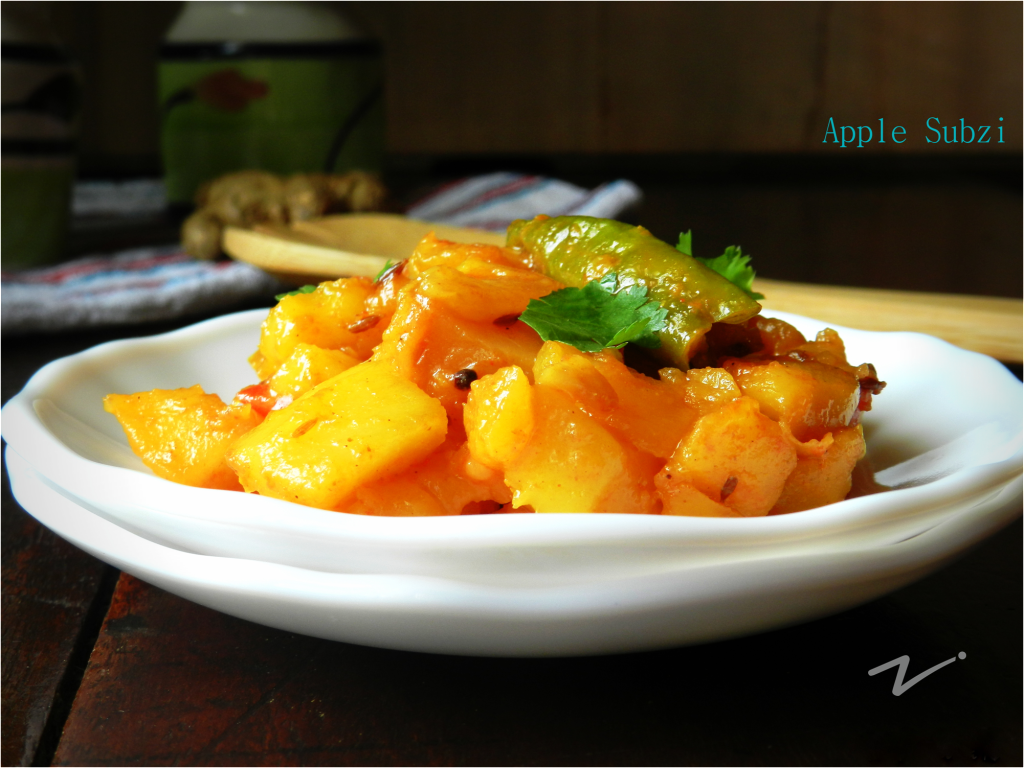 Apple Subzi
Quick,spicy,sweet & tangy side dish
Oil – 2 tsp
Mustard seeds – ½ tsp
Cumin seeds – ½ tsp
Hing (asafoetida – ¼ tsp)
Ginger – 1 inch piece (fine chopped)
Green chillies – 1 (slit (optional))
Tomato – 1 medium
Apples (slightly tart, cooking variety – 3 to 4)
Jaggery (gur – 2 tsp or to taste)
Salt – to taste
Rasam powder – 2 tsp or to taste
Red chilli powder – ½ tsp (optional)
Garnish
To serve
chapathis (flour tortillas, puris, pudina paratha or as topping on bread toast)
Wash and chop tomatoes. Wash and peel apples. Dice them.
Heat oil, add mustard, cumin, hing, let splutter. Add ginger, green chillies, sauté few seconds.
Add tomatoes and let soften a bit. Add apples, mix and let start to soften.
Add salt, jaggery, rasam powder, chilli powder. Cook till done.
Garnish and serve hot!
Skip rasam powder if not available but increase chilli powder in that case. This dish needs to be bit spicy, sweet and have a slight tang.
If you want it more tart, you may sprinkle some lime juice in the end.
Asafoetida is optional if not available but zing from ginger is a must!
Use either homemade or store bought rasam powder. It is easily available in Indian stores. It is a blend of spices commonly used to make a South Indian traditional dish called 'rasam'. Rasam is a spicy lentil based soup.
Quantity of rasam powder to be added depends on how strong is the one you are using.