"Only the pure in heart can make a good soup." ~Ludwig van Beethoven
The weather is chilly from the rains and suggestive of having something warm during mealtimes. And soups are so not far behind. Soup is one basic food in all countries. Existence of soup can be found as far as 6000 BC. It can be served as an appetizer or part of the main course even. From light, clear soups to thick, creamy soups, hot to cold, soups basically provide nourishment. The flavors reflect the local spices and other ingredients synonymous with the region.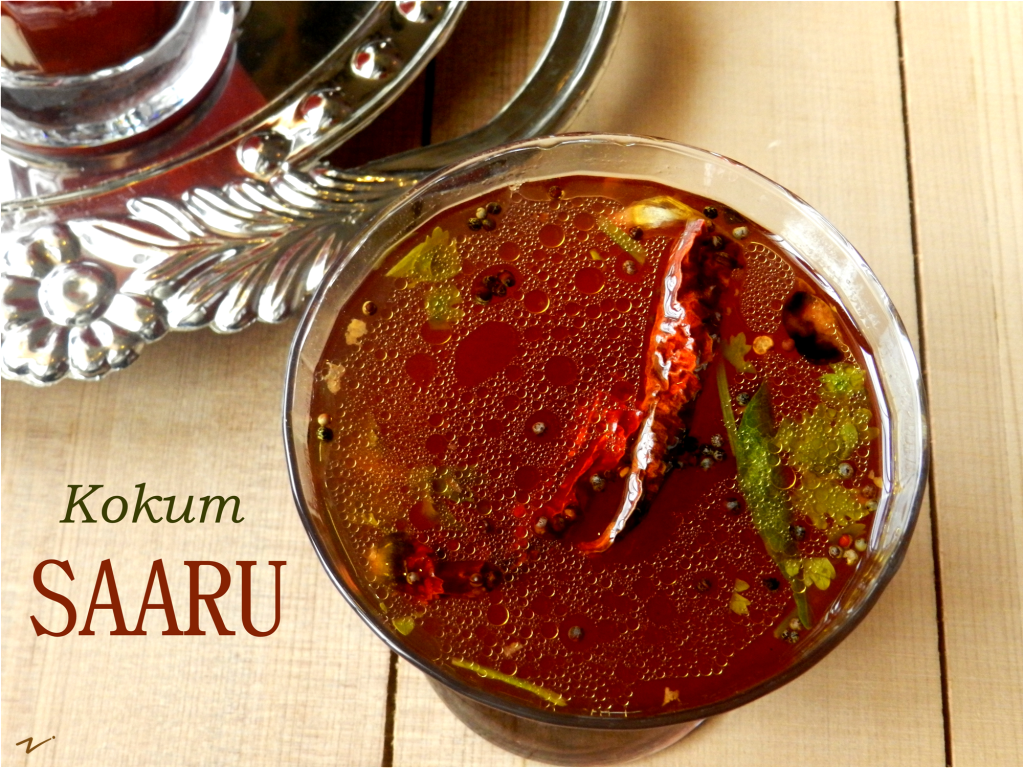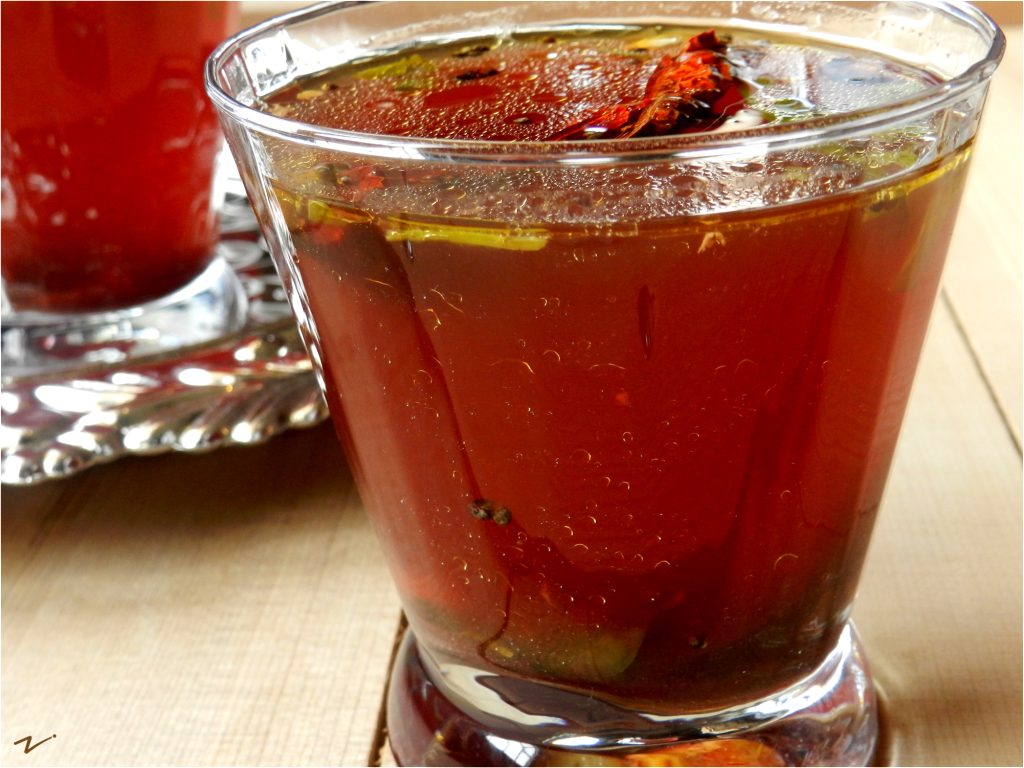 Rasams or Saaru are South Indian version of 'soups'.
Tomato rasam, lemon rasam, pepper rasam, garlic rasam are just a few from a long list of rasams! It is comforting to enjoy a bowl of piping hot saaru (rasam) that is spiced with cumin or ginger or garlic or pepper on on a cold rainy day.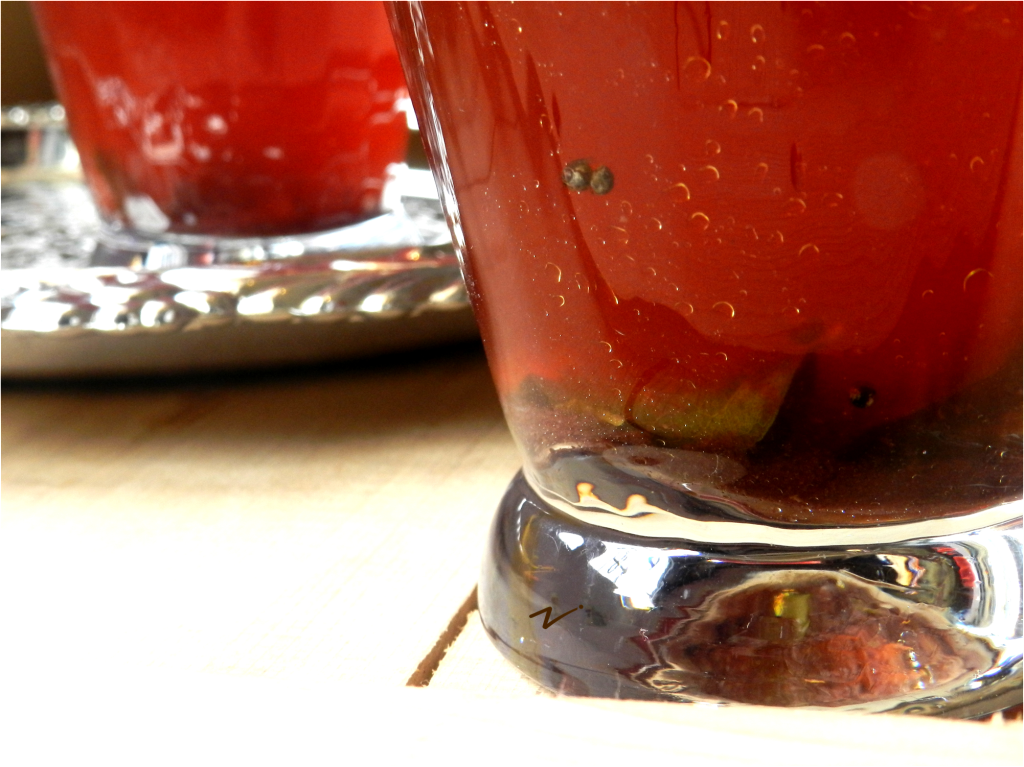 Rasam made from dried kokum (cocum) is one lip smacking soup.
Kokum (cocum) or Garcinia indica is a plant of the mangosteen family. It is a fruit bearing tree and has uses in areas of culinary and pharma. The outer layer of the fruit is dried under the sun to get kokum. They have a sour taste and a very deep red color. They are used commonly in Konkan region in place of tamarind to give tart taste to curries, dals, kadhis. Sherbets made from cocum is also popular and is enjoyed as a cooling drink during summers. Kokum also improves digestion.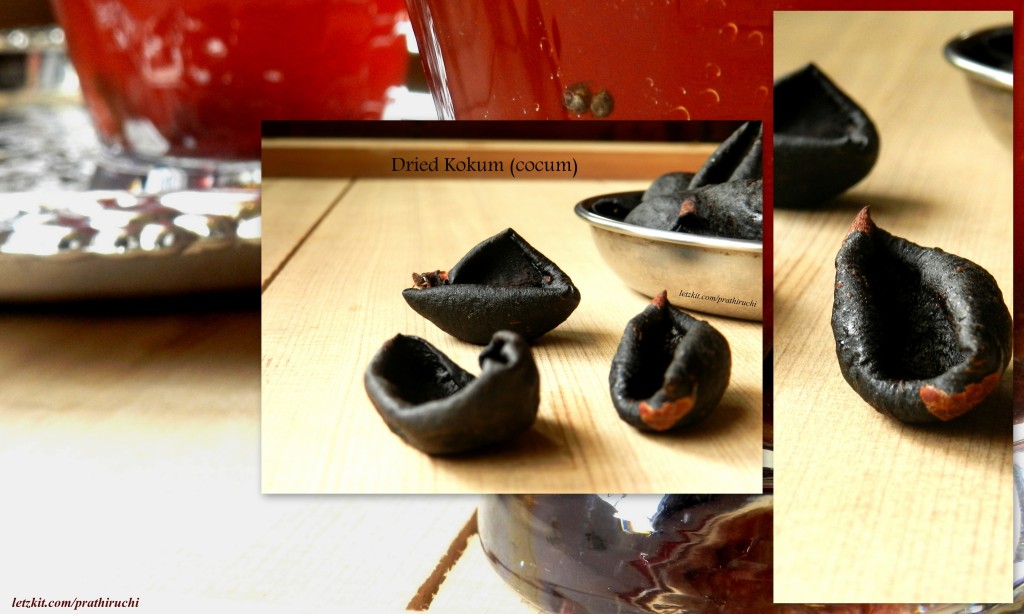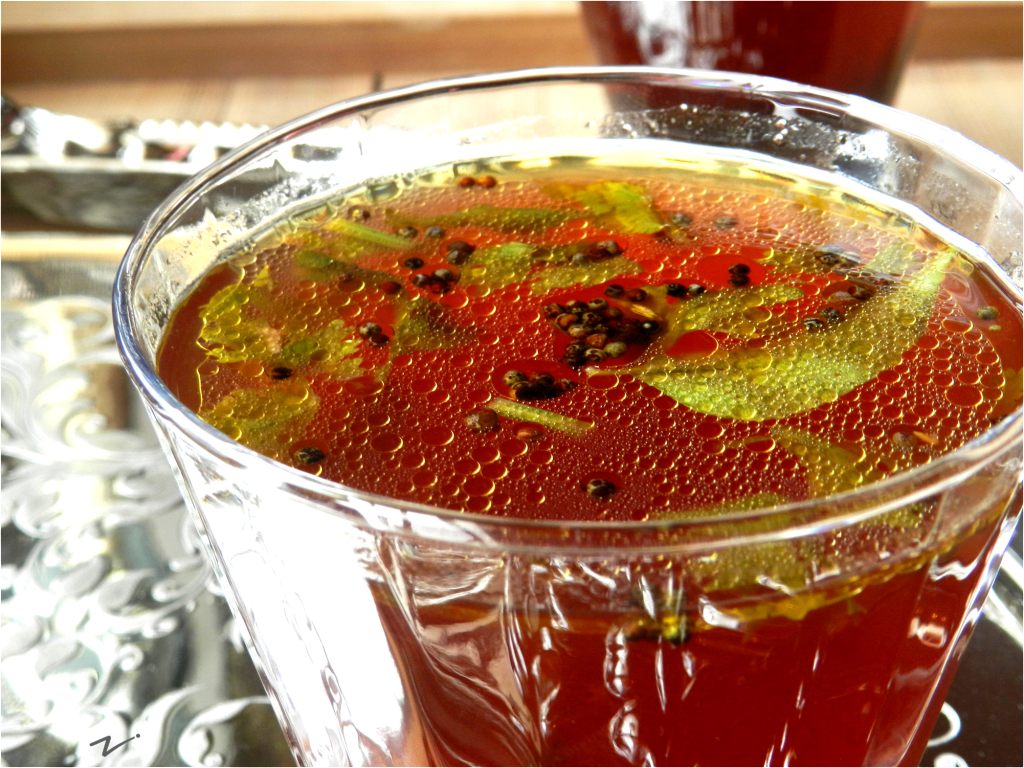 Hot kokum saaru tempered with garlic, mustard and curry leaves in ghee, nice and warming as it pours outside..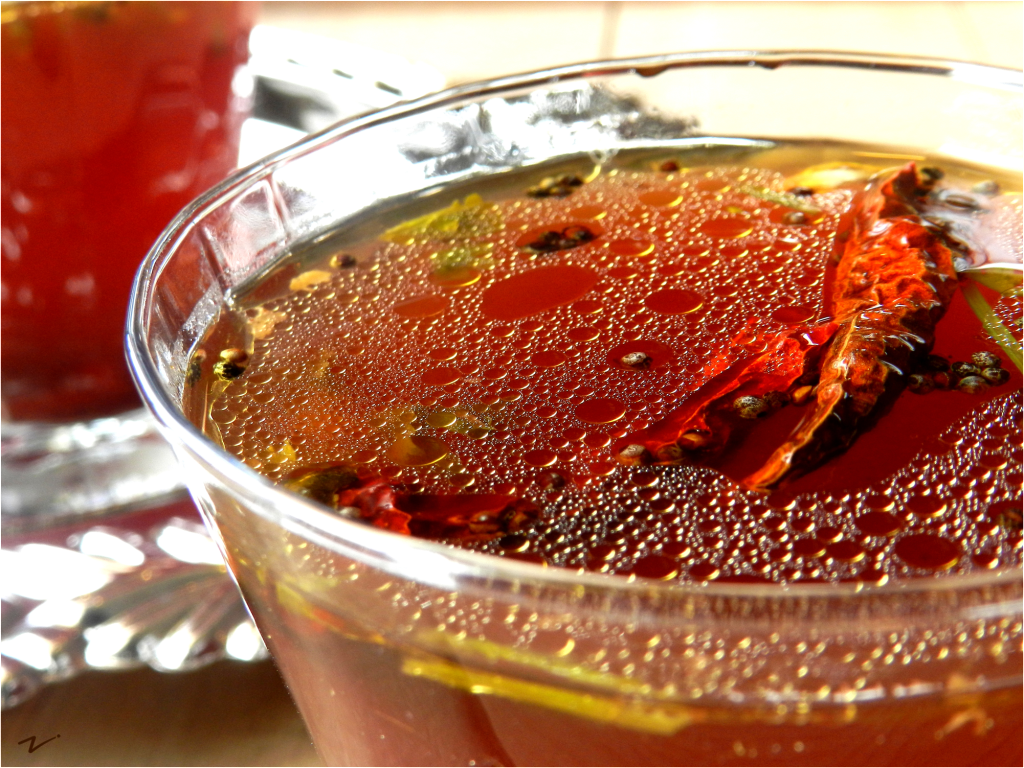 This rainy season sip into some piping hot Kokum saaru flavored with garlic, a perfect combination to combat the chilly weather!
Kokum rasam
Tangy and warming South Indian soup
a handful dried kokum
4 cups water (approx)
jaggery (gur to taste)
salt to taste
For tempering
1 tsp ghee (clarified butter)
1/4 tsp mustard seeds (rai)
1/2 tsp cumin seeds (jeera)
1 dry red chilli (broken and seeds discarded)
6-8 curry leaves
3-4 garlic cloves (peel and chop (optional))
For garnish
chopped coriander leaves (cilantro)
In a vessel put dried kokum, water. Let soak for sometime. Then squeeze out the kokum and discard them. To the ruby colored kokum water add jaggery, salt.
Keep over low-medium flame and let come to boil. Simmer for few mins. Taste and adjust seasoning. Remove from heat.
For the tempering, in a small saucepan heat ghee, add mustard, cumin and let crackle. Add red chilli, curry leaves, garlic if adding.
Pour tempering to the kokum soup. Cover immediately and set aside for 2 mins. Stir and serve piping hot in a glass or soup bowls!
You may strain the rasam before you serve.
Adjust quantity of water, kokum and jaggery as per taste. The above is just an approximate.
Ghee consumed during cold weather helps strengthen your immune system.