…the popular Mangalorean delicacy, the origins and what makes it so popular?
The very mention of the word 'ghee roast' can alert your taste buds and for those who are already familiar with it will longingly remember the fiery red, spicy and tangy dish. Even the generous amount of ghee (clarified butter) that goes into making this Mangalorean delicacy is hard to sway you from your desire to relish them again! It is an extremely spicy and rich dish and yet you remain undismayed and the determination to have them only increases.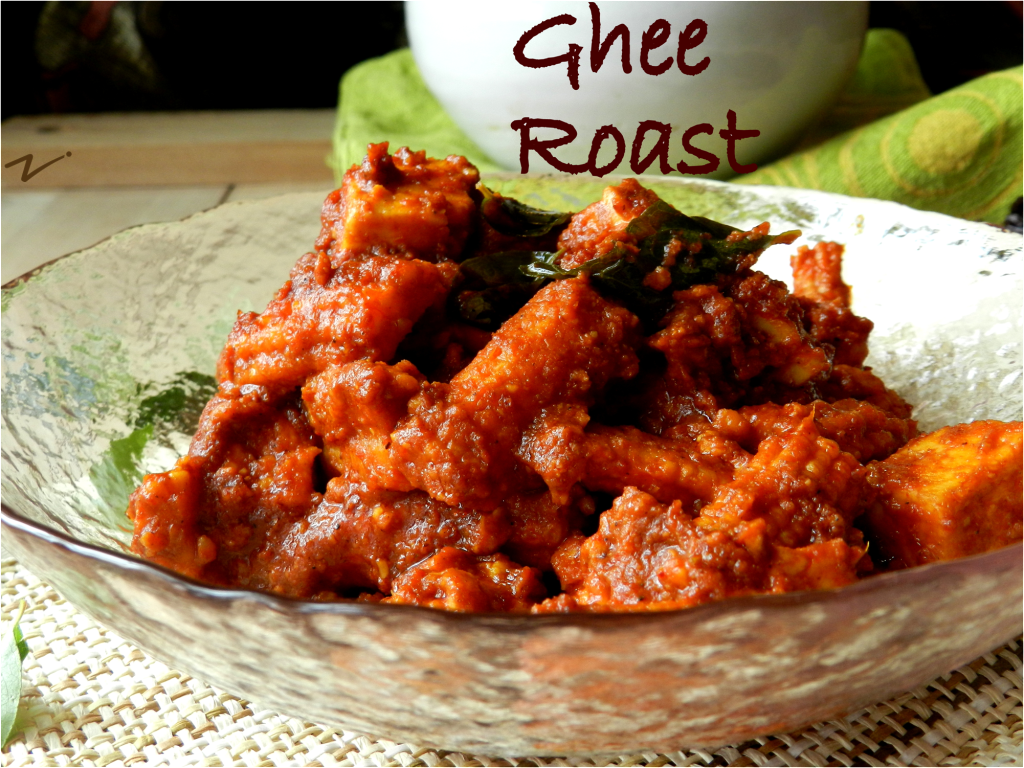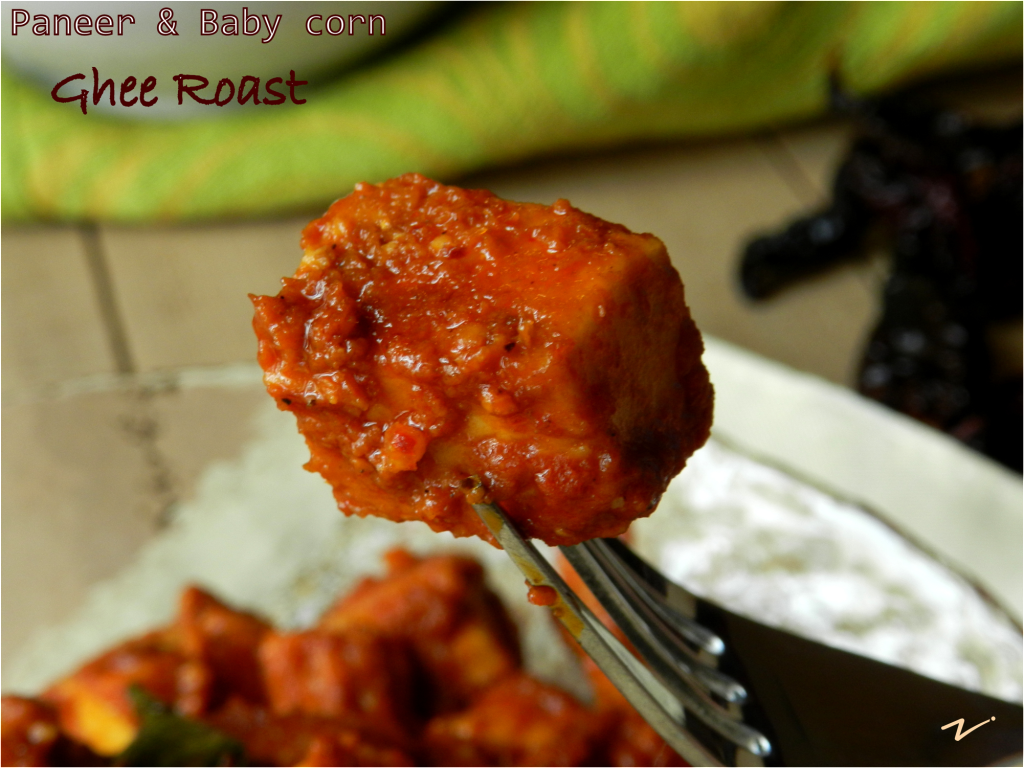 The origins of this delicacy dates back to mid 1980`s. It was first introduced at a restaurant in Kundapur, a small town which is a little more than an hour`s drive from Mangalore. So originally a dish invented in a small town on the outskirts of Mangalore is now very much a part of cuisine of Mangalore, particularly the Bunt community. Those who are fascinated with spicy and exotic food will embark on a life long relation with the 'ghee roast'. The aroma of ghee and fresh spices is tantalizing and let me tell you, this is not for the faint hearted, mind you!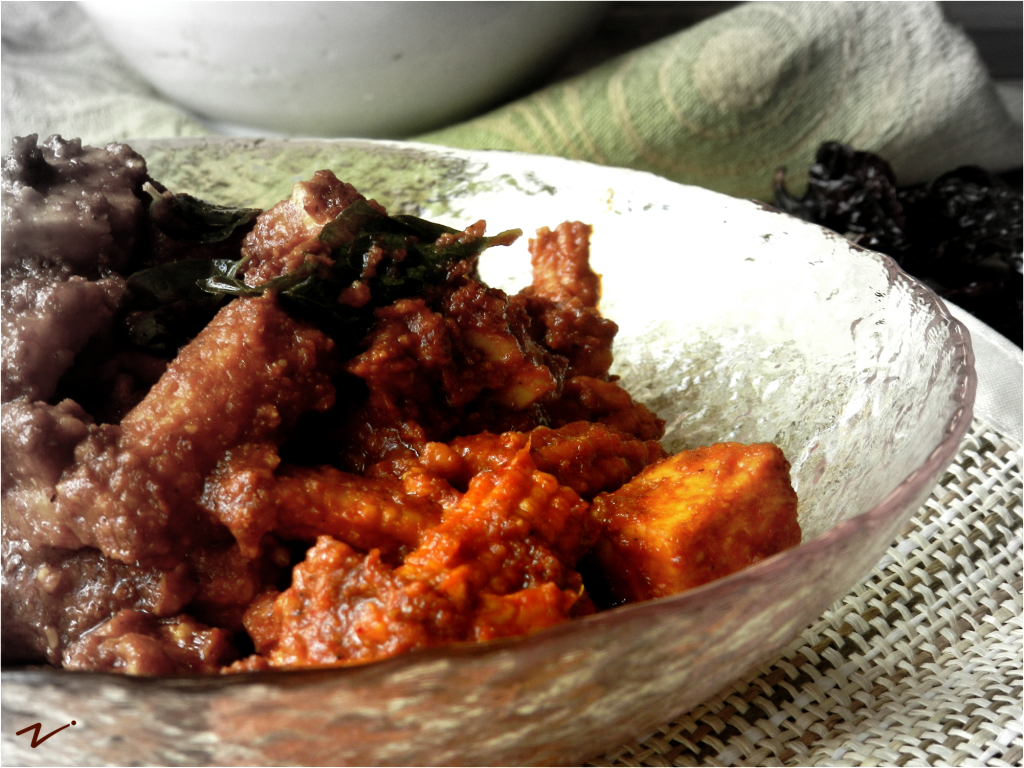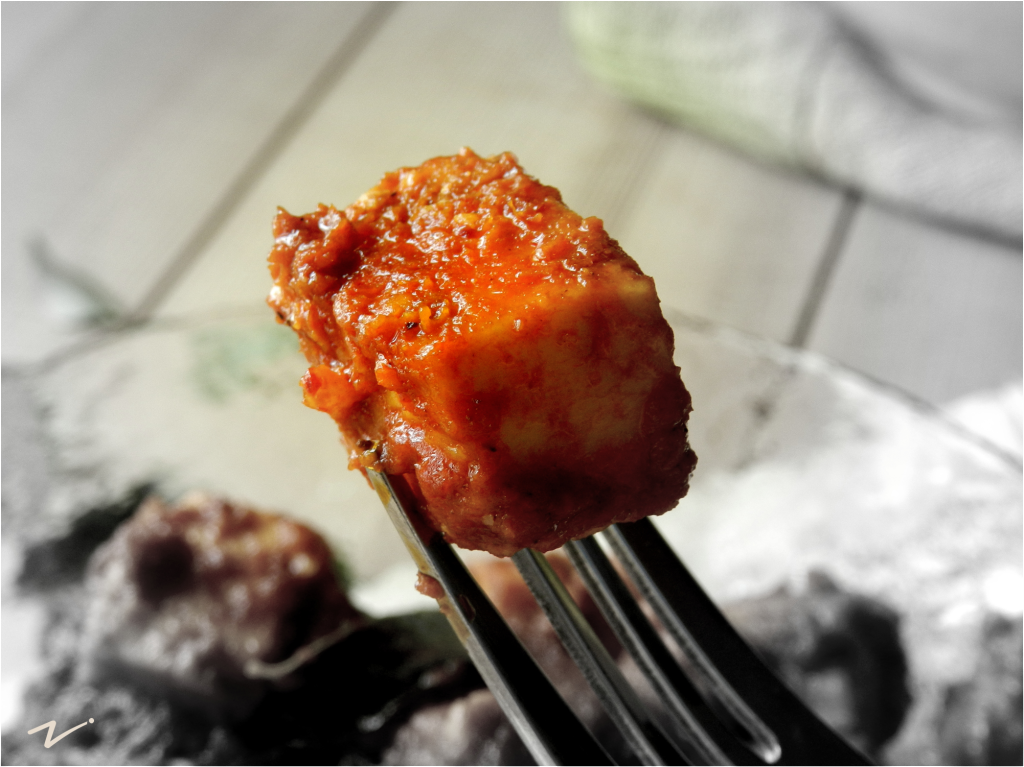 For those determined and undismayed ones, now if you are planning to go ahead and make this dish, there are a few things you need to keep in mind. First and the most important point is – do not be too scant or frugal with the amount of ghee. Ghee is what gives it the characteristic flavor and the name here! The addictive taste very much depends on the ghee. And now do not even think of adding oil. Well if you do want to, then my advice would be to forget about cooking this altogether! And then it cannot be called GHEE roast, can it? Next thing is regarding the chillies. Originally this dish was made fiery hot, with loads of red chillies. It is still made spicy but you can adjust the spice level as per your taste. Do let the minimum level be of atleast medium spice. The paste needs to be nicely roasted in ghee till it thickens and ghee begins to ooze out to bring out the maximum flavors.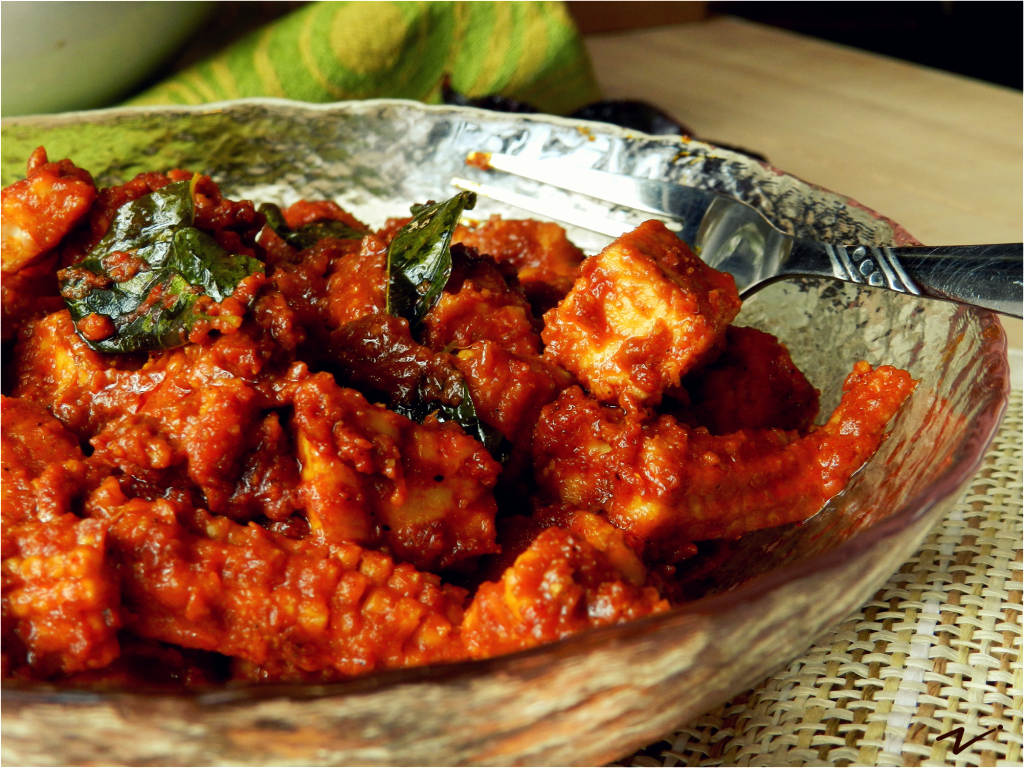 Well, now that you are armed with the basics and the recipe, you may proceed in cooking it, provided you are still undeterred by the richness of this delicacy. Enjoy it with neer dosa (rice crepes, a Mangalore special) or as starter or with mild pulao or ghee rice, lemon rice, appams.
And once again, for your own good, I hope you have read and grasped the characteristics of this dish well before you proceed to make them!
PS : This dish is particularly more enjoyable during the cold weather and rains…
Veg Ghee Roast
2013-07-23 23:38:38
Serves 5
Paneer or other vegetables coated with a spicy masala and fried in ghee!
Ingredients
300 gms paneer cubes OR other veg like baby corn, cauliflower florets, potato, raw jackfruit
For the marinade (optional)
1/4 tsp turmeric powder
3 tbsp curd
1/2 tsp lemon juice
1/2 tsp salt
For seasoning
5 tbsp ghee (clarified butter)
1 sprig curry leaves - optional
For masala paste
6 dry red chillies (byadgi) - or other spicy variety
2 kashmiri dry red chillies
1 tbsp coriander seeds (dhania)
1/2 tsp cumin seeds (jeera)
3 whole black peppercorns
2 to 3 fenugreek seeds (methi)
6 to 8 big cloves of garlic OR 10 to 12 small cloves of garlic
1/2 to 3/4 tsp tamarind paste OR a small marble size ball tamarind
1/2 tsp sugar - optional
For garnish
fried curry leaves
To serve
as starter or with appams, neer dosa, mild pulao
Instructions
Wash vegetables and cook in req quantity of water, turmeric, 1/2 tsp salt till tender and cooked but should remain firm. No need to cook paneer but soak in warm water for 3 mins. Drain veg/ paneer.
If you want to, you can add the marinade ingredients to the cooked veg/ paneer and set aside for few minutes till the masala is done.
For the masala paste
Dry roast red chillies, peppercorns, coriander, cumin, fenugreek till aroma emits. Take care not to burn the spices. Then grind roasted spices with garlic, tamarind with minimum amount water into a thick and smooth paste.
Proceed
In a pan heat ghee, add curry leaves if adding, masala paste and fry well till raw smell disappears and ghee starts to separate.
Add the veg/paneer, salt. Mix well to coat. If needed you can add 1/4 to 1/2 cup water/masala water. Cook on medium-high heat till masala dries up and is thick.
Add sugar, mix and add garnish.
Notes
Adjust quantity of red chillies depending on spice level desired and variety of chilli being used. This dish is supposed to be on the spicier side, so avoid making the masala too bland. The flavors of the dish can vary depending on variety and quantity of chillies used.
Masala water is just water added to the mixer jar in which the paste is made and swirled to get the flavor of the any remaining masala.
Ghee is the main aroma in this dish. Do NOT substitute it with oil!
You need not peel the garlic here and may grind along with the skin.
Prathi Ruchi http://www.prathiruchi.com/