…..and some lip smacking Amla Tambli / Pachadi
The
tart, jade green edible fruit
can either be loved or simply hated! One needs to acquire its taste. There are of course more reasons for it to be accepted than detested! To start with, what exactly is
amla
or the
Indian gooseberry
? It is an edible fruit of a small to medium size tree, botanical name –
Emblica offinalis
. Its flowers are greenish yellow. The fruit is light greenish yellow, almost spherical, smooth and hard in its appearance.It is quite tart to taste. Hence it is quite common in India to steep the amla in salt water and turmeric to make them less tart or simply more palatable! For the benefits from eating amla is so vast that they simply cannot be given up just because they are slightly sour to taste..
Fresh Indian gooseberry made into a Pachadi/ tambli..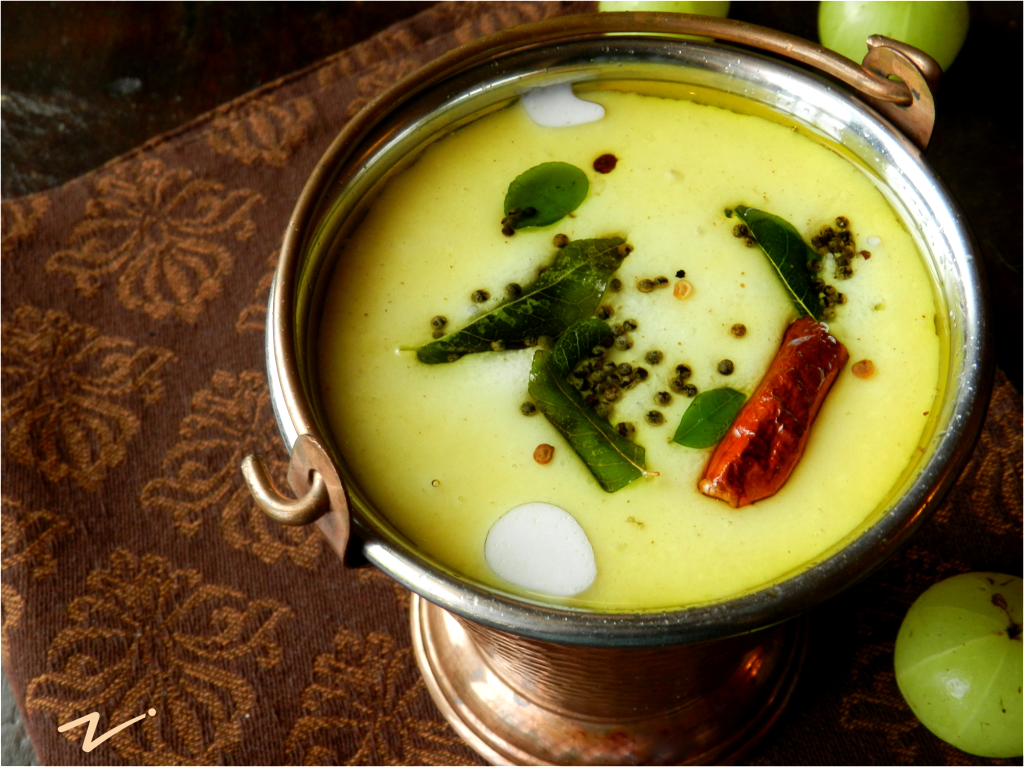 During the season, when the amla fruit ripens in autumn, I simply love cutting them into rough wedges, dipping in some salt and simply munching on them! No doubt that these little green beauties surprises you as you bite into them with its sourness. The salt however mellows it down a bit. But take a sip of water after taking a bite of amla and you will be surprised by the mild sweetness that it leaves behind. A bit of amla followed by a sip of water is how dad thought me to enjoy all the goodness of this wonder fruit!
This reminds me of another mouth watering way to relish amla, that is by preparing what is called 'murrabba'. My grandmother would make this during each amla season years ago. Here the amla is seeped in sugar syrup rather than with salt. It is then served as accompaniment with anything of your choice – chapathis, bread or simply take a spoonful and enjoy as is!
The Indian gooseberry is 'amla' in Hindi or 'nellikai' in Kannada & Tamil, 'avaalo' in Konkani, 'usiri' in Telugu, 'ma kham pom' in Thai. Eating amla is known to enhance digestion, promote longevity, reduce cough or fever, purify blood. They are also beneficial for hair growth and the eyes.
While immersing in salt or sugar syrup makes amla to be preserved for months together, some instant dishes are also very popular and be whipped up in a jiffy. For instance, the nellikai chutney has become the recent favorite at home. Tartness from fruit with spice from chillies match oh so wonderfully! Juice made from amla is also very refreshing. Adding them to dals is yet another tasty option, as well as dishing out some simple 'Amla rice'.
We recently added some grated amla to regular beetroot cutlets! It was hard to guess which ingredient lent the dish such pleasurable tang! And no doubt that the Udipi favorite – Tambli, is yet another delicious and healthy way to enjoy indian gooseberries. It is similar to a pachadi or a raita and the Tambli is enjoyed with some warm steamed rice! Finger licking good!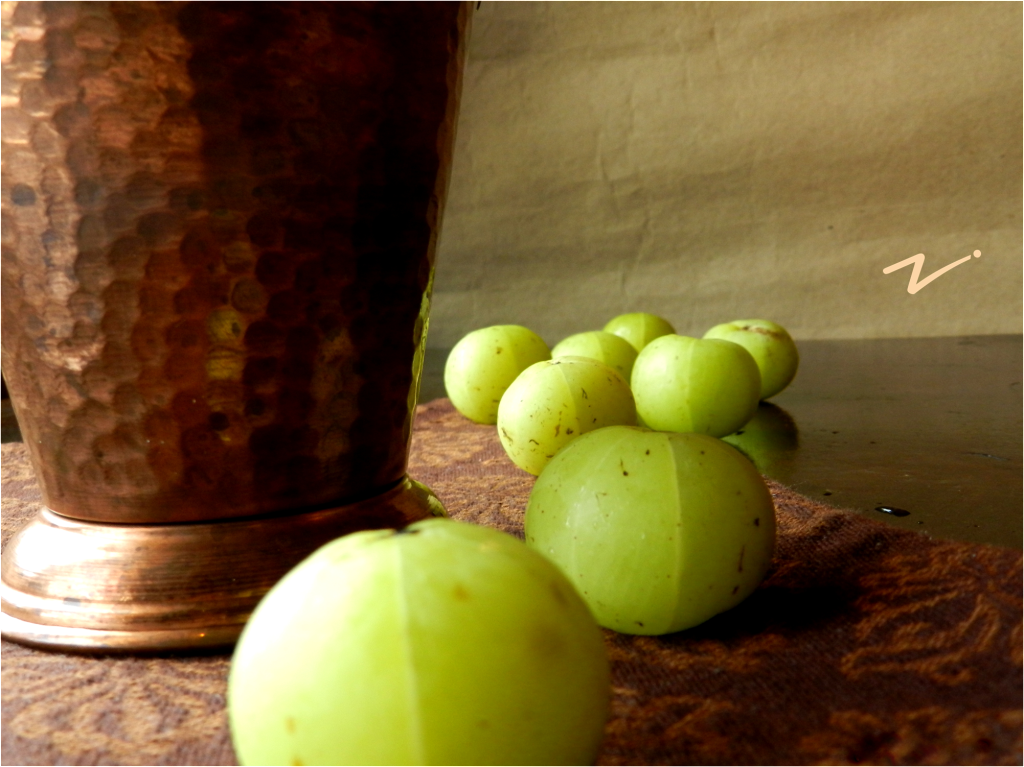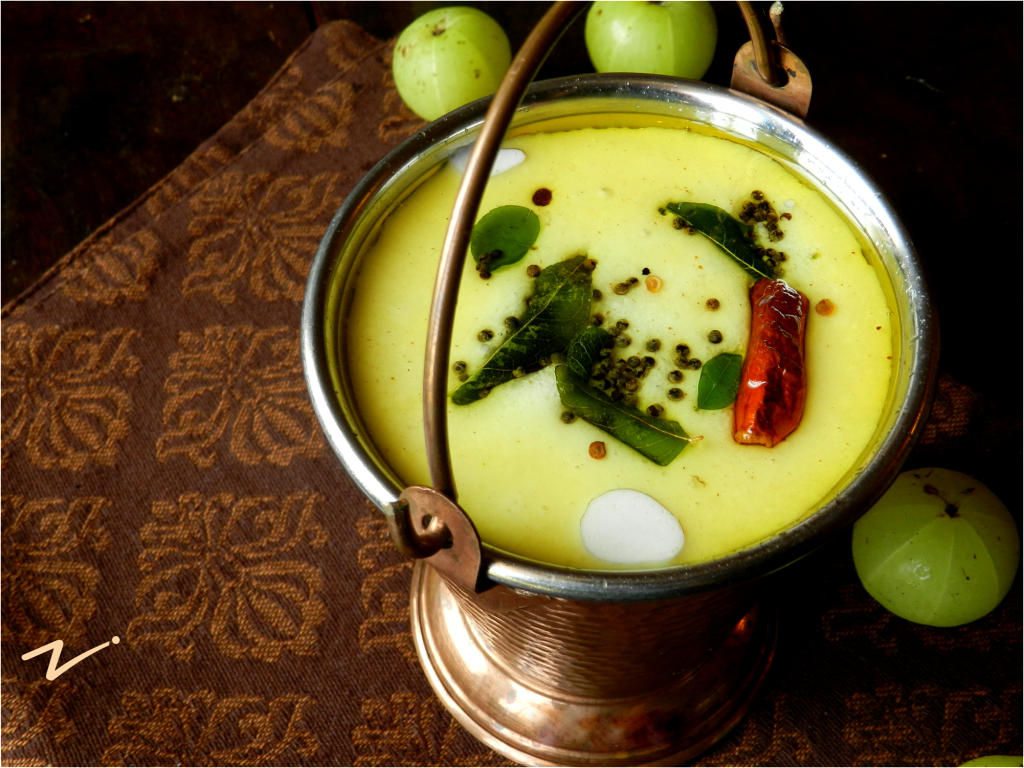 Update on 10/07/2013
A useful amla tip given by a relative, Aunt Jyothi from Chennai
This fruit can be soaked in water say 10 to 12 allow it to be there for 24 hours & take only the water to drink. Again add fresh water to the same Amla and remove the water next day and drink this water. This helps to cut down on your sugar level in your body, good for the heart, blood , even against cancer. Same Amla can be used for 15 to 18 days.
Nellikai (amla) Pachadi
Lip smacking, tangy amla raita
Fresh curd – 1 ½ cups
Salt – to taste
For paste
Amla (nellikai, Indian gooseberry, chopped – ¼ cup)
Green chillies – 1-2
Grated coconut (fresh – ¼ cup)
For tempering
Ghee (clarified butter OR oil – 2 tsp)
Mustard seeds – ½ tsp
Asafoetida (hing – ½ tsp)
Dry red chilli – 1 (broken)
Urad dal – ½ tsp
Curry leaves – 1 sprig
Serving suggestions
Grind together ingredients under 'paste' with 1-2 tbsp water or as needed for grinding.
In a bowl put curd, salt, amla paste and whisk till smooth.
For tempering, heat ghee/oil. Add all tempering ingredients and let mustard splutter. Then pour tempering to curd-amla in the bowl.
Mix well. Serve with some warm steamed rice and fried curd chillies or relish as is!
Indian gooseberry or 'amla' in Hindi & Gujarathi, avaalo in Konkani, nellikai in Kannada & Tamil, usiri in Telugu, ma kham pom in Thai. It is a light green tart fruit and botanical name for amla is Emblica officinalis.
Medicinal value – Amla is known to enhance digestion, promote longevity, reduce cough or fever, stimulate hair growth, purify blood, strengthen the heart and also beneficial for the eyes.
Culinary uses – They can be eaten raw or cooked and added to various dishes such as dal, chutneys. They can be pickled with salt and preserved. Amla Murabba is a popular Andhra Pradesh/ North Indian specialty. Here amla is cooked and preserved in sugar syrup.
Which is your favorite way of eating amla/ Indian gooseberry?