Besan ke laddoos or sweet dumplings made from gram flour, ghee and sugar is one popular Indian sweet recipe made and relished in many homes during festivals, like Deepawali and Krishna Janmashtami. Laced with the flavor of cardamoms (elaichi) and some nuts mixed in, all make it a tasty sweet dish. No wonder they are well liked by so many!
Serve this traditional sweet in traditional serving plates for festivals. And there is an interesting way to eat and enjoy the leftovers on other days. That is, for a fancier version, serve them with eggless vanilla custard! Yes, chilled or even warm custard with homemade besan laddoos is a mouthwatering treat!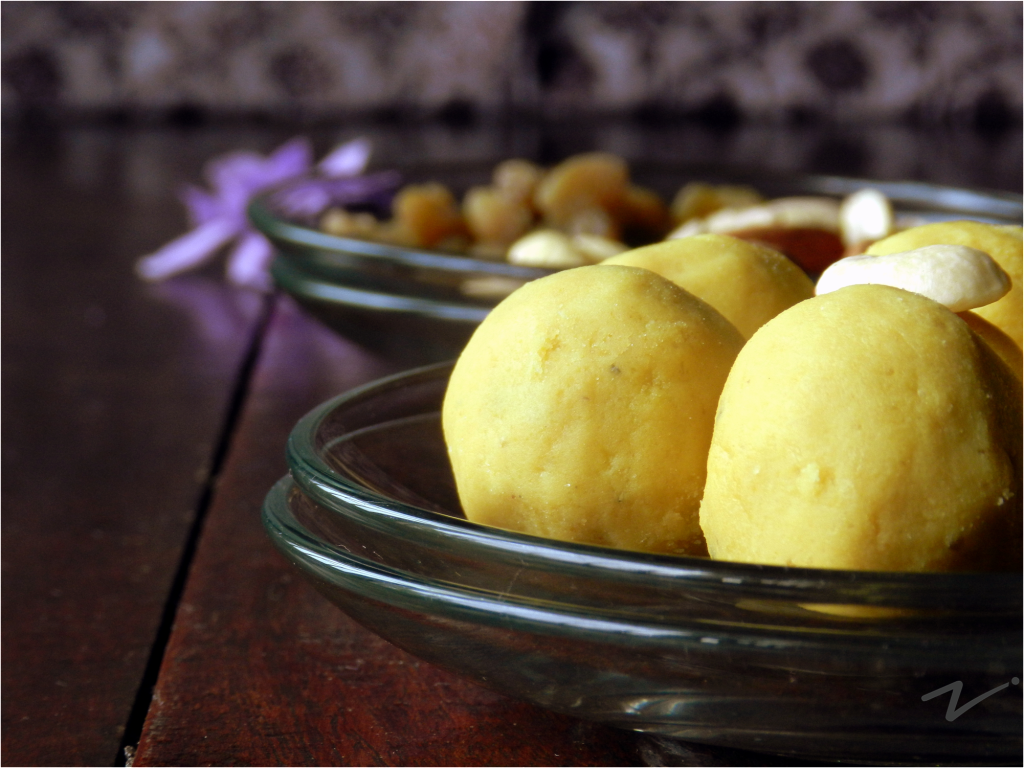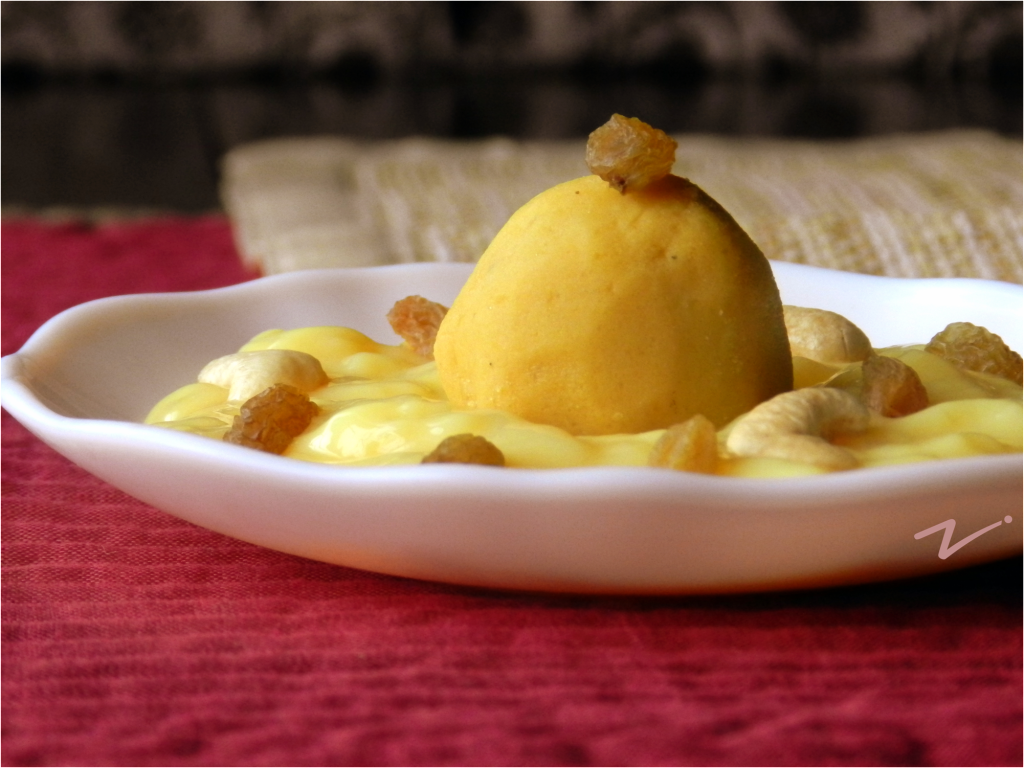 Gram flour roasted in ghee give such a lovely aroma to these laddoos. This is not one of those sweet dishes that you eat once, enjoy and then forget about it. It is one of those which you are reminded of too often and crave for it longingly. But then again besan laddoos are pretty easy to make compared to other popular Indian mithais. And so you can you can make then whenever your heart desires to eat them!
Now off you go to satisfy your cravings for these cardamom laced laddoos. I just did mine…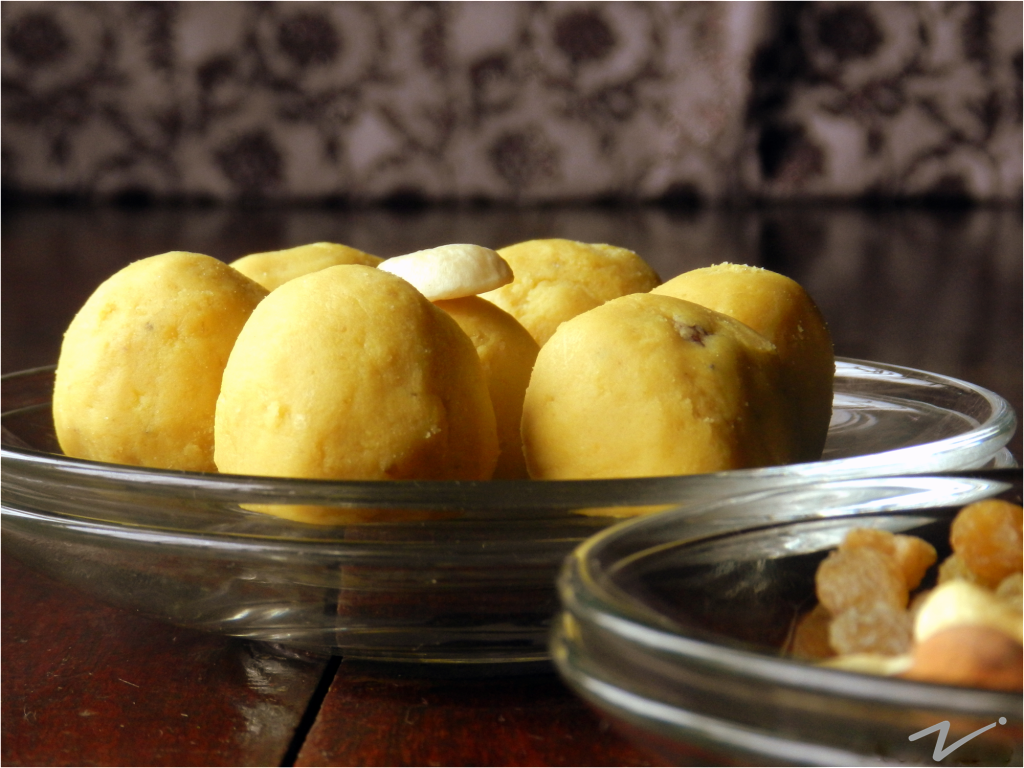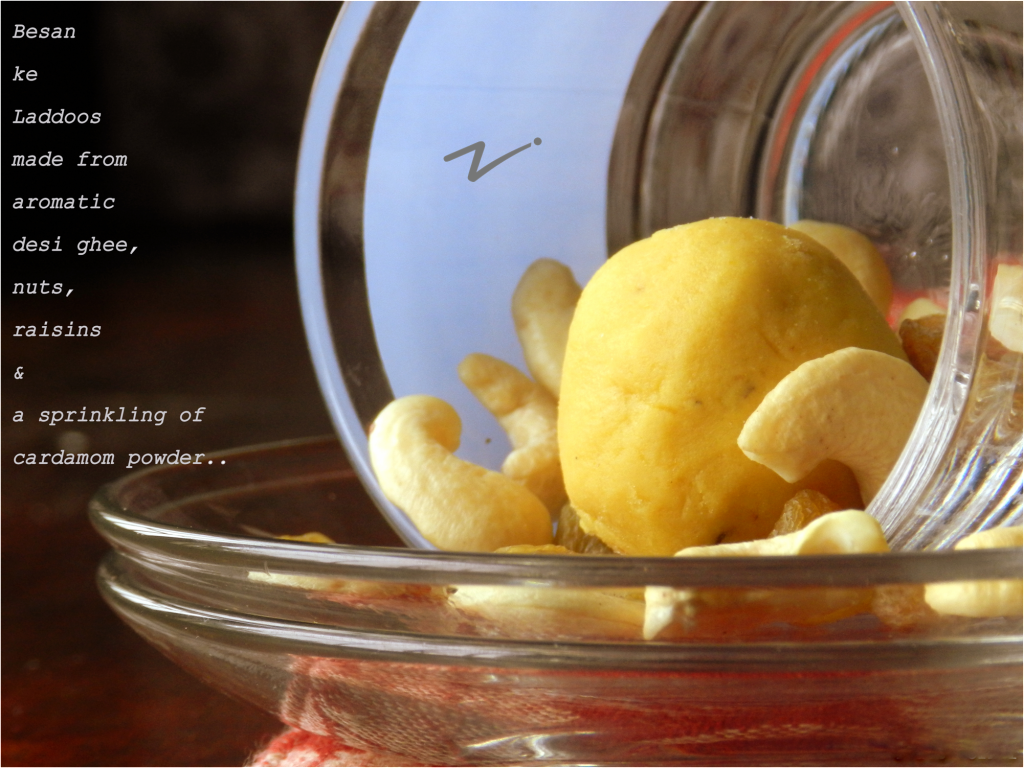 Click here to know more about Krishna Janmashtami – the significance, legend, customs..
Besan ke Laddoos
Sweet gramflour balls
For Besan laddoo
Gram flour (besan – 4 cups)
Powdered sugar – 2 cups
Ghee (clarified butter – 1 cup)
Cashew nuts (kaju – 12)
Almonds (badam – 12)
Green cardamom powder* (elaichi – 1 tsp)
For vanilla custard (if needed)
Milk – 200 ml/ 1 cup
Sugar – 2 tbsp or to taste
Vanilla custard powder – 1 to 2 tsp or as needed for desired consistency
Vanilla extract – ¾ tsp
For besan laddoo
Sieve the besan/ gram flour through a fine sieve, set aside.
Coarsely grind cashew and almond to small bits/pieces.
In a kadai/ thick bottom wok type pan melt ghee. Add the sieved besan, cook over very low flame till besan is no longer raw and emits a nice aroma. Keep stirring with a steel spatula. This may take around 15 to 20 mins.
Add in the cardamom powder, fine chopped cashew and almonds. Stir and take it off heat.
Let this besan mixture cool for some time till it turns just warm. Then add the powdered sugar and mix well with hands.
Note – If the besan mixture is too hot, it will turn too moist when sugar is added or if at room temperature, sugar will not melt at all and you will not be able to shape into balls. So let the mixture be just warm
Shape the mixture into walnut sized balls. Store in an airtight container at room temperature. Serve straight out of the box as is or with some chilled or warm eggless vanilla custard!
For vanilla custard
Mix vanilla custard powder with 2 tbsp milk.
Put remaining milk to boil. When it comes to a boil add the sugar and stir to dissolve. Taste and adjust sweetness as per taste.
Add the custard paste while stirring constantly to avoid lumps. Stir and let heat till the mixture thickens i.e. coats the back of a spoon.
Remove from heat and add vanilla essence. Cool and then refrigerate to chill. Serve chilled custard with besan laddoos or chopped fresh fruits.
Storing besan laddoos in refrigerator will make them harden. So store at room temp and will for few days.But if you need to store for more days, then warm the laddoos for 15 to 20 seconds in the microwave and then serve. They will look freshly made!If you do not have a microwave, simply leave it out at room temp for some mins to let them soften.
To powder green cardamom, peel and take out the seeds. Pound the seeds in a mortar & pestle with ½ tsp sugar.