Life throws in many opportunities your way. Some seem promising and some not so. Some call for major turnaround and some become a part of our daily life. Some call for role reversal or role change. The new openings and chances that come your way will have many more such different shades. Opportunities need to be seized real soon! Because, once opportunities go they take a long time to come back. They need to be scrutinized from various angles. These 'chances' do not last forever. They come with an expiry date.
What will be the right key to unlock the 'opportunity'?
…Have a positive attitude, focus, be curious, meet more people and discuss on it, be willing to explore and take risks and in the end, take your decision and stand by it!
When we set out to do the best we can do, putting all our efforts, heart and mind to it, it is but inevitable that the best opportunites light up your path. Great opportunities will find us and knock on our door because we are doing what we truly believe in and what makes us happy. And then we open the door to welcome a 'new juncture or event' with hope and dedication at an all time high!
Do you hear OPPORTUNITY knocking on your door???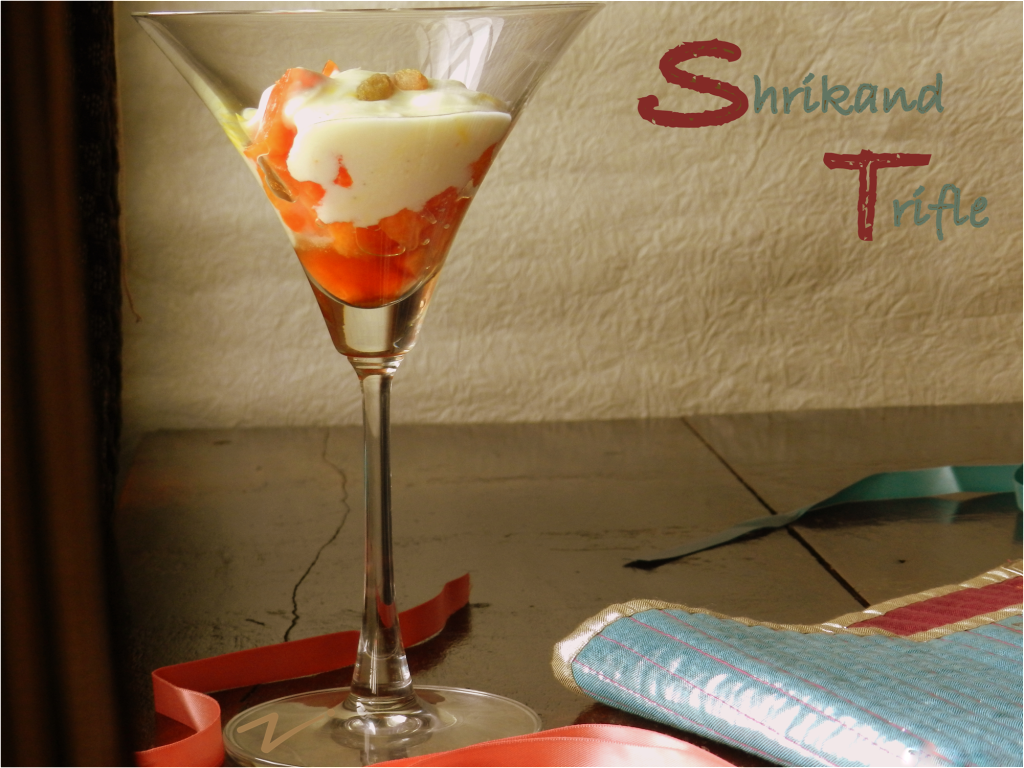 Its one of those days once again, when we crave for some divine and decadent desserts! I did not want to put of a fight and shoo..away my cravings. I decided it was a day to be immersed in a world of 'sweetness'! For the theme for the day seemed make the best of the choices that come your way, however tiny they may be!
But the challenging part of it was in the final choice – do I go for an international dessert or do I opt for traditional desi mithais (indian sweets) ?
Both have their addictive characteristics and they both 'options' put up a staunch fight. That is when I reeled in my sister too. Maybe then the decision taking part would be easier. And then somewhere along this thinking process, the two options came face to face and made me venture into trying out a dish combining international and Indian dessert elements! This post is a testimony that in the end I stood by the choice made, LOL!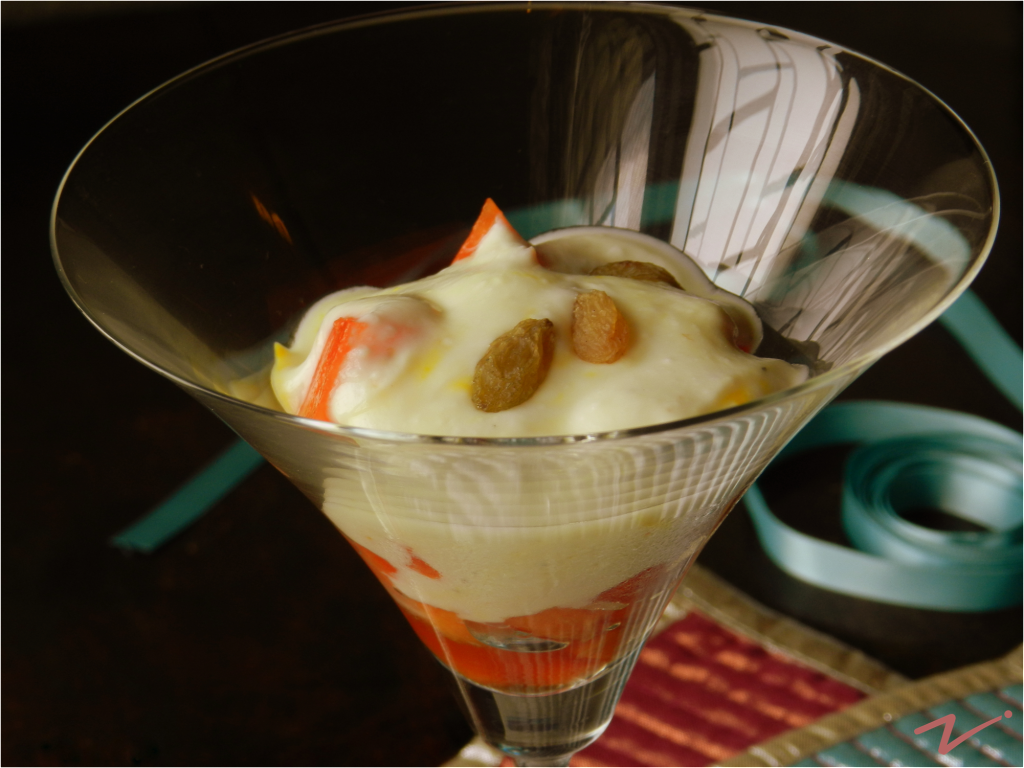 The next thought naturally would be what two varied dessert-mithai would blend together harmoniously? A big bowl of yogurt sitting in the refrigerator was the answer to this question. And how is that you ask? Well for one, this bowl came with an expiry date!!
Plenty of curd equals hung curd which equals the satiny smooth Gujarathi sweet dish – Shrikand! Its satiny smooth texture for me reminds of a pudding but flavored with aromatic indian spices.
Shrikand is a popular Gujarathi sweet dish made from strained yogurt. This sweet is also popular in Maharashtra, where Amarkhand (shrikand with mango puree) is the people`s favorite. In Gujarath, shrikand is relished with hot, puffed puris (indian fried bread).
Shrikand blends harmoniously with fresh fruits and offers the option of a light and refreshing dessert for dinner parties as an end to a spicy, heavy indian meal. It can be made in advance and refrigerated and having some store bought greek style yogurt available makes it even more simpler!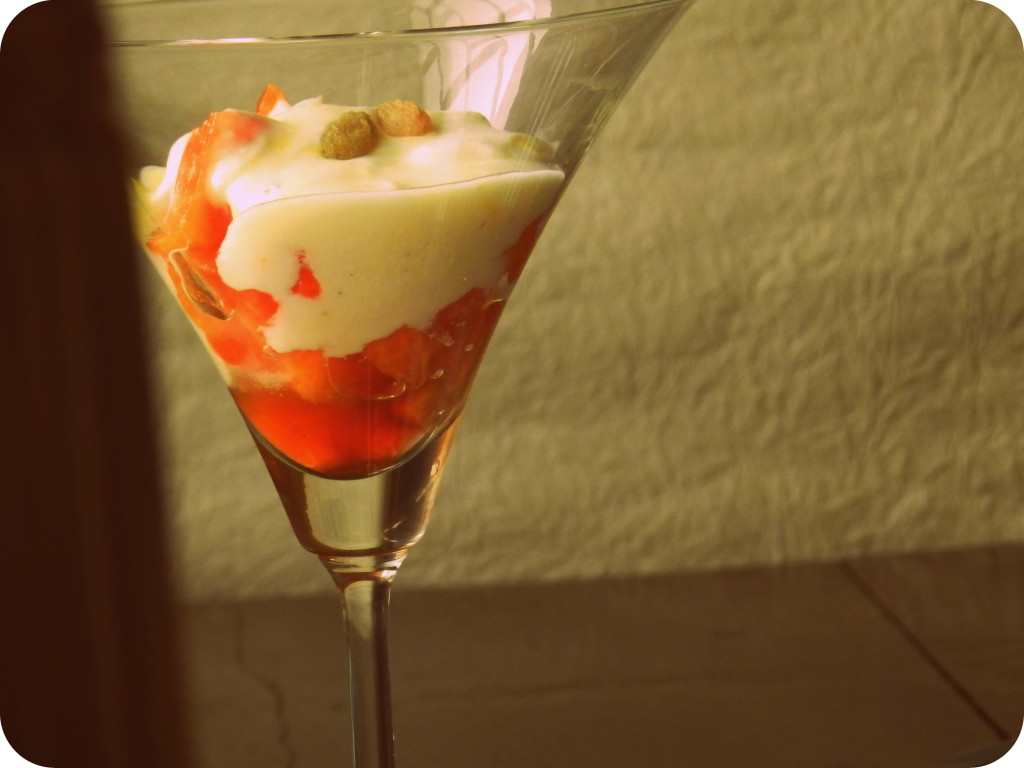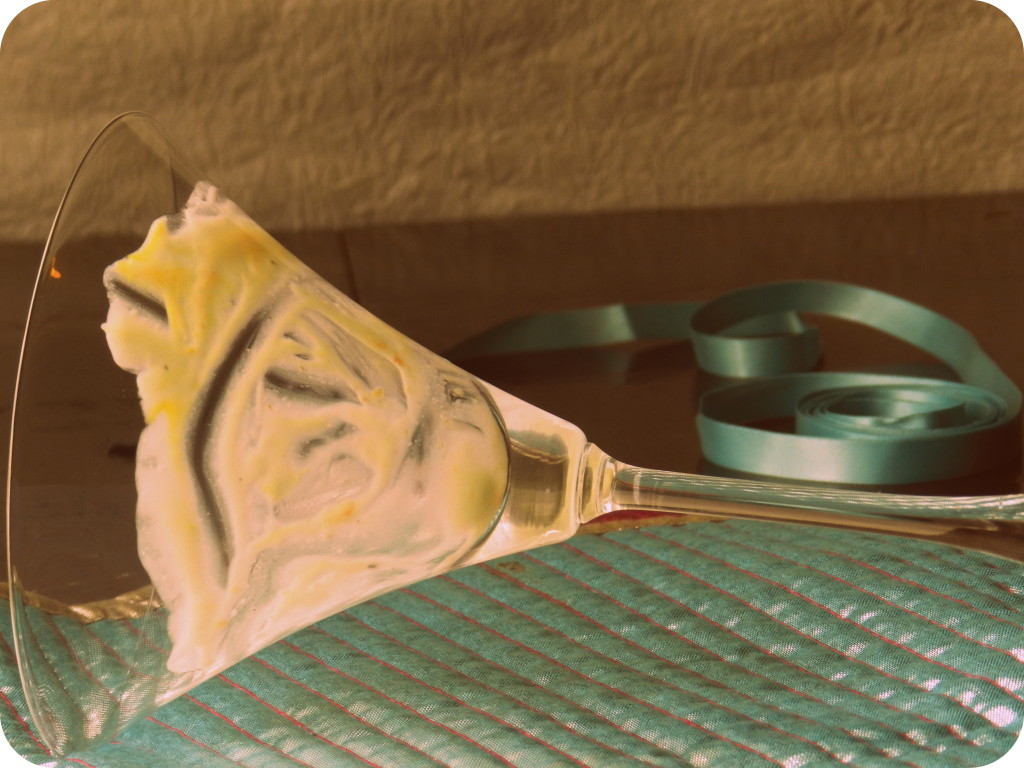 Be creative in serving this dessert – serve in martini or parfait glasses, may top with slivered nuts, raisins, pomegranate pearls, saffron strands, rose petals.
The fruits for this 'Indian trifle' ensure play of flavors of sweet and sour as you take a spoonful of it along with the satiny shrikand. The final taste you get is a bit of a surprise – a bit of spice that is a warming element to this dessert!
To sum up, this dessert has – cinnamon, spice and all things nice!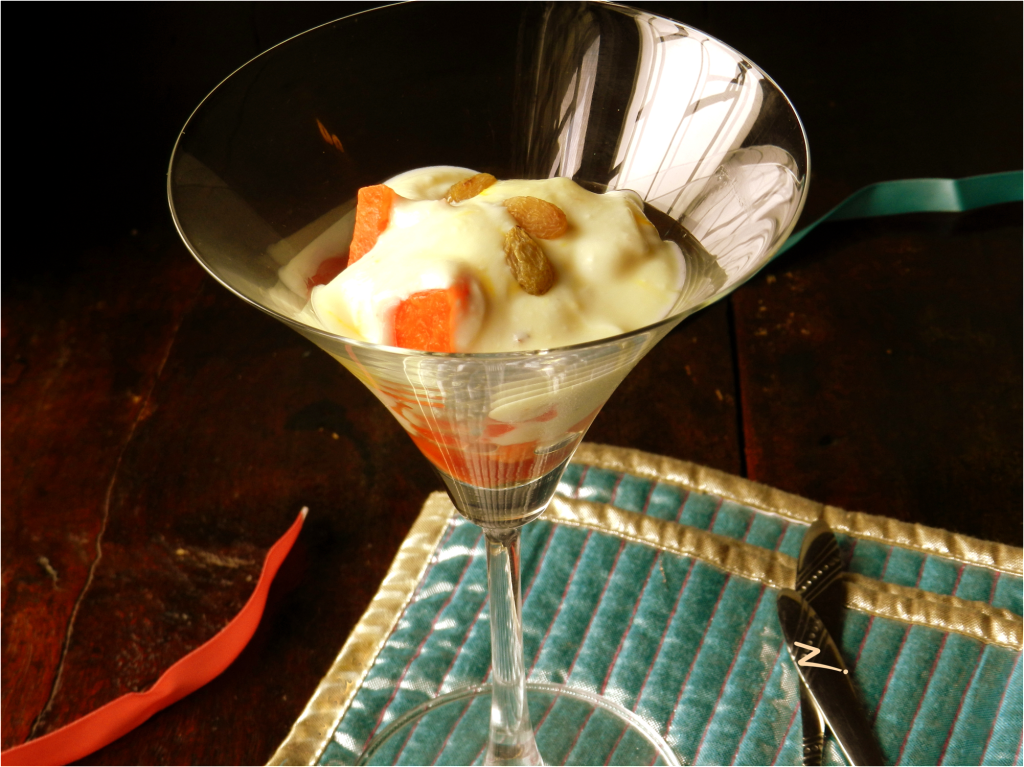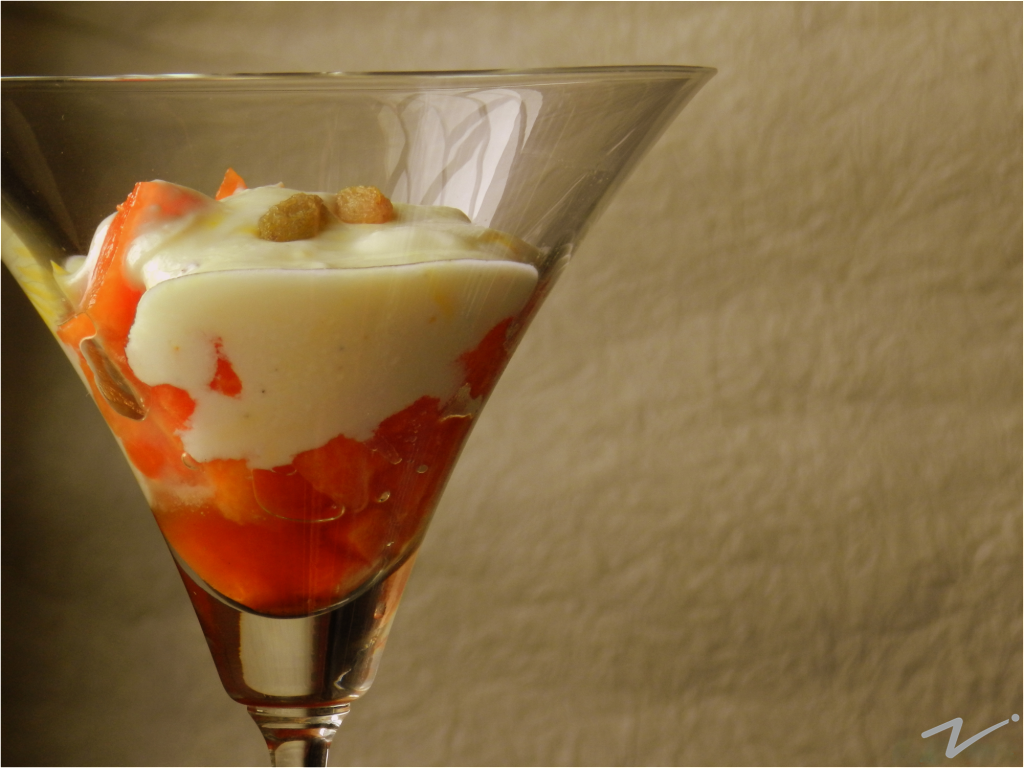 Shrikand Trifle
Traditional Indian sweet dish with an international twist!
For Shrikand
Thick curd (yogurt – 2 to 2.5 cups)
Powdered sugar or icing sugar – 8 to 10 tbsp or to taste
Saffron (kesar – few strands)
Green cardamom seeds – of 3 to 4 cardamom (freshly ground)
Pistachio and almond (badam slivers, orange or lemon zest, raisins – to garnish)
For Spiced jaggery syrup
Water – 400 ml
Jaggery (gur OR soft brown sugar – 3 to 4 tbsp/ to taste)
Whole green cardamoms – 3
Whole brown cardamoms – 1 (optional)
Cinnamon stick – ½" OR ½ tsp cinnamon powder
Whole cloves – 2 OR ½ tsp powdered cloves
Fresh ginger – 1" piece
Rose water – 1.5 tsp (optional)
For Fruits layer
Choose any single fruit from the following or any combination for 4 portions as per choice
Apple (papaya, peach, plum, mango, pomegranate, pineapple, grapes, orange segments, lychee, strawberry.)
For Shrikand
To make hung curd, line sieve with a muslin cloth, pour in the curd and let the water (whey) drain for at least 2 hours OR tie the cloth with the curd to a tap over a sink and let whey drain away. Discard whey.
In a bowl put the hung curd. Add some of the powdered or icing sugar and mix well with hand whisk. Taste and if too sour add some more icing sugar as per taste. Add the saffron strands and cardamom powder. Mix well with hand whisk.
Chill in refrigerator. May serve only the chilled
shrikand too in individual bowls garnished with slivered
nuts or serve as a trifle as given below.
For Spiced Jaggery syrup
Put all ingredients in a saucepan (except rose water), keep over heat and stir until the jaggery dissolves.
Then bring to boil. Then simmer for 10 to 15 mins or till the syrup turns a bit thick. This depends on the quality of jaggery used too. Sometimes it may not thicken too much but do let it simmer for the above mentioned time to let the syrup be infused with the flavour of the spices and also let the quantity of the liquid reduce to about 300 ml.
Remove from heat, add rose water and stir. Cool and chill in refrigerator. May also serve syrup at room temperature.
For Fruit layer
Peel and chop fruits as required. Put chopped fruits in a bowl. May sprinkle fruits like apple with lemon juice to prevent it from darkening. If serving later, cover the bowl with cling film and refrigerate till serving time.
At serving time
Take 2 or 4 parfait glasses or dessert bowls. Pour a tbsp
or two of the spiced jaggery syrup into each bowl.
Then put some chopped fruits. Top with 2 or 3 tbsps of
chilled shrikand. Garnish with slivered nuts/ zest as per
choice.
Serve immediately!
Prepare all the 3 parts of the trifle – syrup, shrikand, fruits and refrigerate. Assemble only at serving time as the syrup and fruits may make shrikand too watery.
Instead of preparing hung curd at home, use store bought Greek style yogurt. In that case make shrikand by adding all ingredients directly into a bowl.
Instead of layering, you can add chopped fruits of your choice directly into the shrikand. Mix and serve chilled. In that case make sure the curd is sufficiently thick and skip orange.
part from above fruits, you can also add chopped chickoos OR add few tbsps chickoo puree and than add chopped apples for a Chickoo-Apple Shrikand.
You could also hang the curd in muslin cloth overnight to remove whey. In that case keep the tied muslin on a sieve and keep a bowl below the sieve. Refrigerate this as it drains to prevent curd from turning sour.
Serving only chopped fruits with the spiced syrup also makes an interesting for an interesting and a vegan dessert!
You could serve the basic shrikand (flavoured with cardamom and saffron) with hot pooris (fried Indian bread).