For a cold, rainy day, here is a bowl of hot soup packed with an abundance of vitamin A and benefits of herbs.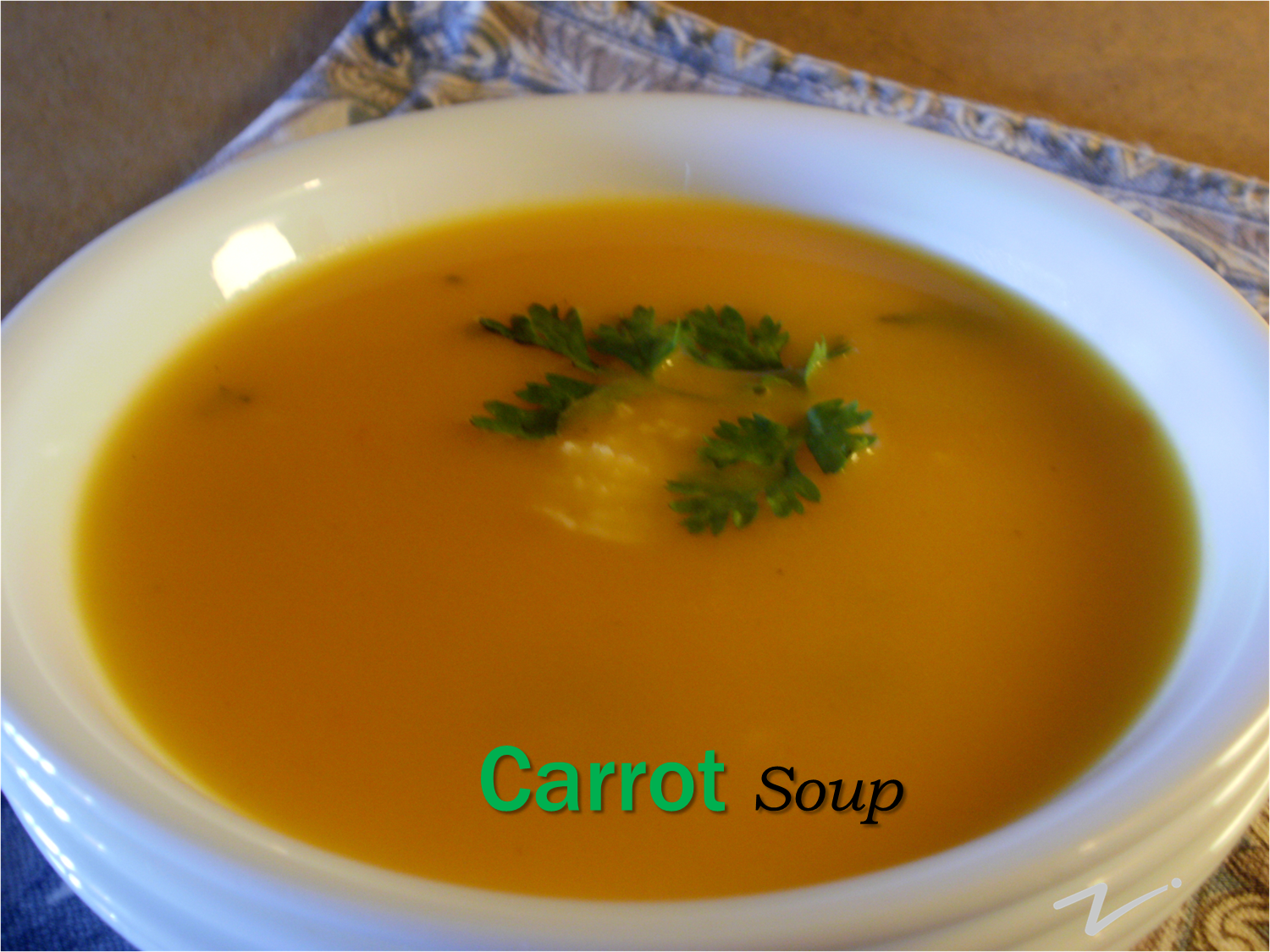 Carrot Soup
Carrots and herbs make an extremely comforting soup.
For Basic Carrot Soup
4 carrots (or 250 gms , peel and chop into big chunks)
1 big onion (cut into cubes)
3 cloves garlic (peel)
a small piece cinnamon (1/2 " piece – optional)
1 bay leaf – optional
1 tbsp butter
sugar to taste (optional)
salt and pepper to taste
3 to 4 cups water (or as required, maybe up to 6 cups – total – to cook veg and also to add to pureed carrot-onion)
1/2 tsp lime juice – optional
For Herb Carrot Soup (optional)
Cilantro Carrot Soup – 2 tbsp minced coriander leaves (cilantro to be added when you simmer the puree/ soup OR grind chopped coriander leaves along with the boiled carrots & onion.)
Curry Carrot Soup – Add few (~a tbsp each of fresh curry leaves and fresh coriander leaves when you grind the boiled carrots and onion.)
Minty Carrot Soup – Add some fresh mint when you grind the boiled carrot-onion.
To serve
Dice onions, carrots. Peel garlic.
Heat butter in pressure cooker or thick bottomed pan. Saute onions till they soften and start to sweat.
Add the bay leaf and cinnamon (if adding), garlic cloves, diced carrots. Stir once and add water. If cooking in pressure cooker, cook for up to 5 to 7 mins. Or cook in pan till carrots are cooked. Cooking in a pan takes longer.
You may saute the ingredients in a pan, then transfer to pressure cooker, add water and cook 5 to 7 mins.
Open lid of cooker when pressure drops, cool the boiled carrots and onion. Discard bay leaf and cinnamon.
Then grind the the cooled mixture. If making a herb flavored soup, also add required ingredient when grinding.
Transfer soup in to a pan, add a little water if req to adjust consistency. Add salt, pepper, sugar. Simmer 3 to 5 mins. Lastly add lime juice if required.
Serve hot!
To avoid butter, may skip the sauteeing process and add the onions with the carrots and water and remaining ingredients and pressure cook till done.
When simmering the soup, instead of adjusting consistency of soup with water, add about 1/2 cup milk.
Adapted from our family recipe diary