The aroma of spices can be intoxicating and comforting at the same time. Particularly on a cold rainy day. The sky is dark and grey clouds hover over the earth. The scene is set for pouring of rains and dampening one`s spirit! The warmth of the kitchen with the perpetual aromatic flavors of spices seems a great comfort. A cup of hot coffee in hand and soothing music in the background is enough to make me forget of the grey, dull threatening skies.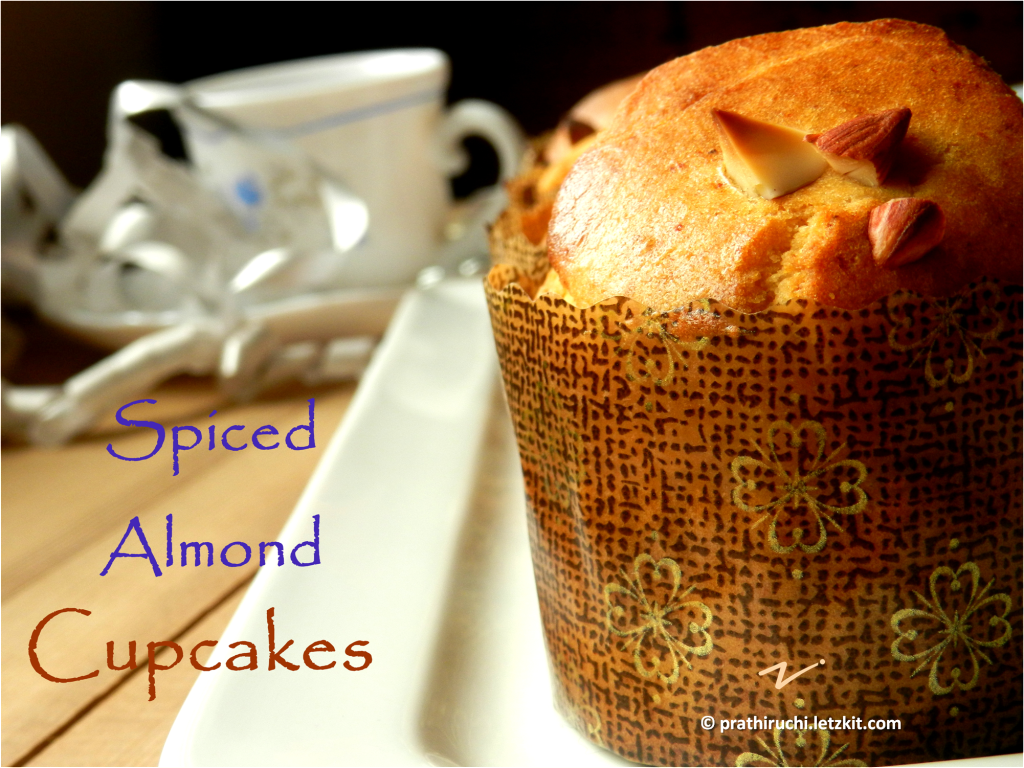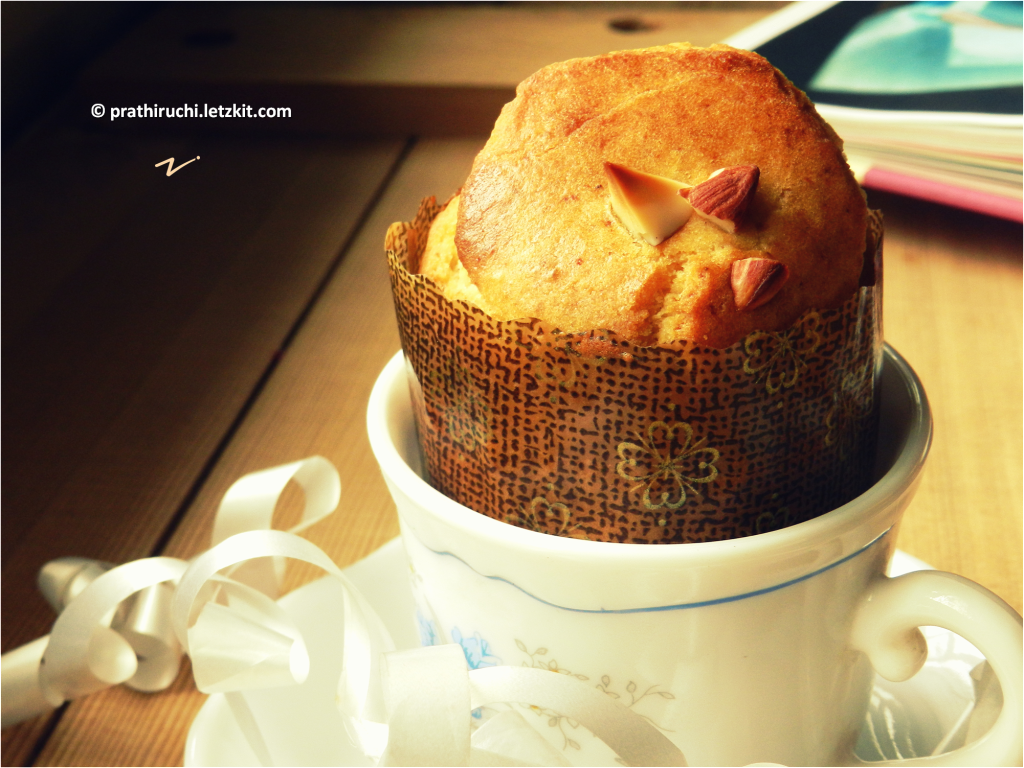 Music and cooking are what define me the most. And the two together does me wonders. Like the other day. While the scene outside the window was set for a downpour, the scene inside was set too. Set for some baking spree. The music being played was the perfect setting for the experiment to soon follow.
Cupcakes being an all time favorite with all and it lending itself effortlessly to so many variations, naturally was the first and only choice! I told you it was cold outside, din`t I? Warming spices and their heady scents go well on such days. And so spices were the one choice for the cupcake flavors for the day.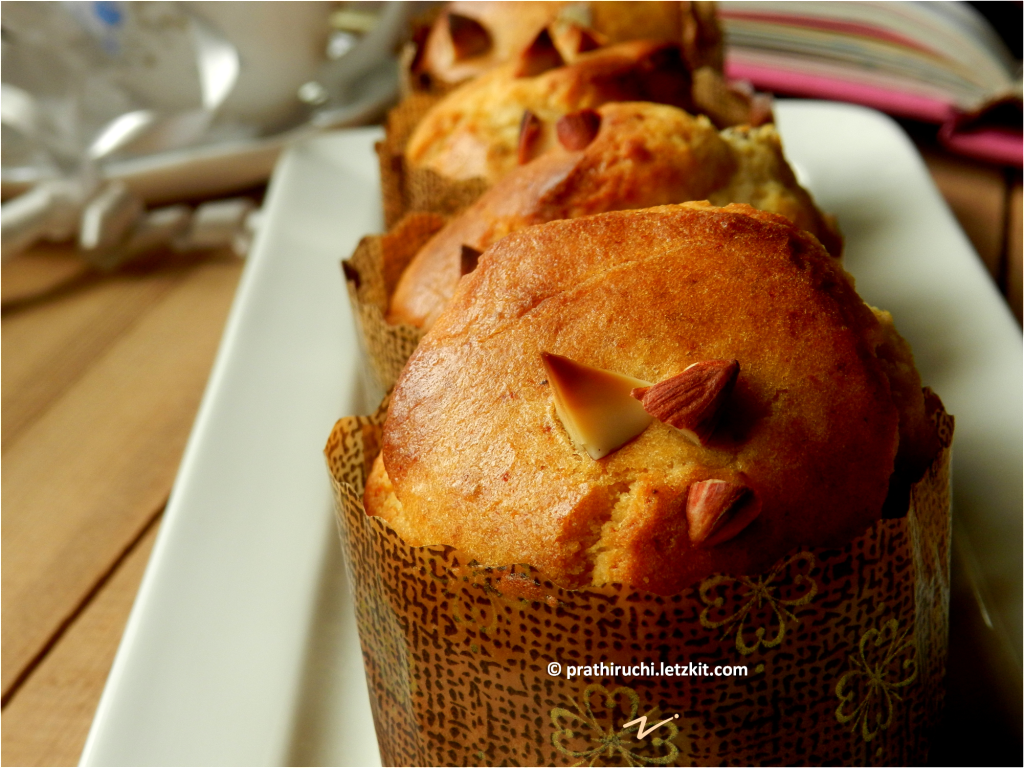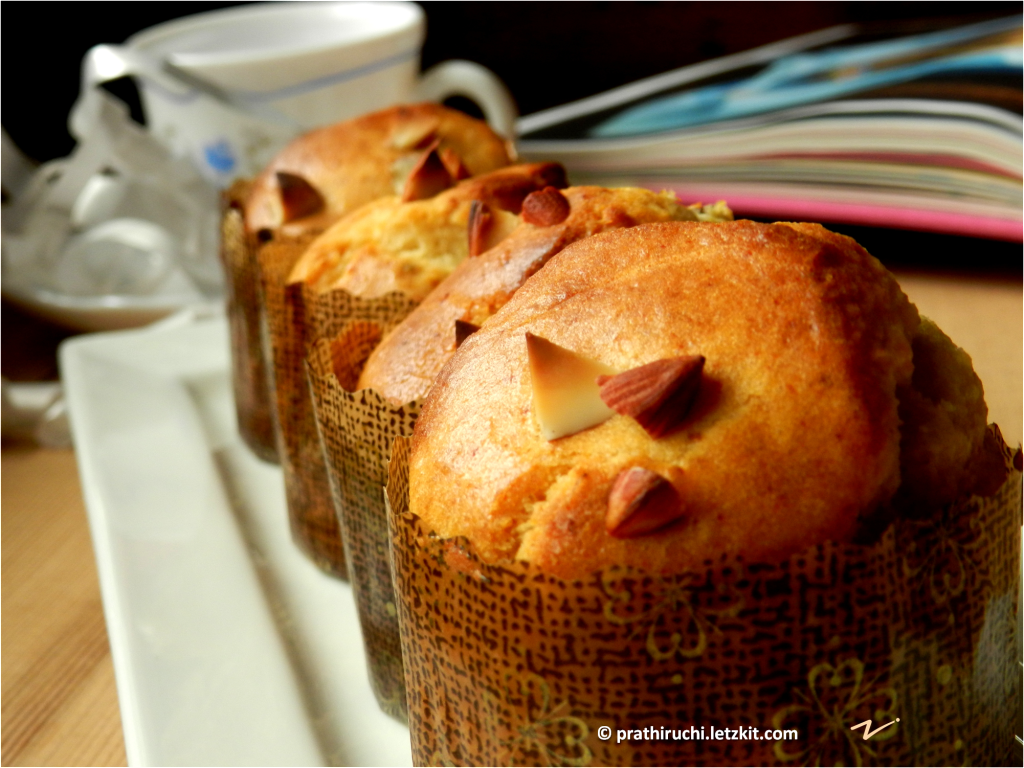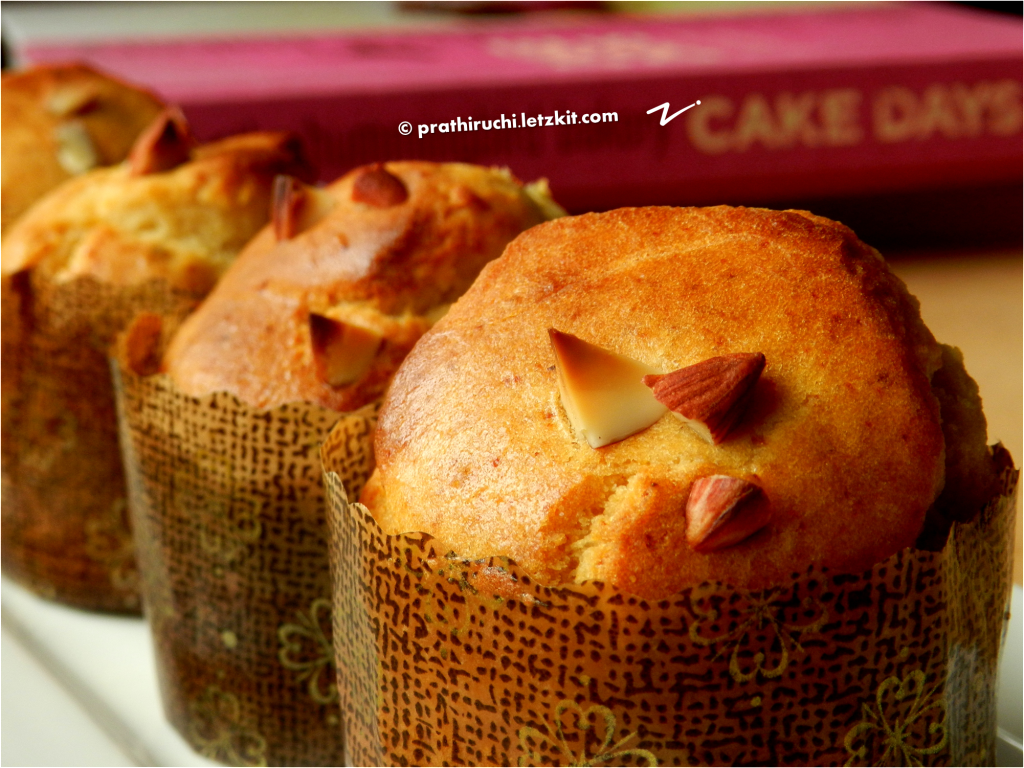 A quick mixing followed and then shoved into the hot oven to be baked. And out came soft, spongy and lightly spiced muffins. A perfect go with a hot cup of coffee or simply as is. If you are in the mood to indulge, top with some chocolate icing. You may scatter the top with roasted almonds or demerara sugar or chocolate chips for that extra oomph factor!
Then the sky did not seem as threatening as before. The melodious music continued to be played in the background. Taking a bite of the spice kissed, fresh from the oven cupcakes made my mind drift into a land of unfading joy and bliss.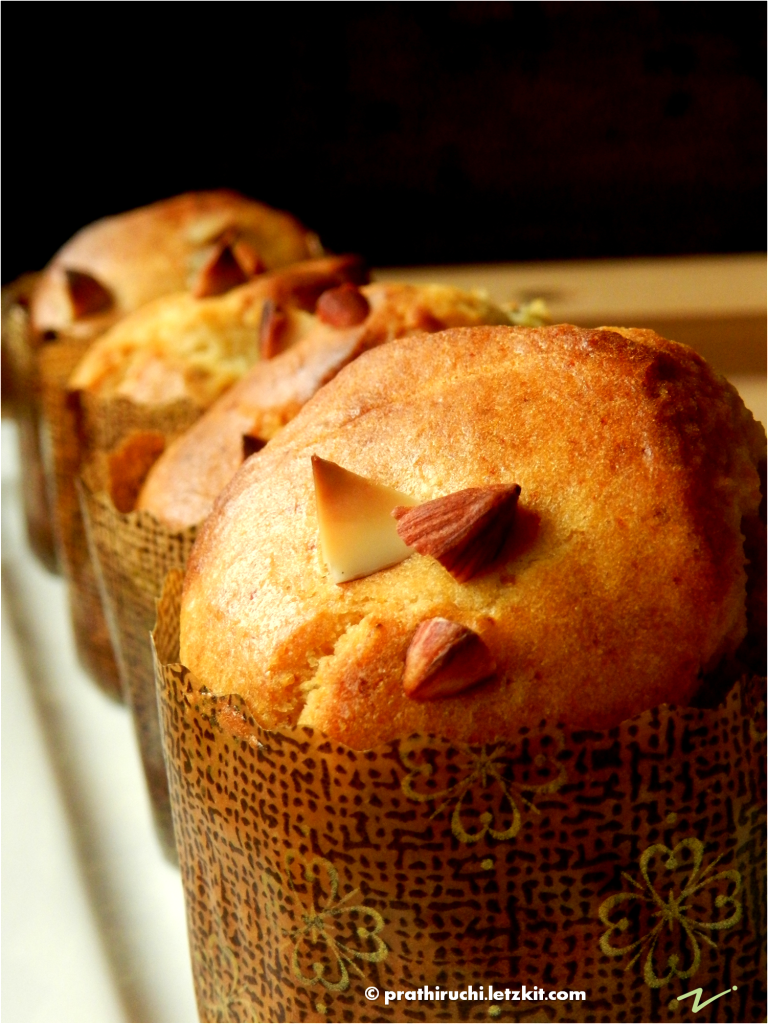 Petite, spiced soldiers in row!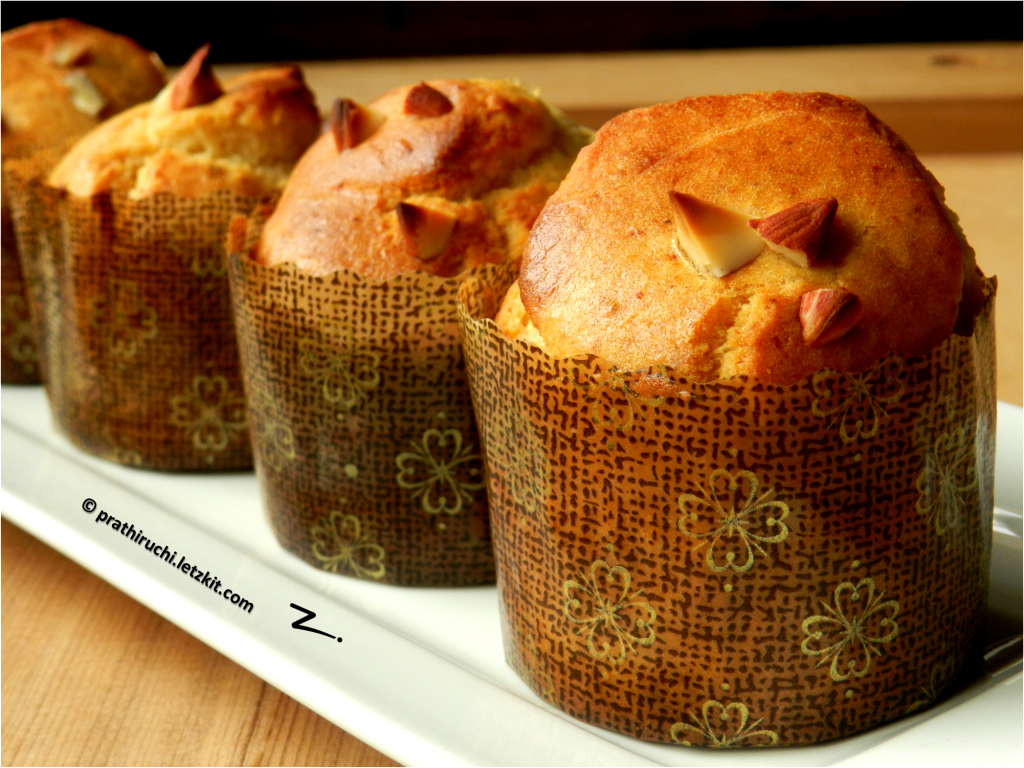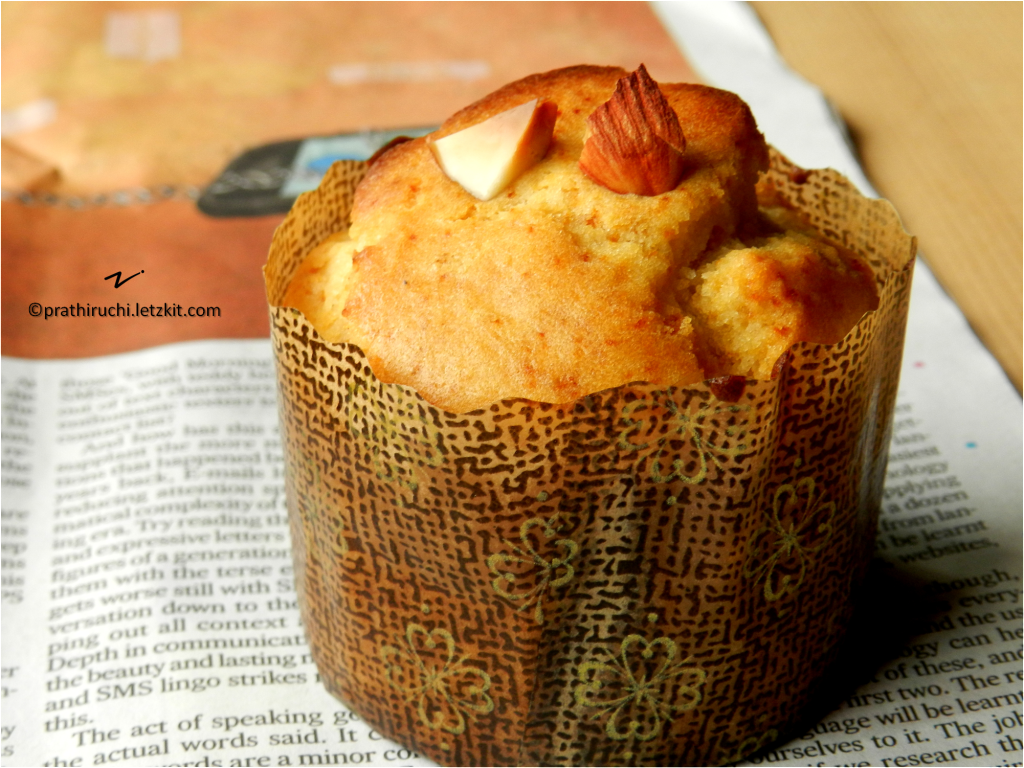 It was the first I was trying out a cupcake with just spices as the dominant flavor sans the ever present vanilla essence or cinnamon. All doubts I had when it was being baked were soon forgotten after taking in a whiff and a bite of the freshly baked muffin. It is a refreshing change from the regular vanilla, chocolate flavors. A medley of spices does work well for cakes..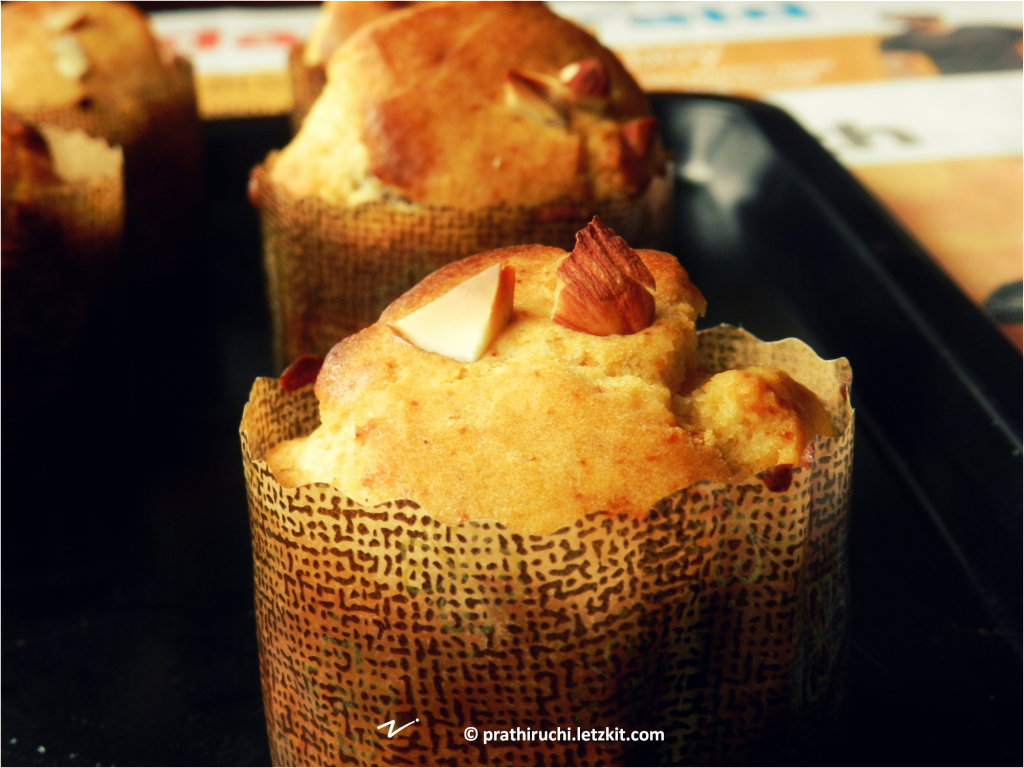 Adjust the quantity of spices as per your taste. Throw in nuts and dry fruits of your choice,like, roasted almonds or hazelnuts or raisins or cranberries or maybe even chopped dry apricots.
Spiced Almond Cupcakes
Spice kissed and fluffy cupcakes.
Makes 6 big or 8 smaller muffins
5 tbsp condensed milk
4 tbsp butter (softened/room temp)
1 1/4 cup maida (plain flour)
10 tbsp milk (1/2 cup plus 2 tbsp)
1 tsp baking powder
1/2 tsp baking soda
Nuts/ dry fruits
2 tbsp roasted and chopped almonds
1 tbsp raisins
Spice powders
1/4 tsp dry ginger powder
1/4 tsp clove powder
1/4 tsp grated nutmeg
1/4 tsp cinnamon powder
Do your mis en place – measure and keep ready all the ingredients. Line or grease cupcake moulds.
Preheat oven at 200 degree C for 10 mins.
In a mixing bowl beat condensed milk and softened butter with a spoon.
Add all the spice powders and mix again.
Add the remaining ingredients and mix again.
Pour the batter into prepared cupcake moulds.
Bake in preheated oven at 200 degree C for 20 mins or till done.
The top turns light golden and toothpick inserted into the center comes out clean when the cupcakes are baked and ready.
You may top the cooled cupcakes with chocolate icing and then sprinkle roasted,chopped almonds.
You may even sprinkle the chopped almonds over batter after pouring into moulds and then bake.
Can even sprinkle demerara sugar over batter in moulds and then bake.
Can add hazelnuts in place of almonds and raisins.
You may seive the dry ingredients – flour, BP and BS together and then add to the mixing bowl.