Everyone wants to make and serve some unique and exotic dishes during festivals or family gatherings. But at the same time the dishes need to be easy to make too so that you do not miss out on the celebration.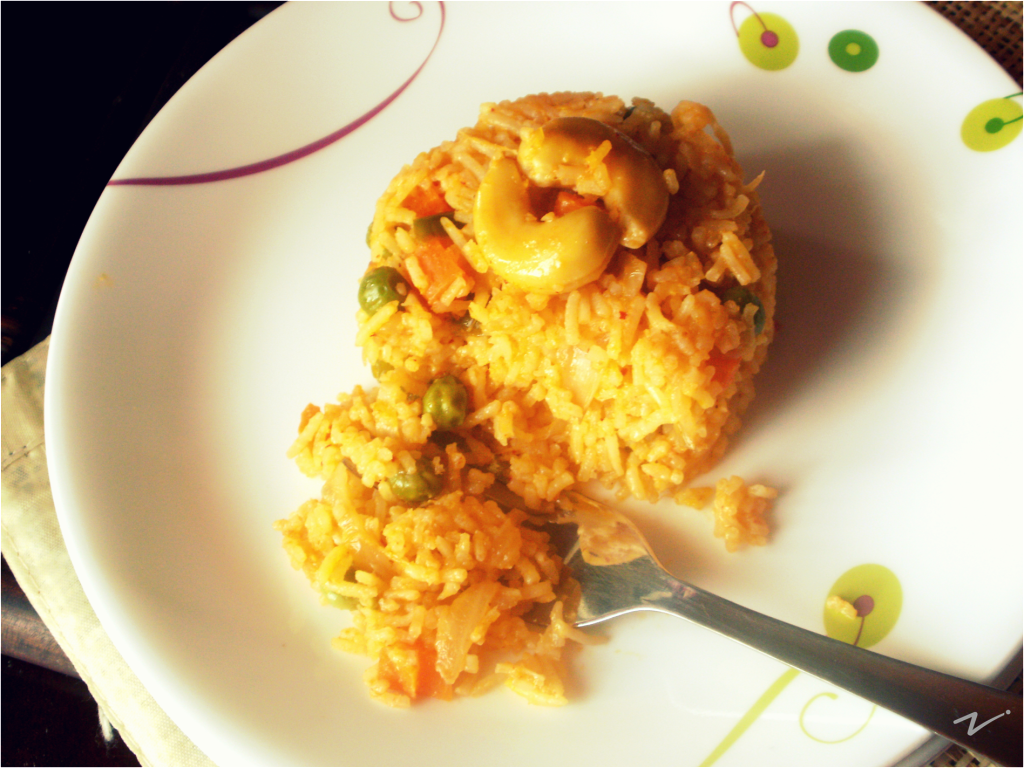 This 'Festive Pulao' is one such dish. Easy to make compared to the usual elaborate process required for a traditional biryani and yet tastes delicious. And unlike other pulaos they taste equally good when served at room temperature or even after re-heating!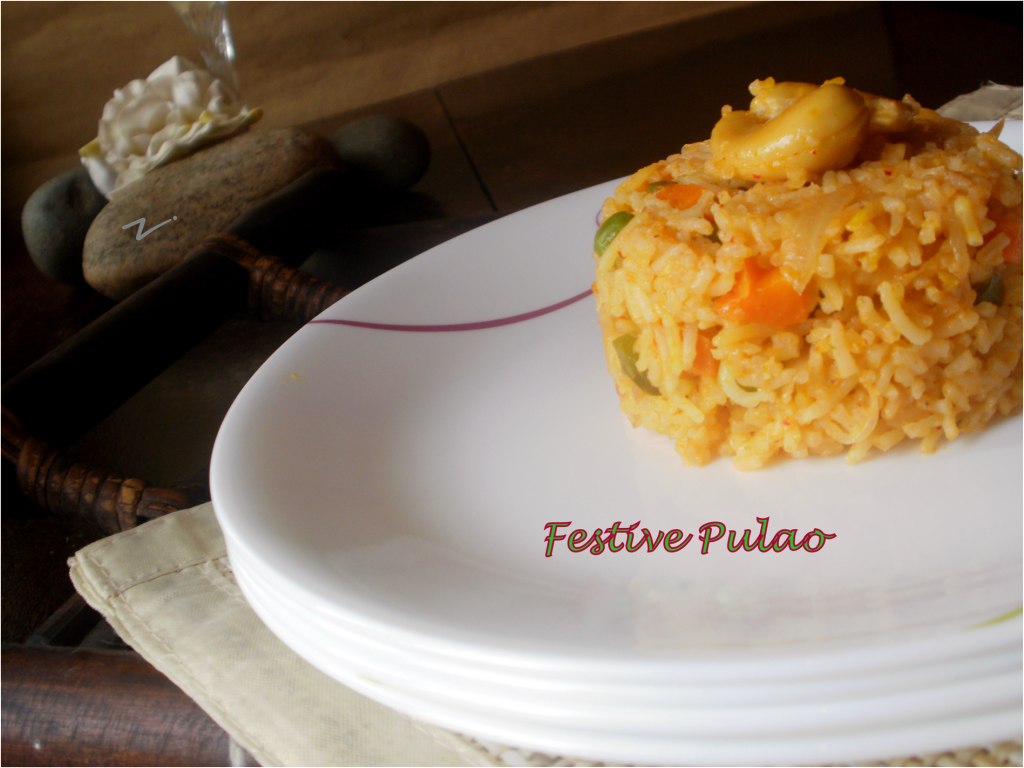 Cooking the rice in coconut milk is what lends it that intensely addictive flavor and aroma. And the fresh spice mix only intensifies the taste. It is one of those recipes that can be a party favorite – both for the host and the guests!
Festive Pulao
Tasty and delicious pulao. Ideal for picnics too!
For pulao
Ghee/ Clarified butter OR vegetable oil – 5 tbsp
Onions – 2-3 nos (medium)
Uncooked basmati rice – 1 cup
Coconut Milk (tetra pack – 1 cup)
Water (or as req to cook rice – 1 cup)
Tomatoes – 2 nos (medium)
Salt – to taste
Fresh curd/ yogurt – 2 tbsp
Few strands saffron
Carrot – 1 medium
Green peas – ½ cup
Green capsicum – 1
For masala paste
Cumin seeds (jeera – 1 tsp)
Garlic cloves (peeled – 4)
Coriander seeds (dhania – 1.5 tbsp)
Fresh grated coconut – 2 tbsp (or 2" piece dry coconut)
Fresh ginger – 1" piece
Green chillies – 1-2
Whole dry red chillies (long variety – 2-3)
Wash basmati well. Soak in some water for 15 to 20 mins.
Wash all vegetables. Peel and dice carrots. Chop capsicum into small pieces. Slice onions. Chop tomatoes into small pieces.
Boil the carrots and peas. They should not turn mushy bit must remain firm & carrots must still have some crunchiness. Drain.
Mix the saffron with the curd & set aside.
Grind together all ingredients of the paste using required quantity of water to make a semi think and smooth paste.
In a heavy bottomed vessel, heat oil or ghee. Add the sliced onions and saute till they turn light golden.
Add the ground paste and fry for 1-2 mins. Add the capsicum and fry for a minute. The masala would now start to give a good aroma.
Drain the rice and add into the pan, add salt and mix well. Add the boiled vegetables, coconut milk, 1 cup water (or as required to cook the rice. Taste the water/ coconut milk now to check for salt.
When it comes to a boil, add the tomatoes. Cover and cook over a medium-high flame. When the rice is almost cooked and very little water remains add the saffron mixed with curd.
Reduce heat and cook till done – no water/ moisture remains and the rice is cooked. Note that the rice grains need to be separate and not overcooked/ mushy.
Serve with any vegetable raita, onion raita etc.
In case you are using fresh coconut milk instead of the tetra pack one, then use the thin extract and not the first one.
Thick/ first extract should not be heated for long as they can split.
For the paste, adjust the green and red chillies as per your taste/ spice level preference.
You need to use the long variety of dry red chillies here and not the small ones used for tadka/ tempering.
Normally for 1 cup of uncooked basmati , you will need 2 cups liquid to cook. But sometimes you may need upto 2 1/4 cup even depending on the quality of rice used. So add water accordingly. When cooked more than halfway through and the rice still needs some more water, then add little hot water as required.