A South Indian savory snack – ribbon pakodas are quite a favorite during diwali…
Its hard to have just a single helping of this mildly spiced and crispy snack. Its hard to resist taking a bite of these crisp ribbons, followed by another bite and then another….
The sesame seeds jewelled into them give a nice flavor as you bite into them with a cup of hot tea or with mocktails.
One can go on eating and enjoying them and eventually, easily lose track of time. So it happened to me, many a times. Even before I started writing this post. Hence you see today the focus is more on the visuals than me doing the talking. Which is quicker to post before the day is over than me hunting for words and also gets the message across just as well…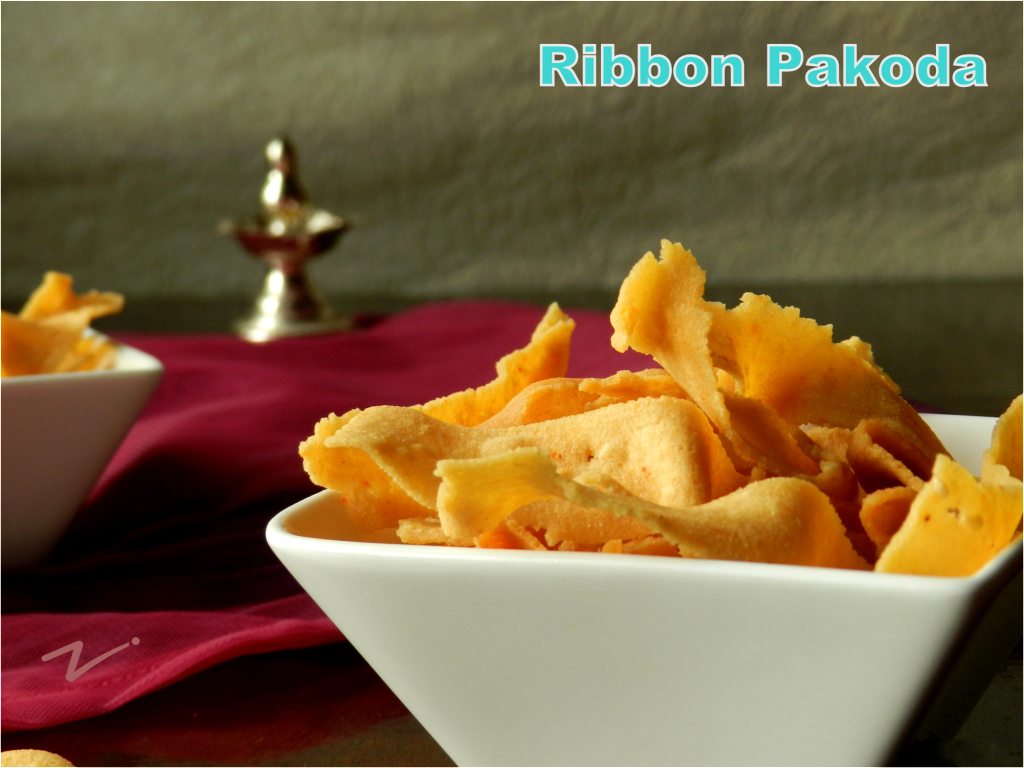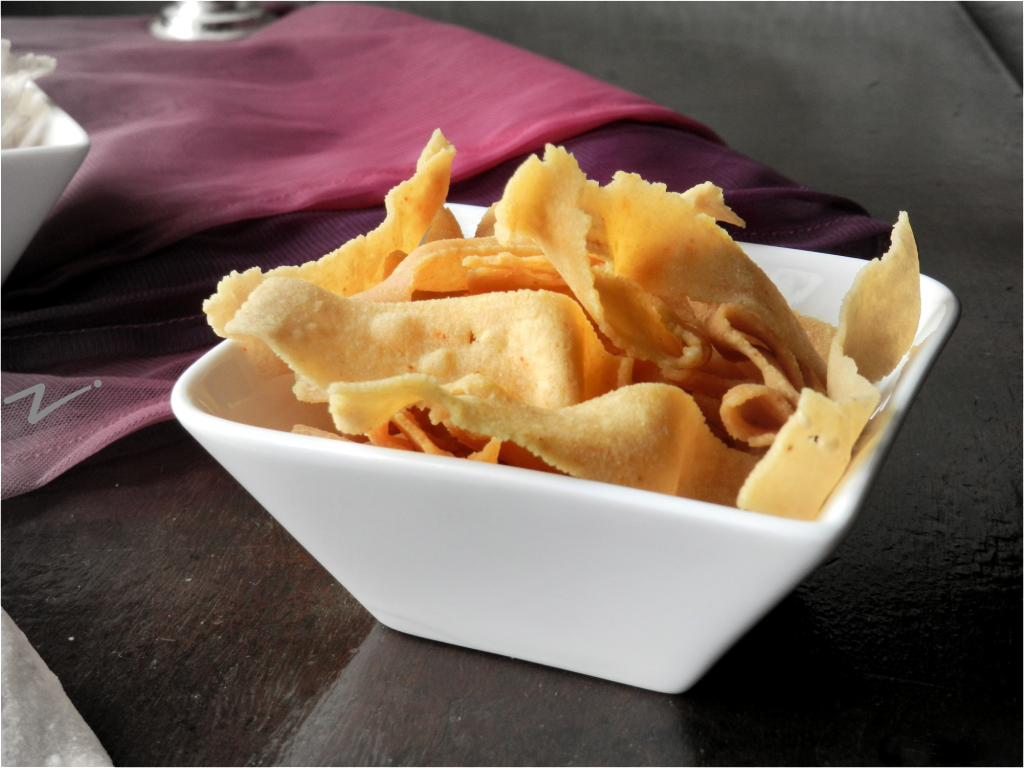 Making ribbon pakoda requires a press used for murukkus (chakkuli) and sev. The press comes with changeable discs to be attached depending on what snack you are making. For ribbon pakoda you need a disc having two or four slits of maybe around half inch. The disc is inserted into the press, filled with dough & the dough is dropped into required surface with the help of piston – by pressing the dough with the piston. We used a press where you need to rotate a lever on top of the piston as it is much easier one to make ribbon pakodas with. Of course you can also use one without lever too where you need to press both the handles of the piston to drop the dough.
Visuals of the press used..
Dough being dropped into hot oil…
And finally the fried & crispy ribbon pakoda…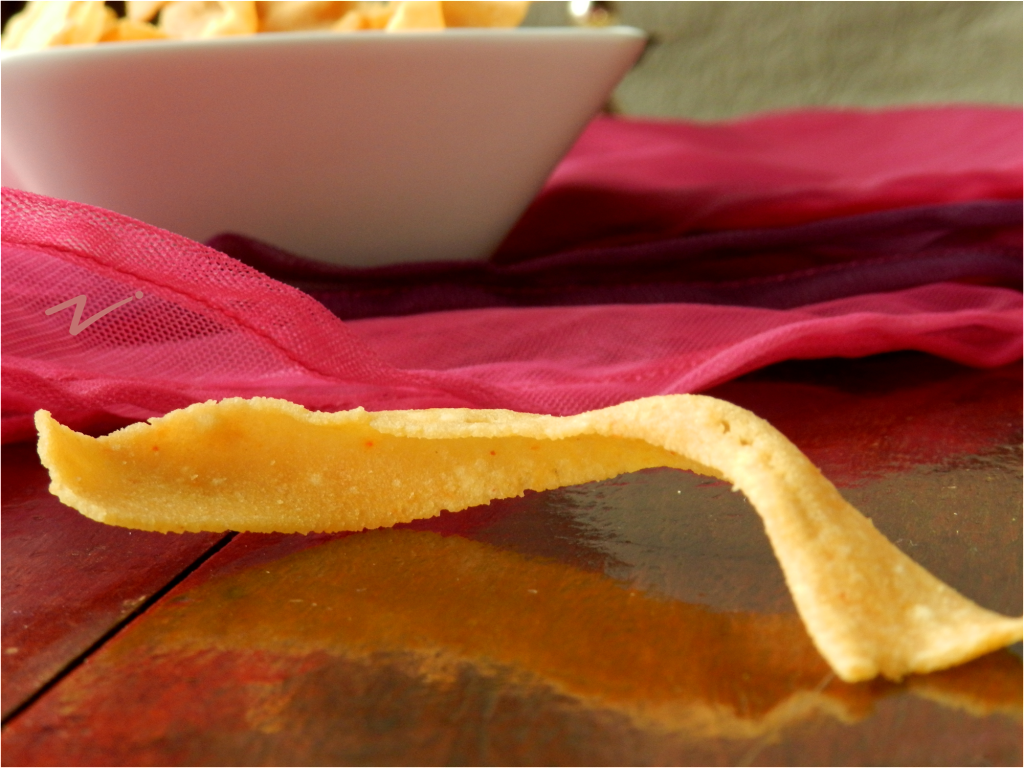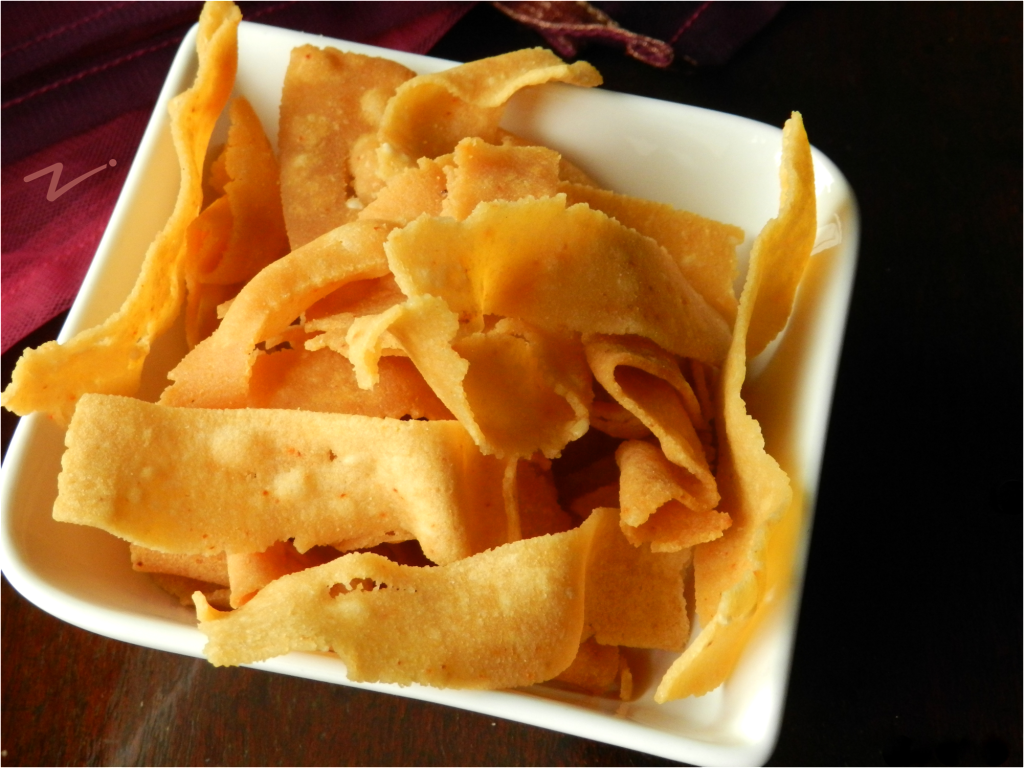 Some recipes call for rice flour double the quantity of gram flour (2:1) or gramflour the double of rice flour. We tried a recipe were both are of equal quantities. Although you could try any proportion of your choice, I personally feel after trying all ways that either the equal proportion version or rice flour double of besan gives the best taste!
Ribbon Pakoda
Crisp & tasty South Indian snack
Rice flour – 1 cup
Gram flour (besan – 1 cup)
Red chilli powder – 2 tsp or to taste
Unsalted butter (white – 2 tbsp)
Salt – to taste
White sesame seeds (til – 1 tsp)
Hing/ asafoetida – ¼ tsp (optional)
Oil to deep fry
Equipment needed
You will need a 'thenkuzhal press'/ murukku press/ sev press with ribbon pakoda disc (disc with two ½ " slits running along its diameter. Disc with more number of slits will do to.)
In a wide mixing bowl/ paraat combine all the above ingredients (except oil to deep fry). Mix thoroughly with your fingers till butter is well incorporated and it resembles breadcrumbs. Gradually add some water, about ½ cup initially and knead to make a firm dough, adjusting water as needed.
In a kadai (preferably iron one) / deep frying pan heat the oil till ready. Ready when a piece of the dough dropped into the oil comes to surface almost instantly.
Grease inside of press with oil. Insert the ribbon pakoda disc in the thenkuzhal press. Fill the container with some portion of the dough up to ¾ th . Then press the dough into the hot oil directly by rotating the lever on the piston or pressing the dough into hot oil with the piston (if using the press variety without the lever option).
Press only enough to be covered with oil. The dough falls in strips through the slits like long ribbons. Its okay for it to break as you drop into oil. Fry over medium flame, turn ribbons in between and fry till hissing sound and the bubbles on top of oil reduces and the ribbons are golden and crisp.
Remove with a slotted spoon and keep on absorbent paper to drain excess oil. Repeat with remaining dough.
Cool and break them up if too long and store in air tight containers for about 2 weeks or so.
Murukku/ sev/ Thenkushal is a special press used to make savoury crispy snacks. They have changeable disc with holes of different size and shapes used for different preparations – sev (oma podi), murukku (chakkuli), ribbon pakodas, kara kaddi.