Every now and then,
when the world sits just right,
a gentle breath of heaven
fills my soul with delight…
~ Hazelmarie `Mattie` Elliot, A Breath of Heaven
Sometimes in life its the simpler acts, few happy minutes spent with loved ones, what you do for others rather than for your own self that become a part of the 'Happy Memories' list that we carry throughout our life.
Now apply the same formula to your every day meals. While you want to experiment and create new and complicated dishes, there are times you crave for simple, soul-comforting food. On my quest to make a list of such simpler and comforting dishes, I came upon this recipe from the book – 660 Curries by Raghavan Iyer.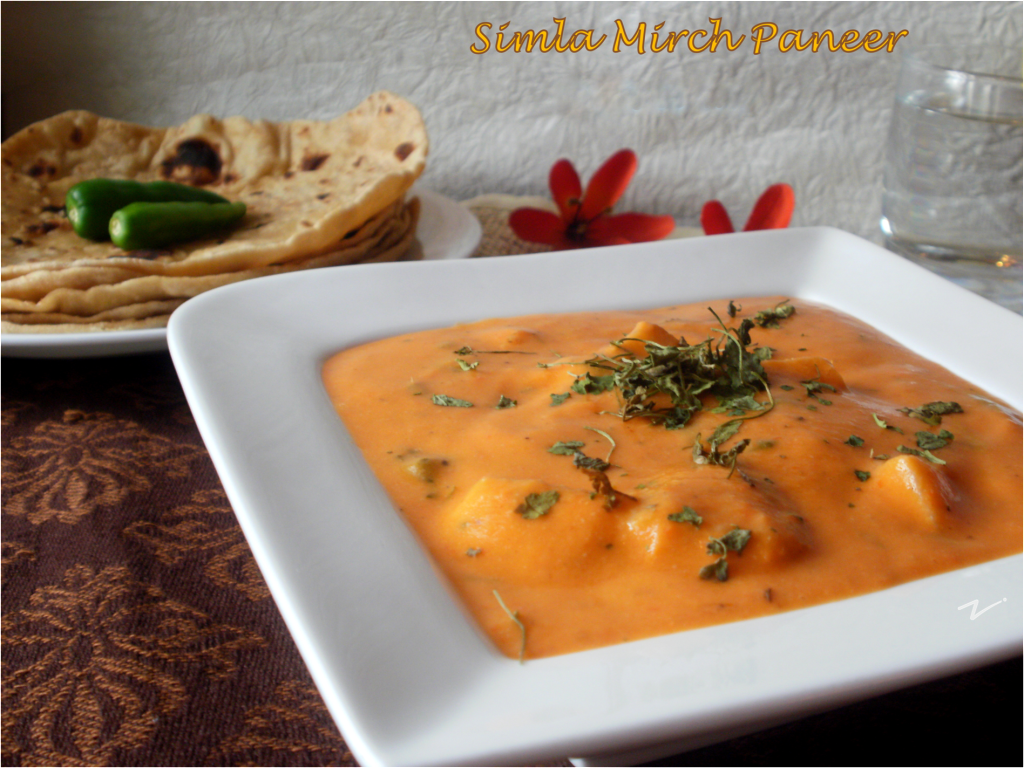 Having read so many good reviews of this book, I just had to buy one! After going through pages and pages of mouthwatering Indian recipes given a special touch and presenting them in attractive, contemporary ways I decided on encounter with this book that it even exceeded my 'high' expectations!
At this point my sister`s motto comes to mind, never have 'high' expectations, you can be disappointed after you actually 'see' it. Well, this was what she concluded after having too many hopes for new movies and then being greatly disappointed on actually seeing it!
Coming back to the book, it has been conveniently divided into different categories – spice blends, vegetable, legumes, meat to name a few. And moreover it has a whole category to the all-time favorite – paneer! Simla Mirch Paneer is one recipe from this category. What induced me to try it out the instant I saw it was the simplicity and flavors of the dish.
Simla Mirch Paneer is `embarrassingly easy` (as the book states) to put together. The gravy has a rich, natural color and flavored with the sweetness of cardamoms and spiciness from the chillies. As you take a spoonful of this rich sauce, you are pleasantly hit by the mild sweet-spicy flavor which is highly addictive! Another plus for this is that it has no onion or garlic! A dish ideal for everyday meals or special dinner parties even.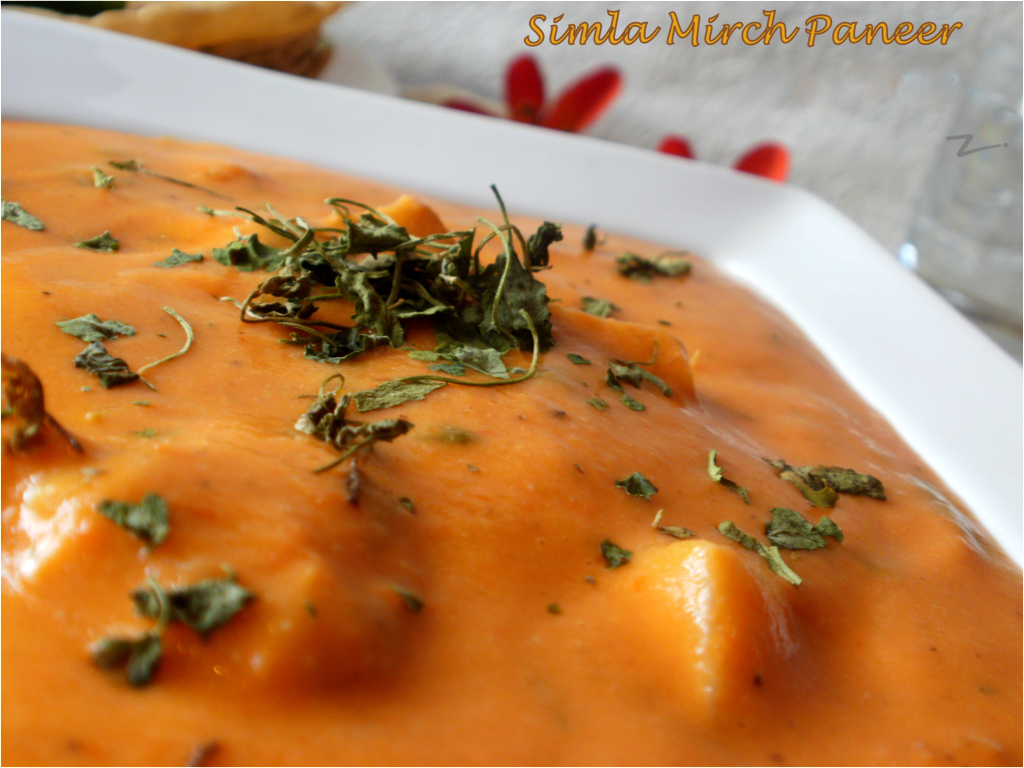 The only change I made to this is adding crushed kasuri methi (dried fenugreek leaves) instead of cilantro. Its just a habit with us at home to add it to all dishes possible, including regular dals. Fresh cilantro tastes just as addictive.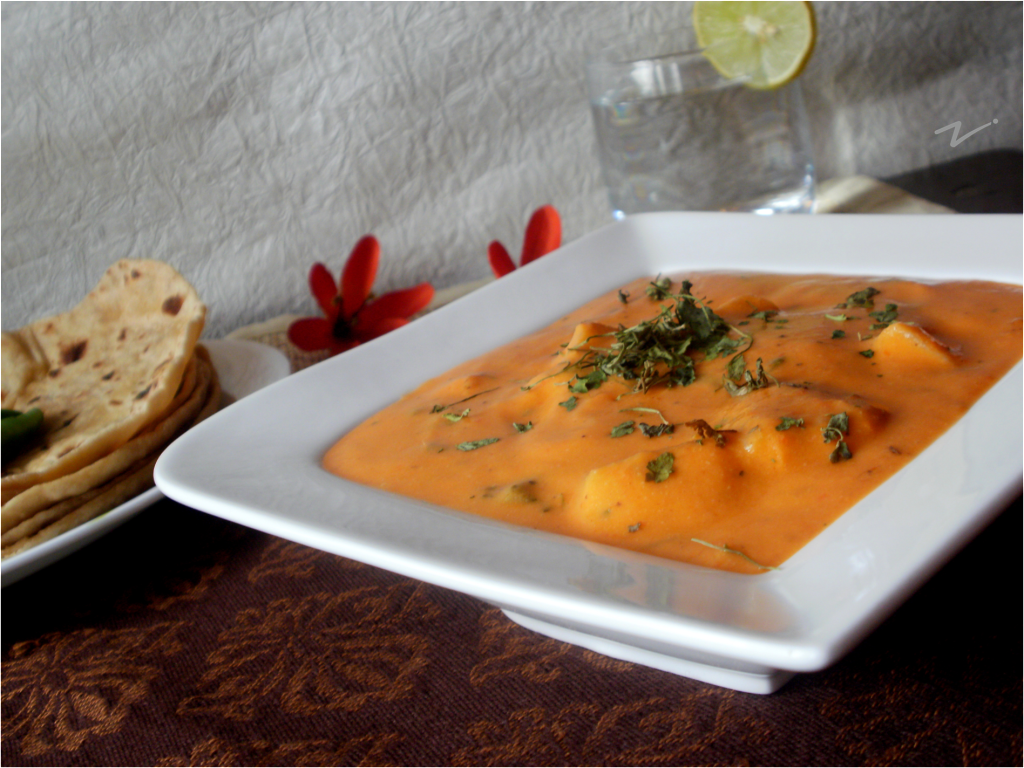 Simla Mirch Paneer
Cottage cheese in red bell pepper gravy
For gravy
Cashewnuts (untoasted – ¼ cup)
Red bell peppers (red capsicum, halved,deseeded and cubed – 2 large ones)
Green cardamom pods – 5-6
Green chillies (slit – 2-3 or to taste)
Water – 2 cups
Other ingredients
Red chilli powder/ cayenne – 1 tsp or to taste
Paneer/ Cottage Cheese cubes – 200 gms
Freshly chopped cilantro – 2 tbsp
kasuri methi (dry fenugreek leaves – 2 tsp, optional)
To serve
rotis (chapathis, buttered toasts)
In a pan pour 2 cups water and add in the cashewnuts, cubed bell peppers, cardamom pods, chillies. Bring to a boil over a medium-high heat. Once it comes to a boil, cover pan with lid and cook over a medium-low flame till the bell peppers turn fork tender. Stir in between.
This may take around 20 mins.
2) As it cooks, shallow fry the paneer cubes in few tsps oil till all sides turn a very light golden. Set aside.
Once the bell pepper is cooked, remove from heat and let cool a bit. Then blend the mixture to a smooth puree along with the cooking water. You can do the blending process in 2 batches too if the jar is too small.
3) Pour the smooth puree back to pan, add in the salt, chilli powder, paneer, cilantro or kasuri methi. Cover and simmer for 5 – 7 mins to let the paneer take in all the flavours of the spices and herb.
Serve hot with warm rotis, chapathis or as the book says, tastes good even with some buttered toasts!
Do not fry the paneer too much. They will turn chewy. If they turn too dark, you can dip them in some salt water before adding to any gravy. This will make them soft.
Adapted from 660 Curries by Raghavan Iyer