Carrots sauteed with fresh fenugreek leaves….
One of those days I guess when nothing pops into my mind and I am left searching all around me for any inspiration and pick a topic and debate for a little while. Nothing wrong with the day, the weather is perfect, nice and relaxing activities planned for the day `et all. But I guess I am a tad impatient today to start off day`s chores and on days like these I detest sitting with my laptop as company. A good book to simply sit and read I would not mind though! And so I move on straight to today`s special. For this post I have decided to stick to the promise made at the start of this year, to post more healthier recipes. And so in support of ' healthy eating ' year, here is a dish apt for the theme!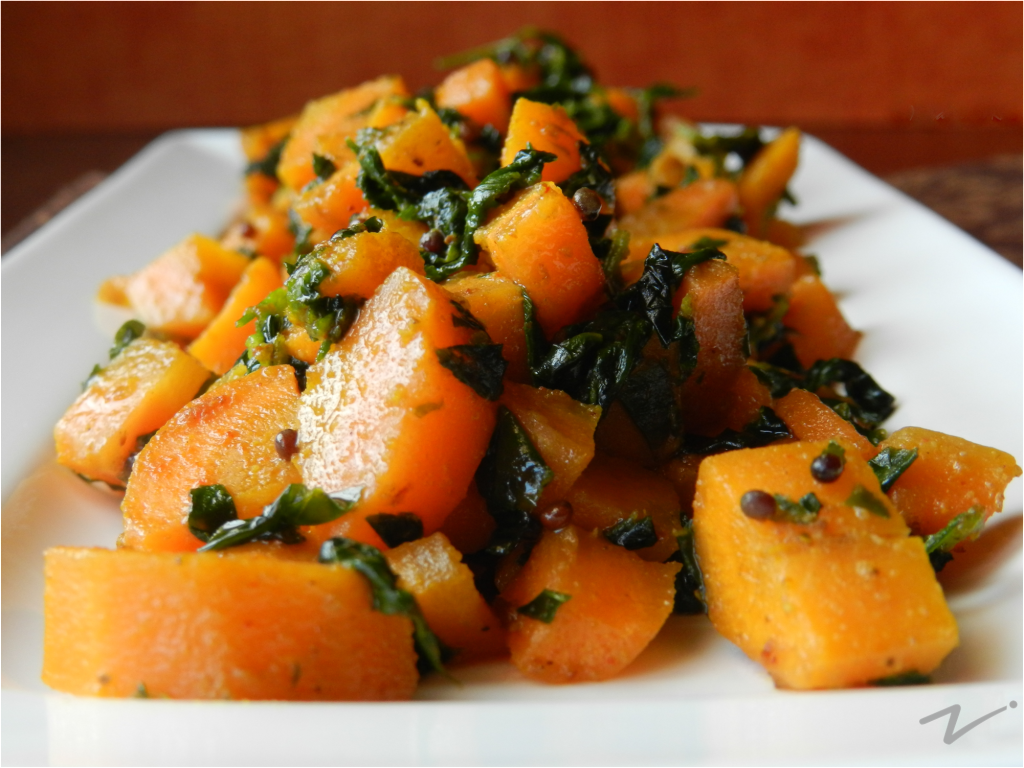 But before moving onto the recipe, I just want to touch upon the well known benefits of carrots and fenugreek..
Carrots are extremely beneficial for improving vision. The high beta carotene acts as antioxidant and slows down ageing of cells. Carrots contain vitamin A that prevent skin from sun damage. Also, minerals in carrots prevent from tooth damage.
Coming to fenugreek (methi) leaves, they are rich in iron and so beneficial to those who are anaemic. Fenugreek is also a good source of protein, roughage.
Carrots and fenugreek make an extremely healthy & delightfully light and tasty combo in this dry sauteed vegetable. A perfect go with chapathis or paranthas and is pretty easy to put together too..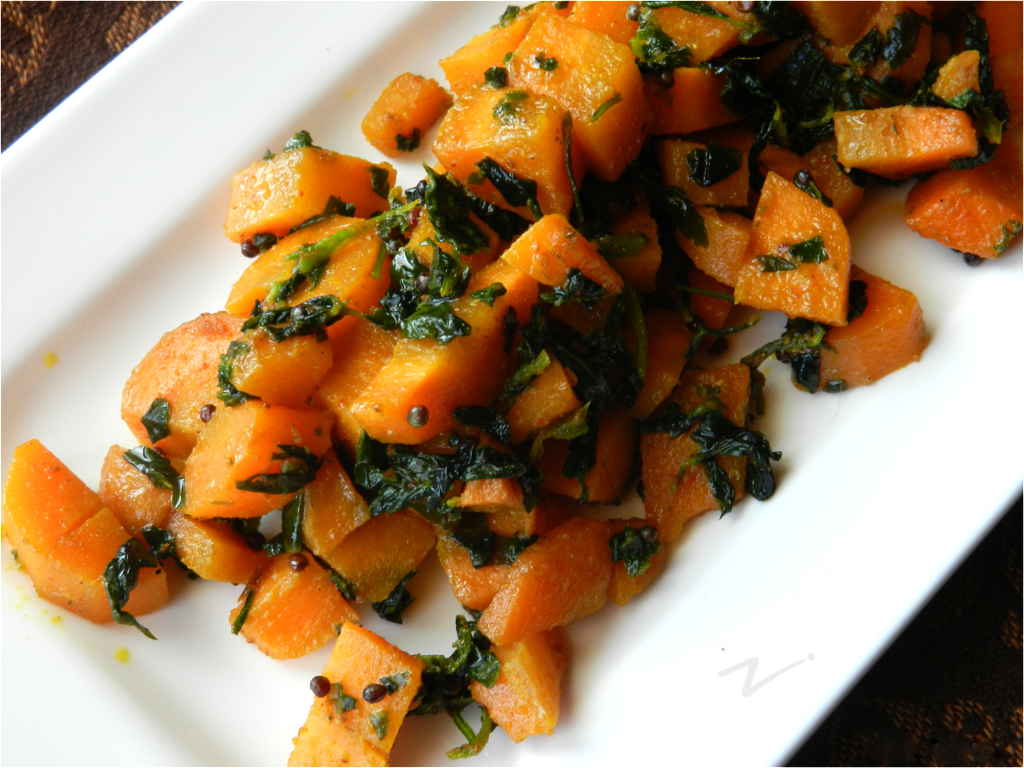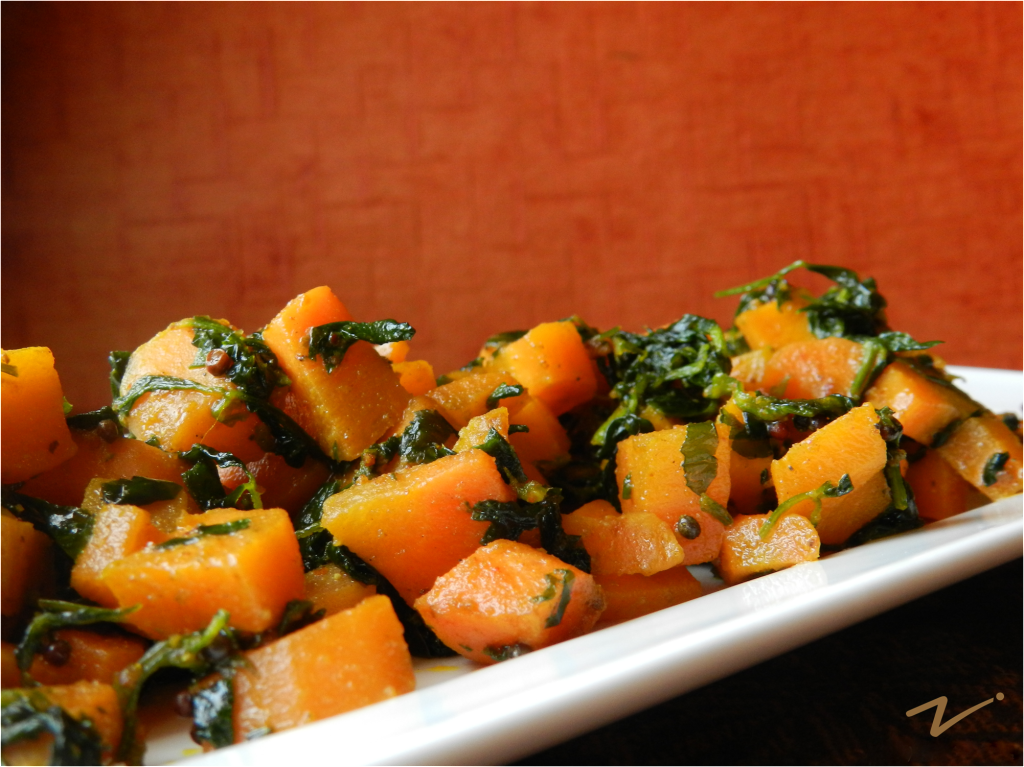 This is an ideal dish for the current season, for in winter greens are available in plentiful!
Gajar Methi
Carrots sauteed with fresh fenugreek leaves
Carrots – 2 to 3 medium to big
Fenugreek leaves (fresh methi laves- 2 bunches)
Vegetable oil – 2 – 3 tbsp
Hing (asafoetida – ¼ tsp)
Mustard seeds – ½ tsp
Cumin seeds (jeera – ¾ tsp)
Salt – to taste
Spice powders
Garam masala powder – 1 tsp
Amchur (dry mango powder – 1 tsp or to taste)
Coriander (dhania powder – 1 tsp)
Red chilli powder – 1 tsp or to taste
Peel and cut carrots into cubes. Wash and chop fenugreek leaves.
Heat oil in a wok/ kadai. Add mustard, hing, cumin, let crackle. Add methi leaves, stir fry till water evaporates. Cook for further 5 mins.
Add carrots, salt, all the masala powders. Stir fry for 8 to 10 mins or till carrots are cooked yet has a slight crunch.
Remove from heat and serve hot with chapathis, parathas.
To make Aloo – Methi – Replace carrots with 2 potatoes (aloo), boiled, peeled and cubed. Then follow the same procedure as above, adding the boiled-cubed potatoes instead of raw carrots.
Wash and chop fenugreek leaves just before you add to any dish. Washing them too early can make them soggy. Also chopping them and keeping aside will make the dish bitter. So cut and add immediately to any recipe/ hot pan. And do not chop the leaves too fine.