A quiet and and relaxing Sunday is a perfect time for experimenting with newer tastes in the kitchen. To me it is a time when the kitchen is like a shrine. All the stress in me withers, the vast emptiness shrinks and disappears. Joy and excitement is unleashed. Within no time aromas of spices twirl around me and soothes my frenzy soul. And it is here I find answers to a whole load of queries – what is the right consistency of a cake batter?, what is the right amount of spices to add?, how to chop a pomegranate?(there is a trick to it I learnt one fine day..), what are life`s purpose?, where am I headed?…….
One relaxing Sunday made my mind wandered into Morocco, the land fragrant spices, herbs. And I gave in to the wanderings. The outcome – a Moroccan menu for lunch that day..
So here is a tasty Moroccan dish that is sure to be the highlight of the lunch menu. Do not be intimidated by the list of ingredients because the stew is extremely easy to put together. When served hot with some crusty bread or couscous, the combination makes for a spectacular one.
PS : A lesson I learnt one day in my 'shrine' – 'Cooked with joy, even a simple food is heightened to the extent of it being extraordinaire..'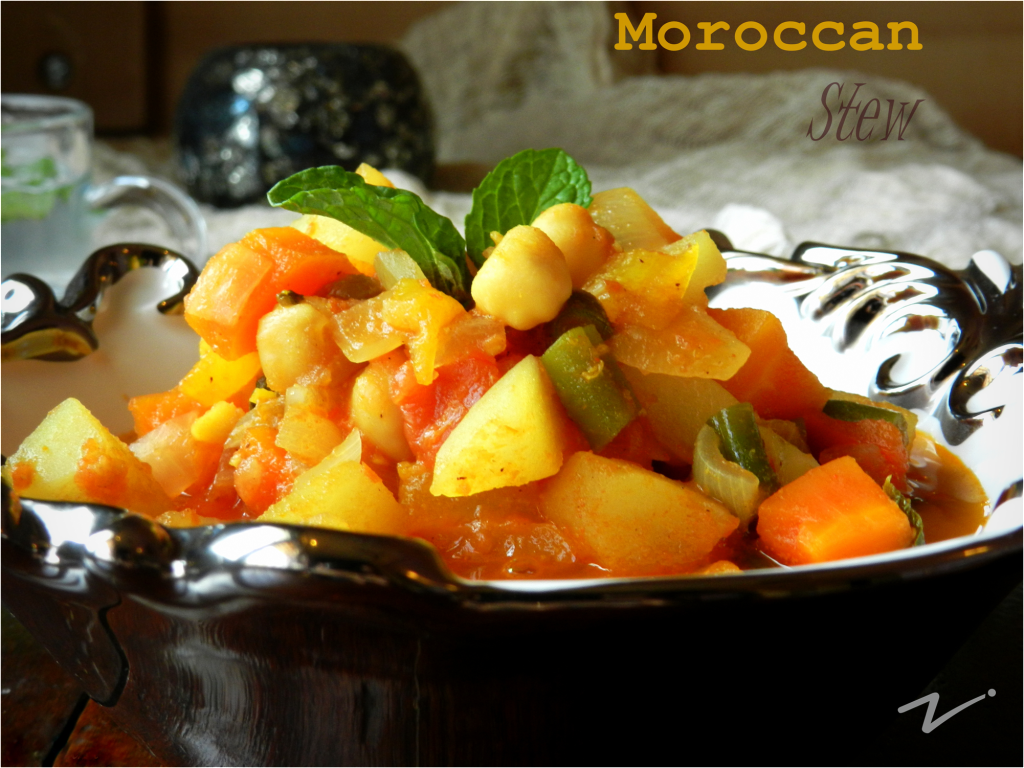 Moroccan Vegetable Stew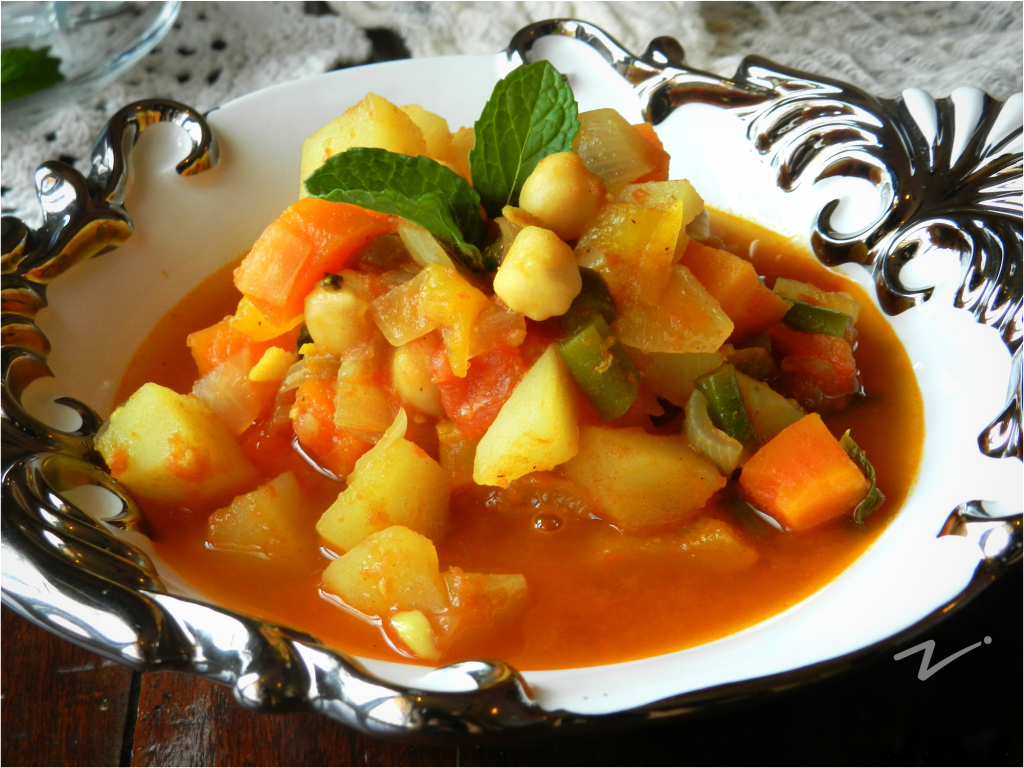 About Moroccan food :
In Moroccan cuisine one can see the mark left by colonizers and immigrants. The cuisine is extremely refined one and has Arab, Moorish, Berber influences. Berber influences is seen in dishes like couscous & tagine. Arab invasion saw the introduction of new spices, nuts, dry fruits. The moors introduced olives & citrus.
Coming to Moroccan stew, it is a blend of vegetables simmered in tomato gravy and flavored with the popular spices used in Moroccan cuisine. Some recipes call for addition of veg stock in place of tomato gravy. But the sweet & sour combination in dishes influenced by the Arabs makes for a delicious stew.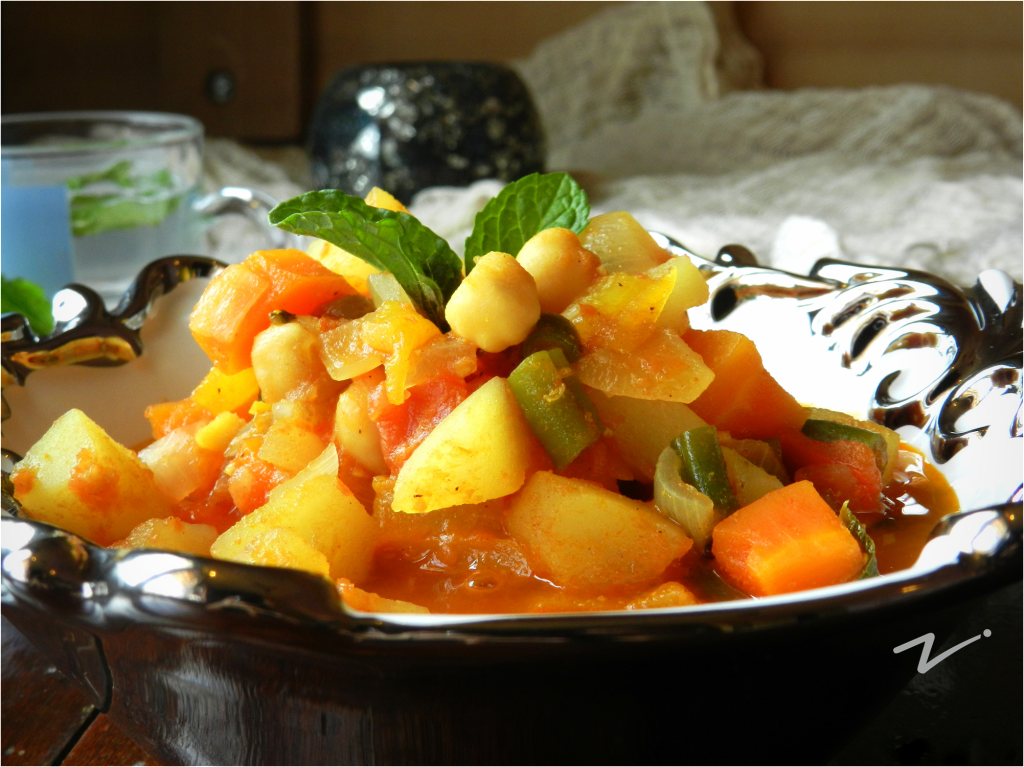 Moroccan Stew
Mild & flavorful stew
Olive/ vegetable oil – 2 tbsp
Onion – 1 medium
Garlic – 3 cloves
Ginger – 1 tsp (fine chopped)
Capsicum – ½ of 1 big
Yellow (red bell pepper – 2 tbsp, diced, optional)
Tomato – 1
Mint leaves (coriander leaves – 2 tbsp)
Raisins – 1 ½ tbsp
Almonds (blanch & slice – 2 tbsp, optional)
Semi dried apricots (chopped – 2 tbsp, optional)
Fresh tomato puree – 1 ½ cups (from 3 to 4 big tomatoes)
Tomato ketchup – 2 tsp
Salt (pepper powder, brown sugar – to taste)
Kabuli chana/chickpeas (boiled/canned – 3 tbsp)
Mixed vegetables (boiled – 1 ½ cups (approx)- see below)
Spices
Cinnamon powder – ¾ tsp
Turmeric – ½ tsp
Whole cloves – 3 nos.
Nutmeg powder – ½ tsp
Red chilli powder – ¾ tsp
Coriander powder – 1.5 tsp
Cumin powder – ½ tsp
Choice of mixed vegetables/mushrooms (use combination as per choice -)
Potato (sweet potato, carrots, zucchini, spinach, beans, pumpkin, mushrooms)
Garnish
To serve
couscous (bread, pita bread)
If using dried, soak chana overnight, drain, add water and pressure cook till done.
Dice onion, capsicum, bell peppers, tomatoes, vegetables. Boil vegetables. Grind tomatoes to a puree. Finely mince garlic.
Heat oil in a saucepan, saute onion and garlic till softened. Add capsicum, bell peppers, ginger, sauté 1 min. Add tomatoes, sauté 1 min.
Add boiled vegetables, mix well. Add mint leaves & coriander leaves, all spices. Mix well.
Add chana, raisins, apricots, almonds. Mix.
Add tomato puree, salt, pepper powder, brown sugar, water as needed. Simmer for 5 to 8 mins.
Add ketchup, stir and remove from heat. Garnish and serve hot.
If using canned chickpeas, no need to boil/ pressure cook. Wash them and add to stew as mentioned.
Vary quantities of spices as per taste.
Add combination of vegetables as per choice and availability.
Instead of fresh ginger, add dry ginger powdered along with other spices.