It is snack time now! Time to tease your palette with spicy, tangy chaat!
Today`s recipe, one of the popular Indian street food needs no introduction. Commonly found in Mumbai, you will see people queue-ing in front of Chaat stalls everyday to treat themselves to this addictive snack. This dish has two parts. One is the ragda which is a gravy made from dried white peas or chickpeas and the other is the pattice which is a simple, fried potato cutlets.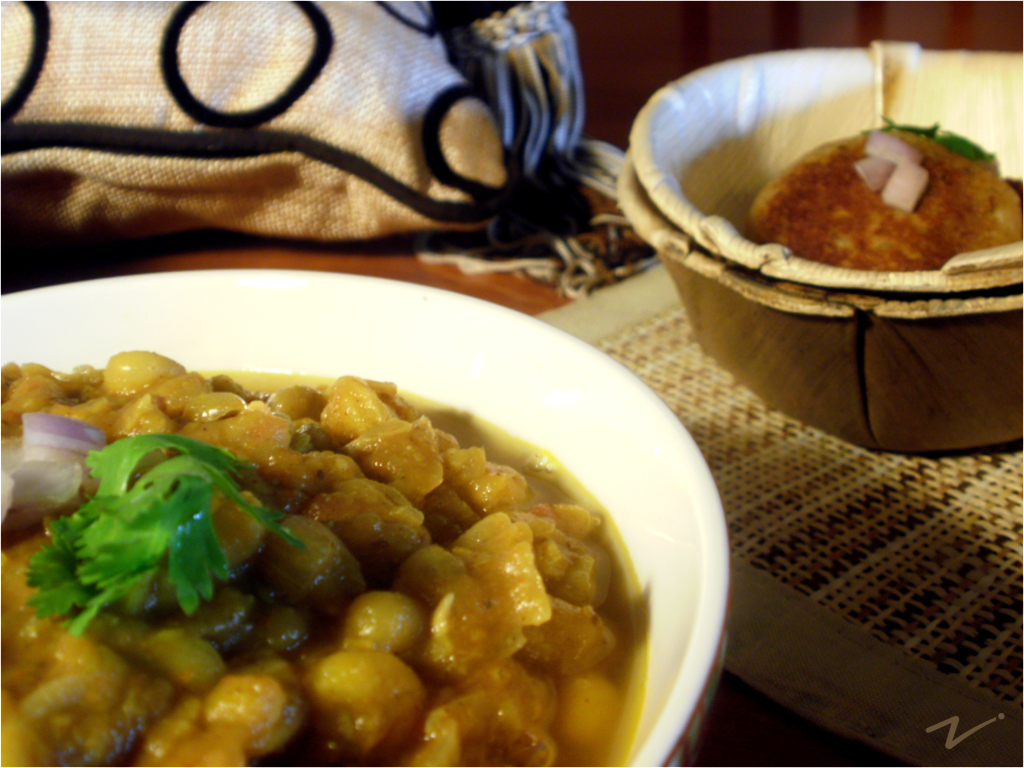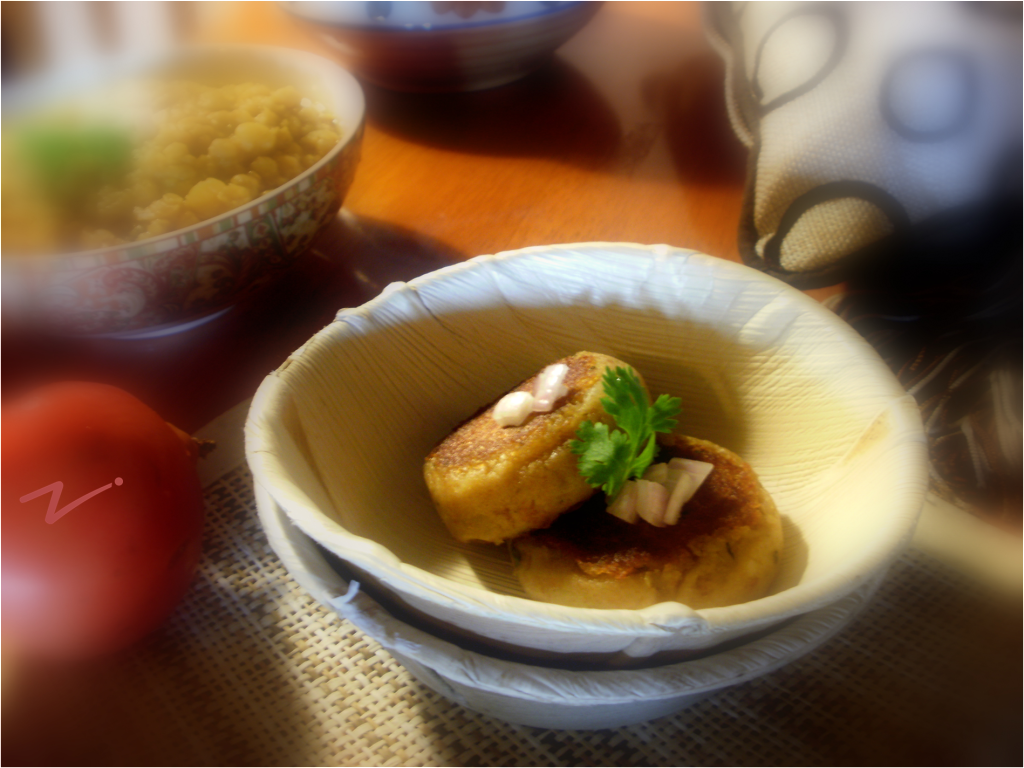 The slightly tangy & spicy ragda complements the simple pattice perfectly. The gravy is poured over the pattice and then may be topped with toppings of your choice – sweet tamarind chutney, spicy chutney, fresh raw onions, sev (fried chickpea flour noodles) or you may even simply drizzle some beaten sweetened curd.
I just covered the pattice with the peas sauce, sprinkled some chopped onions & it was just wonderful!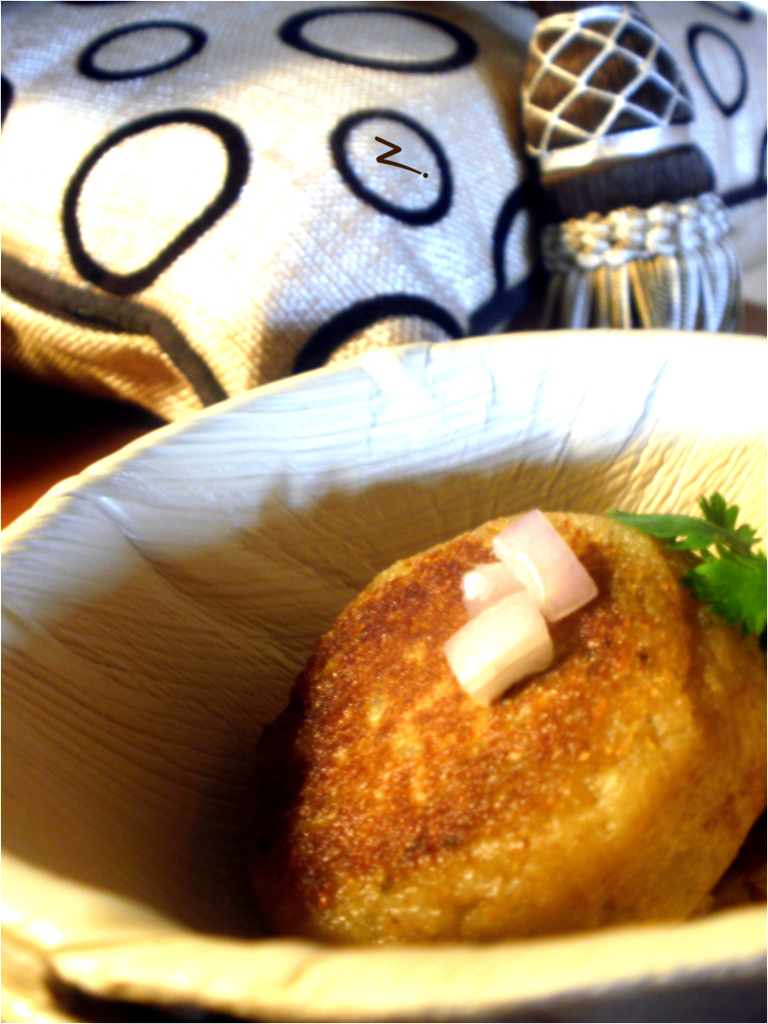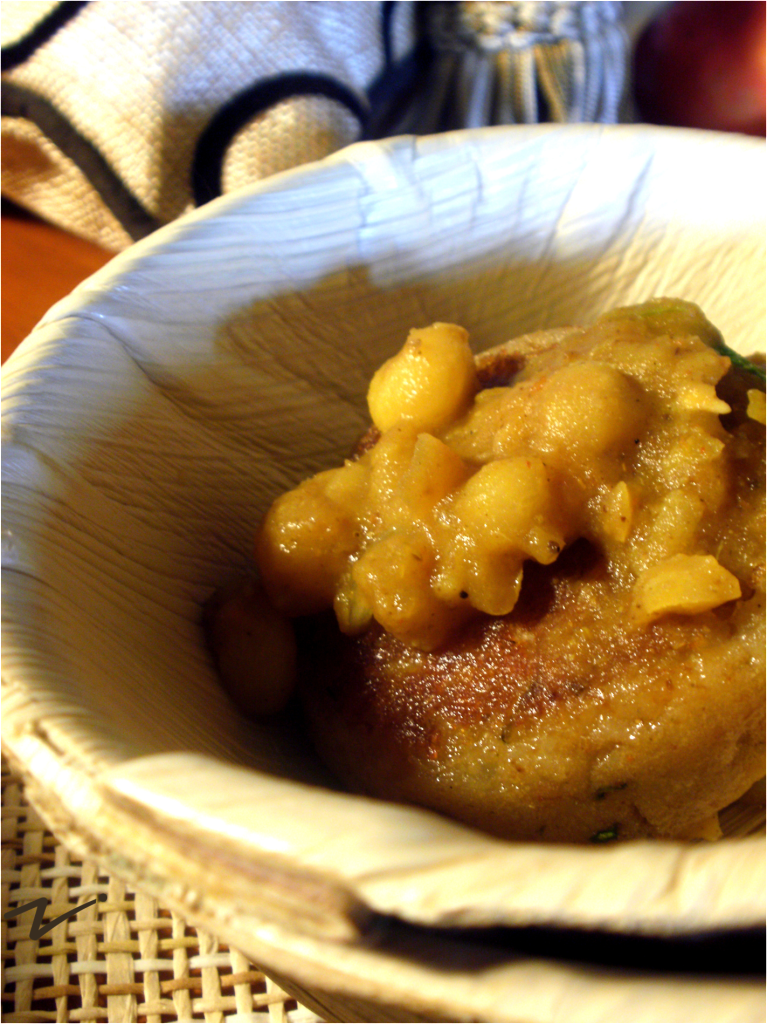 Ragda Pattice
An Indian street food, potato pattice topped with peas curry.
For patties
3-4 big potatoes
salt to taste
2 tsp ginger-green chilli- coriander leaves – minced together without adding water
1 tbsp lemon juice
2 bread slices or 2 tbsp (or for binding cornflour)
few tbsps oil to shallow fry
For ragda
3/4 cup dried white peas (safed vatana OR dried chickpeas)
1 tbsp vegetable oil
1 tsp jeera/ cumin
1 medium onion – chop finely
1-2 tsp ginger green chilli paste
1 medium tomato – deseed & pureed
1/4 tsp turmeric powder
1 to 2 tsp red chilli powder (or to taste)
2 tsp chana masala powder or garam masala (or to taste)
1/2 tsp cumin powder
1 tsp coriander powder
salt to taste
1 tsp gur/ jaggery
To serve
Ragda
Pattice
Chopped raw onions
Sweet tamarind chutney (optional)
Chaat masala – to sprinkle
Sev (optional)
For patties
Boil, peel & mash the potatoes. Add salt, paste, lemon juice, cornflour (if adding).
Dip the bread slices in little water , squeeze the excess water, crumble and add to the mashed potatoes.
Mix and knead to a soft dough. Divide into 8 to 10 equal portions, shape them into medium size pattice.
Heat a shallow pan/ tava & drizzle it woth little oil. Arrange the pattice and fry till underside is golden brown. Do not try and flip half way as the pattice will be delicate and will break easily. When underside is done, flip gently & cook the other side till golden brown, sprinkling oil in between as required.
When done, remove and set aside.
Serve the patties with ragda. The patties taste good on their own too..
For ragda
Soak the peas overnight. Next morn, drain, add 3-4 cups fresh water & pressure cook till until peas are soft – about 7-8 whistle or till done. Open lid once the pressure drops.
In a pan heat oil, add the cumin seeds and let sizzle. Add the onion and saute till soft & transparent. Add the ginger – green chilli paste and fry for 30 seconds.
Add the tomato puree, turmeric, coriander-cumin powder, chilli powder, chana masala or garam masala. Saute for 2 mins.
Now add the boiled peas along with its stock. Add water as required to get the gravy of consistency desired. Add jaggery, salt. Mix and simmer for 10 mins to thicken the gravy a bit. As it cooks, mash the peas a bit to thicken gravy.
Serve with potato pattice.
If serving later, reheat before you serve adding water if required.
To serve
On individual serving plates, arrange 2 patties, pour hot gravy on top as required, sprinkle onions and chaat masala & drizzle with sweet tamarind chutney. Top with some sev and serve immediately. Or you could just serve all the different 'parts' of this dish separately and let your guests top it with sauces of their choice.