The word 'street food' never fails to capture your attention, divert your mind from your current thoughts to images of puris being dunked in a spicy concoction or piping hot samosas being fried, drizzled with hot, tangy & sweet chutneys. 'Street food' is one of those timeless food categories that has stood the test of time and dominance of gourmet food. Street food has now even been introduced in a fine dine restaurant! Such is the adoration for the humble street food! Today we bring to you the review of a street food 'cart' on the footpath of 36th cross, 5th Block, Jayanagar, Bangalore. The unassuming 'cart' is run by Sharath. The place opens at 6 in the evening and closes at 9 pm. He offers four items on the menu – Masala puri, Pani puri, Bhel puri and Aloo puri. This may look too simple or not impressive enough for some. But no harm in still visiting the place and giving it a try. On tasting you are sure to be impressed, with just a spoonful! The taste is hypnotic!
Assembling the delectable Masala Puri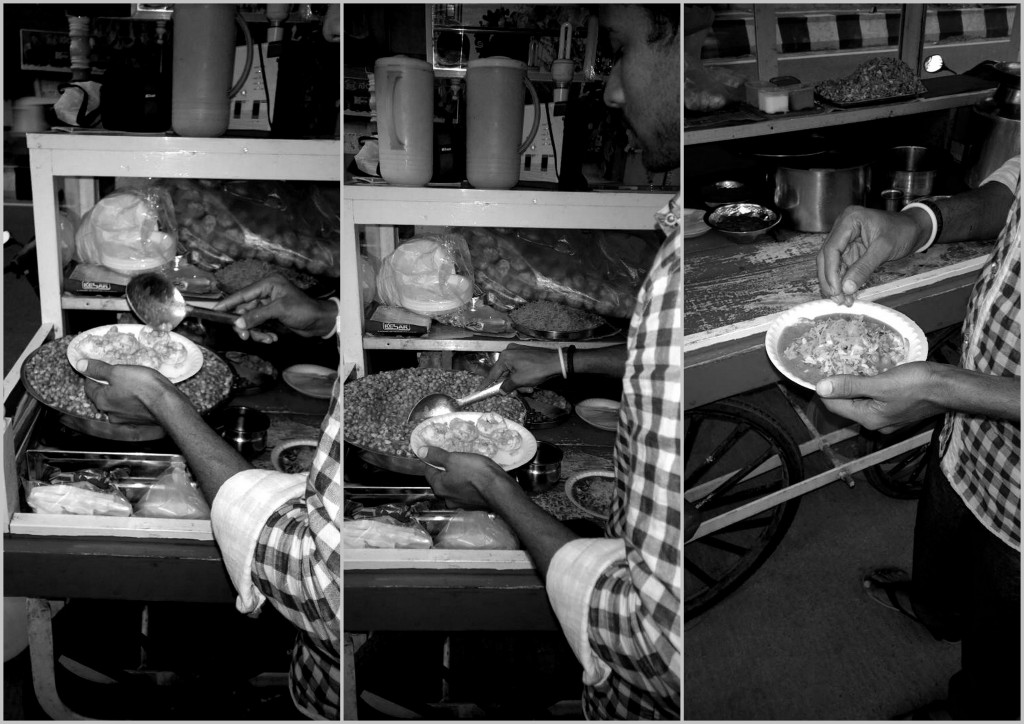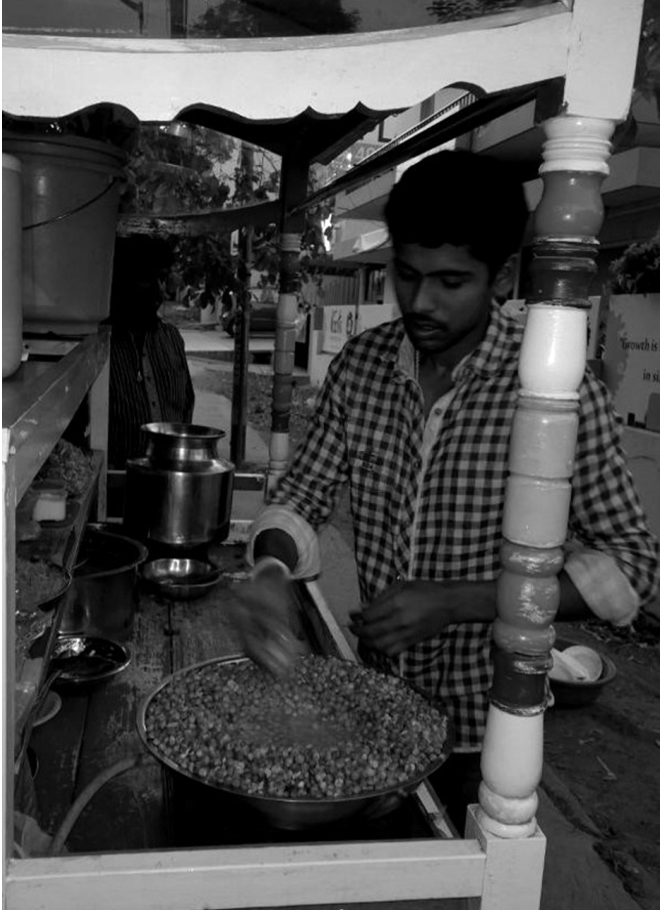 On our visit we tried out 'Masala Puri' 'Aloo Puri' and 'Bhel puri'. We taste it and are bowled over by the taste and flavor. The spices levels are just right. The vegetables are fresh. We order the first item on the menu – Masala Puri. Here puris are crushed and arranged on a plate, spicy peas gravy is poured over it, drizzled with sweet and spicy chutneys, some seasonings, grated carrots, onion, coriander and sev. We take a spoonful of the first item and are instantly transported into a different world altogether. The hustle and bustle of the vehicles suddenly seem very distant. The metrolpolitan time stops ticking. The flavor is no doubt spicy and strong but the generous sprinkling of fresh vegetables and coriander mellows it down and adds drama! It was time for the next dish – Aloo puri. Little puris filled with soft and mashed potatoes, topped with coriander, onion, puffed rice. Absolutely mouthwatering! Next we try the bhel puri, tasty no doubt but nothing exceptional. So when you visit the place, go for masala puri and (not or!) aloo puri. People who enjoy spicy food can ask for the orders to be made spicier. But the faint heart-ed ones can stick to less spicy or ask for more of sweet chutney. Both versions are equally tasty. The place started 2 years ago and is run by Sharath. He has learnt the tricks of dishing out mouthwatering chats from his uncle. His cheerfulness and the ease and skill with which he plates out tempting dishes make it worth more than one visit.
Masala Puri & Aloo Puri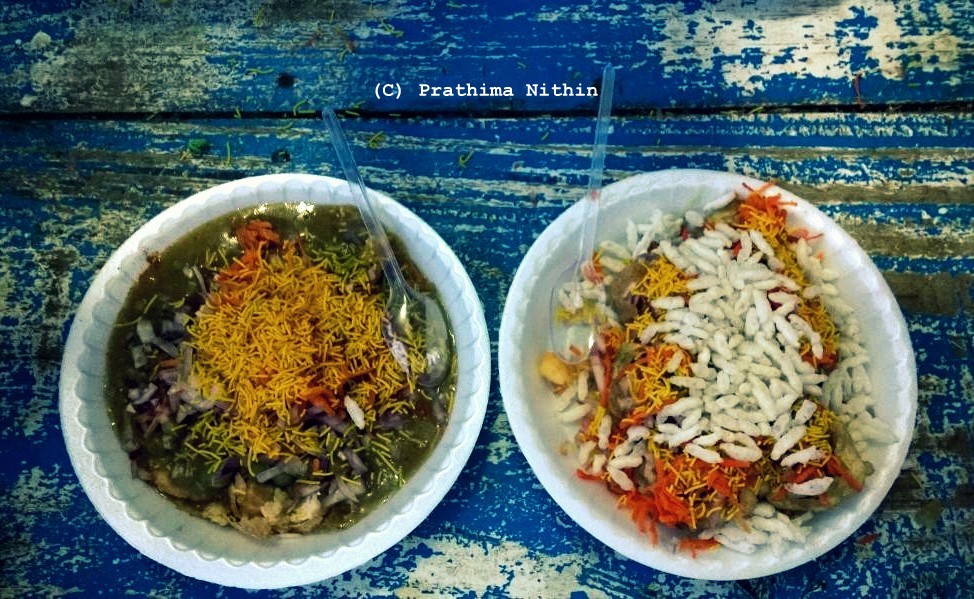 USP of this place
What`s special about the place is cleanliness and this speaks loud and clear! Sharath uses clean water for all his preparations. Fresh ingredients are used everyday. Orders are served in disposable plates and spoons. And most important, dishes are served with a smile! Next time you are in 36th cross, Jayanagar be sure to visit this place. Or simply plan a visit just to have a plate of masala puri. It is hard to miss this place. Because, as you walk down the road the smell of the peas gravy being cooked draws you to it. And so does the sight of crowd around it!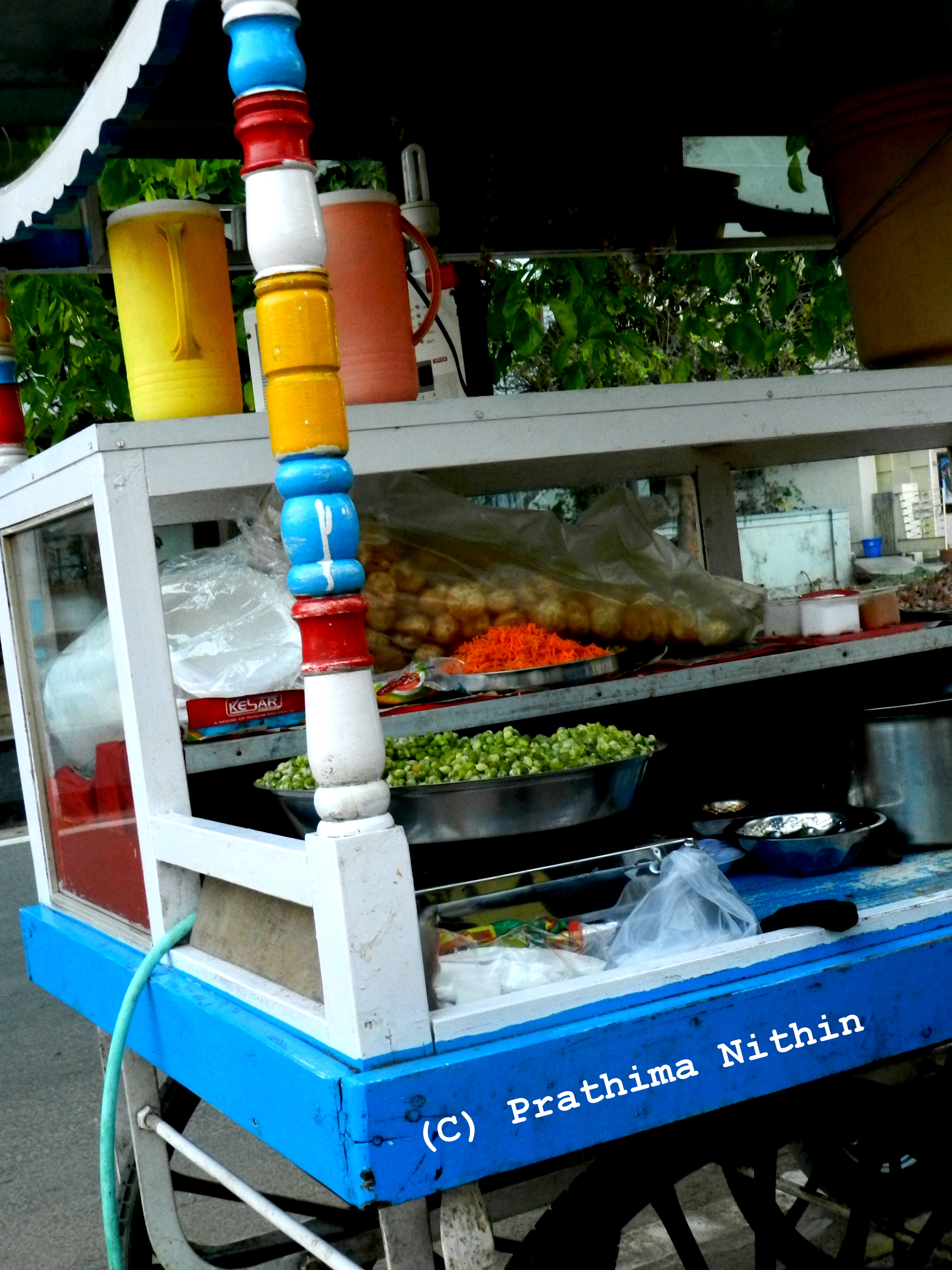 Sharath`s '36th cross' chats
Category : Street Food
Location : 36th cross, 5th Block, Jayanagar, Bangalore
Cuisine : Chaat/ Indian Street Food
Timings : 6 pm to 8.30 pm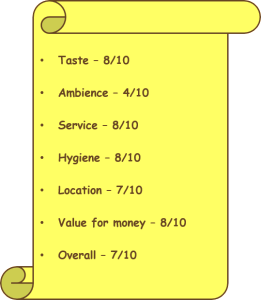 Masala Puri, In the Making