Winter gives way to summer & spring, then the rains, then comes autumn and its winter once again. No season lingers forever. The clouds do make way for the sunshine. The sun does shine after the rains and you spot the rainbow sometimes. Every season has its good and bad, every cloud has a silver lining. Likewise, different stages of our lives are not forever. The disappointments, tough times do pass and make way for sunshine. A time for laughter and happiness are in store for all. The way to unlock it, is to look at the positive in all dark stages. Easier said than done no doubt. It is a task needing constant efforts. And slowly it turns into a habit.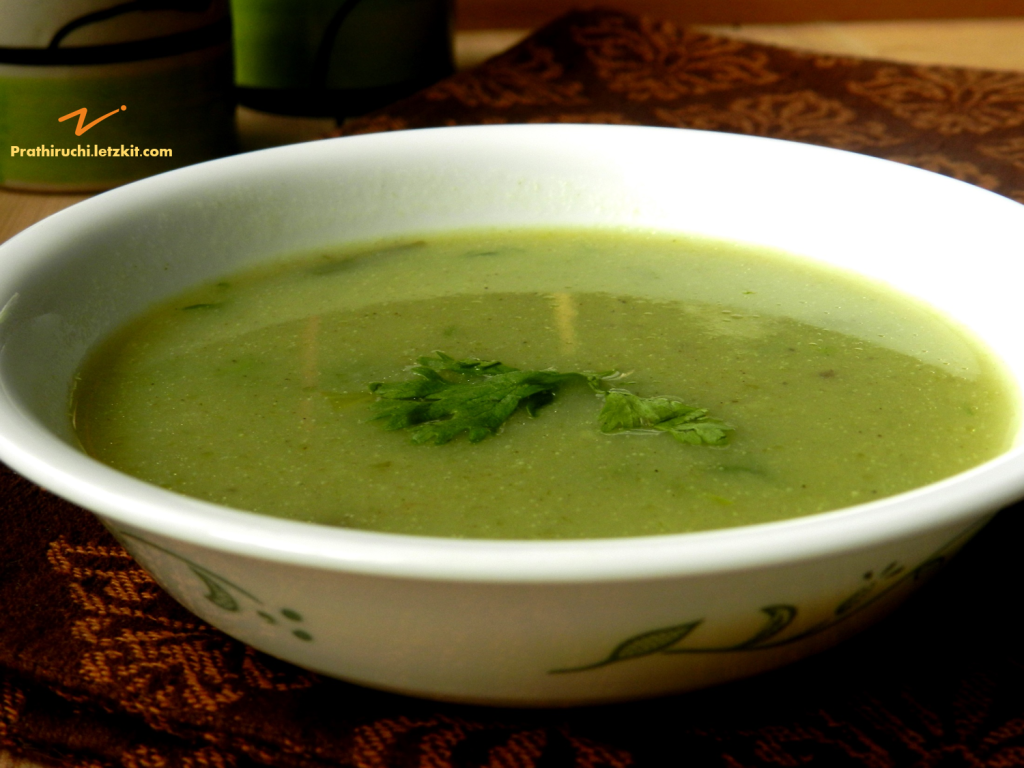 Life often throws situations our way that seem of contrasting combinations, positive and negative; joy and sadness or confused. Just like the seasons. The rains can alter your schedule and create havoc. But the raindrops on the leaves that glitters and shines as sunlight passes through it also brings us joy. These contrasting times scares us and puts our mind in a cage. There is no place to rationalize and decide between the contrasting situations. Our mind seeks to be set free, to roam, explore and find the answers but has lost the key. Our mind is wrapped within the external forces that bring us down, greed, ego, lies, fights. It drains us of our energy to fight fairly and thinks positively. We struggle, fight, get frustrated and disappointed, for we cannot see beyond the darkness from within the cage. We have lost the battle and ultimately we cannot recognize ourselves. What we were and what have we become?? After all the struggle we are still inside the cage…
Like the butterfly that forages through the thick leaves and ultimately finds the flower, we need to rummage through the darkness, unwrap the negative external forces and reach the light. Life is sometimes of contrasting or unique combination. The seasons create havoc to mother nature, but does that stop her from welcoming all seasons year after year…
The other day, a choice for a newer and strange combination of ingredients came along the way. The outcome was a combination the the two, rather than opting just one of them. The choice was between potatoes and spring onions and the result – Potato & Spring Onion Soup! I felt it right to grope through the tried and tested combination and go for marrying of the two odd choices. The season backed my decision, for it was a cold rainy day. It was a perfect setting for something hot and comforting…
Off to the recipe…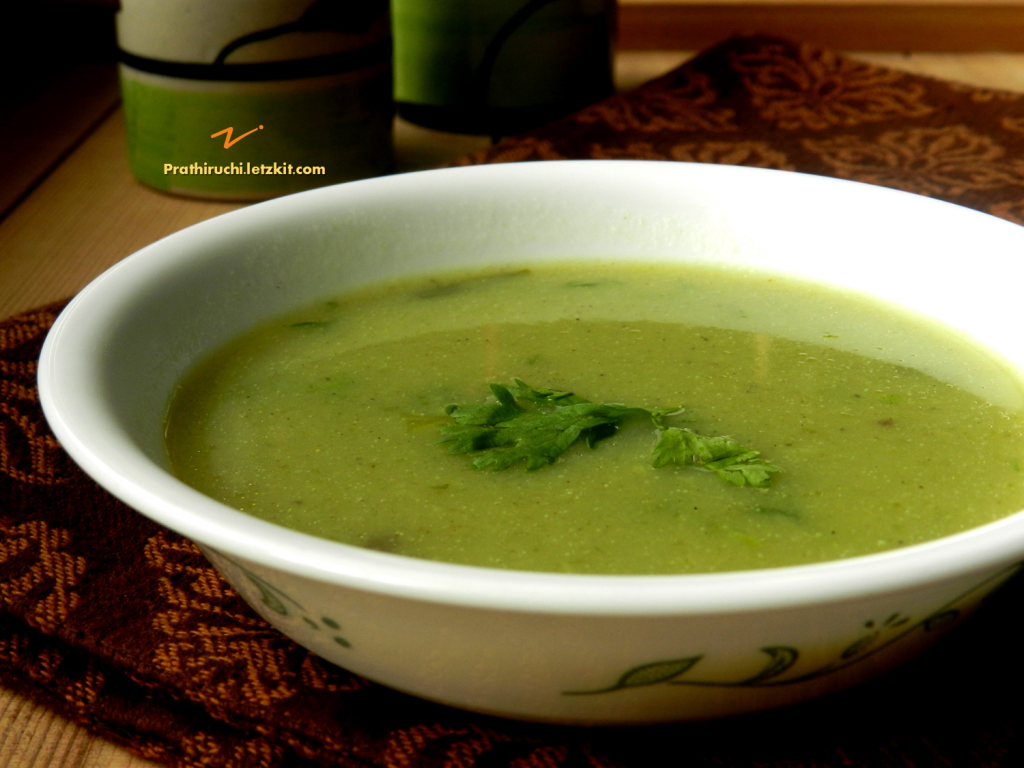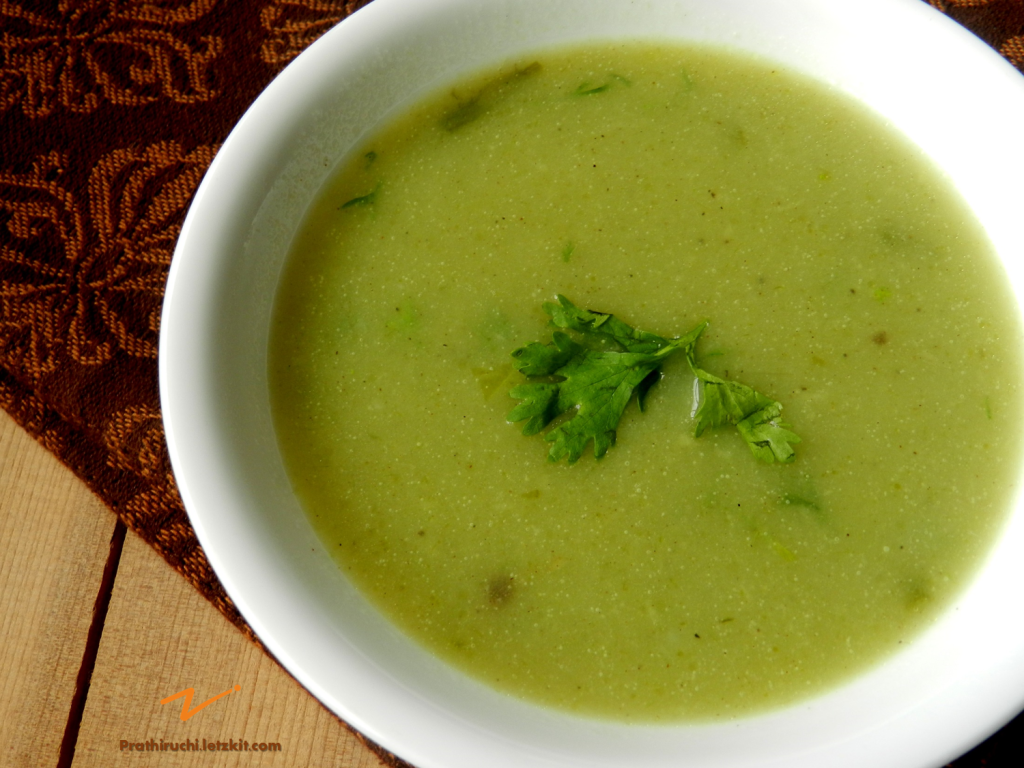 Potato and Spring Onion Soup
Mild and comforting soup…
1 bunch spring onion
1 potato (medium to big)
2 cloves garlic (optional)
1 tsp soya sauce or lime juice
few drops capsico sauce (optional)
1 to 2 tsp minced coriander leaves
2 to 3 cups hot water
1 tsp butter or oil
Wash and chop spring onion, both white and green portions. Keep few greens for garnish.
Wash, peel and cut potatointo medium chunks.
Heat butter/ oil. Add garlic, spring onion. Saute for 1 minute.
Add potatoes and saute a bit. Add salt, 2 to 3 cups hot water. Boil and simmer for 5 to 6mins or till potatoes are tender. You could also pressure cook in cooker for upto 1 whistle.
Once cooked you may either add seasoning and serve as chunky soup or cool and grind and then season.
If not grinding, add salt, pepper, minced coriander, sauces. Add lime juice at the last. Simmer 1 to 2 mins and garnish and serve hot.
If grinding, cool the cooked potato mixture and grind to puree. Pour into saucepan, adjust by adding water if needed. Reheat and add salt, pepper, sauce, minced coriander. Add lime juice at the last if adding. Garnish and serve hot.
For variation you can add boiled corn or boiled noodles when you add the sauces.
If grinding, you may add peppercorn along with potatoes when cooking.