The clock keeps ticking. The seconds keep on moving. Time never stands still. It waits for none. The clock does not stop for you if you are late to catch the train. The train is the vehicle that takes you to different destinations in life. You need to reach the station on time to catch the right train. So time can be said to be the most valuable thing on earth. For you cannot buy it, control it, change it, stop it. Rather it controls you, rules you and you need to always catch up with it and not the other way round. You may be the richest or the strongest in the world but time can never be in your control. The value of time is unfathomable.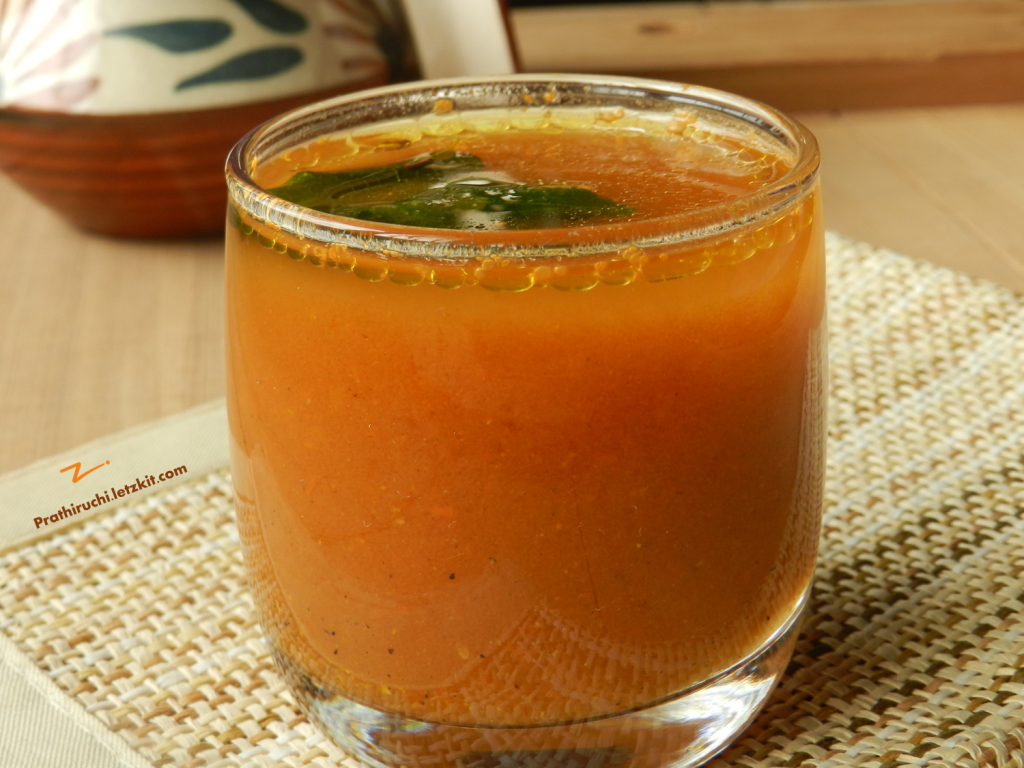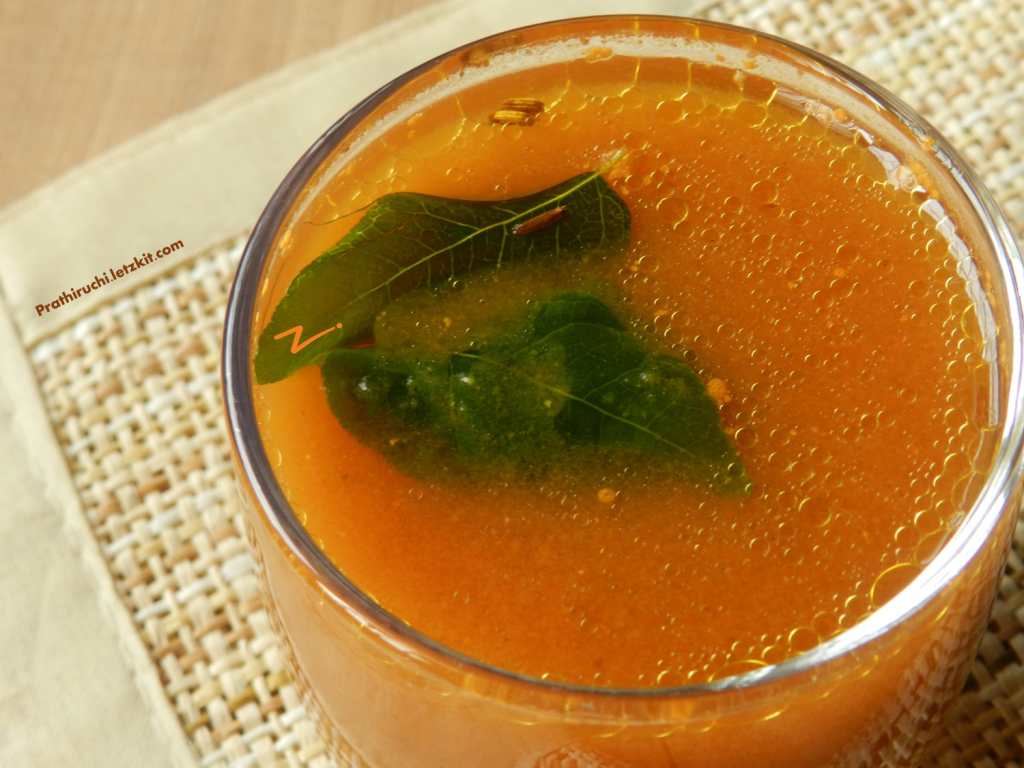 We all know the value of time, its extent of preciousness, its potential. But time and again we need to remind of ourselves of this. Because we often forget this fact and take seconds, minutes, hours for granted. Or we think the times will last forever. But they never do. This is hard reality we seldom want to acknowledge. And when the 'time' has passed, we try every bit to go back and cling on to it. But we slip and fall back into present. The past is just a memory now. It has taught us lessons, given us good times, hard times, friends, family, companionship, memories, experiences. We put all this into a big box, like coins. We carry this all through our life, picking more such legacies, lessons as we walk through different phases of 'time' or 'life'.
Into the future we head, with hopes, dreams, regrets, anger, sadness or more other plethora of emotions. We face time and all that it has to offer, paying for it from the coins out of the big box. In return you get more such coins. All the experience, lessons, memories and people from the past are like guiding light that lights up the path and teaches you to face the present and future with confidence. It teaches you the value of time.
Sometimes we race ahead to catch up with time. The train moves at full speed. But then you fail to enjoy the beautiful scenery during the journey. The blooming flowers, the flowing stream. You fail to give time to precious people in your life. You fail to give time for your passions. You may reach your destination but you will not have picked up precious 'coins' along the way. You may be at the top but in no way richer than you were at the start.
Value the potential of time and do not take it for granted. Plan your day, plan your life. Make provisions for all your ambitions, dreams, passions in your plan. Stick to your plan.
For time and tide waits for none…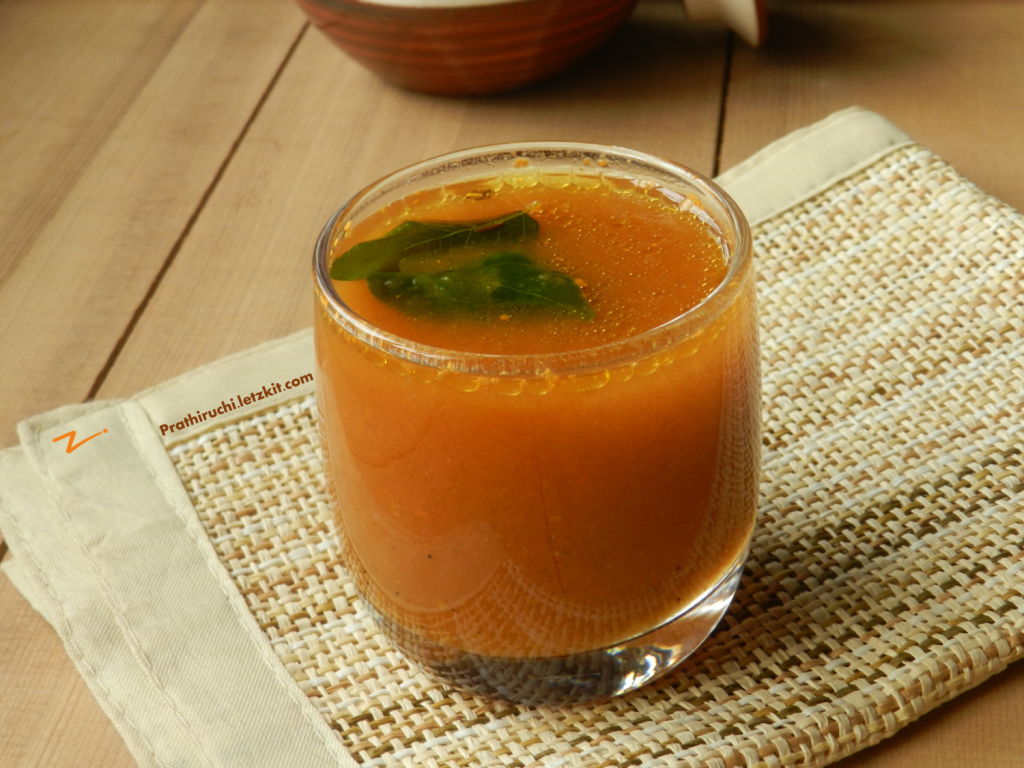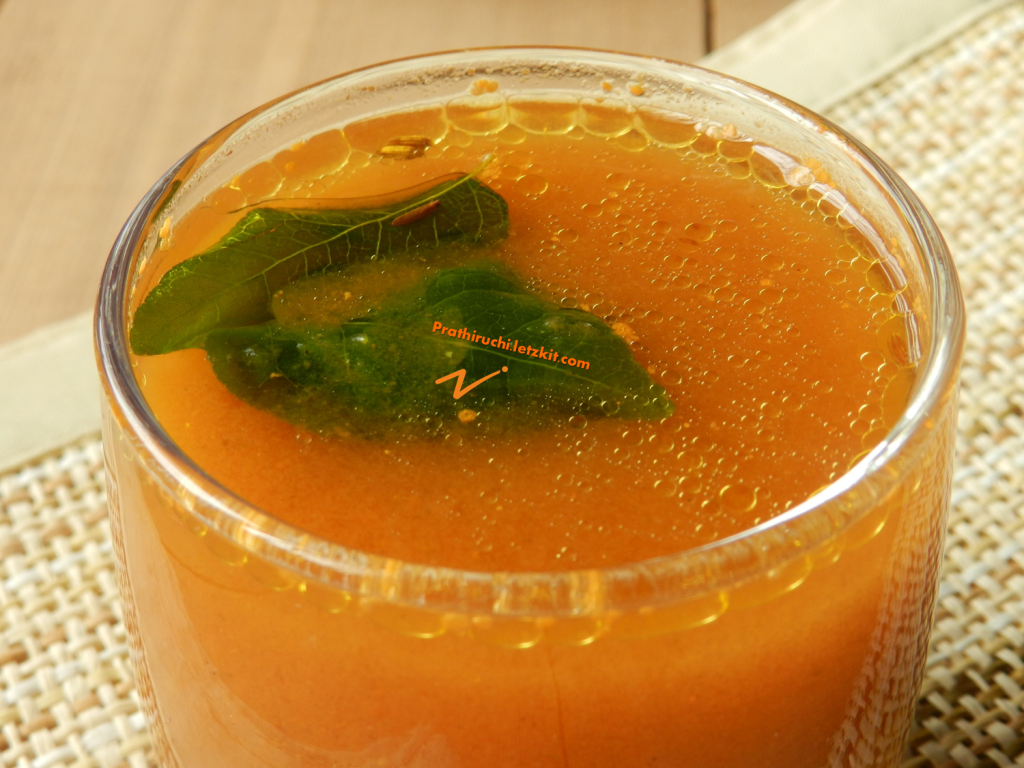 Keeping with today`s theme, here is a recipe requiring very little time. Yet it is more-ish. Easy and quick to dish out. So that you have time to spend with your family and enjoy a good meal.
Rasam, the South Indian version of soup can be a comforting dish for a cold, rainy day or a soothing dish for a summer menu. The exciting thing is that there are many very varieties of rasam, tomato, lemon, coriander, pepper, garlic, pineapple, cumin etc. The flavors can be strong and swaggering or mild and deprecate. You could have a thin rasam and serve as a soup or a thicker one and enjoy with hot steamed rice. A common 'thing' in all rasams is addition of tadka (tempering) towards the end. Pour in the crackling tempering over hot rasam and everything flare into life!
Quick Tomato Rasam
Tangy and lip smacking rasam ready in a jiffy!
To grind
2 medium size tomatoes
1 tsp tamarind (imli paste)
2 tsp jaggery (or to taste)
1 tsp rasam powder (or to taste)
1/4 tsp chopped ginger
1/4 tsp turmeric (haldi powder)
4 to 5 whole peppercorns
3 to 4 curry leaves
salt to taste
For tempering/ tadka
1 tsp ghee
1/2 tsp cumin (jeera seeds)
2 cloves garlic (lightly crushed)
3 to 4 curry leaves
1/8 tsp asafoetida (hing)
Grind together ingredients mentioned under 'to grind' till smooth.
Transfer paste to saucepan, add about 2 to 2 1/4 cups water. Bring to boil. Boil over low-medium flame for 10 to 15 mins.
For the tempering, heat ghee in a small pan, add cumin, garlic, curry leaves, hing and let sizzle. Then pour the tempering over the rasam.
Serve the rasam piping hot as soup or with steamed rice.
For a gluten free version, skip asafoetida.
For instant notifications on Prathi Ruchi updates, 'Like' our Facebook page