I hate peas! Now you would think if I hate the 'Peas' so much, why bother to try any dish with them and moreover dedicate a post to them and start it off with a negative tone!?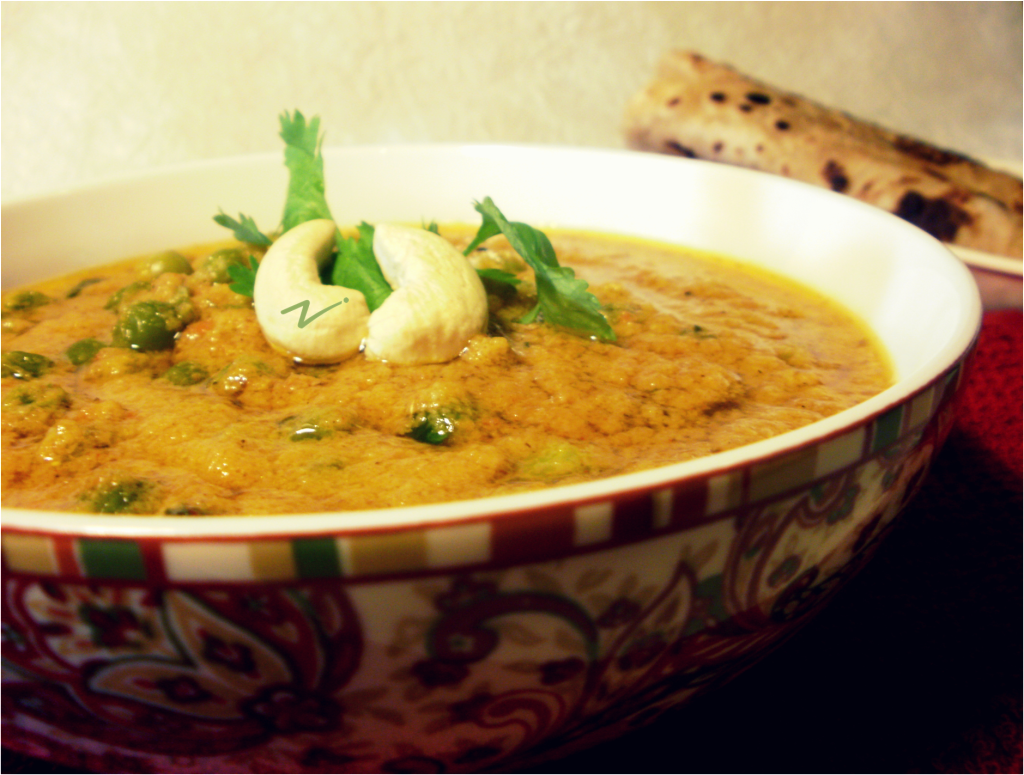 Well for one, I was determined to find out what was so special & tasty in them. My family loves them. So do my friends. So do many others. And then I came across this 'Peas Masala' on Radhika`s blog, Tickling Palates. It looked sooo…. delicious. Loved the ingredients. Required an easy process but a twist. And of course the key word being – restaurant style! I just had to give it a shot.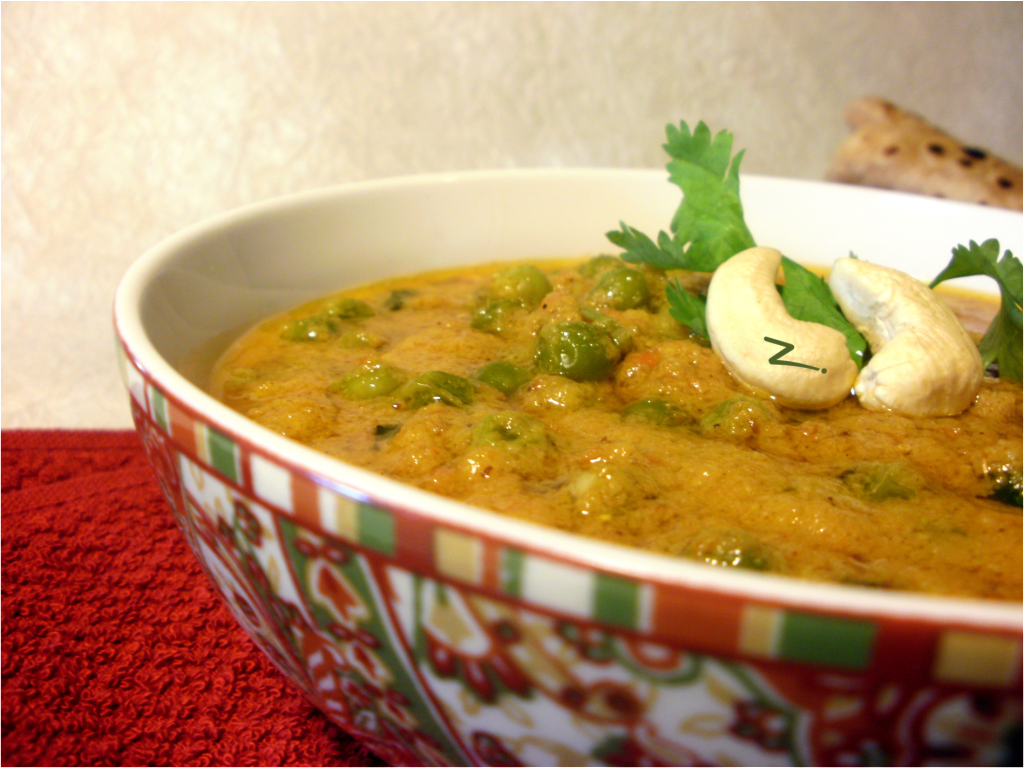 And did I like it? You bet I did…I loved it!!! And so did the family. Even better than a restaurant version. Finally, I have found a 'green peas' recipe all of us love & enjoy.
Green Peas Masala
Restaurant style green peas curry
1 1/2 cups fresh green peas
2 bay leaves
2 cloves
2 cardamom
1 star anise
1/2 " cinnamon
2 tbsp ginger – garlic – green chilli paste (i added 1/2″ ginger, 3 cloves garlic and 2 green chillies)
1/4 tsp turmeric powder
1-2 tsp red chilli powder (or to taste)
1 tsp coriander powder
1 tsp kitchen king masala (optional, just my addition as I had plenty of it)
salt to taste
1/4 cup oil
2 tbsp butter (optional, but recommended!)
2-3 tbsp coriander leaves/ cilantro
2 to matoes (blanch, deseed & grate or just chop, deseed & puree)
For the paste
2 onions
2 tbsp grated coconut
2 tsp khus khus or poppy seeds
For garnish (optional)
Cook peas with about 2 cups water and a dash of salt.
Grind together the ingredients of the paste in a mixer
Heat 2 tbsp oil and add the whole spices – bay leaves, cardamon, cinnamon, star anise, cloves. Saute till a nice aroma emits.
Now add the ground onion paste and saute till light brown over low flame. Now this will take some time and patience but totally worth it! Here I followed her expertise advice to the T. For me it took a good 20 mins, or more. Do not increase the heat to speed up the process.
Add more oil to the onion paste as it gets dry. Add the butter too for a smooth consistency.
Once light brown, add the ginger-garlic-chilli paste and saute for a min or two.
Now add the grated/ pureed tomatoes, coriander powder, turmeric, red chilli powder, salt and cook till oil separates and the masala gets a nice sheen on top.
Add the peas along with its stock as per the consistency required. Let come to a boil & make sure the peas is cooked. Throw in the coriander leaves and kitchen king masala (if adding). Simmer for 2-3 mins. This gives the gravy a nice flavor of the fresh coriander.
Remove from heat and garnish with toasted cashew. Serve hot with rotis, ghee rice, pulaos.