It was time for yet another journey into the wonderful world of refined french cooking. Having touched upon the basics of this cuisine the first time round, the learners were all the more eager to explore more of this elegant cuisine.
Chef Name : Monsieur Lucas
Venue : Alliance Francais, Mangalore
Co-ordinator : Larkins D`souza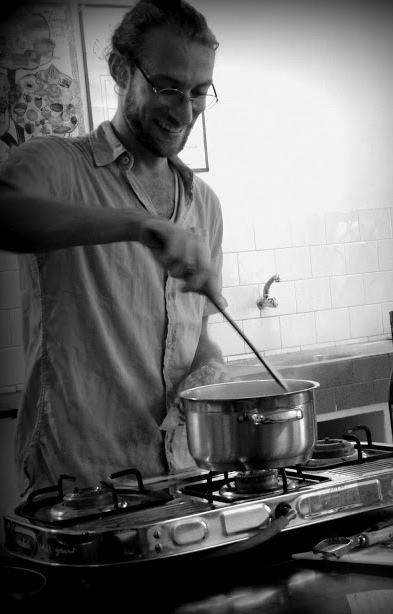 The menu for the day included a French classic dish – Gratin Dauphinois.
As we entered the class, Chef Lucas was already present to greet us enthusiastic learners and we began by discussing informally on the authenticity of his most loved cuisine – the cuisine of his country – French cuisine! The twinkle in eyes as he described more of the commonly used ingredients, of cheese and wine said all about his passion for cooking, particularly the cuisine of his home country.
It was time for another session to commence and out came our energy and interest to learn the along with a pen, the copy of the recipe handed over to all and we all gathered round the counter to watch and learn. The three hours passed a little too quickly I think!! The session included making notes, tasting new ingredients, learning some more new techniques of authentic french cooking and Chef Lucas cooking the dishes before us with so much preciseness and skill in measurements and handling and chopping of ingredients.
The fact that French people follow such precise measurements of the ingredients so as to ensure that the dish is perfect and presentable each time once again crossed my mind. Watching the chef cook made me think that it is not a wonder that this cuisine is so popular worldwide!
The prepping up or mis en place stage..
Gratin is a popular culinary technique where the main ingredient is topped with breadcrumbs, grated cheese and baked in a hot oven to get a nice brown crust on top. This technique originated in French cuisine. A shallow oven-proof dish is used to bake or cook the dish under a grill or broiled to get that golden brown crust on top. This dish is then served hot in the same dish in which it is baked. Popular dishes cooked using this technique are Au gratin, Gratin Dauphinois. Also pasta, vegetables, aubergines may be cooked this way.
Gratin Dauphinois is the speciality of the Dauphine region of France, the hometown of the chef. It is a dish made up of thinly sliced potatoes layered with cream and cheese and baked in a shallow and buttered oven proof dish rubbed with garlic. It is baked till a nice golden crust forms on top.
And cooking of this dish began will great gusto. Potatoes, slicers and knives were handed to a few and we happily sliced away! Then followed the part of layering the sliced potatoes in a shallow baking dish with cream and generous gratings of emmental. The seasonings were simple and lightly sprinkled ensuring they do not dominate the dish but give it a subtle lift. Simplicity and elegance are two words that best describe this dish. And of course not to forget – rich! Loaded with some luscious cream and cheese this dish makes for quite a treat at the dinner table! It is no less than a celebration dish…
It was the first time I was tasting emmental cheese, also known as swiss cheese. It is originally from the Emme valley but emmental from France or Bavaria is also widely popular. Emmental is a yellow, medium-hard savory cheese. It does not have a sharp taste. Biting into it, I felt it tasted similar to cheddar but without the saltiness. The final top layer was the cheese and then it was shoved into the oven to bake till completely cooked and you have a nice, golden color on the top. The bottom can be slightly crisp too.
Gratin Dauphinois is best served as soon as it emerges from the oven along with some garlic bread.
I expected it to taste similar to au gratin but I was wrong! Rich, no doubt, but yet so subtle in its flavor, with a light hint of the underlying seasonings. The cheese had melted away and merged nicely with the cream and the two created a nice, soft, creamy blanket around the potato slices. The soft slices of potatoes blend amazingly well with the cheese and cream. The dish leans heavily on it being very more-ish and a pleasurable indulgence! It was one dish that goes into my repertoire of dishes! It a casserole filled with oodles of fun and indulgence!
At the end of three hours, being able to see the bottom of both the serving dishes was testimony to their tasty outcome! What took three hours to prepare was over in a span of about 15 mins! While we thanked and praised the dishes by saying – it is good, we liked it, it is tasty, tres bien etc etc, the chef surprised us by saying – "bahut accha hai" on tasting it himself in the end!!
To sum up, it was a session packed with wonderful insights into French cooking, with some humour and laughter thrown in and meeting more foodies from my hometown. A good three hours of my weekend spent fruitfully. The icing on the cake no doubt was to taste what was cooked!
And now I cannot help but look forward to yet another expedition into the world of French food. If you have not done yet, do read through the first part, the commencement of this wonderful journey.
The class was held in October 2012