PART 1 – MIRCHI MANIA
It all started with our curiosity to experience new tastes and cuisine. To explore new dishes and capture tastes of regional dishes. That was the intention when we set out to track down popular eateries in Hubli. But exciting events do not usually happen in smaller towns, or so they say. With the sight of roads busy with people going on about their daily shopping or the large crowd sampling the local delicacies, this assumption was far from true. Intriguing and stimulating things do happen everywhere, in their own way and their own pace.
The sight of crowd beckoned us to explore the area. We walked in the direction of crowd and aroma! Yes, the spicy and pungent aroma of something being deep fried drew us to that narrow lane. At the turn we asked a local to suggest a good place to gorge on local street food, girmit in particular, and he pointed in the direction of the aroma! And without a second thought we proceeded in that direction. There we encountered an eatery selling another much talked about street food of Hubli – 'mirchi bajji' and decided to give it a shot!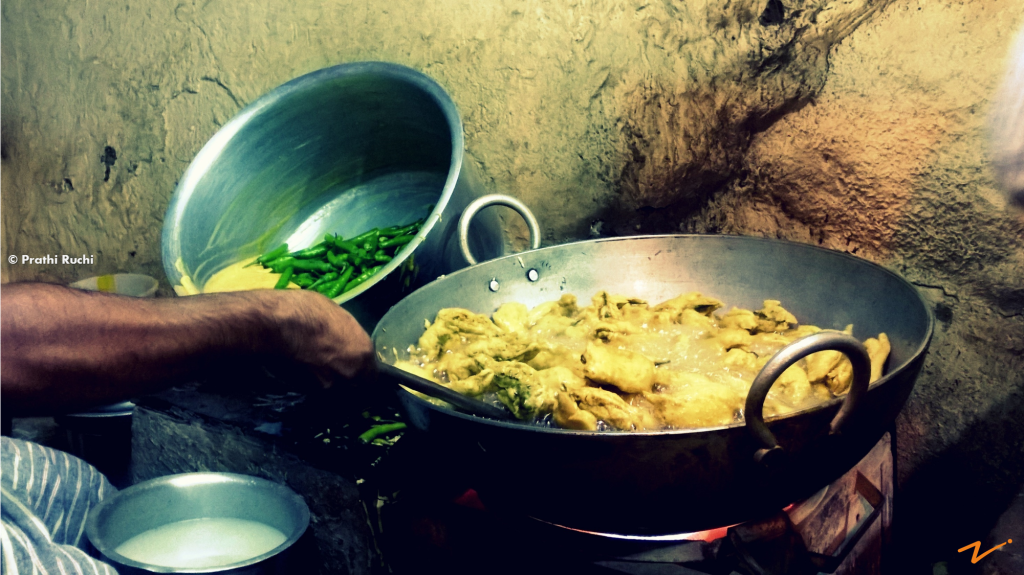 The place is quite small, almost like a shack within a building and without a name. But the crowd spilled onto the the road. The place is located on Durgabail Road, also known as Broadway road among the youngsters in Hubli. Even without having a name, this eatery is a landmark in Hubli. It is run by a man named Mahadev Kadam with his wife Radha. He has been successfully running this place since 37 years! And with just 3 items on the menu – mirchi bajji, bun mirchi and aloo bonda.
Mirchi bajji or mirchi pakoras (green chilli fritters) are nothing but spicy, fresh, bright green green chillies dipped generously in besan (gramflour) batter and deep fried. Slit a pav bun horizontally, spread some spicy green inside and keep a mirchi bajji and serve. You have the popular Bun Mirchi. The flavors are 'exploding' good. And of course immensely spicy! Exceedingly fiery hot! Not for the faint hearted but for the daring ones and spice lovers. Aloo bonda is seasoned and mashed potato mixture dunked in besan batter and deep fried. The price of the items is just Rs.10/-! The crowd starts in the evening from the time it opens till closing time. People of all ages and groups visit the place frequently. It is non stop business for Mahadev Kadam with people placing their orders one after the other. What is special is the unceasing smile with which both attend to the hungry customers.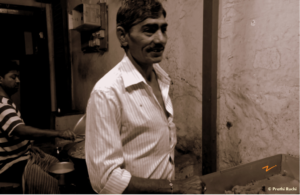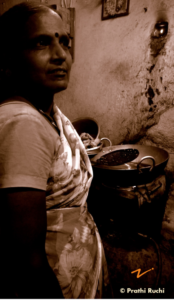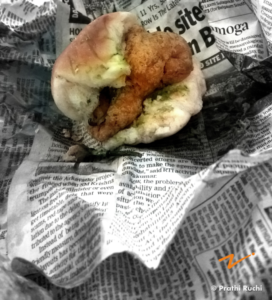 What started as a walk to taste the popular Hubli street food – girmit ended in us having an acquaintance with yet another popular street food of the place. No regrets, not a bit. We had our share on the Durgabail road amidst taking pictures and talking to Mahadev. And then ordered more of it to be packed and relished as a midnight snack!
The search for girmit has not ended. The hunt is still on but along the way we encounter more treasured flavours. Stay tuned to read more on this on our next post!
Location – Durgabail Road/ Broadway Road, Hubli, Karnataka, India
Author & Photographer – Prathima Nithin