Today`s recipe brings in a flood of memories. Memories so warm that they unfreeze my frozen fingers. It is like the warmth one feels when sipping a cup of tea. The early morning rush, the smell of something delicious being cooked and packed into colorful boxes is a sight still so vivid, so touching. Being engrossed on these thoughts is for me like a perfect antidote to wade off the winter chills! The warmth of these memories gets my frozen self back to life…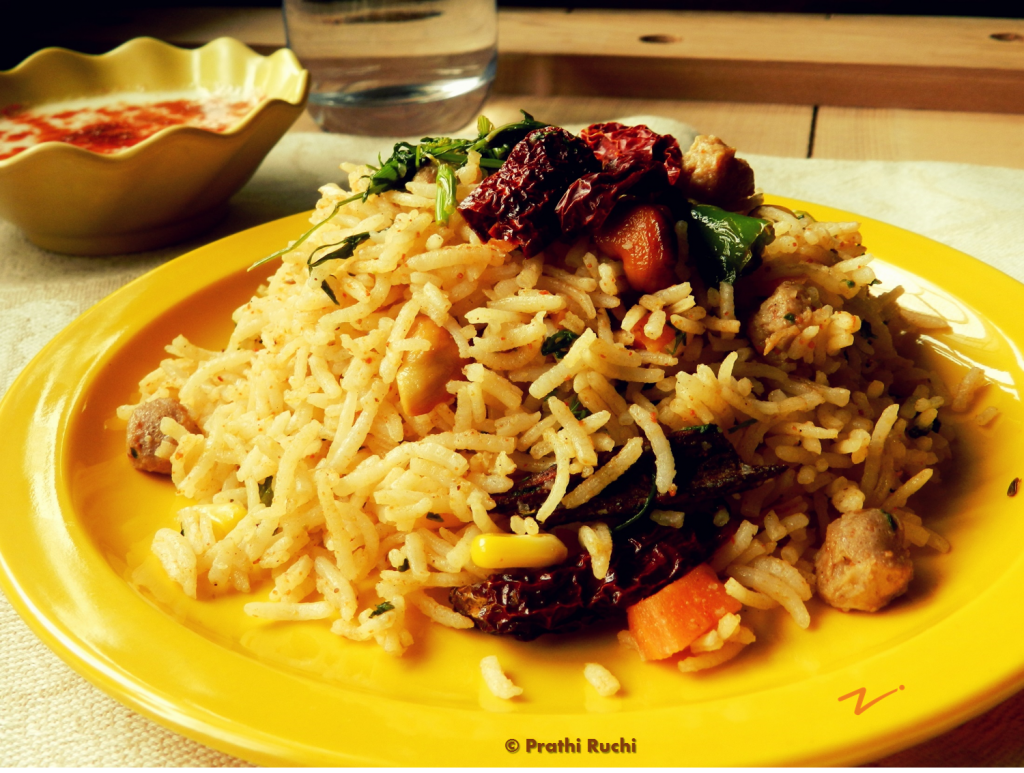 Back in school, when the hours in classrooms seemed to drag on monotonously, the sight of the lunch box which awaited to be attacked was what kept me from dying of boredom! Sitting under the shade of the 'big' tree, discussing the 'latest' news with friends while enjoying a hearty meal so lovingly prepared by amma was enough to chase away all the 'stress' of the day!
How innocent we were back then! How oblivious we were to all the hatred, stress being churned outside of the gates. To us the world was beautiful. Hatred & evil existed light years away. Back then we dwelled in our own 'island' that was protected from all sides. The island we lived in was filled with trees that stood without the fear of being felled. The people that lived here cared for the nature. They planted more trees each year. The birds lived here happily. The entire island was filled with innocence and beauty, filled with love so pure, so radiant.
In the midst of such beauty, I open my lunch box. The smell of home cooked food peppered with 'love' was like 'sweet dreams'. To me it was the kind of taste that would last a lifetime!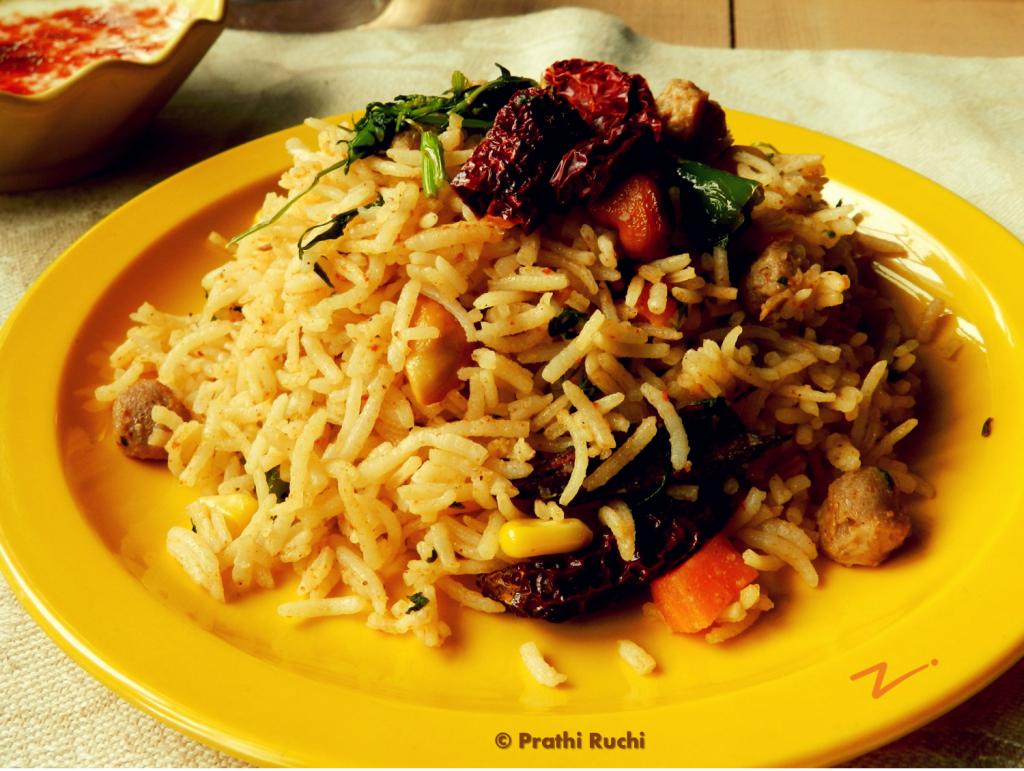 Then we ventured out into the world, away from the 'island' that protected us and painted promising picture of the years to come. The world outside is a contrast in many ways. Mother Nature is under attack, people are engaged in heated arguments most of the times, they are always in a hurry to reach their destination, there is hatred. We found all elements to make life stressful.
I have learnt that we must not forget to find ways to visit the 'island' often. To leave all the tensions behind and travel to this place to unwind. To love, help, protect, live healthy.
Like today`s dish. The rice is studded with 'orange' jewels and the aroma of coriander is so earthy, so fresh. It is a simple, healthy recipe. No fuss recipe. But the blend of flavors makes it irresistible. And as you eat every spoonful, you are immersed in total bliss and you forget the stress of real world!
Carrot & Coriander Rice
Easy, delicious and healthy rice, with the aroma of fresh coriander.
1 bowl cooked rice (basmati or short grain)
1 cup carrots (very finely chopped)
1 cup coriander leaves
8-10 pudina (mint leaves, torn)
2 tbsp corn
Masala powders
1/2 tsp biryani masala OR pav bhaji masala
1/2 tsp cardamom (elaichi powder)
For the tempering
1 tbsp ghee/ oil
1 bay leaf
2 cloves
2 cinnamon
1 dry red chilli (broken)
1 green chilli (chop)
1/2 tsp shah jeera
3-4 peppercorns
Garnish
To serve
Spicy/ masala dahi or
Spicy curry or
Kadhi
Cook rice and set aside to cool.
Boil corn. Blanch carrots & drain.
Heat ghee/ oil. Add all the tempering ingredients & saute few seconds till aromatic.
Add carrots, corn. Saute.
Add masala powders, coriander leaves. Saute on low flame for 1-2 mins.
Add cooked rice, salt, pudina. Toss and cook for 1 min. Serve hot.
You could add cooked soya chunks, peas.