There is often a long 'to-be' list. No I don`t mean to-do. It`s a to-be. A list of professions you want to take up when you 'grow up'. A list of things you would want to do. From a teacher to sports champ, a scientist or an actor. The 'list' is now a crumpled piece of paper, lying in a place where it would probably never be found…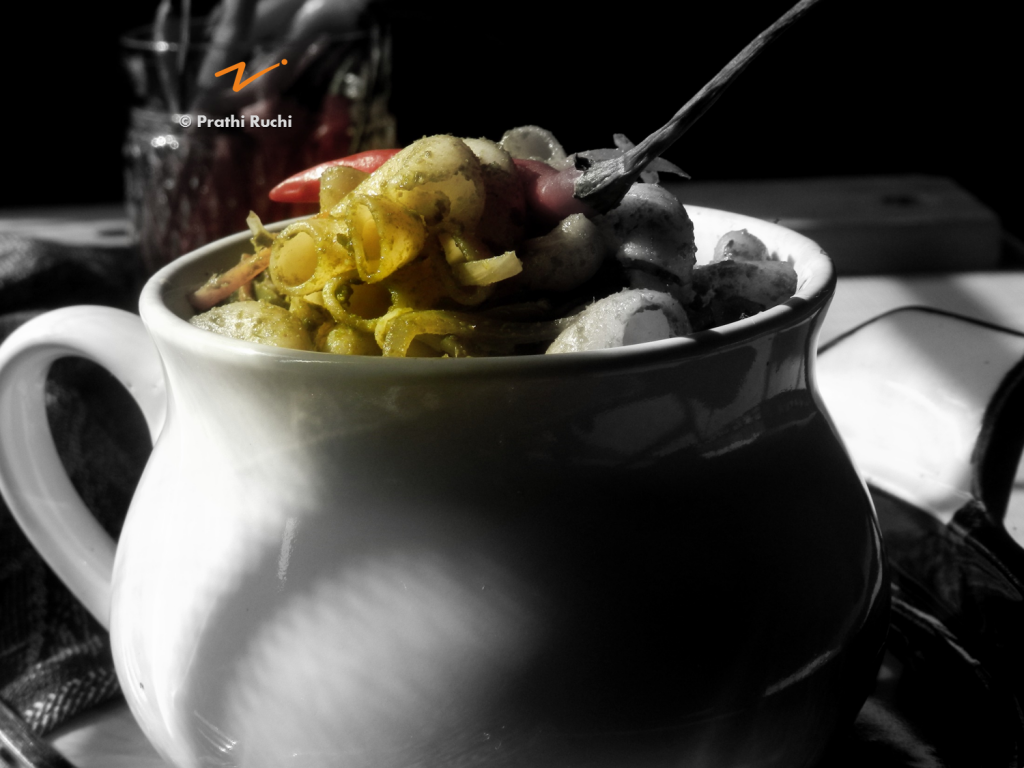 "Train your mind to see the good in everything…"
The pressures of modern living takes over and rules our lives, rules the world. Countless times we ponder on the path we have chosen – jobs for their comfort but not for the fascination. Nothing wrong in it. But what`s unfitting is we let it take over us and let ourselves bypass all our core interests. The list keeps popping up every now and then and we are quick to chase it away into hiding. And then our lives are once again drenched with workload, deadlines, the traffic and all other negative elements that weigh us down.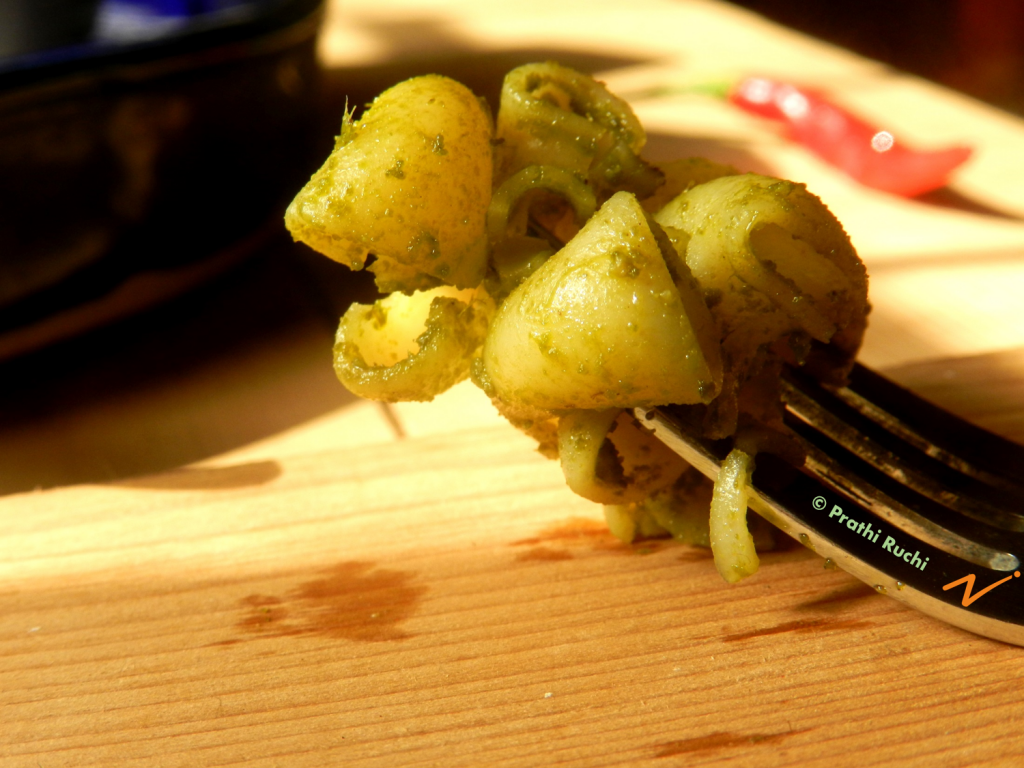 It takes a lot to find your way in the world. It takes disappointments, hardships, broken promises to name a few that teach us a thing or two about life. Not just luck or courage. It takes determination and strength. When your work is your passion, it is easy to untangle the distraught inner 'you' and find life`s path, that is bright and colourful. But if it not, if it just a path taken because there were no other paths in sight, then work is a drudgery. You may find a million reasons to dislike the situation you are in- you may curse the people, the work or the neighbor for being nosy. When the 'inner' you is not content, happiness is nowhere in sight. And so we need to master the art of living…
You remember the 'list' I mentioned at the start right? Well, reviving it is one of them. Let it see the light of the day once again and help you ignite once again that passion you buried away so long ago. Taking a break from your routine and spending time in activities that bring you satisfaction can make 'happiness' reachable yet again.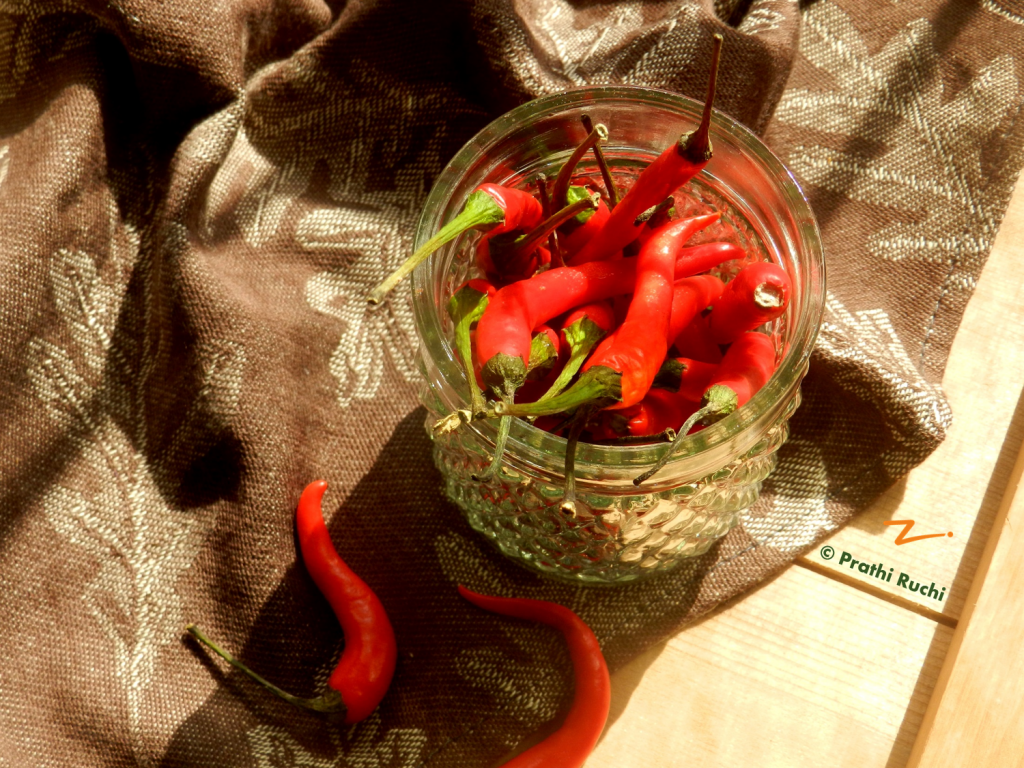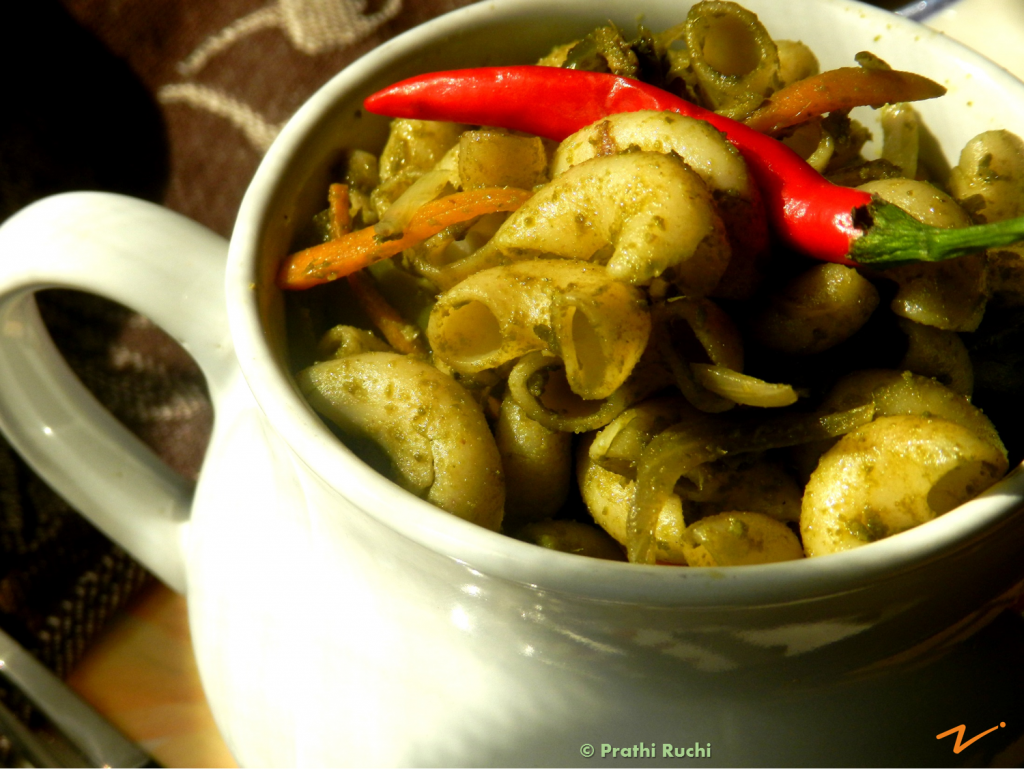 Take 'cooking' for instance. Why 'cooking' you may say? Well, for one it is a food blog and second, it is my passion. For me, indulging in cooking is soul-filling. The smell of spices as they are being sauteed in ghee, their sizzle 'as they bounce with joy' in the pan makes me forget the dull and makes life seem extraordinary. And each time I think ' this was probably what 'meditation' felt like'. The way it calms the mind and gives purpose and meaning to life.
Five years ago I was a all submerged in the field of finance, fighting the inevitability of mediocrity. At a stage when it was too much for my sanity to handle, I pondered if not a Finance Executive, what am I? I am a person who easily gets fatigued by the set rules and everyday humdrum. Creativity, colour, flavours and being in charge are what captivates me every time. That was when I realized that to avoid treading into the land of absurdity and never to return to normalcy, I needed to save myself real quick. For the land of absurdity is covered with quicksand, it can sink you fast.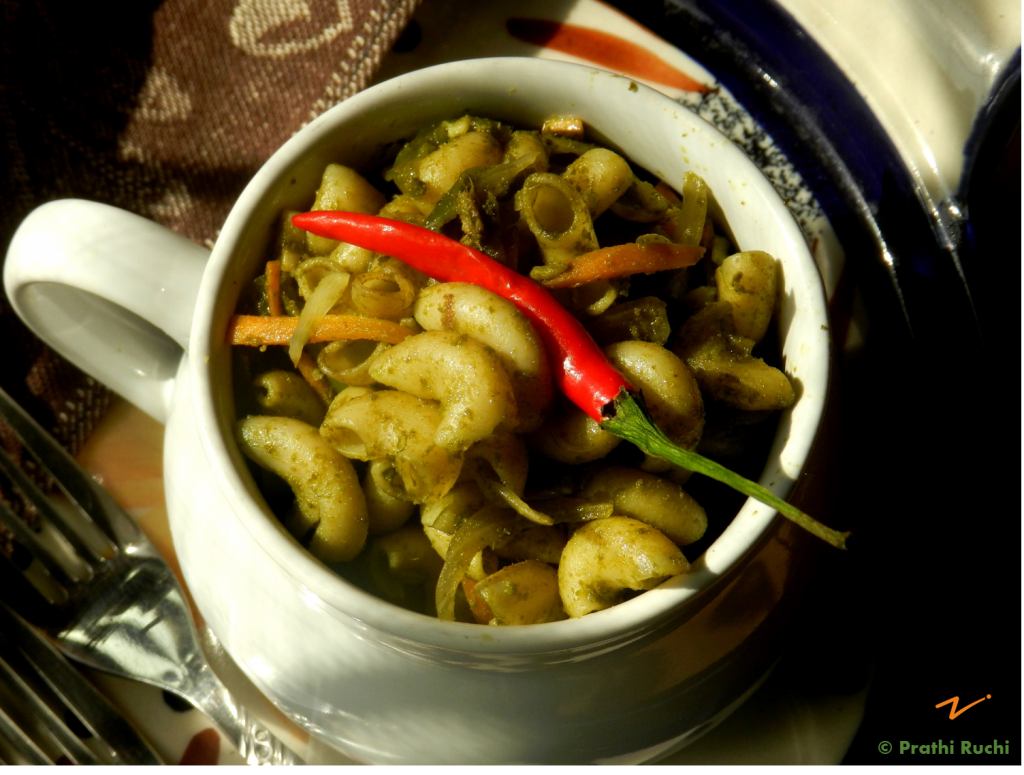 I took out the list and carefully ironed out the crumpled piece of paper. The list remained unticked. This had to change. Then cooking came into existence, one item ticked in the list. Without the 'passion' I would probably be just drifting away aimlessly towards delusion and ultimately get trapped in the quicksand. I have uncovered in this passion the deeply buried aroma of hope and enlightenment. Along with a sniff and whiff of ingredients, I have also learnt to sniff the secret door of happiness.
It is never too late to start, nor it is something to be procrastinated till the year you turn 40!
"The end may be a long time coming, but that doesn't mean it doesn't have a way of sneaking up on you" ~ Julie Powell
From cooking as a stress buster to today`s recipe, it is something that was created from the ingredients available and the desire to whip up something new yet quick for a weeknight dinner. Pasta is usually one of the choices. But to cook a pasta sauce from scratch did not seem a feasible option, with a hungry crowd awaiting dinner! The crowd consisted of my sister & I, yes, just two! And then my eyes fell on some fresh green lying around. Bright green cilantro and mint leaves. They seemed good options for the pasta. A proposal to make an indianized-pesto got a green signal from the 'crowd'. And so came into existence Jade Macaroni.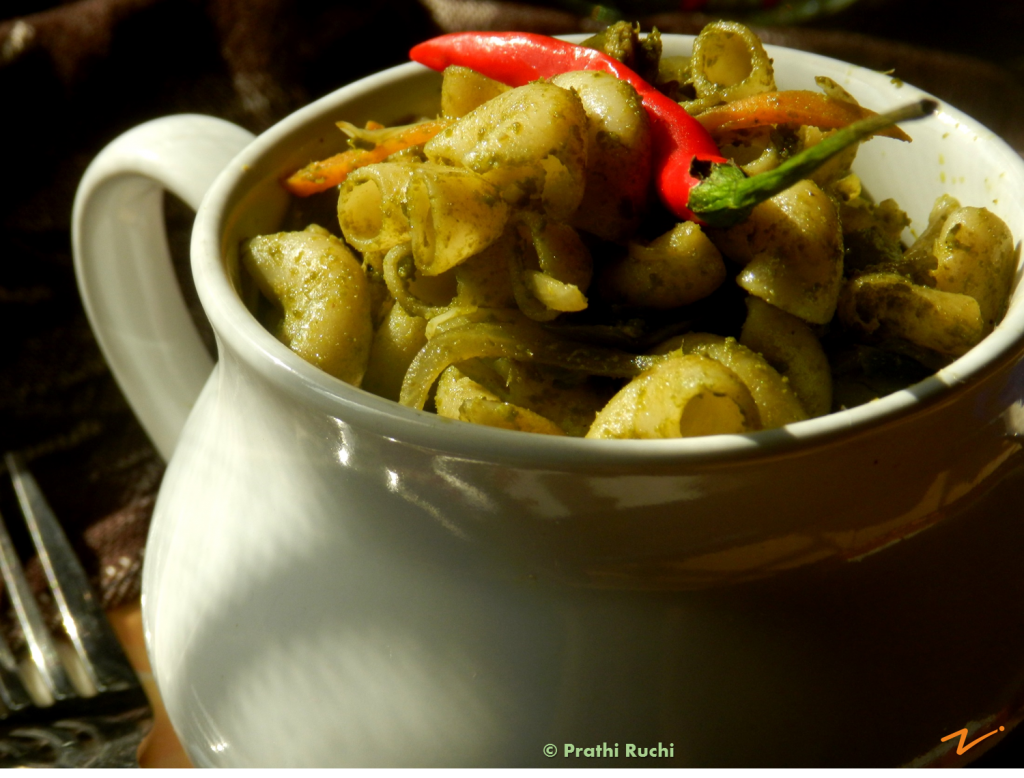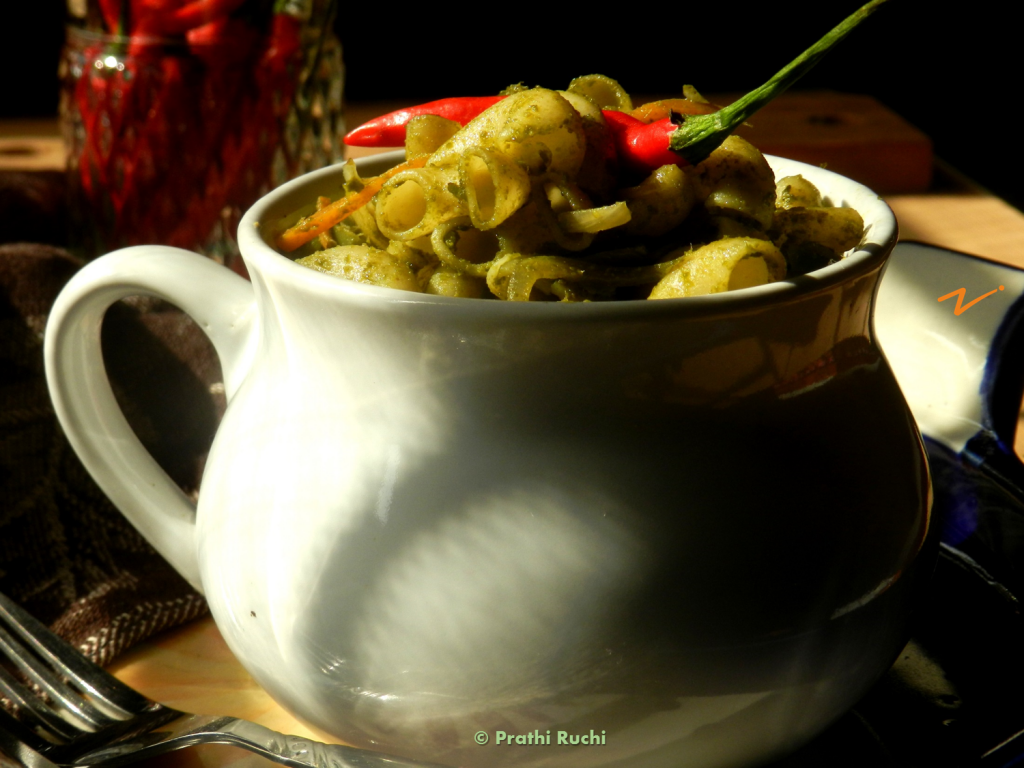 Every mouthful of this dish is flavorful, tasty and crunchy. The flavors are a fusion of Indian, Chinese and dash of Italian. Or I could even say Thai as the nutty and crunchy peanuts reminds me of Pad Thai!
Jade Macaroni
For the pasta
1.5 cups macaroni (dry/uncooked)
1 medium onion (sliced)
2 fresh chilles – green OR red (sliced thin)
2 tbsp garlic (chopped)
1.5 tsp ginger (chopped)
1 medium green capsicum (sliced)
1/2 carrot (peel and cut into juliennes)
salt to taste
4 tbsp green chutney
1 tbsp oil
For the green chutney (makes about 1 cup)
1 to 1 1/2 bunch fresh coriander leaves
1 tbsp pudina (mint leaves)
1-2 green chillies
2-3 tsp tamarind paste
1.5 tbsp peanuts (roasted)
salt to taste
Garnish
Chilli flakes or roasted and coarse crushed peanuts
For the green chutney
Grind together all the ingredients with some water to make a thick chutney.
For the pasta
Cook pasta/ macarni as per instructions of the packet (cook till al dente).
In a wok heat oil. Add ginger, garlic and saute on med-high till you get a nice aroma and is lightly browned.
Add onion, chillies, saute on med-high but let onions remain crunchy.
Add capsicum, carrot. Stir fry over med-high. Add salt to taste. Mix.
Add chutney and mix and stir over high.
Lastly add cooked & drained pasta. Toss well. Serve hot.
Can add vegetables like baby corn, broccoli, corn, cabbage, red capsicum.
Instead of macaroni, can make from noodles too.
You can use leftover green/mint chutney.
You can skip tamarind and add some lime juice for tang in the end.