eggplants is spicy tamarind sauce…..
A gravy dish that is popular in North Karnataka and is a perfect accompaniment to Jola Rottis (jowar flour flatbread) or even chapathis. The main ingredients of the sauce are tamarind, peanuts and coconut. Blend of few other spices make this dish lip smacking! Keep it slightly on the spicier side as is the authentic version.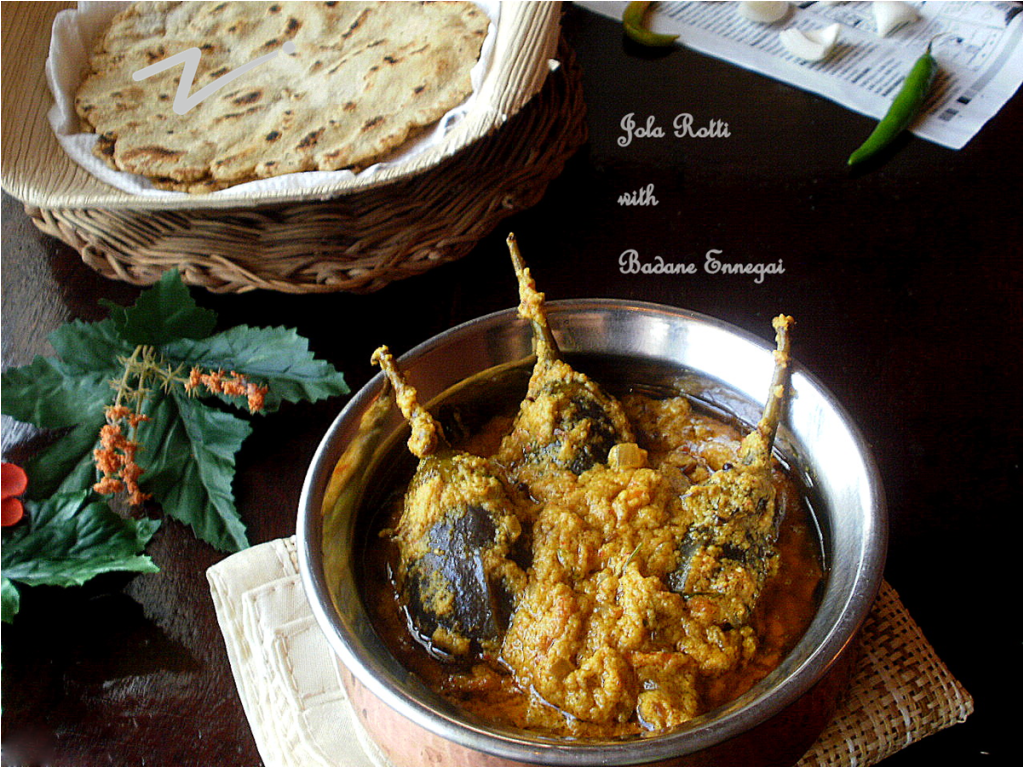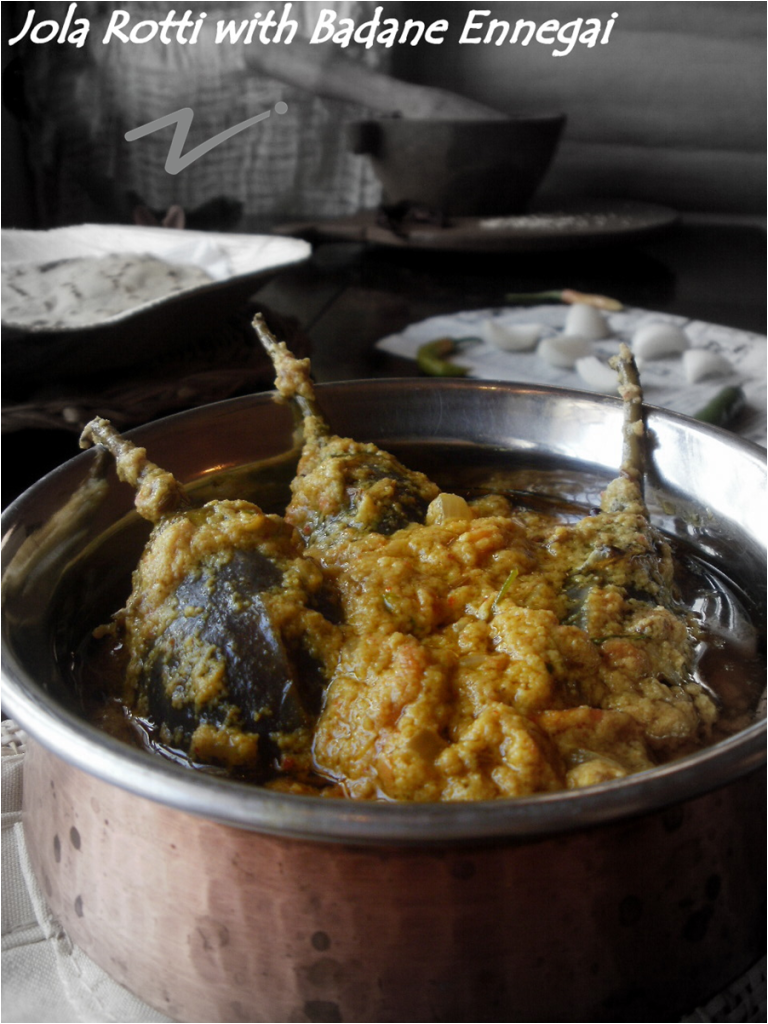 Badane Ennegai
Eggplants (baingan) in spicy tamarind sauce
For masala paste
Peanuts/ Groundnuts (roasted peeled – 1 to 1.5 tbsp)
White Sesame seeds (lightly toasted – 1 tbsp)
Dry Red Chillies (byadgi or other variety – 3 or to taste)
Garlic cloves (peeled – 6 small cloves)
Haldi/ Turmeric powder – 1/2 tsp
Coconut (fresh grated – 1/4 cup)
Coriander leaves/ Cilantro – 3 tbsp
Onion – 1 medium
Water – a little
Other ingredients
Small (purple eggplants – 6)
Onions (chopped – 2 medium)
Tomatoes (chopped – 2 medium)
Vegetable oil – 5 to 6 tbsp
Jeera/ Cumin Seeds – 1 tsp
Rai/ Mustard Seeds – 1/2 tsp
Curry leaves – 1 sprig
Chilli powder – 1.5 tsp
Salt – to taste
tamarind extract – a little
jaggery (gur – 1/2 tsp)
Wash the brinjal/ eggplants thoroughly and wipe. Make 4 slits at the bottom but NOT all the way through. Leave the stems intact. Drop them in some salted water till the paste is ready to prevent discolouration.
Grind together all the ingredients under 'Masala Paste' into a smooth paste adding some water to help grinding process.
Transfer the paste into a bowl, add 1 chopped onion and 1 chopped tomato, salt. Mix. Stuff a little of the mixture into each of the slit eggplants. Keep the stuffed eggplants in the paste itself and set aside.
Meanwhile heat oil in a heavy bottomed vessel. Add the mustard seeds, cumin and let splutter. Add the curry leaves, remaining 1 chopped onion and let the onions turn light golden.
Add the remaining 1 tomato chopped, chilli powder. Let tomatoes soften and cook.
Add the stuffed brinjals, remaining paste in to bowl, a little water to cook and cover and cook for about 15 mins. Stir in between. The oil will float on top by the end of 15 mins.
Add the tamarind paste, jaggery. Stir gently so as not to break the eggplants. Cook for few more minutes till the eggplants are cooked and have absorbed the flavour of the gravy and the oil separates.
When cooked, eggplants will be fork tender i.e should be able to pierce with a fork without any resistance.
Serve hot with Jowar Flour rotis or chapathis or with hot steamed rice.
Adjust the spice level and tamarind in the gravy as per your taste.
Do not add too much jaggery. Here it is added just the balance out the sourness of the gravy and not to give it a sweeter taste.