…..WITH A VEGAN OPTION!!
As I sit and ponder what to cook today, I hear a voice calling out for – Brownies!!Hmmmm…..why not..? There is something calming about relishing on these dark, chocolate temptation with drizzle of chocolate sauce and ice cream on the side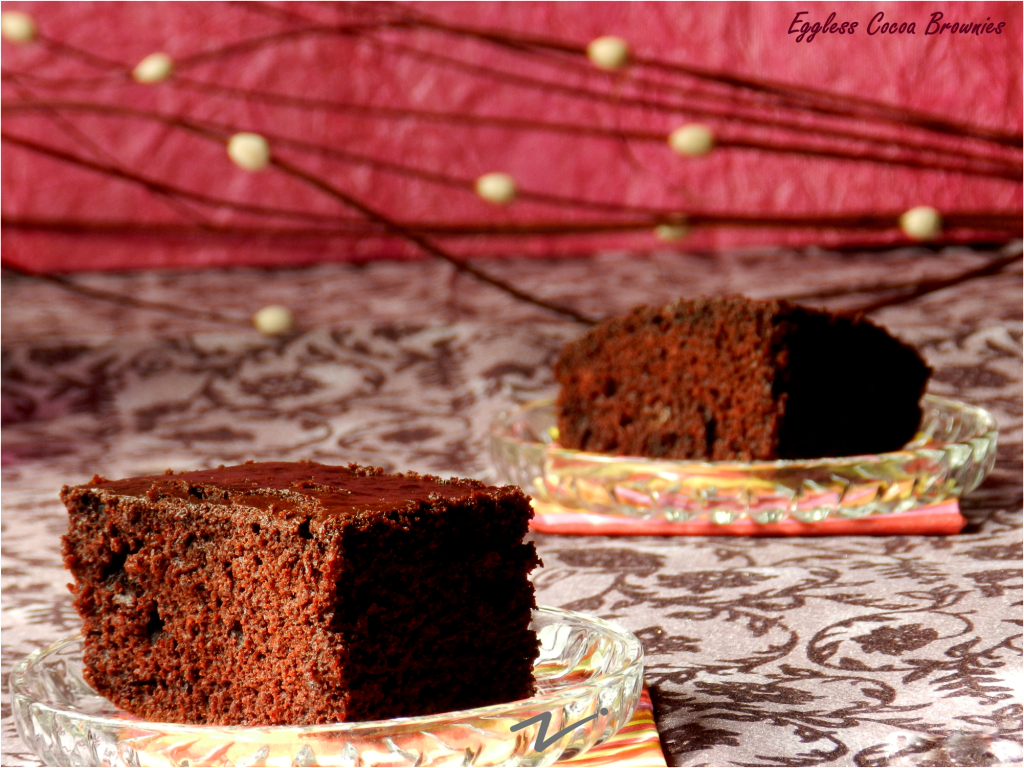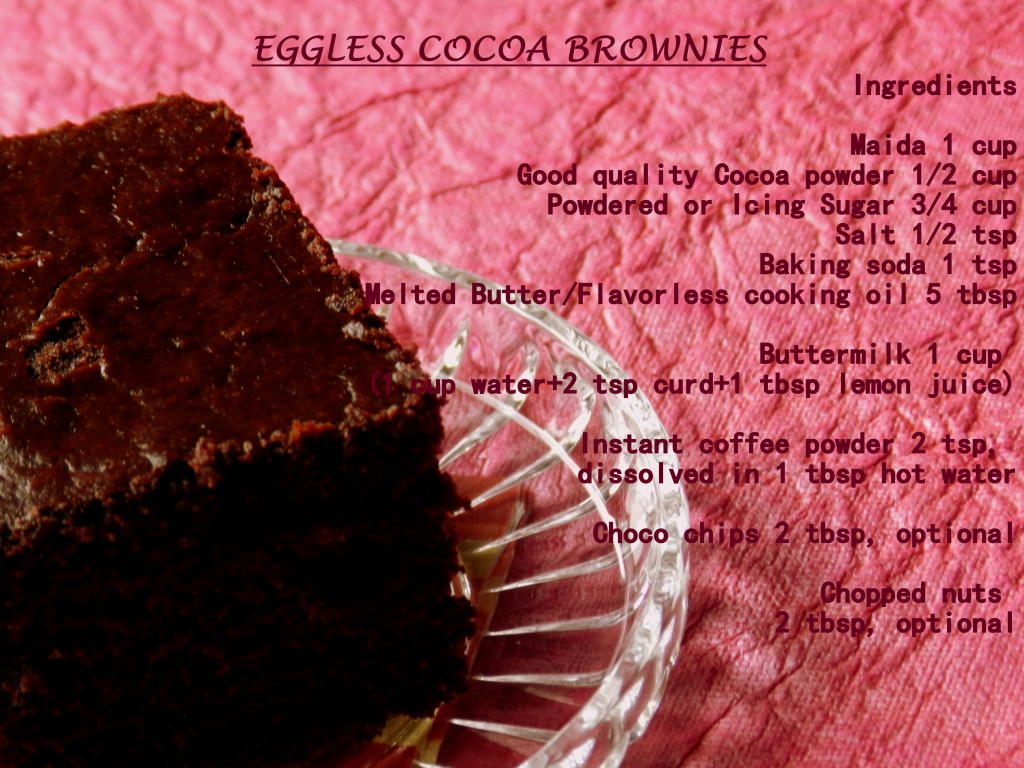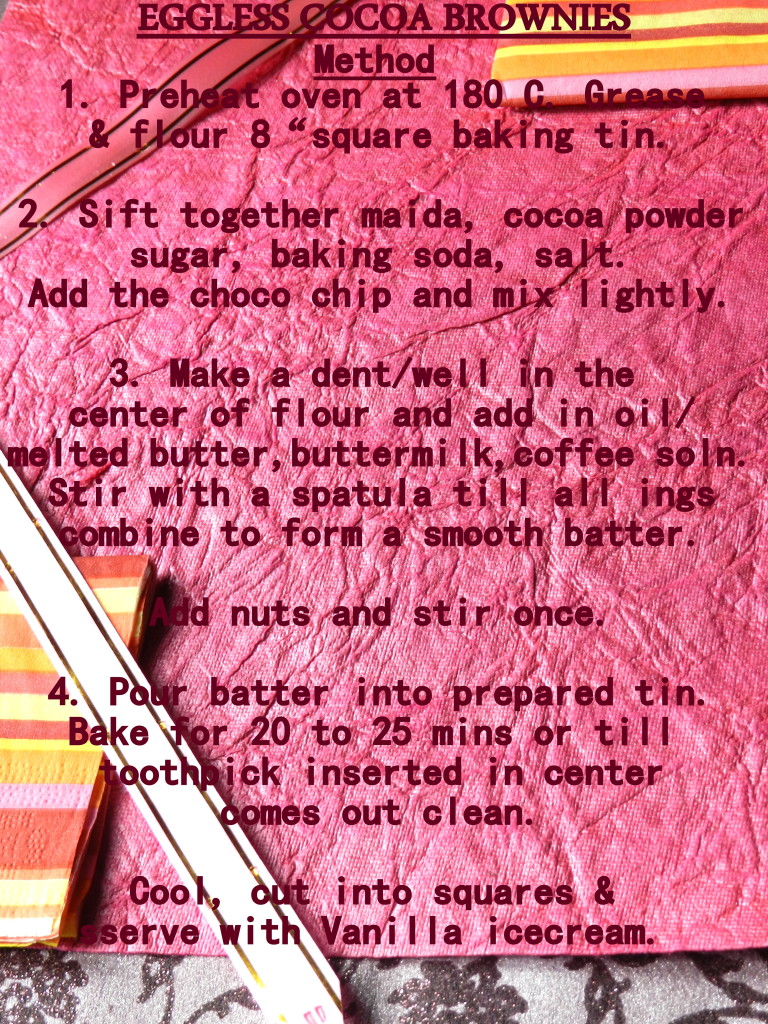 Here is an eggless version of brownies and that too, made in a jiffy.
What are Brownies?
A brownie is an American chocolate dessert that is a baked, square chocolate bar. It was developed in the U.S. at the end of 19th century. The texture of a brownie is like a cross between a cake and a cookie. Unlike cakes, brownies are not leavened with baking powder and this makes them denser and heavier.
Brownies can be either fudgy, chewy or cake-like. Fudgy brownies are dense with the texture more like that of a chocolate fudge. Chewy textured brownies are rich and chewy. Brownies can even have a cake-like crumbly texture. The original brownie recipe featured walnuts and an apricot glaze.
A variation to the brownie is called Blondie, made with brown sugar which is the dominant flavor. Blondies have no chocolate in them but choco chip blondies can have white or dark chocolate chips added to the batter.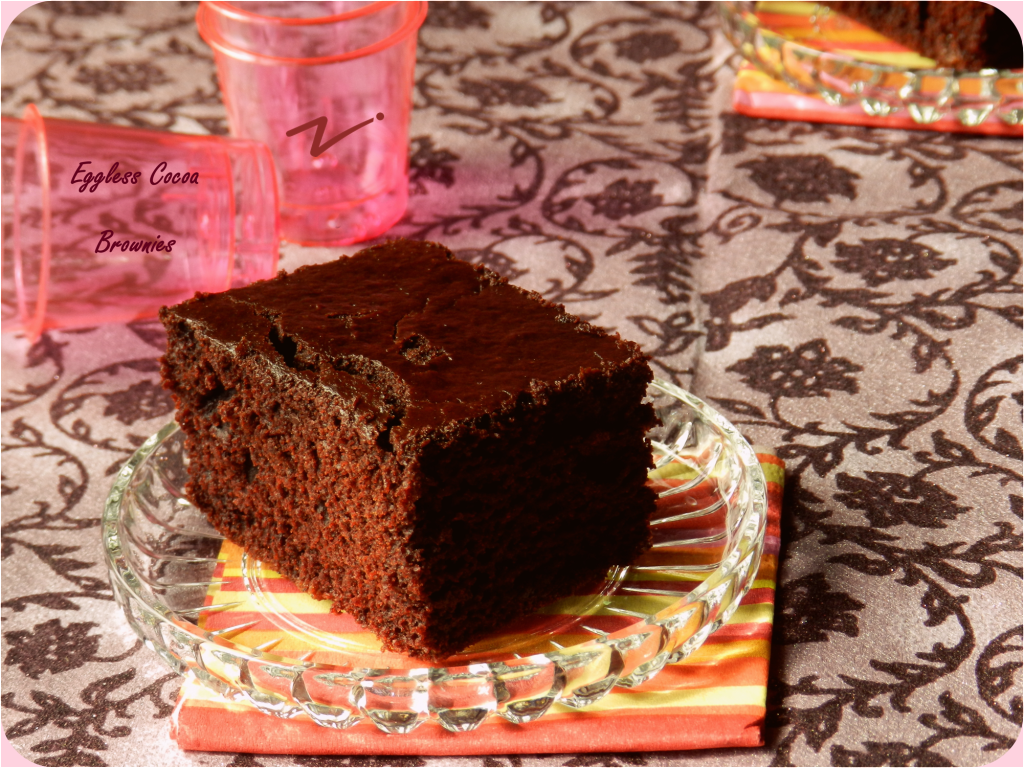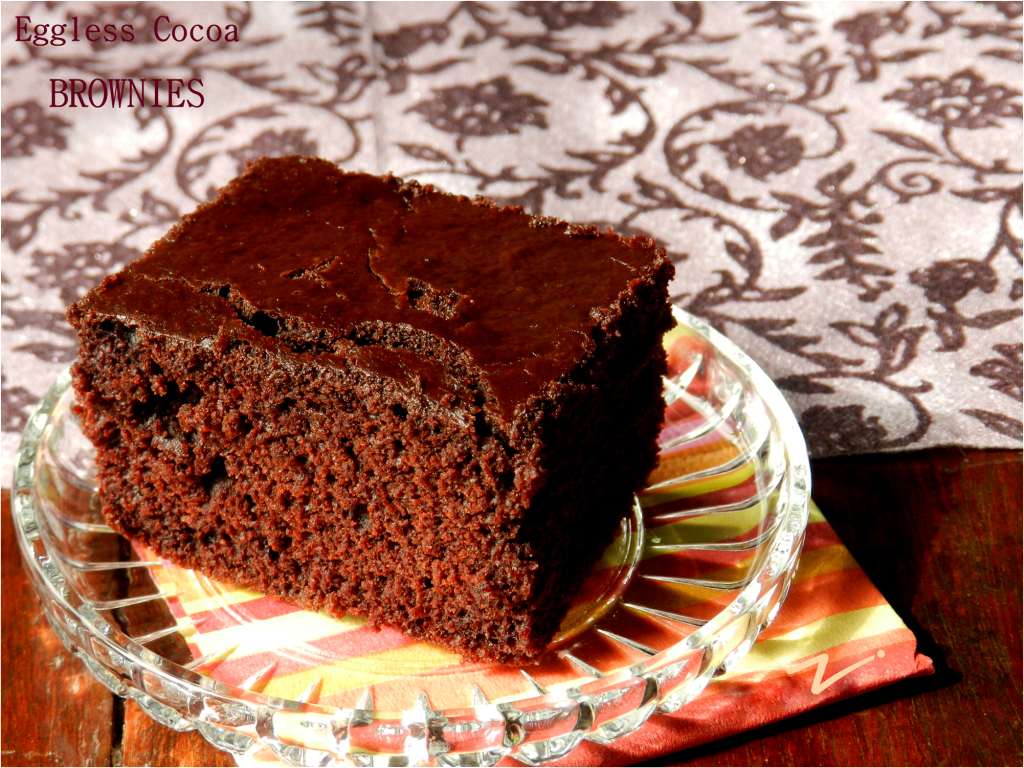 Eggless Cocoa Brownies
Easy, eggless cocoa brownies.
Ethnicity : American
Maida – 1 cup
Good quality cocoa powder – ½ cup
Powdered or icing sugar – ¾ cup
Salt – ½ tsp
Baking soda – 1 tsp
Flavourless cooking oil or melted butter – 5 tbsp
Buttermilk – 1 cup OR 1 cup water+2 tsp curd+1 tbsp lemon juice
Instant coffee powder – 2 tsp
Hot water – 1 tbsp
Choco chip – 2 to 3 tbsp (optional)
Chopped nuts – 2 to 3 tbsp (optional)
To serve
Vanilla ice cream
Hot chocolate sauce (optional)
Or powdered sugar to dust on top
Preheat oven at 1800 C. Grease and flour an 8" square baking tin.
Dissolve instant coffee powder in hot water. Combine 1 cup water with curd and lemon juice.
Sift together maida, cocoa powder, powdered/icing sugar, salt, baking soda into a bowl. Add choco chips. Mix.
Make a well in the centre of the flour, add in oil/melted butter, buttermilk, coffee solution. Stir gently with spatula to form a smooth batter. Add chopped nuts and stir once.
Pour into prepared baking tin. Bake for 20 to 25 mins at 1800 C or till toothpick inserted in the centre comes out clean.
Cool, cut into squares. Serve with vanilla icecream and chocolate sauce or topped with whipped cream or with a glass of milk.
For nuts you could add either chopped walnuts or pecans or hazelnuts or peanuts.
For a vegan version use 1 cup soy milk mixed with 1 tbsp lemon juice in place of buttermilk.
Skip salt if using salted butter.
This recipe is not too sweet. So if not adding choco chips, do serve the brownies with ice cream or chocolate sauce.