Fresh ingredients and and few spices, all thrown into a mortar and pestle and ground to an aromatic mixture, this results in the ever popular accompaniment to Indian meals – CHUTNEYS!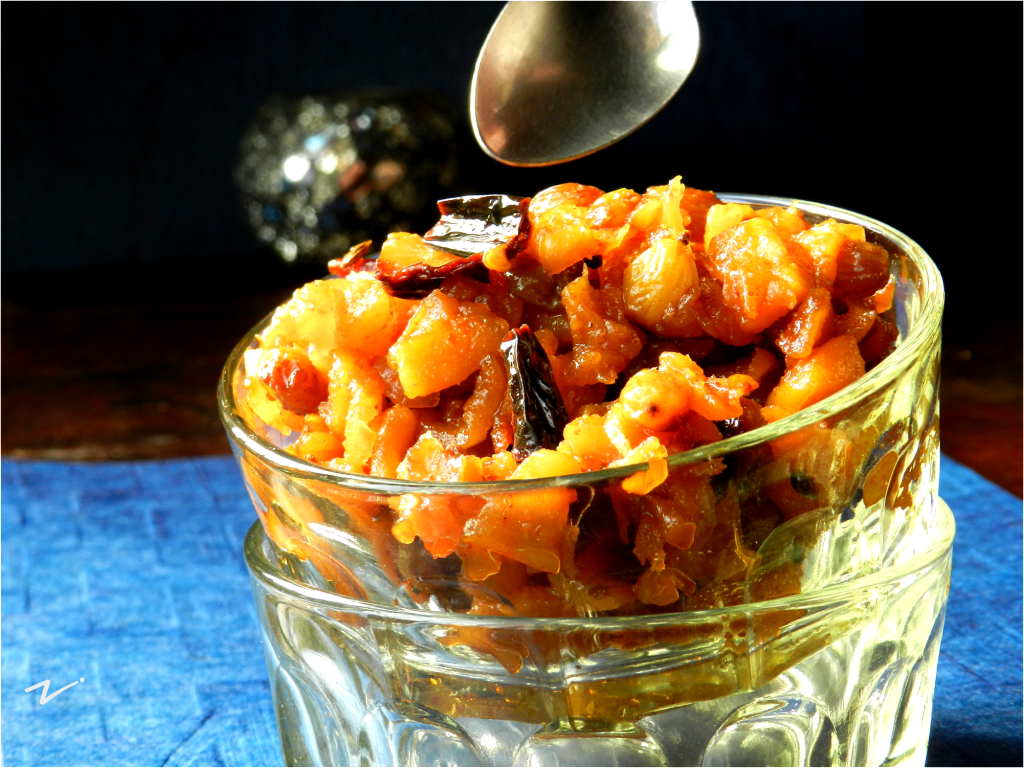 Be it breakfast, lunch, high tea or dinners, a side to hors d'oeuvres and so on, chutneys served alongside add drama and spice to the menu. Contemporary and modern desserts too can have a fruity chutney to complement the sweet dish!
The word chutney derived from the sanskrit word – caá¹­nÄ«, meaning 'to lick'. Chutneys are Indian condiment dish served along side a main dish, as a dip or spread. Chutneys originated in India and was introduced to the western world by the British when they took it back to England. To make a chutney, the ingredients are ground, which was traditionally done in a mortar and pestle. But of course today the mixer does the job but no doubt the traditional method gives more depth of flavors. Chutneys can be made from vegetable, fruits, herbs. They can be ground to be served immediately or may be preserved varieties. Chutneys can be in wet or dry; fine, thick or chunky. The flavors and taste can range from hot and spicy, moderately spiced, sweet, sour or a mix of more than one of these flavors.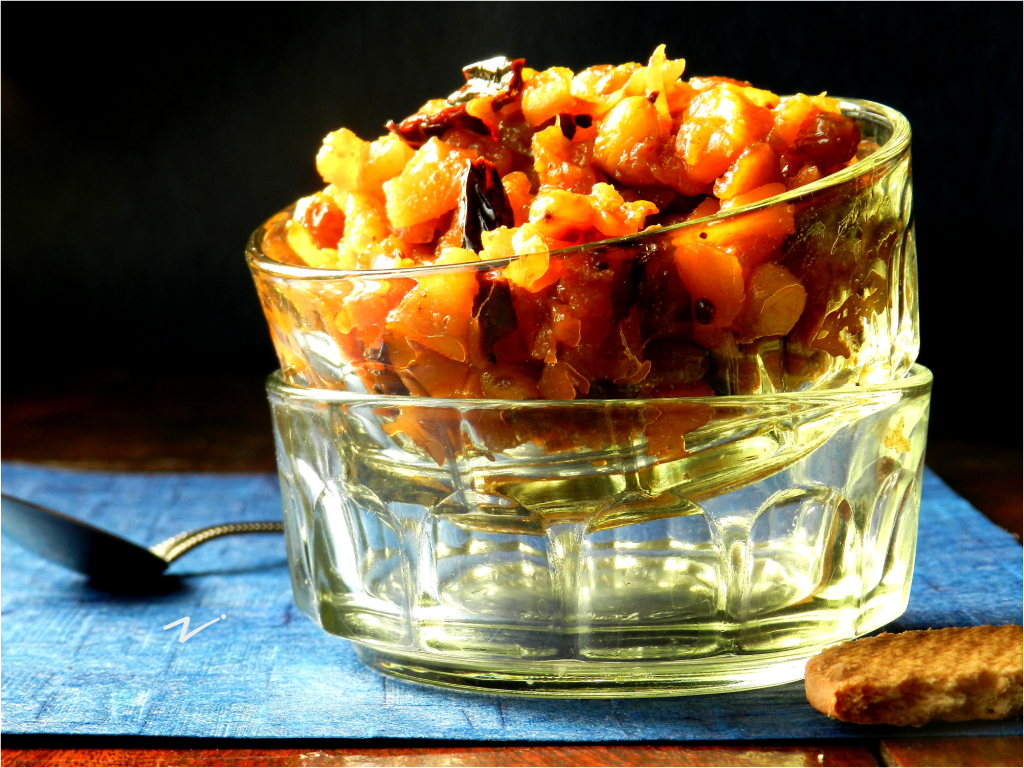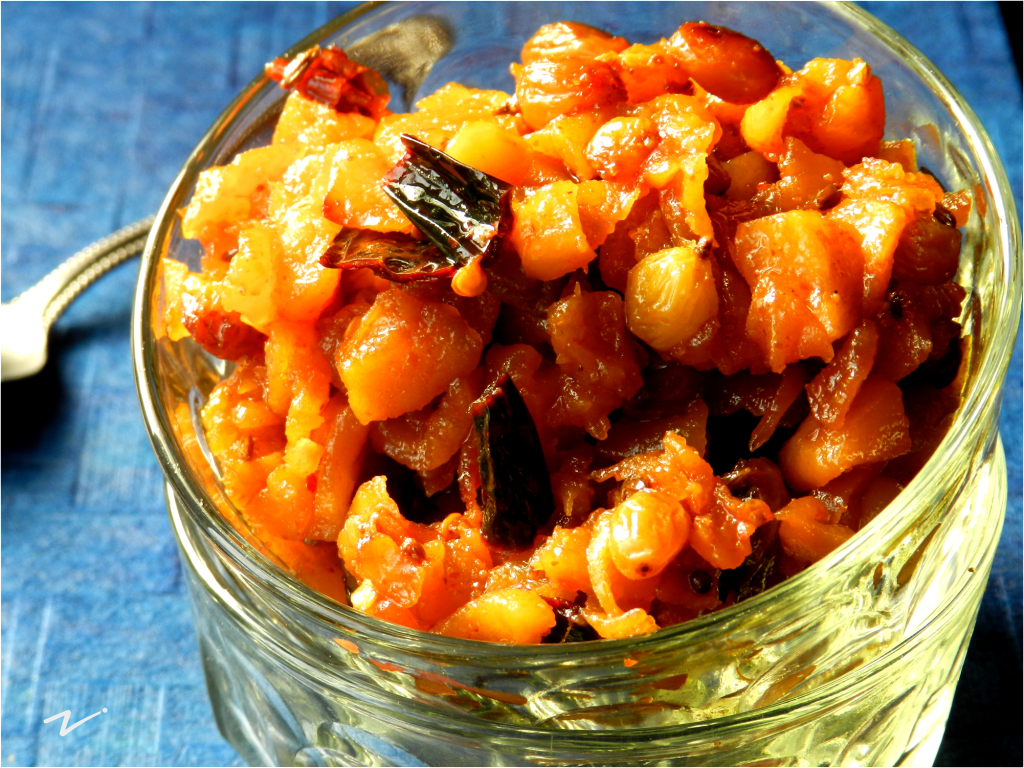 All in all, limitless varieties of chutneys can be ground from different combination of vegetables, fruits, herbs and spices and of different textures.
Even after tasting different varieties, I am sure each of us have a few treasured family recipes for chutneys that remembering them conjures up wonderful memories! Of times when these treasured condiments were an integral part of family gatherings, when our mothers or grandmothers, aunts or grand aunts ground them with all the flavors spot on and was relished by the entire family with great ardor!
Today`s recipe is dedicated to a chunky, sweet, tangy chutney made from apples. It is not ground but simmered over low heat till reduced to a chunky mixture. Select firm and slightly tart apples for a hint of sourness, a must for this recipe. The sweetness from the fruit, jaggery and raisins and the zing from the ginger adds to the tongue tickling characteristic of this chutney.
A handy chutney recipe that goes well with crisp, hot pooris or hot phulkas. Serve atop bread toasts for a light evening snack. Serve over crackers or cheese of your choice for a quick and delightful finger food! And then let loose your imagination and do look for more interesting ways to relish this fruity chutney!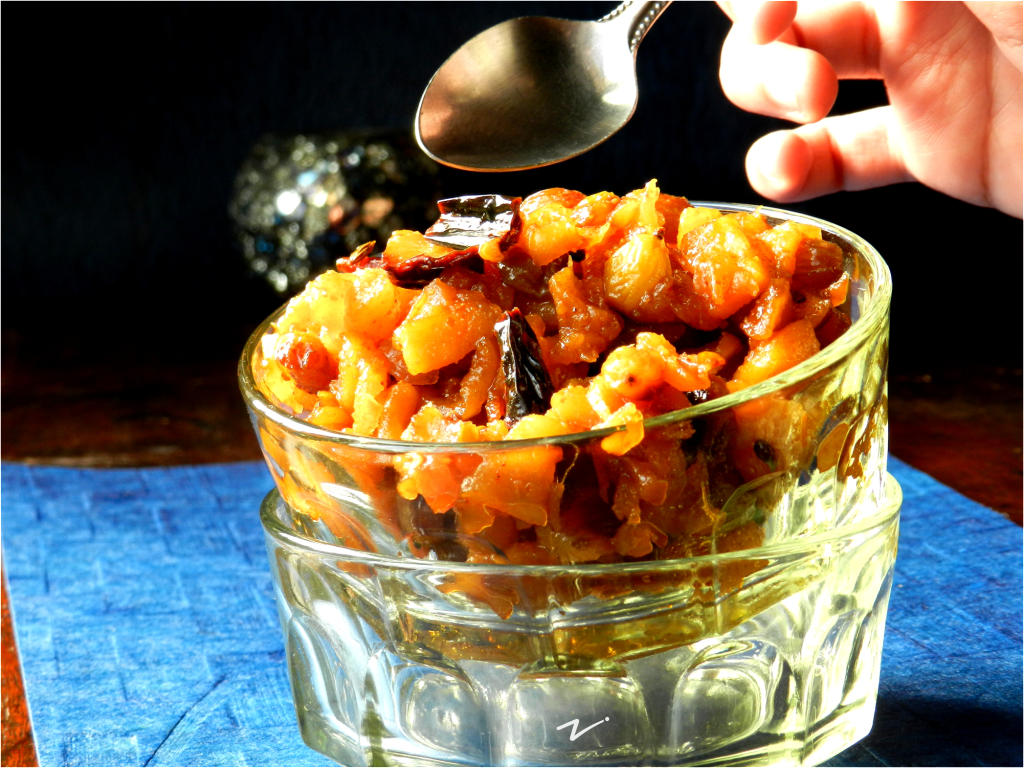 Apple Chutney
Sweet, tangy, hint of spice and loads of flavors, makes this apple chutney a lip smacking one!
apples – 3 (firm variety)
vegetable oil – 2 tbsp
Whole spices
dry red chilli – 1 – 2 (broken and seeds discarded)
saunf (fennel seeds – 1 tsp)
methi (fenugreek seeds – 1/8 tsp)
Spice powders
red chilli powder – 1 tsp
coriander (dhania powder – 1 tsp)
cumin (jeera powder – 1 tsp)
asafoetida (hing – 1/4 tsp)
turmeric (haldi powder – 1/8 tsp)
Other ingredients
jaggery – 1 tbsp
ginger – 1 tsp (grated)
juice of half lime
salt to taste
raisins – 3 tbsp
To serve
puris (toasts, crackers, nachos, cheese squares)
Peel, core and cube apples. Sprinkle lime juice and toss. In a bowl mix the spice powders, set aside.
Heat oil in a saucepan, add whole spices and saute few seconds.
Add the spice powders and immediately add grated ginger, apples, raisins. Mix to coat well with spices.
Add salt. Cook till soft over low flame, about 15 mins.
Add jaggery. Mix and mash few apple pieces to get thick yet coarse chutney. Cook another 5 mins.
Remove from heat. Cool to room temperature. Serve or refrigerate.
The chutney goes well as side for hot plain or spiced puris, bread toasts, chapathis, nachos, as topping on crackers or cheese cubes of your choice!
Select firm, cooking variety apples like granny smith etc.
Instead of whole fenugreek (methi) seeds, you may add 1/8 tsp fenugreek powder along with other spice powders.
Try adding 1/2 tsp nigella (kalonji/onion seeds) instead of fennel seeds for a slightly different flavored chutney.
Shelf life :
4 to 5 days when refrigerated