Feasts, lavish vacation meals, celebrations & festivals call for elaborate meal & indulging in rich & scrumptious dishes. And then after that comes a session of staying away from all the sinful foods and a vow to eat all things healthy from then on! Salads & soups often make their appearance in your everyday menu. So now care for some healthy recipes? And this without making them look and taste any less appealing than all those huge feasts your body is slowly getting accustomed to? Sounds good huh? If yes, then read on!
Whenever the topic of low cal & healthy eating arises, mention of salad is never far behind! To be honest, I am NOT fond of salads. For me its just something to be taken just before starting a 3-course meal! Somehow cold fruits and vegetables drizzled with some oil and vinegar never draws my attention but makes me turn away from them.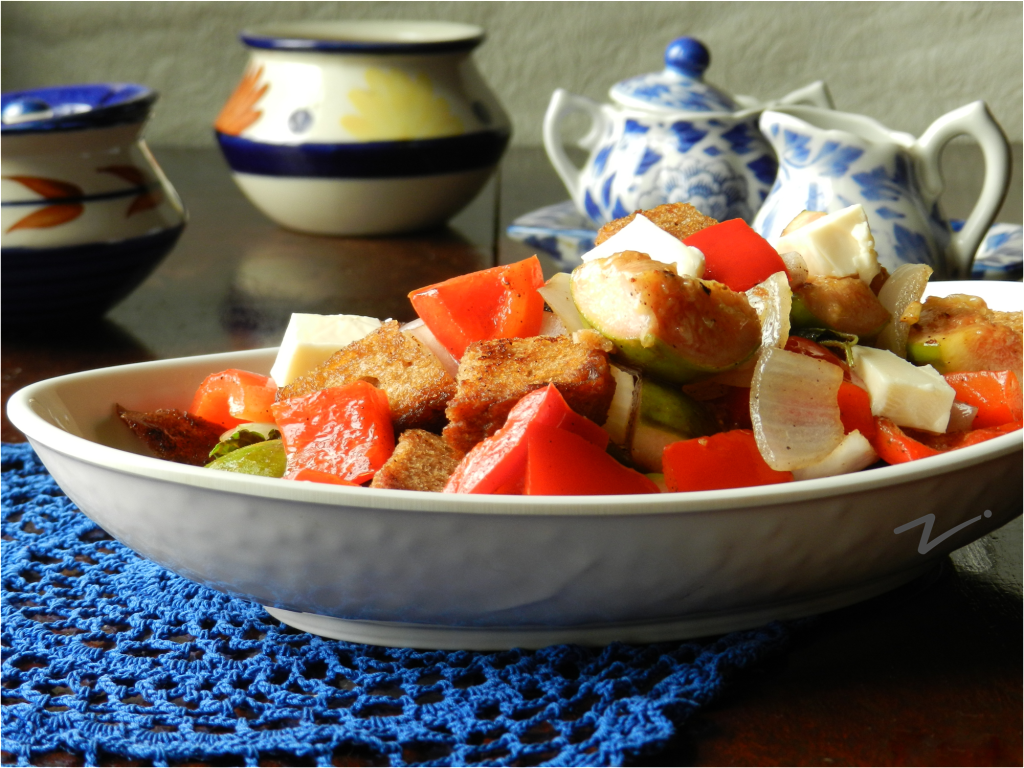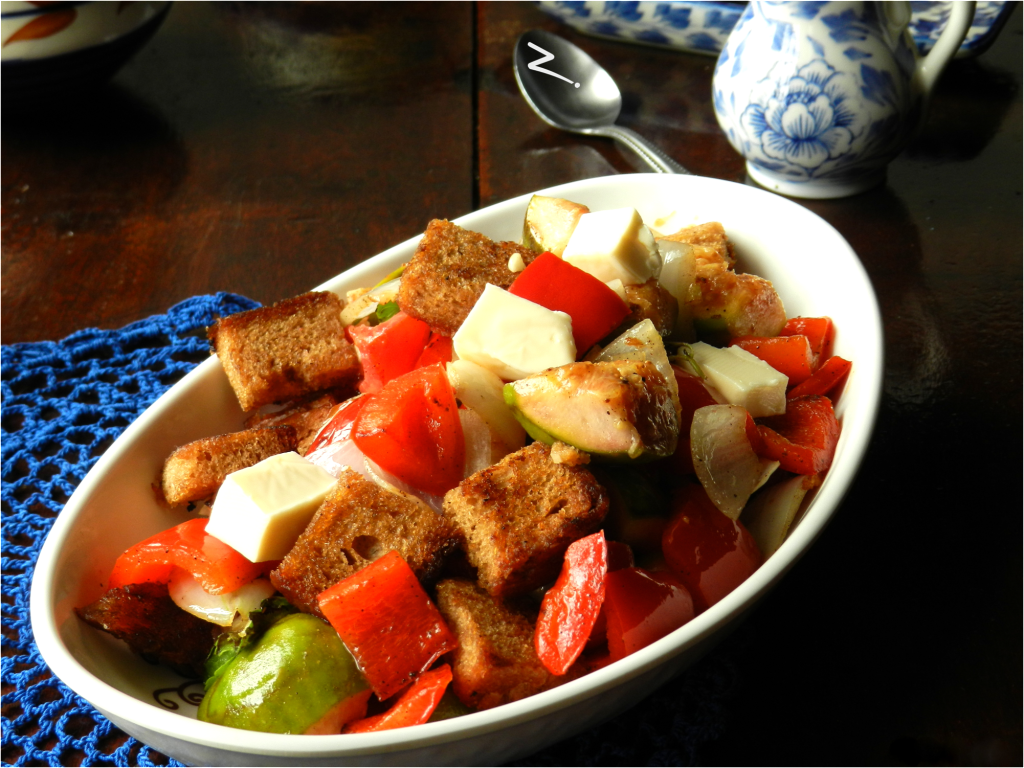 And then a veg salad, with the term 'grilled' seemed appealing! Any ingredient that is grilled, be it fruits or vegetables, have a nice & smoky aroma that awaken the taste buds. And 'Grilled salad' means the dish would be nice & warm, just perfect for a cold winter day or even for your summer barbeques with friends.
Now do not be intimidated by seeing the process for it hardly takes long to put them all together. And you will not miss those lavish meals of the past day one bit!
So grill away all those calories but not the taste!
Char Grilled Veg Salad
Colorful, warm & crunchy salad
Eggplant (small, purple, bhartha variety – 1)
Zucchini – 1
Red bell peppers (capsicum – 1)
Yellow bell peppers (capsicum – 1)
Green capsicum – 1
Red onions – 2 medium
Tomato – 1 big
Corn – ½ cup
Potato – 1 small to medium
Paneer cubes – 10 small cubes (or feta cheese or cheddar/ soft cheese, processed cheese)
Fresh pineapple – 4 slices OR 3 to 4 fresh whole figs OR 1 apple
Rustic bread – 2 slices
Garlic cloves – 4 to 5 cloves (optional)
Fresh basil – 5 to 6 or few tulsi leaves
Olive oil – 3 tsps or as needed (to sauté)
For dressing
Balsamic vinegar – 1 tbsp
Extra virgin olive oil – 2 ½ to 3 tbsp
Honey – ½ to 1 tbsp
Crushed garlic – ¼ to ½ tsp
Salt (pepper – to taste)
Prepare / cut vegetables & fruits as needed – eggplant and zucchini into round/ oval slices. Boil, peel and cube potato. Peel and cube onions. Cut capsicums and tomatoes into cubes. Boil corn. Wash basil/ tulsi
Cut fresh pineapple OR apple into slices OR quarter fresh figs. If using paneer, soak in some vinegar to get that salty flavour like feta OR cut feta/ softer variety cheddar/ processed cheese into cubes.
Cut the bread slices into cubes. Peel garlic cloves and chop or leave whole, as desired.
Mix together ingredients for dressing. Whisk well and refrigerate till serving time.
Heat 1 to 2 tsps olive oil in a grill pan. Shallow fry the eggplant and zucchini slices till soft/ cooked and slightly charred (gets few brown char marks). Remove and transfer to mixing bowl.
In the same pan, char grill potato cubes, put into mixing bowl. Do the same for capsicum cubes till lightly charred. Remove and put into mixing bowl. Do the same for onions, set side. Lightly grill tomato cubes, set aside. Drizzle olive oil as needed when you grill the vegetables.
In the same pan, grill paneer or feta cheese. Set aside. If adding processed/ cheddar, do not grill.
Then grill pineapple / apple slices or quartered figs, set aside.
Drizzle a tsp olive oil if necessary and toast the bread cubes along with garlic cloves till brown and crisp. This way the bread cubes absorb the garlic flavours well. Or you could fry them separately too. Remove and set aside in a separate plate.
Switch off pan flame and when the pan is still hot, add the fresh basil/ tulsi to the hot pan and press down just for few seconds to bring out the flavour of the herb well. Remove and put into mixing bowl.
Into the mixing bowl with all the grilled ingredients, add the boiled corn, cubed cheddar/processed cheese, toasted bread cubes. Adding bread cubes too soon will make them soggy. Toss.
Drizzle the dressing at serving time, toss. Transfer to serving bowl and serve as is or along with pasta or garlic bread & soup!
This salad is best served warm.
Tulsi is holy basil.
Vary quantity of vegetables and fruits as per choice.