"When you want something, all the universe conspires in helping you to achieve it."
~ Paulo Coelho in 'The Alchemist'
Some incidences have happened to me too many times to be ignored. I just think I need to meet a person for some reason and fate complies. I meet 'that' person unexpectedly during our outings! If you thought it only applied to local acquaintances then you are wrong. Ah…the wonders of Facebook! I login to find 'that' person online after ages!!Ditto for some recipes I plan to make for the week. I plan to do some hunting for the 'perfect' way to make that 'dish'. And there I sit in from of my lappy planning to search away till I hunt 'it' down but only to find my blogger friends would have already done that work for me!! Then all there remains to be done is write it down and head to the kitchen. The search ends just when it began!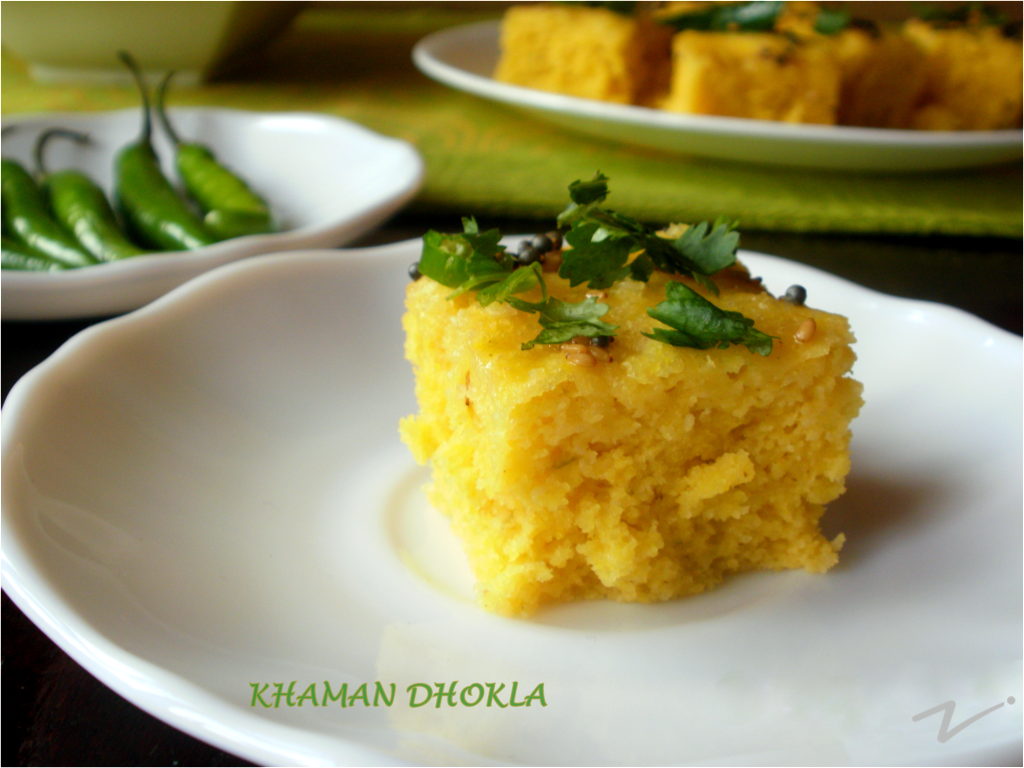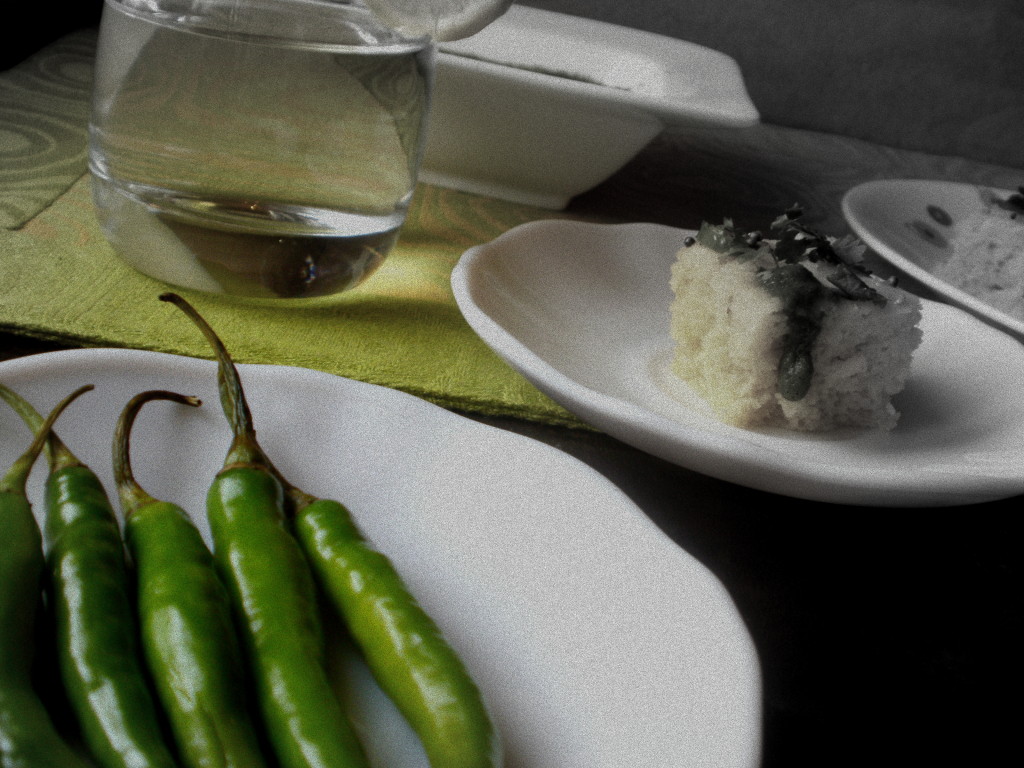 We at home love dhoklas!! They are easy to make, tasty & healthy!! All this while though we have relied on ready made dhokla mixes to satisfy our dhokla cravings. These were quite delicious, soft and spongy. Making this Gujarathi delicacy from scratch had been on my to-do list for quite sometime but always wondered if they would give the same satisfying results. So there was an excuse to putting off any plans for making them for the time being. But plans to make them kept coming up too often to be ignored.
And then it was time for another session of blog hopping, browsing various recipes by other bloggers. Yet again things seemed to work in mysterious ways as my first blog I went through had the recipe for Dhoklas! Bookmarked the recipe. And then I switched on the television to find a lady explaining how to make dhoklas! And on another day as I sat and flipped through the pages of a magazine I came upon yet another recipe for dhokla! I found people I met during the last two weeks discussing dhoklas…!!
So khaman Dhokla is finally made at home! It was passed by all the tasters and from now on will not buy the ready mixes for sure!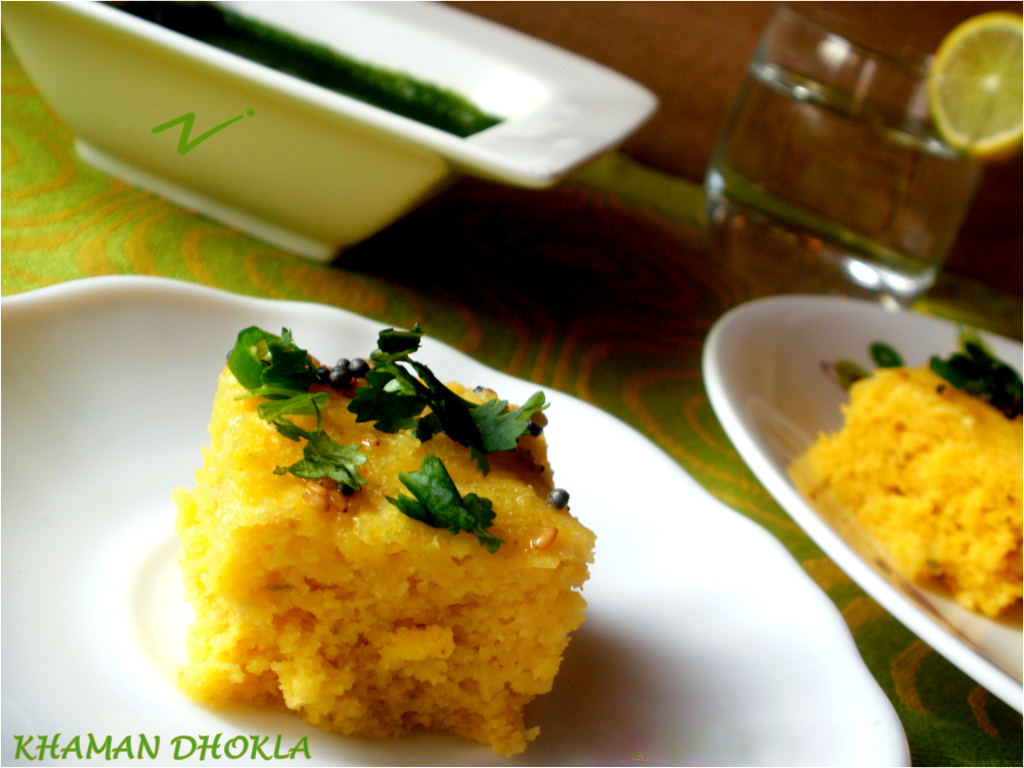 What is Khaman Dhokla?
These are soft, fluffy, savory cake from the Indian State of Gujarath. They are made from a batter of besan or chickpea flour and steamed Once steamed, they are tempered with mustard seeds, sesame and coconut and served alongside with green chutney. Perfect and authentic dhoklas have the right balance of sweet, spicy and slightly sour taste.
A twist to the regular tempering here is the sprinkling of few drops water after removing the pan from heat and stirring it with sugar. This helps to keep the dhoklas soft and moist for a few hours.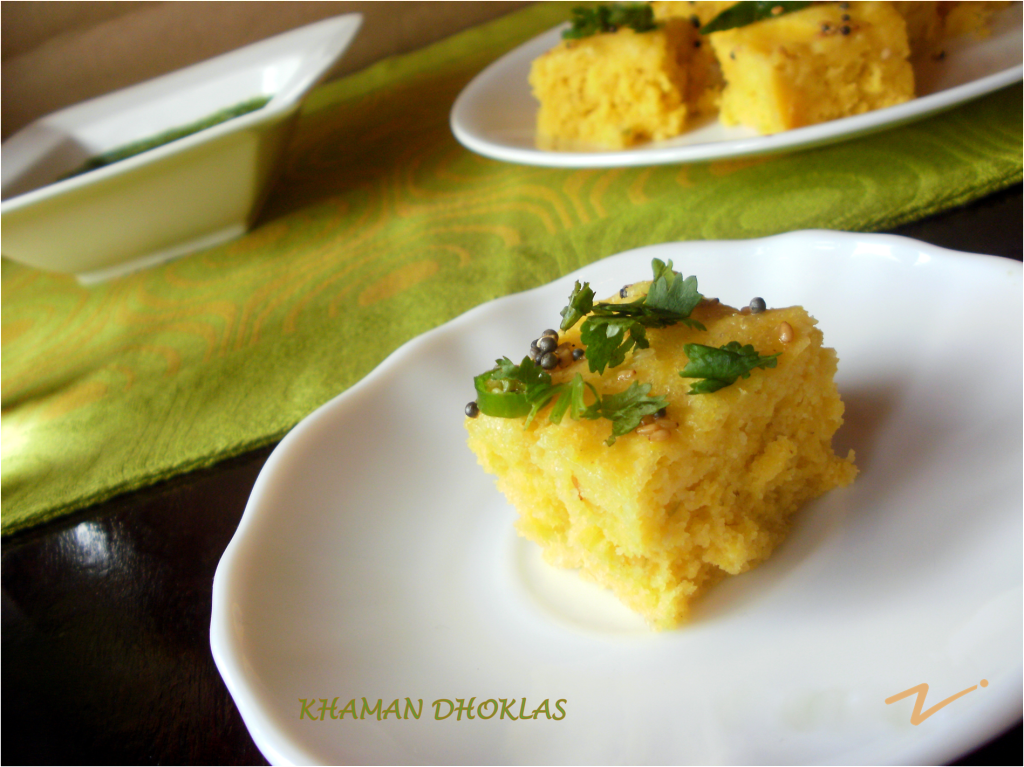 Khaman Dhokla
For the Batter
Besan/ Chickpea Flour – 1 cup
Rava/ semolina – 1.5 tbsp
Curd – 1 cup
Salt – 1 tsp
Sugar – ½ tsp
Ginger-Green chilli paste – 1-2 tbsp (or 1-2 chillies + 1"pices peeled ginger)
Lime juice – 2 tsp
Turmeric Powder – 1/4 tsp
Eno fruit salt – 1.5 tsp
Water – as needed
For the tadka/ tempering
Refined oil – 1 tsp
Mustard seeds – 1/2 tsp
White Sesame Seeds – 1 tbsp
Asafoetida/ hing powder – 1/4 tsp
Curry leaves – 6 to 8 leaves
Green chillies (chopped – 1)
Sugar – 1 to 2 tsp
Water – 1 to 2 tbsp
For Garnish
Fresh coriander leaves (chopped)
Freshly grated coconut (optional)
In a wide bowl, mix together all the ingredients for the batter (except eno). Add enough water (approx 1/2 cup, give or take) to make a smooth pancake/ idli consistency batter. The batter should be of flowing consistency but thick enough and not watery. Taste and adjust salt, chillies, sourness. Set batter aside till the steamer is ready or 15 mins
Grease a round, 7" to 8" diameter and 2" deep steel thali/ cake pan with a tbsp of oil.
To steam the dhoklas
Heat some water in a steamer just sufficient to fall short of the bottom of the pan/ thali when placed on it. Place the ring which comes with the steamer. Bring the water to a rolling boil.
Now add eno fruit salt to the batter and bubbles start to appear almost immediately as it starts to act up when combined with lime juice. Mix once very lightly and quickly pour the batter onto the ready thali/ pan. Do not try and spread the batter as it will result in a hard dhokla. Set this thali/ pan in the steamer over the ring. Cover with lid and cook over a high heat for 15 minutes or till done (see notes).
Remove the thali and set aside to cool slightly, about 15 mins.
For the tempering, heat oil in a pan and add the mustard and let them crackle. Add the sesame seeds, green chillies, curry leaves, asafoetida and sauté for 5 to 8 seconds. Now add sugar and remove the pan from heat and add water. Stir to melt the sugar. Do remove the pan from heat when you add the water, you know what how it would splatter otherwise!
Then pour this tempering over the dhokla and spread it with a spoon. Garnish with coriander leaves and coconut. Cut into equal squares and serve with mint chutney, coriander chutney or sweet and sour tamarind chutney.
The dhoklas are cooked when a skewer inserted in the middle comes out clean. Also the color of the dhokla will be opaque yellow, looks spongy and spring back when touched. The skewer method is usually sufficient to test doneness.
Never open the lid when dhoklas are cooking for at least 10 to 15 mins as they may collapse.
Eno fruit salt, widely available in Indian groceries stores is popularly used for relief from indigestion, nausea, acidity. Fruit salt contains soda bicarbonate and citric acid.
Some people use a combination of oil, soda bicarb and lemon juice in place of eno fruit salt. A recipe I came across said 1 tsp soda bicarb, 2 tbsp oil and juice of 1 lemon to be mixed together and then added to the batter made from 2 cups besan. I have not tried this way though and not sure of the results.
If you do not have a steamer, you could steam in a large wok/ pan that has tight fitting lid. Just pour some water into it so that it comes to just below the bottom of the thali/ cake pan. Keep a pastry ring or a steel bowl upside down. Then keep the thali/cake pan filled with the batter. Cover pan with lid and steam till done.