Rasayna, a popular sweet delicacy of Udipi Brahmin cuisine.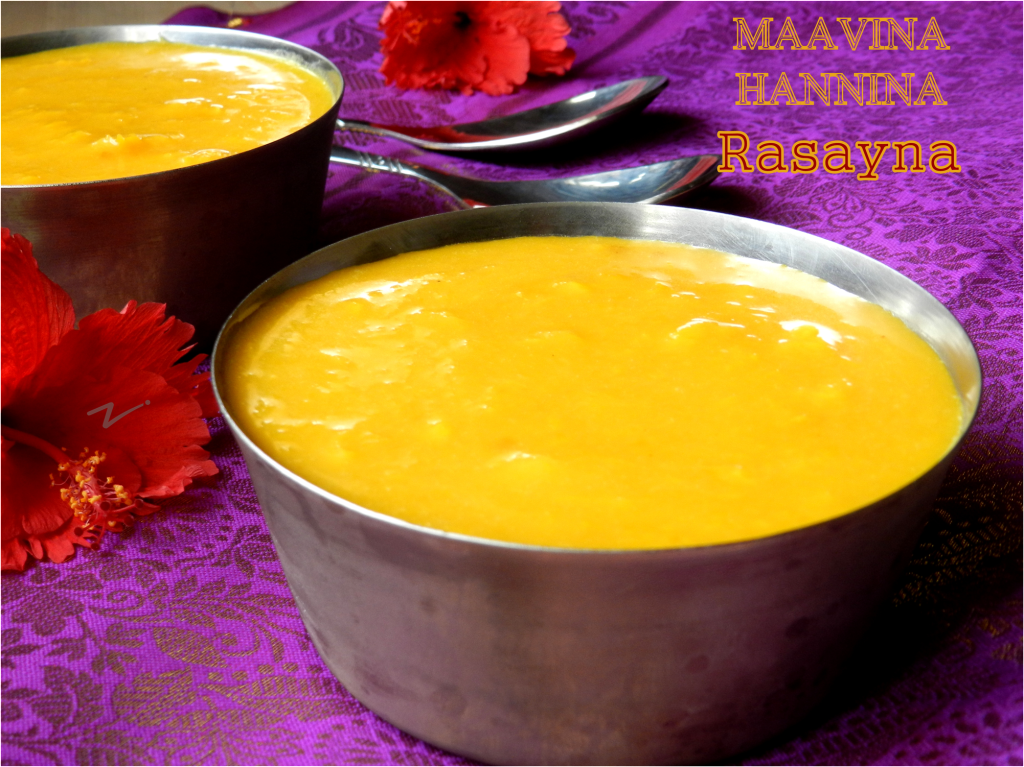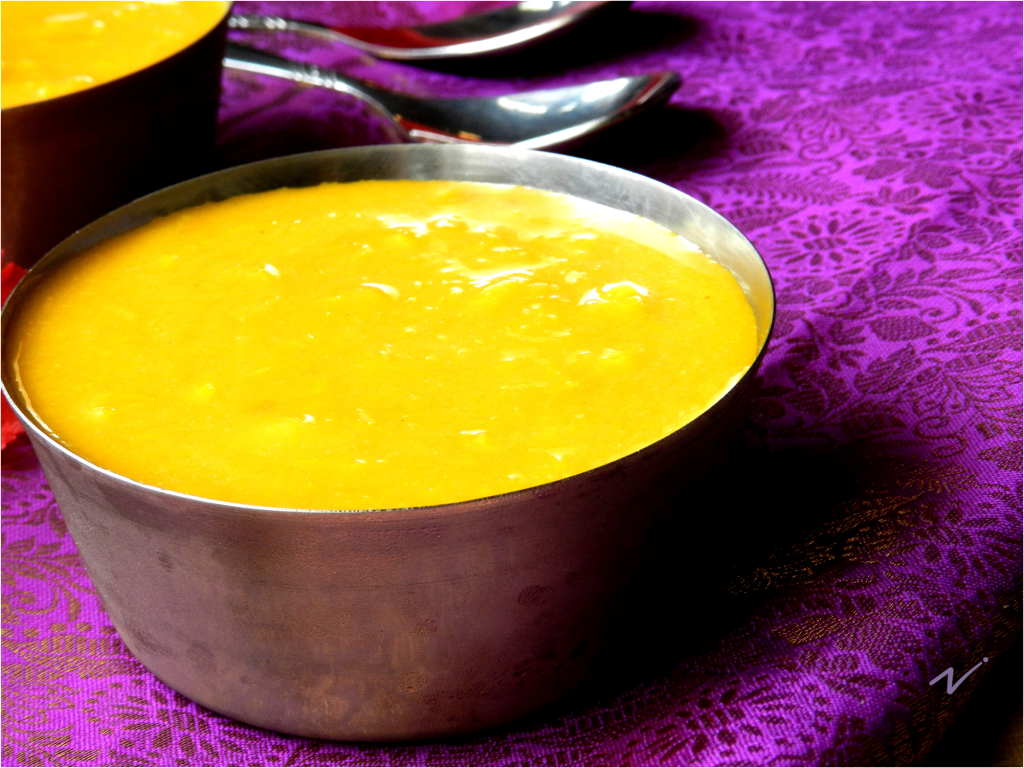 Udipi is a small town situated just 60 kms away from Mangalore (a city is South Coastal Karnataka). Udipi is the abode of Lord Krishna. 'Udipi cuisine' is said to have developed and perfected in the Udipi Krishna Math (Lord Krishna Temple). Udipi was earlier known as 'Shivabelli' and later came to be known as 'Shivalli'. The Brahmins of Shivalli were known for their Vrata-oriented and health centered cooking. Some traditional recipes were made from ingredients one would not dream of cooking.Chutneys, gojjus were made from even peels or seeds of various fruits and vegetables, like orange peel, cucumber seeds, peels of ridgegourd, bottlegourd and so on.
And now for one of the sweet delicacies of Udipi – Rasayna. This sweet dish is made often in homes throughout the mango season – be it on festivals, special occasions or simply on casual days (to make them special!). Similar to the Maharasthra 'Aamras' but aamras is made from milk and sugar and rasayna is a coconut milk and jaggery based sweet dish.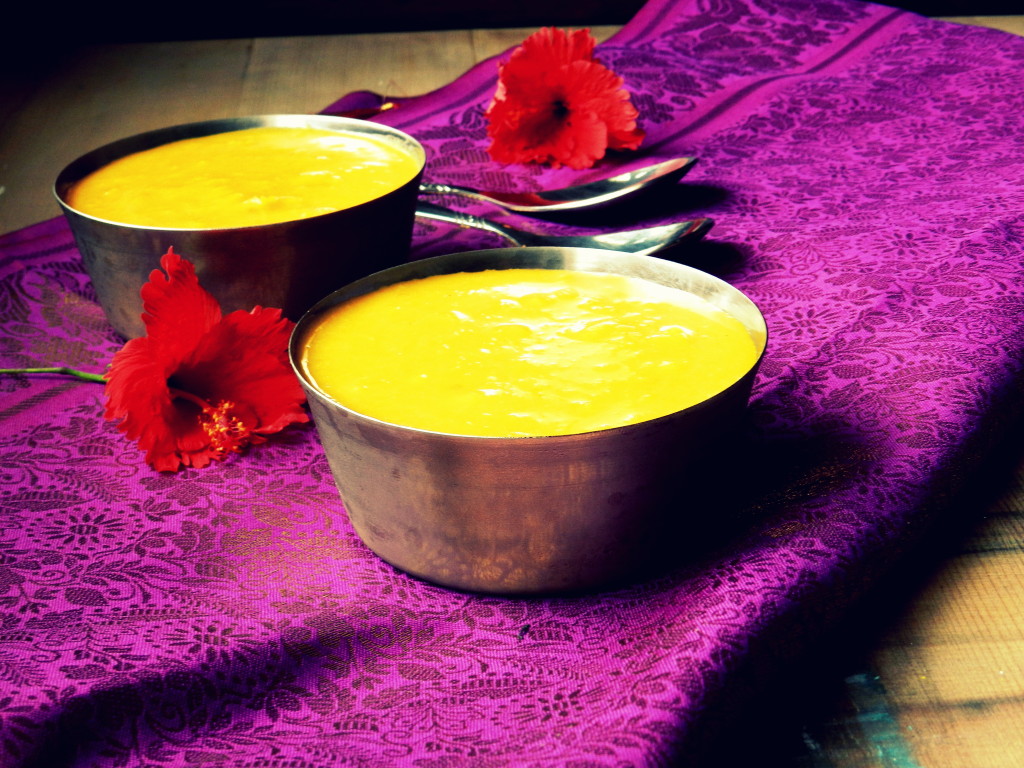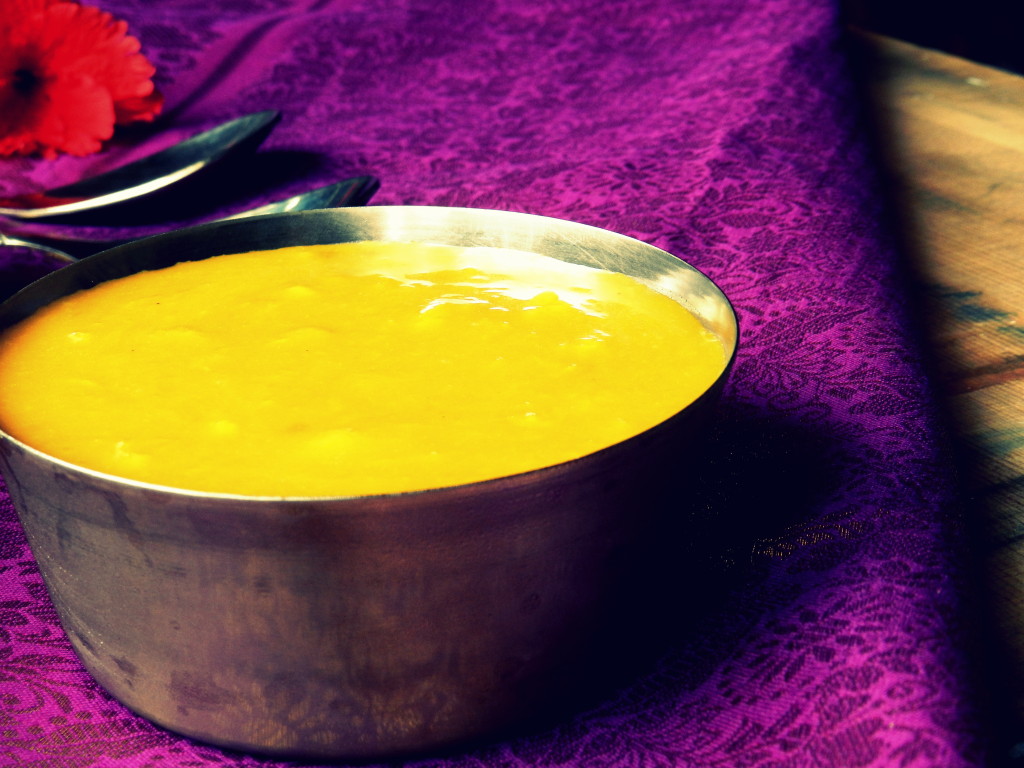 The first 'rasayna' of the season always gets everyone excited. This sweet delicacy is made from coconut milk and jaggery (gur) and is a lighter version compared to other ghee-sugar sweets. But of course at home there is nothing 'casual' about any dish made from mangoes..And according to my little sister just mentioning the making of 'maavina rasayna' for the next day`s menu must be filled excitement! You will know why when you taste this! This can be served as a dessert after a meal or as a side dish for hot and crispy pooris or neer dosa (rice crepes, a Mangalore specialty).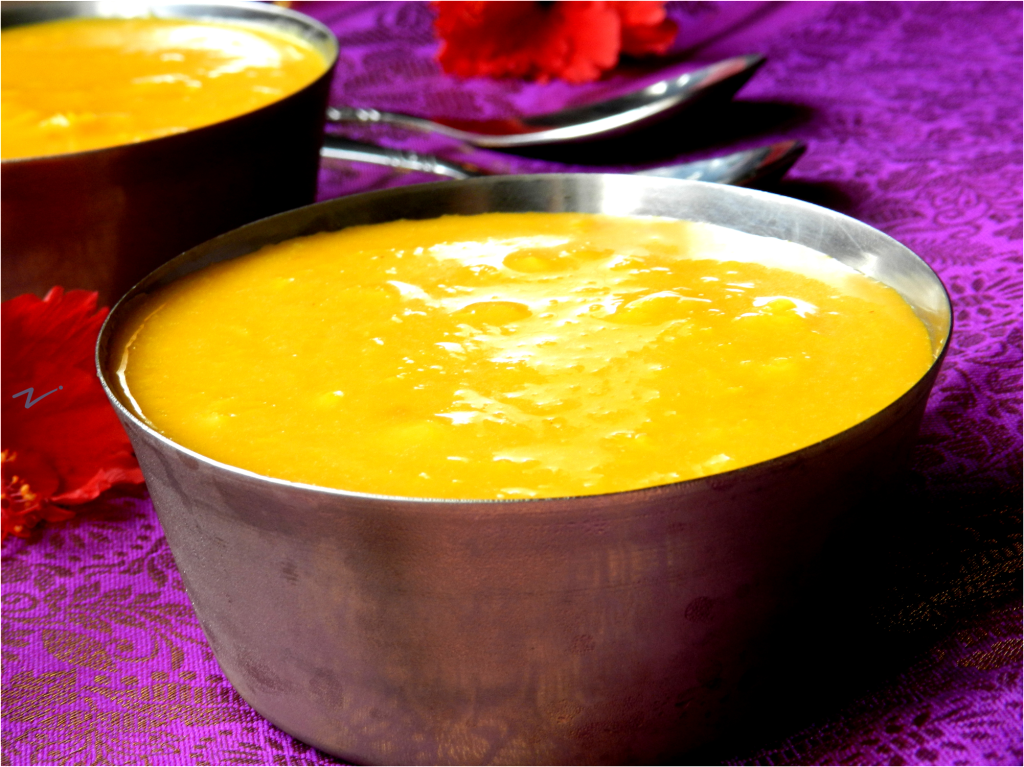 Rasayna
An Udipi cuisine special – ripe mangoes with coconut milk, sweetened with jaggery.
4 cups mango pulp (ripe mangoes)
2 1/2 cups thick coconut milk (only freshly extracted coconut milk please)
3 cups jaggery powder or to taste
1/2 tsp cardamom powder (very optional)
a pinch of salt (just a pinch does make a difference people!)
Directions
To extract mango pulp
Wash and wipe the mangoes dry. Slice off the top portion, slit them on either sides of the pit (not all the way through) and throw them all into the vessel. And now is the fun part. Start mashing them with your hand to extract as much pulp as possible. Some small pieces of the pulp remain and some are mashed into a smooth pulp. Thats how the consistency should be. Discard peels and pit. Some leave the pit along with the pulp and when relishing them the pulp is just chewed fro the pit. Do not eat the pit!
To extract the coconut milk
Put the grated in a mixer, add some water & grind. Then transfer to sieve & press the mixture in the sieve to extract the coconut milk.
Proceed
Mix the the freshly extracted coconut milk with the pulp. Add jaggery to taste, pinch of salt and cardamom powder if adding.
Serve chilled or room temp as a dessert or with puris or neer dose.
No households measure the mango pulp or the extract. They just select as many mangoes as possible and add coconut milk to get required consistency.
The right balance here is to select few mangoes that are sweet and also add some mangoes that are bit sour. This gives rasayana a tongue-tickling taste!
Stays good for a day when refrigerated.