When 'authentic' gives way to 'contemporary', occassionally…
Pleasant and happy memories of our childhood usually center around the times spent at our native place and being pampered endlessly by our grandparents. A hearty breakfast of steamingly hot idlis or poha is followed by running about carelessly amidst velvety green fields. The scorching sun does not seem to 'burn' our spirits as we explore with great gusto the mysteries of mother nature! The berries and fruits growing on trees are a sheer delight and without a second thought we grab them and bite into freshly plucked fruits and taste the sweetness of nature, in its purest form!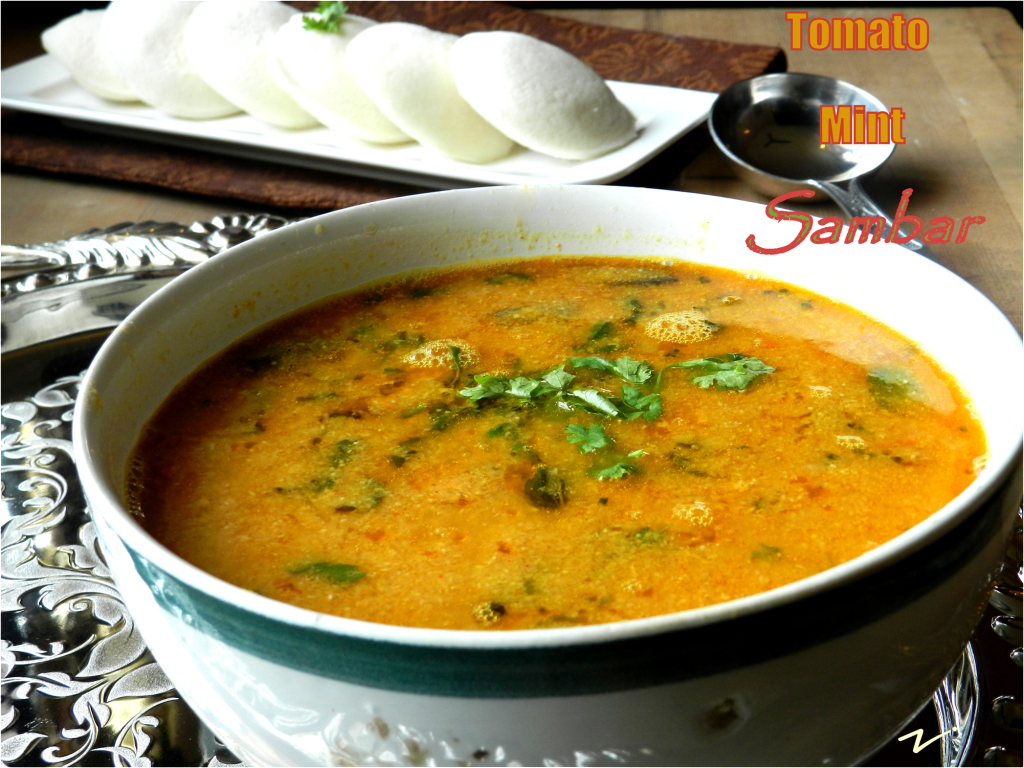 And when the sun signals that its noon, its time to head back home to recharge and replenish for the adventure to follow for the rest of the day! A meal of rice and sambar made from vegetables grown at the doorstep somehow seems like the best meal till date! The spices, freshly ground, in a mortar and pestle retains all of the aromatic flavors.
With every morsel you savor, it gets more and more evident of the unique flavors, and more importantly, grandmother`s love that is woven deeply into the dish. A scrumptious meal is followed by a siesta under the shade of the tree. Evenings are once fun filled ones, munching on some pakoras and so on. The night slowly appears and we are off to bed, satisfied, happy, content…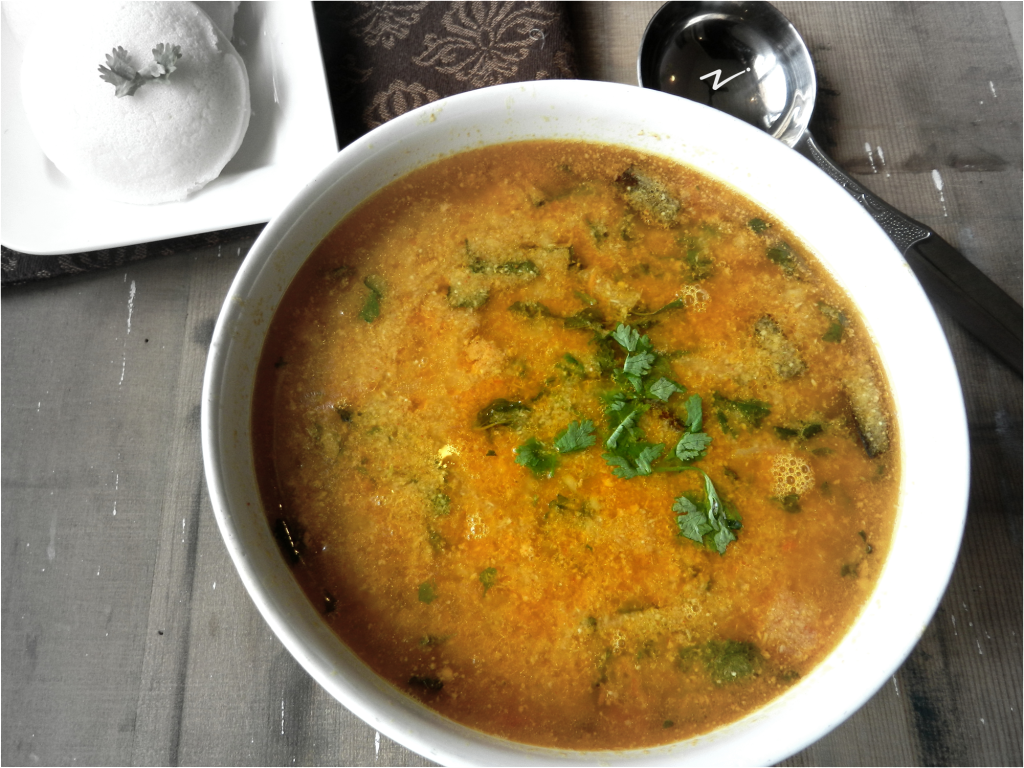 Now if you are wondering, why did I mention sambar, from an endless list of other traditional dishes, as the dish for the lunch menu? Well, for one, we South Indians love our sambar. Period. It appears at the dining table several times a week, be it for breakfast with dosas and idlis or for lunch and dinner with rice. And I being a South Indian, sambar is one dish that is vivid and has marked its impression very deep into my memories of my life till now. And next reason being, today`s recipe is a tasty version of this dish.
Every South Indian, well most of them, will have their own stories to share about the quintessential sambar. Each homes have different versions of preparing a sambar. The blend of spices vary as per household`s taste. But the common elements that are present in all 'sambar' are dal, sambar masala, tamarind and the basic South Indian tadka.
A sambar is a South Indian vegetable-lentil stew made with tamarind and tur dal (pigeon peas). The flavor comes from asafoetida and ground masala called the sambar powder which is a blend of roasted lentils, curry leaves, coriander, red chillies and a few other spices. A sambar typically is made of seasonal vegetables such as brinjal, potato, carrots, shallots, tomato, pumpkin, radish. Vegetables are simmered first in the dal-tamarind based gravy and finished off with a tempering of mustard, curry leaves, fenugreek seeds and asafoetida. Curry leaves is one of the main ingredient that lends the sambar its signature taste.
Sambar is a major fragment in South Indian cooking. It is reflective of the traditional ways of cooking seasonal and local ingredients as per season to ensure best form of nourishment with maximum flavors!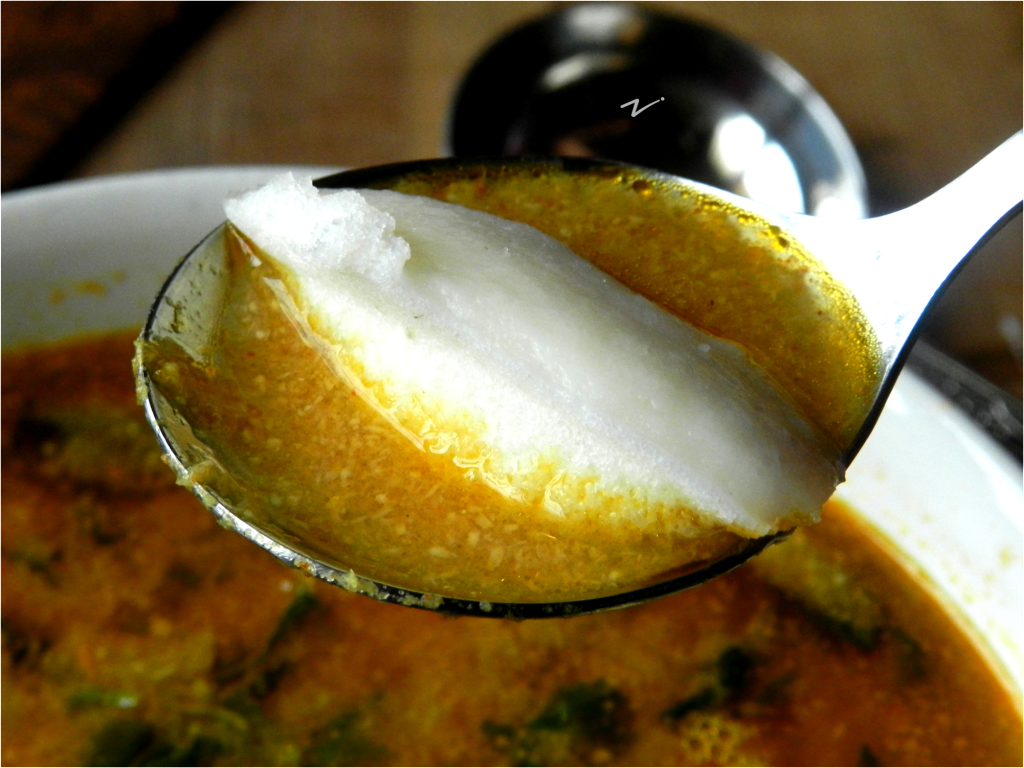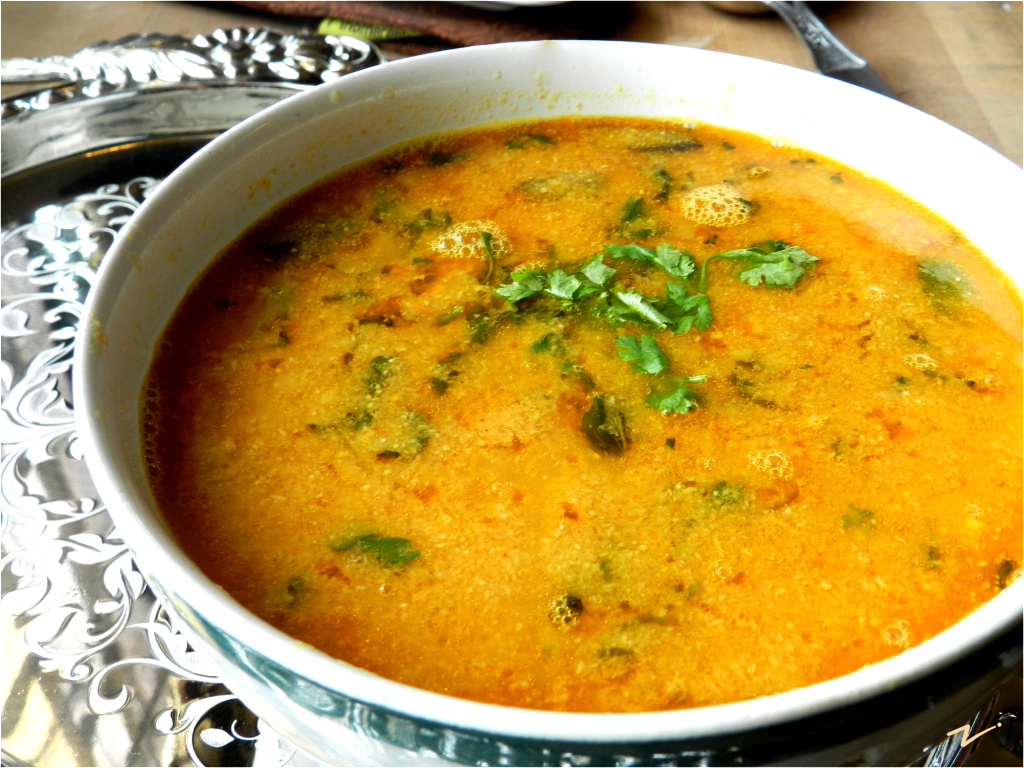 Well, after a quick snapshot of the traditional South Indian stew, I take some liberty today in sharing a contemporary version of the 'sambar'. The sourness in this recipe comes from tomatoes instead of tamarind. The dominant flavor of herb is mint leaves along with curry leaves. Adding cooked dal is very optional. A lip smacking version, no doubt and is an enticing accompaniment to idlis or dosas.
[yumprint-recipe id='152′]