Broccoli Stir Fry – Broccoli Seasoned with Ginger and Cumin
This first time I came across the veg 'Broccoli' was in cartoons were kids made a big deal of it when presented on the dinner table..From then on I had got the impression 'broccoli' must taste so bad that eating it equals some kind of a punishment! We never would get this veg in my hometown then & then this 'thing' was forgotten. And back then as a kid, when I had accompanied mom on her weekly shopping to the local market, we came across a green vegetable that resembled a cauliflower..When I asked what it was, mom answered it was 'broccoli, and went on to buy this..UGH!! How could she do that..???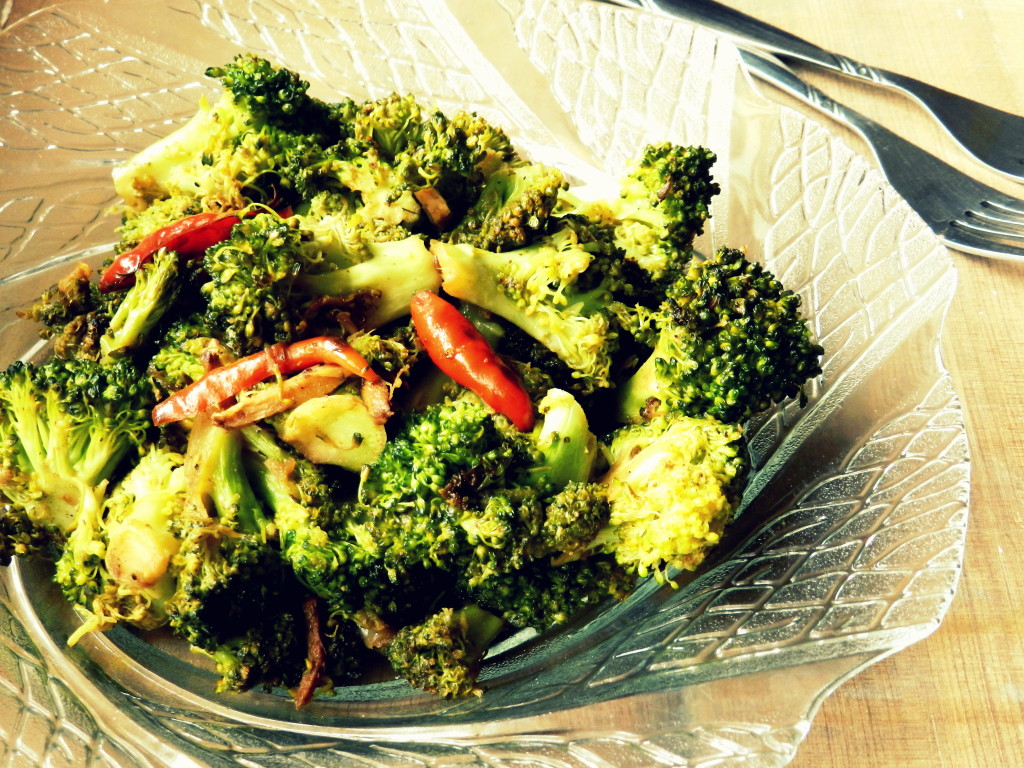 My protests were accompanied by mom`s lectures on the benefits of 'broccoli' – '* It contains Vitamin C *It contains potassium * It is rich in fibre…'Back home, she proceeded to make a ' Broccoli Stir – Fry ' from a book she had & presented it to us.
I took a bite & thought 'This is what broccoli tastes like?? Whats all the fuss for?? I love this!!!'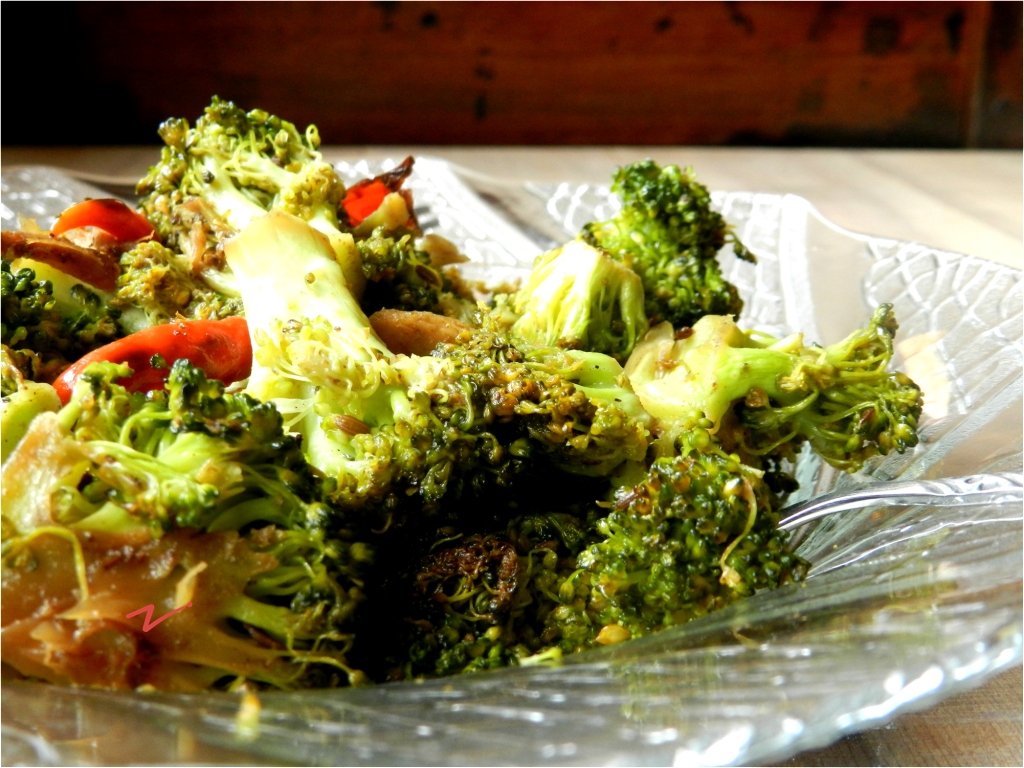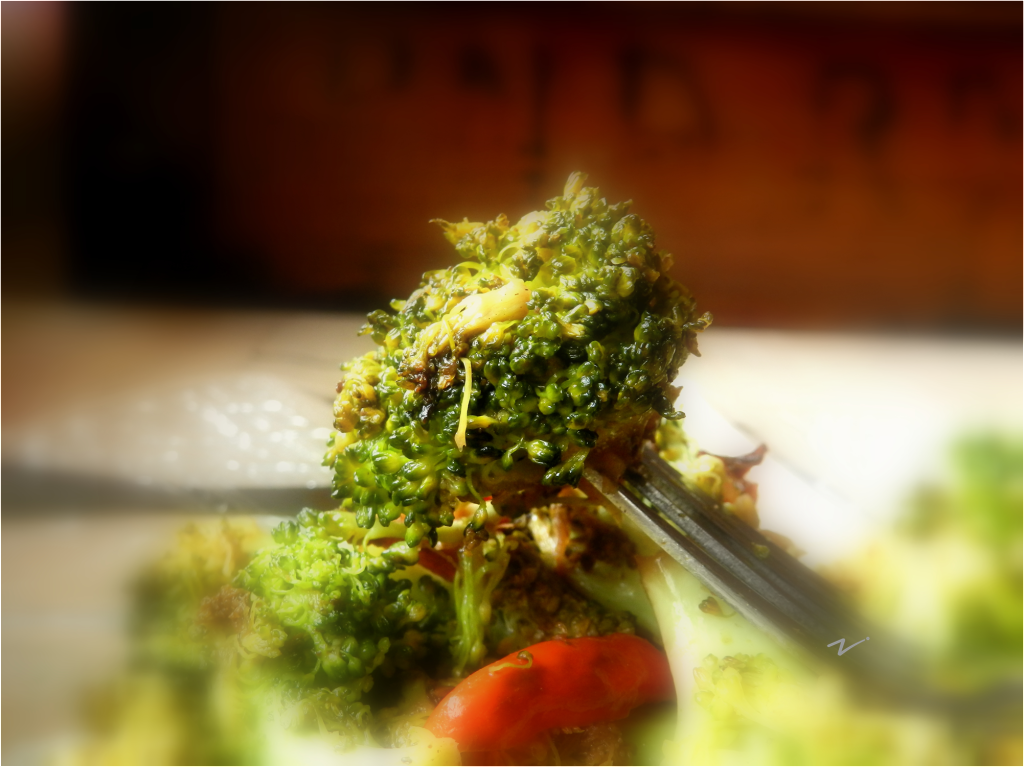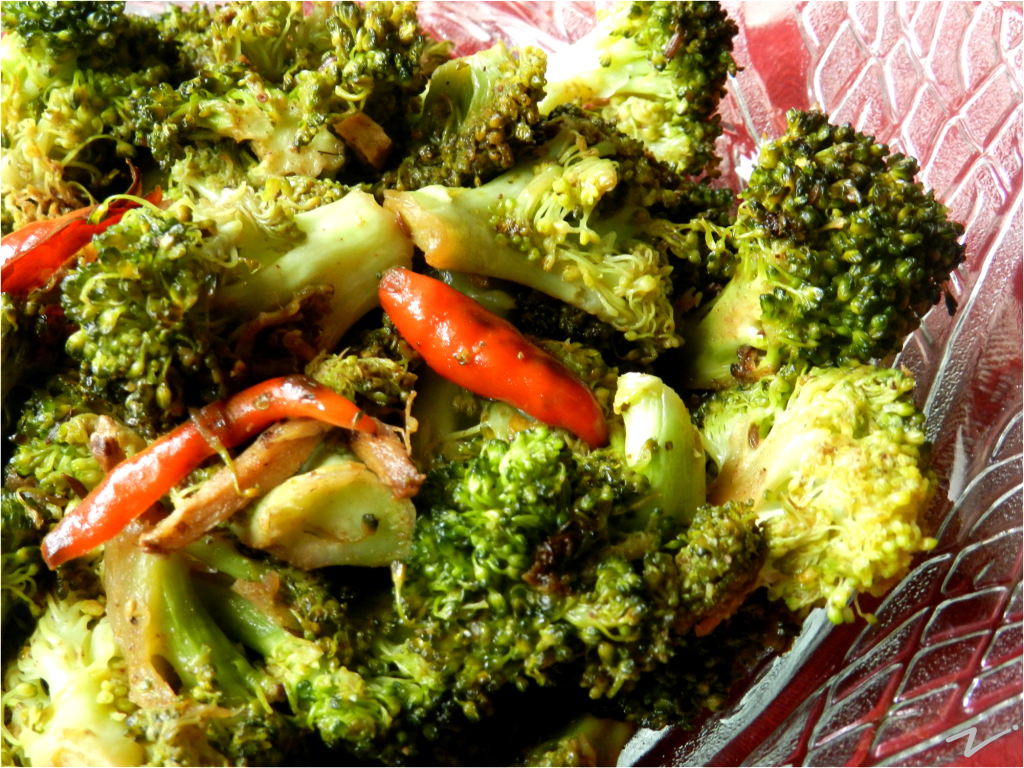 Coming to this dish, this is a no-fuss, quick recipe which the whole family would definitely love! It is mildly seasoned yet flavorful..It has the right blend of ginger & cumin with a hint of spice..
Broccoli Stir Fry
Stir fried broccoli flavored with cumin and ginger.
Broccoli – 1small head
1 tsp cumin (jeera seeds)
1 " piece ginger
2 green or red chillies
1 1/2 tsp coriander (dhania powder)
1/2 tsp garam masala
1/2 tsp red chilli powder
1 tsp amchur (dry mango powder)
salt to taste
3 tbsp oil
To garnish
fresh red chillies (cut into strips)
To serve
Break broccoli into medium sized florets and wash and drain. Peel ginger and cut into matchsticks. Slit chillies.
Heat oil in a wok (kadai). Add the cumin and saute till it begins to sizzle.
Add the ginger, chillies and saute for a minute.
Remove from heat and add in the coriander powder, garam masala, chilli powder, salt and dry mango powder. Saute for half minute to infuse the oil with the flavor of the spices.
Keep back on heat, add in the broccoli. Stir fry for 5 mins. Then cover and cook till done.
Serve hot!