Many a days we would look forward to Sundays just to have a bowl full of piping hot & butter-y dal – Dal Makhni with chawal. And then after lunch the day would seem more brighter!
With every spoonful of buttery dal and rice, I become so immersed in tasting its different flavors that till I am done eating I become oblivious to the hullabaloo around me. It is like meditating with food! And once done savoring every last bit of it, I find myself more calm and happy and content! And then I think how some little and simple things can give you comfort amidst every day mad rush. Few minutes with a cup of coffee maybe as you watch the rains or staring out the window and seeing and hearing the cheerful chirping of birds or a good book or a hug from your loved one or watching the breeze gently caressing the leaves or sight of sunrise. Just few minutes taken to find solace and comfort in doing your favorite act will make you wealthier emotionally. The key is to find beauty in simple acts around you.
What is your favorite and comforting act?
Dal Makhani, one of the signature dishes of Punjabi Cuisine..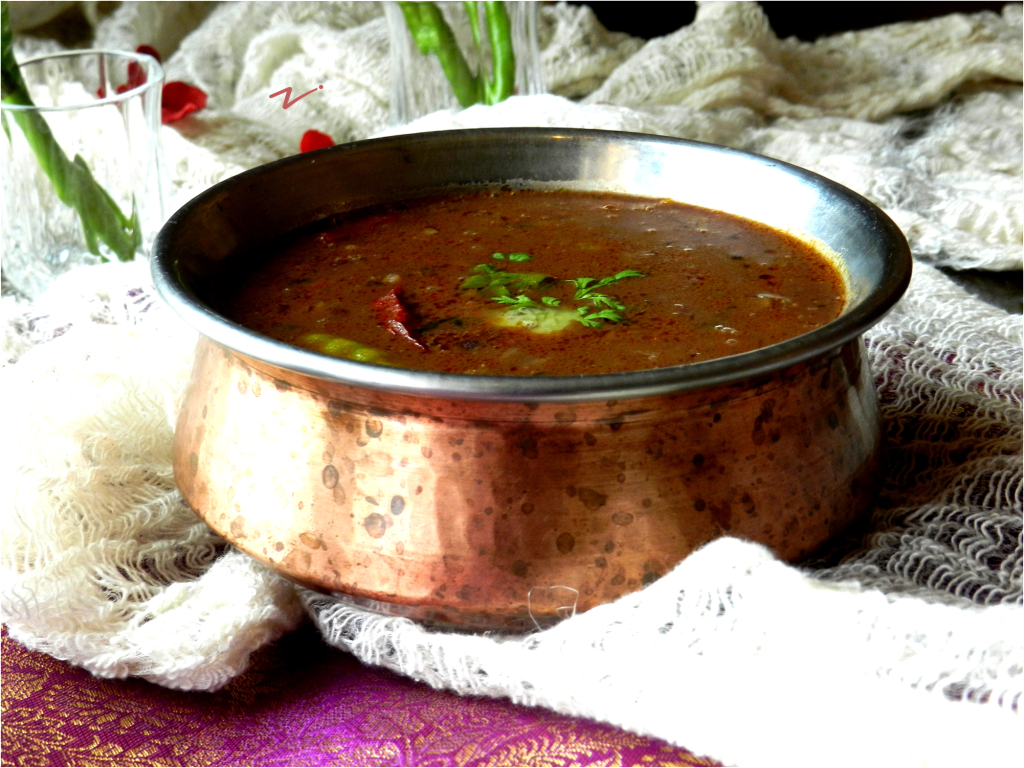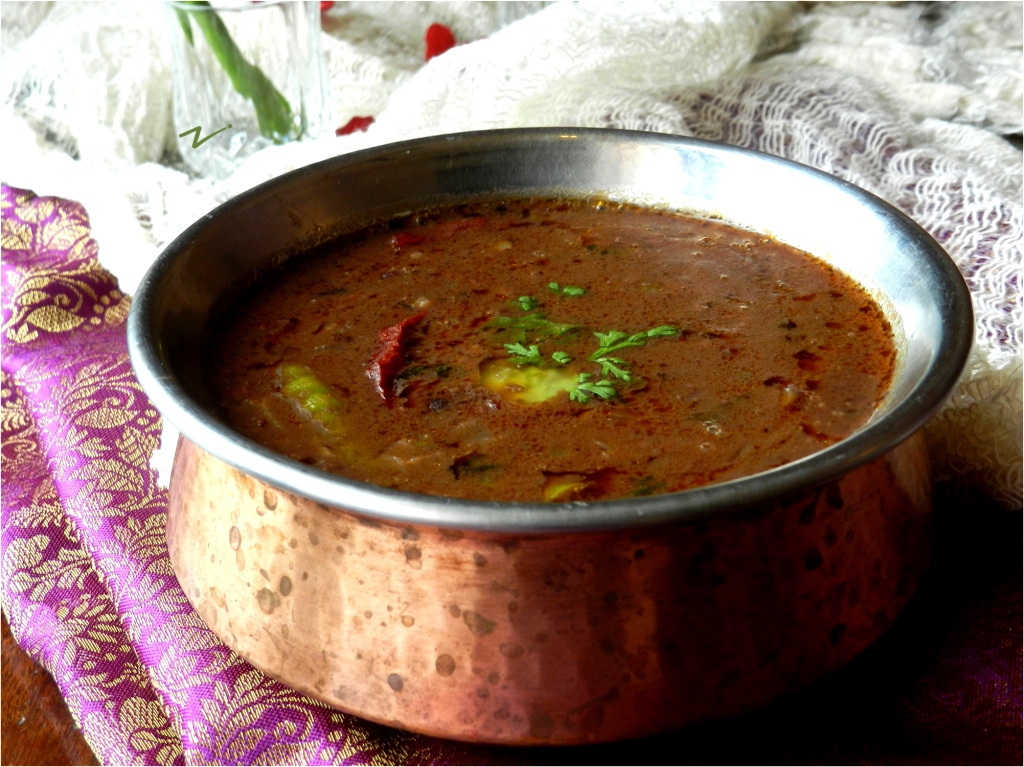 Dal means lentils & Makhani is butter!! The traditional way of cooking this popular Punjabi delicacy was to let the dal simmer for long hours or even overnight on charcoal. This process is what lends the dal its rich creamy texture. But of course today it is cooked faster using a pressure cooker. Without a pressure cooker one would require a minimum of 4 hrs to prepare this! But once you taste this rich and creamy gravy made the traditional way, you will realise it was worth the wait!
The recipe below is of course made the faster way, where the lentils are cooked in a pressure cooker and then simmered gently over low heat with spices. A generous addition of butter in the end gives it that rich aroma and elevates its flavor and taste.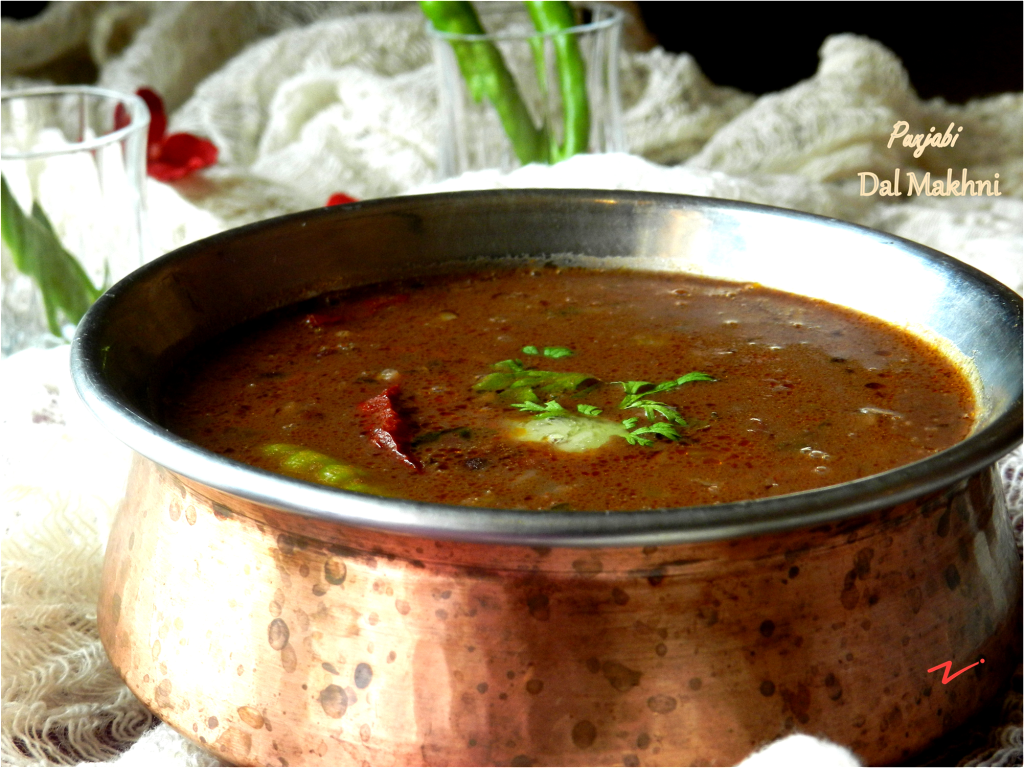 Enjoy Dal Makhni with plain basmati rice or a simple pulao or even with rotis. A nice and comforting recipe on a cold rainy day or any other day!
Dal Makhni
Delectable Punjabi delicacy!
whole black urad (urad saboot – 1/2 cup)
rajma (kidney beans – 1/4 cup)
chana dal (bengal gram dal, split – 1 tbsp , optional)
onion – 2 small to medium
tomato – 3 medium
cumin (jeera seeds – 1 tsp)
green cardamom – 1
fenugreek (methi seeds – 3-4 nos.)
dry red chillies – 2 (broken)
green chillies – 3
ginger – 1/2 inch piece
garlic cloves – 3 (optional)
kashmiri chilli powder – 1 tsp
coriander (dhania powder – 2 tsp)
garam masala powder – 1/2 tsp
kasuri methi – 1 tbsp
coriander leaves – 1 tbsp
butter – 2 tbsp
To garnish
swirls of beaten cream or white homemade butter
To serve
tandoori rotis (plain rice, jeera rice, naan, parathas, ghee rice)
Soak dals and rajma overnight. Drain, wash. Add about 5 cups water and pressure cook for upto 8 whistle or till cooked. Let pressure drop on its own, open lid and lightly mash hot dal. Set aside.
Chop onions. Pulse tomato in mixer to a coarse mixture. Chop ginger, garlic, green chillies very fine.
In a saucepan heat ghee, add cumin, fenugreek, cardamom, broken red chillies, let sizzle.
Add onions, saute till turns soft & pink. Add ginger-garlic-green chilli, saute 1 min.
Add tomatoes, saute till thickens. Cover partially with lid if splutters.
Add kashmiri chilli powder, coriander powder, garam masala. Cook till oil leaves masala.
Add the cooked dal, salt, kasuri methi. Stir. Add water if needed for consistency. Simmer over low flame till thickens and is well blended, about 15 mins.
Lastly add butter, coriander leaves. Cover and cook for 1 minute.
Kasuri methi is dry fenugreek leaves available in Indian stores.
The dal tastes even better the next day when reheated.
The main flavor in this dish is ginger and coriander powder and the heat comes from green chillies.
You can mix kashmiri chilli powder with few drops water and add to the the pan. This gives even deeper color to the gravy. Kashmiri chilli is very low on spice level but gives rich red color to gravies.