Who can say no to a potato dish? Well, not me, that`s for sure. This potato bhaji is another of our family favorite dish. It is a simple, hearty and filling South Indian version of aloo bhaji. Nothing extravagant about this dish. Its as simple as it can get. A dish relished by all kinds of people, in different parts of South India. It can find its way into filling for a dosa to make masala dosa or served as side dish to pooris. A similar kind of bhaji is used to make one of the more sinful dishes of potato – aloo bondas.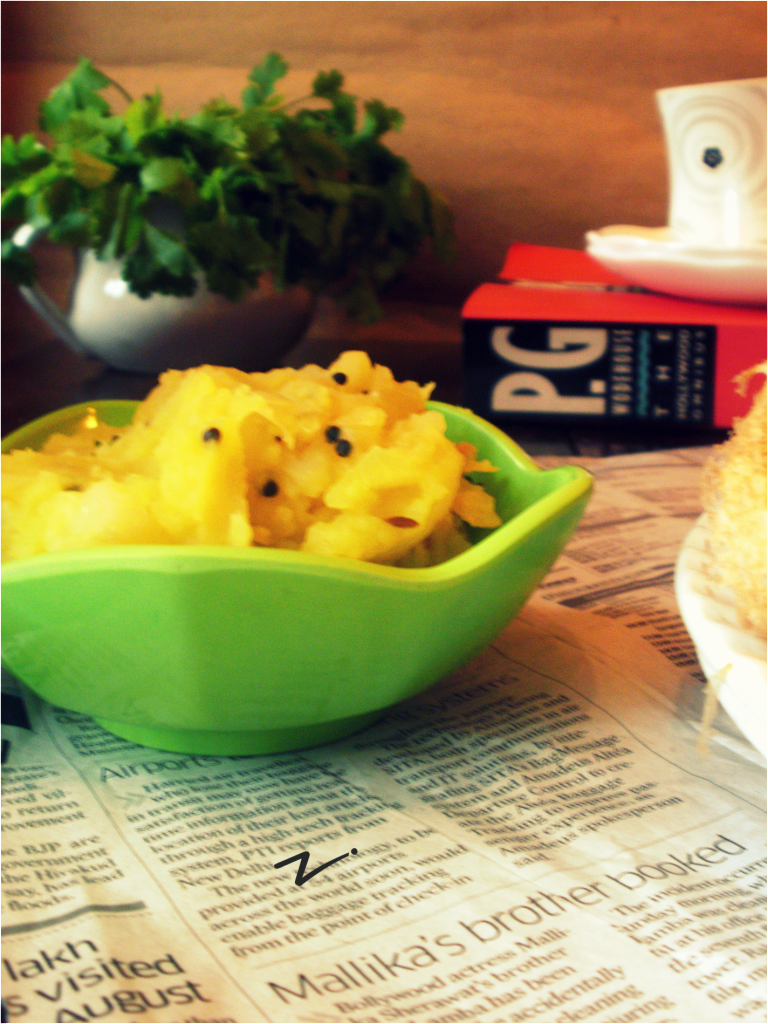 At home the leftovers are enjoyed with equal fervor as when it is had hot from the kadai. It is made as a filling for sandwiches. grilled and gobbled up in no time! Or portions dipped into pakora batter and deep fried. If serving as side to pooris you may sprinkle some grated coconut on top. And do tell what other ways you enjoy this humble potato bhaji.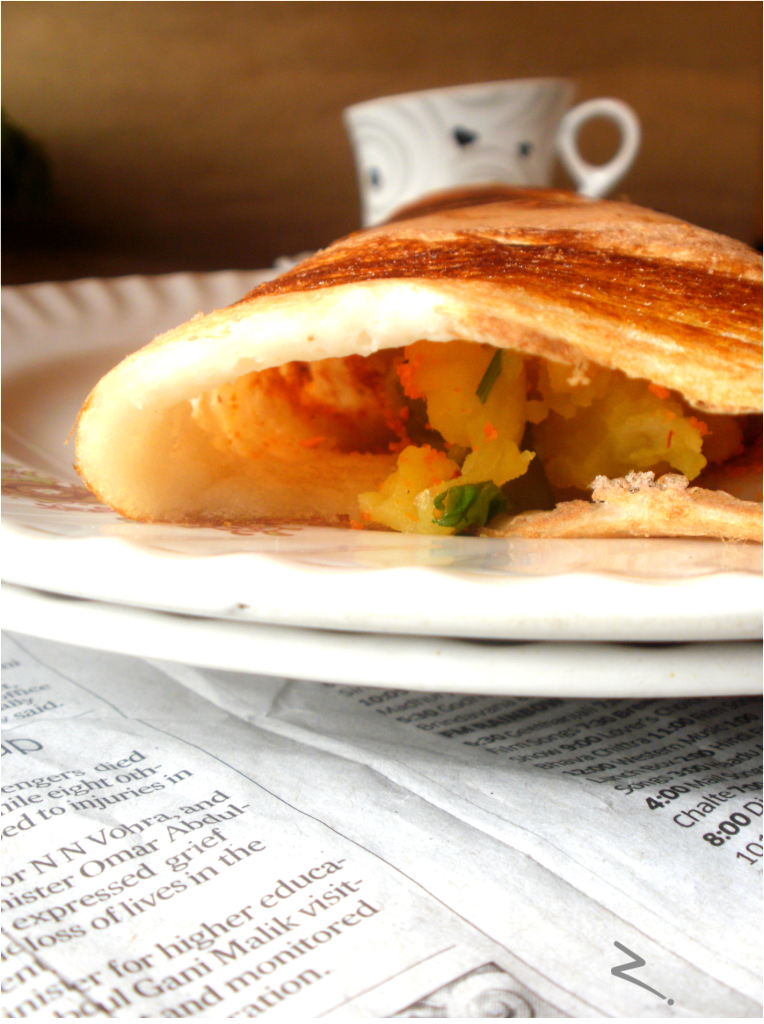 Potato bhaji as filling in dosas
Click here for Masala Dosa recipe
Potato bhaji
Potato and onion subzi, for masala dosa or with hot pooris!
4 medium size potatoes
1/4 cup green peas (optional)
2 medium onions
1 tbsp vegetable oil
1 tsp mustard seeds
1 tsp cumin seeds
1 tsp chana dal
1/4 tsp asafoetida (hing)
1 sprig curry leaves
2 – 3 green chillies
1/2 inch ginger
1/2 tsp turmeric powder (haldi)
1/2 tsp red chilli powder
salt to taste
juice of half lime
Boil the potatoes (or pressure cook) till done. Peel and cut roughly into cubes and mash very roughly. Boil peas if adding. Slice onions. Chop green chillies and ginger.
Heat oil and add the mustard seeds, cumin, chana dal, let crackle and dal turn brown. Add asafoetida, curry leaves, green chillies, sliced onions, saute till onions turn transparent. Add turneric powder, red chilli powder.
Add some water (about 1/2 cup or more) and cook for 5 to 7 mins or till dal turns soft.
When a little liquid remains, add the potatoes, peas if adding, salt, coriander leaves. Mix well. Cook for few mins for flavors to blend.
Lastly add lime juice and remove from heat.
Use as filling for masala dosas or serve with puris.
You may even add 1/4 tsp sambhar powder along with potatoes.
If serving as a side dish to puris, you may add some grated coconut along with potatoes.