Every one has a treasure trove of traditional family recipes handed down to them by mother`s, grandmother`s & great-grandmothers. Of course, back then people did not have the benefits of the web were recipes could be noted down. The recipes were passed on to the next generation by word of mouth. This collection of tried & tested recipes were like an "asset" to the family.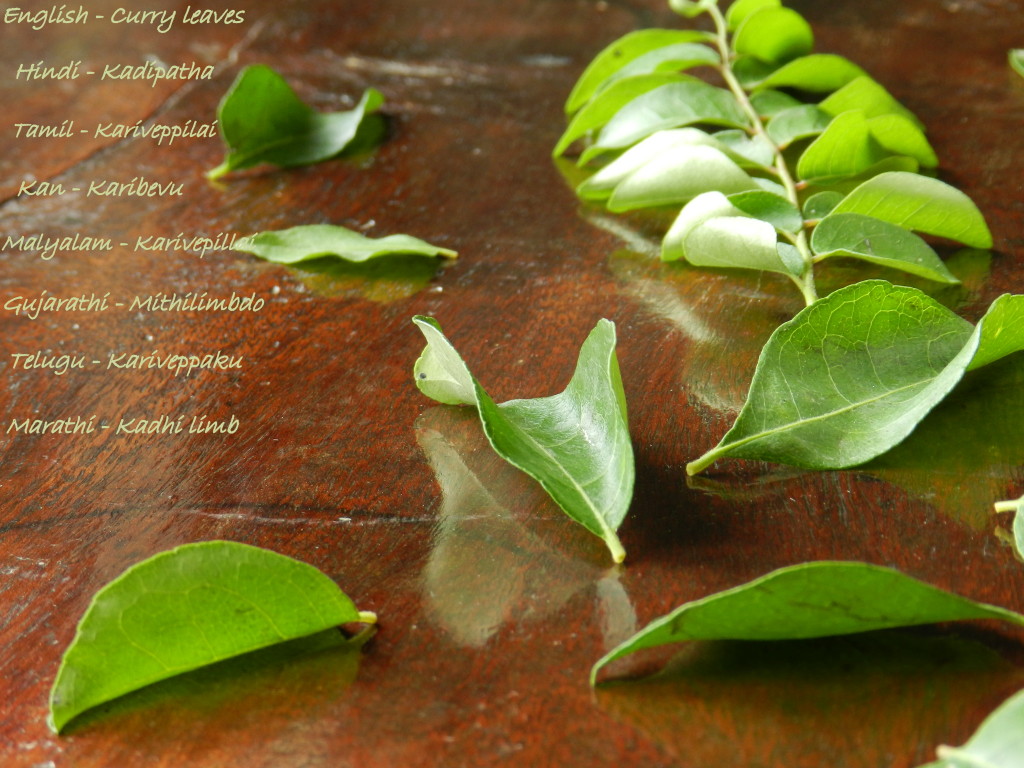 Some of the recipes were closely guarded secrets. And then there were a few who were more than willing to share their acquired culinary knowledge.I still find a few who try and avoid answering when asked on the so called 'secret' ingredient (or the entire recipe even) that makes their dish so popular! And I don`t blame them one bit. These people take pride in their culinary skill they have mastered with years of experience & experiments.
Though the same dishes are prepared in many households, no two dishes from two different homes taste the same. Each family would vary ingredients to suit their taste & availability of ingredients. But have you noticed that even if you follow your grandmother`s precise measurements of the all ingredients, even then the taste would vary incredibly? I always wondered on this aspect. Because even my grandmother`s plain old rice and our rice differ immensely in taste, texture & smell.
Well for one, the cooking styles varied. We cook over a gas stove whereas in olden times, it was common to cook over a wood fire. And there is the fact that ingredients back then were fresh & pure, may be grown in their own backyard.
It was common (and still is in some houses) to grow all herbs used in everyday cooking. South Indian cooking makes abundant use of curry leaves. This herb is used to flavor the oil or as the main ingredient for any curry/ gravy or in chutneys.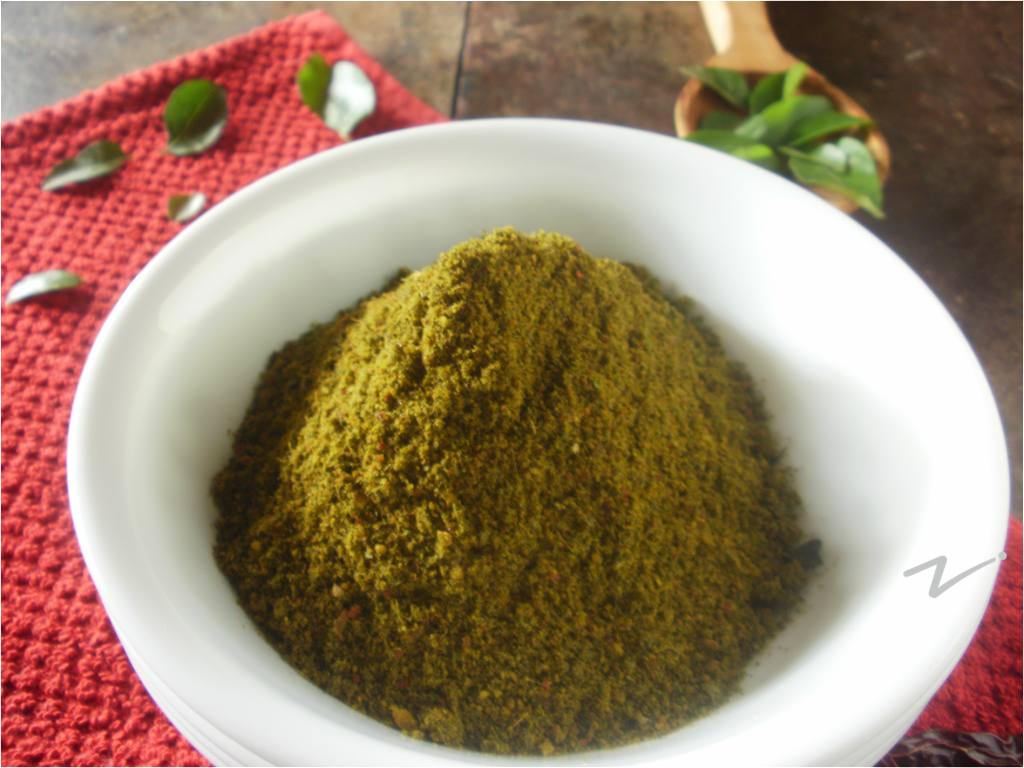 Chutney can be dry or wet variety. The latter is best consumed fresh or at least within a day ot two. The dry varieties are preserved in an airtight container at room temperature & lasts for longer days – a month or more depending on the ingredients.
Chutney powder from curry leaves is made in almost all households in Southern India. They can be served along with steaming hot idlis, dosas, curd rice, plain steaming hot rice+ghee and so on.
Did you know?
That Curry leaves are one of Mother Nature`s most trusted healers?
* The leaves are valued for their anti-diabetic & anti-oxidant properties.
* They are used in diet of people suffering from anaemia.
* They are loaded with Vitamin B &C.
* They are packed with minerals like iron, calcium & phosphorous.
And now here is our family recipe for this handy, aromatic chutney powder.
Curry Leaves chutney powder
Curry leaves and spices blended to an aromatic dry chutney.
1 cup fresh curry leaves
4 to 5 dry red chillies (or to taste)
2 tsp gram dal (chana dal/split chickpeas)
2 tsp urad dal (split black lentils)
1 tsp cumin seeds OR coriander seeds
1 tsp readymade asafoetida powder
one marble size piece tamarind (optional)
2 tbsp oil
salt to taste
1/2 tsp gur (jaggery)
Pluck curry leaves from the stalk. Wash the curry leaves thoroughly and pat dry with a kitchen towel. Remove as much moisture as possible. You can leave it in the towel for an hour or so for it to dry well.
Heat a wide pan.
Dry roast gram dal and urad dal separately over a low flame till deep brown. Remove and set aside in a wide plate.
Then roast the hing lightly (about 3 to 5 seconds), remove and add to the dals.
Heat the oil in the pan and roast the curry leaves over low flame till nice and crisp. But see that the leaves remain green and not turn brown. Remove and transfer to the plate with dals.
In the same oil roast the red chillies till they turn crisp and bright red. Do not let them brown. Remove and transfer to the plate.
In the same pan add the cumin OR coriander seeds and roast till aromatic. Remove and transfer to the plate.
Then roast tamarind for 15 to 30 seconds. Remove onto the plate.
Once all the above roasted ingredients have cooled down a bit, grind them to a not too coarse but not too fine powder along with salt to taste and jaggery in a dry mixer grinder.
Store in an airtight container and use as required.
Serving suggestions
Add few drops ghee or coconut oil to portion you are serving and serve alongside idlis, dosas.
Add a tsp or two to a bowl of hot steamed rice, add ghee, mix and serve with papads.
Serve with curd rice.
Instead of dry red chillies, you could add a tsp of whole black peppercorns. Roast them instead of red chillies till they start to crackle.
Make sure the mixer jar is dry & has no moisture. Else the chutney powder will not last for long.
Whenever you use this aromatic chutney powder, make sure you use a dry spoon to serve.
It is important not to let the leaves and the dals turn dark as the chutney powder will turn out bitter.
In case you are making from more than a cup of curry leaves, you can roast them in batches instead of overcrowding the pan. This way all the leaves will be evenly roasted and dried without any moisture clinging to them.
You may add 2-3 tbsp dry grated coconut too. Dry roast till aromatic. Then grind with remaining ingredients.
Adapted from Our family recipe diary