Avial, a very popular Kerala dish of mixed locally grown vegetables in a coconut based gravy finished off with some curd. The gravy is laced with flavors of cumin and green chillies and this dish is commonly relished in Kerala households during festival of Onam. Curd gives a nice, mouthwatering tartness to the dish. And how can I forget the aromatic undertones of curry leaves, a predominant herb in a South Indian dish!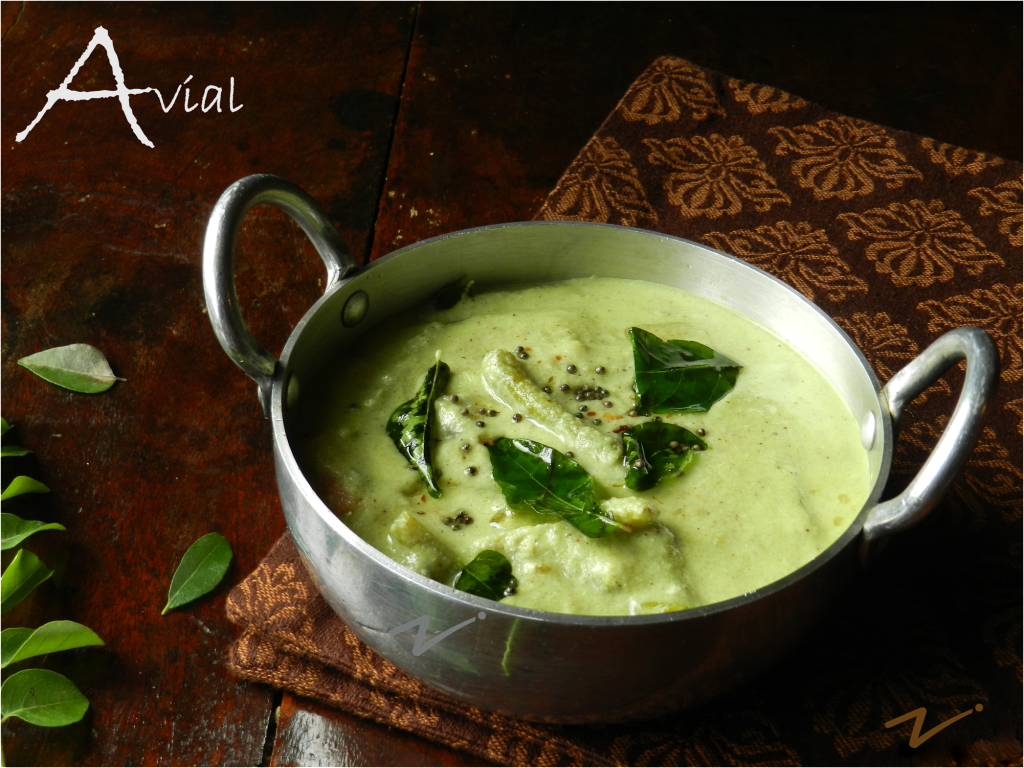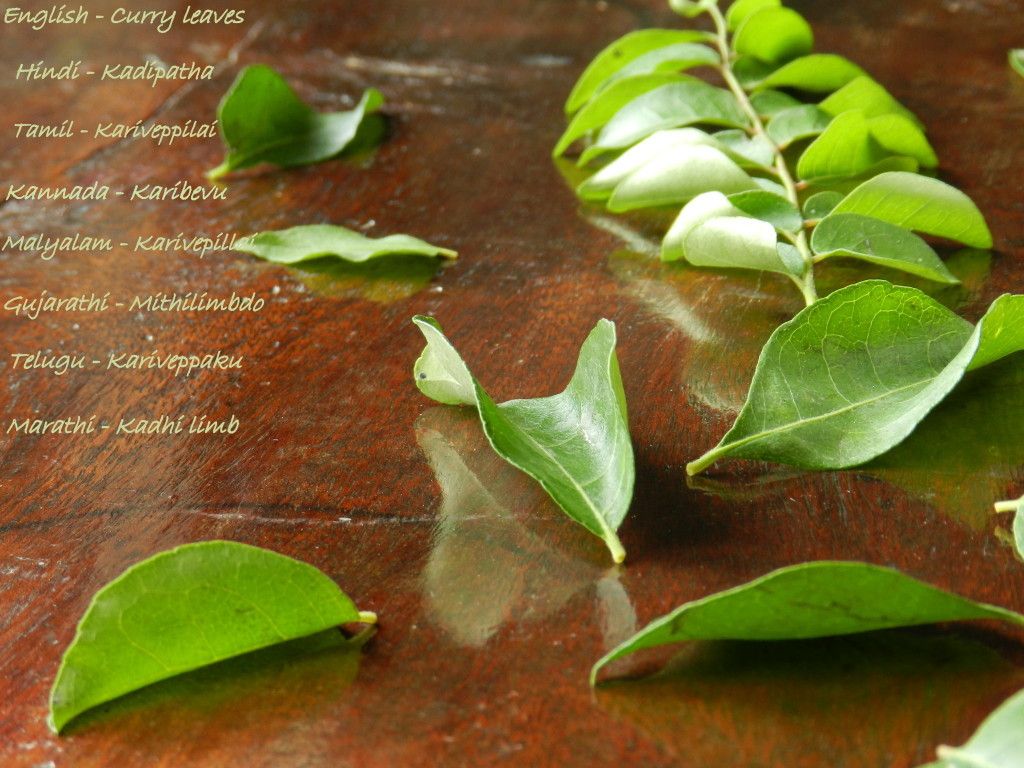 During my school days I would always fuss over Avial being present on the menu. I detested it back then. Found nothing overly special about it. And then one day having run out of the very many excuses to avoid eating it, I finally decided to face it. I poured it over warm steamed rice. The first aroma that caught my attention was of coconut. Coconut coated the very many vegetables present! On tasting the rest of the flavors became evident, of cumin and curry leaves and medley of flavors of all the vegetables.
By the end of the meal I finally grasped the essence of its popularity – goodness of all vegetables in a mildly flavored yet healthy curry, abundance of coconut that reminds me flavors of home and childhood. I no more found any reasons to hate it. For the dish had it all that it takes to categorize it under 'comforting' food – mild, simple, unpretentious. I learnt how such an 'unassuming' dish could be soul filling too. And that is the story behind how I befriended the humble avial and the relation has been going strong since then. 🙂
About Onam
Onam, the festival celebrated in Indian state of Kerala is almost here! It is a harvest festival celebrated by all Keralites irrespective of caste or religion.
This festival marks the homecoming of legendary King Mahabali. During the reign of King Mahabali, the people of Kerala were happy and prosperous. The king was highly regarded by his subjects. But the one shortcoming in the king was his egoistic nature. This weakness in the king made the Gods bring an end to his reign as they felt challenged by the king`s growing popularity. But in consideration for all the good deeds done by the king, the Gods granted him one boon – he could visit his people once a year. It is this visit that is celebrated each year in Kerala with great joy. Onam falls in the beginning of the month of Chingam that is the first month of malyalam calendar.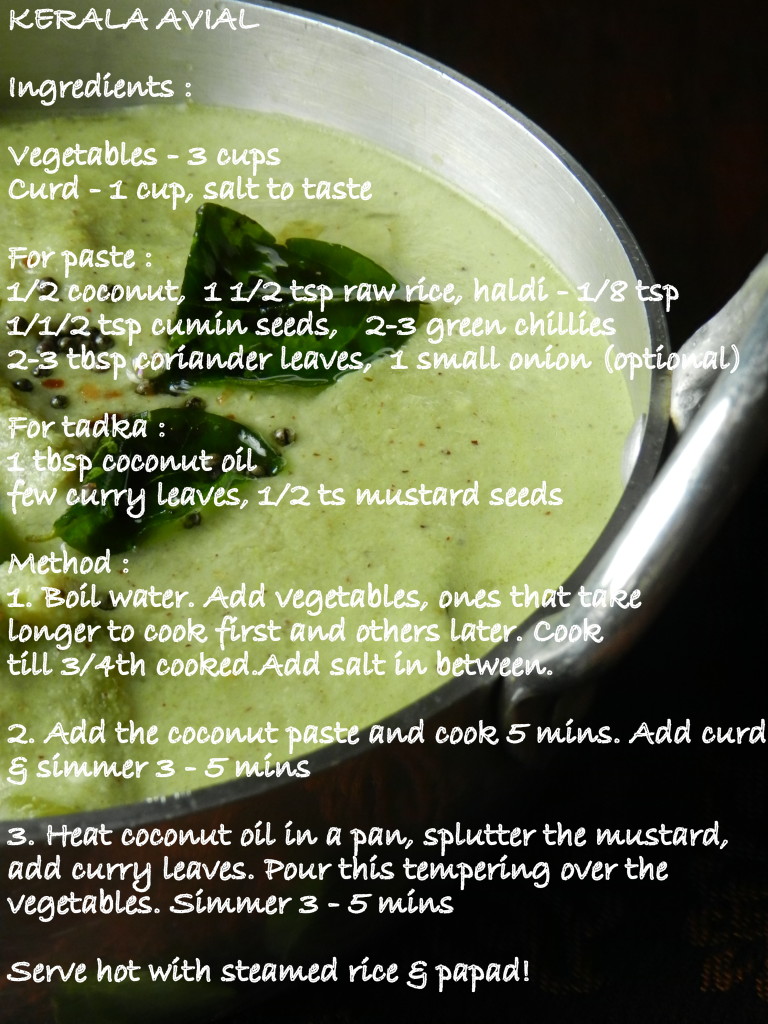 Customs, Rituals & Onam Celebrations

Festival of Onam can be described as – rich, vibrant & diverse! Carnival of Onam lasts for 10 days. Celebration of Onam brings out the rich culture and heritage that is so much a part of the state. Flowers, games, dance, elaborate feasts marks Onam festival. Pulikali performers paint themselves in guise of a tiger and enact hunting scenes. Sports and games such as archery, chess are organised and participated in with great enthusiasm.
Flower carpet made from flowers and known as 'pookalam' in the native Kerala language can be found at the entrance of every house to welcome the King. 'Vallamkali' or the boat race is also a popular attraction of this Kerala festival. These boats called 'Chundans' have long hulls and high sterns that resemble the hood of a cobra. Hundreds of oarsmen row these traditional boats to the rhythm of drums.
Yet another attraction of this grand festival is the elephant procession. Elephants are decked in a dazzling and royal attire – exquisitely designed golden plates on the forehead that run all the way to the trunk, silk robe, jewelry, parasol which is silk and satin umbrella, laced with white metal and placed on top of the elephant.
Onam Sadhya
As with any other festive celebrations, elaborate and mouthwatering feasts are another major highlight of the festival. Lavish meals called 'sadhya' are prepared and served on plantain leaves. Rice is the main course which is served as accompaniment to varied Kerala vegetarian delicacies like Avial, Errichery, Olan, Pachadi, Kalan, parrippu, sambhar, rasam, thoran. Kitchadi made up of pineapple and banana is served along with this. Crisp papads are served along with all rice meals. Chutneys and pickles also form an integral part of Onam Sadhya.
The lavish meal is ended with traditional Kerala sweet dish – Pal payasam (rice kheer) or prathaman. All together the Onam Sadhya is made up of eleven mouthwatering delicacies.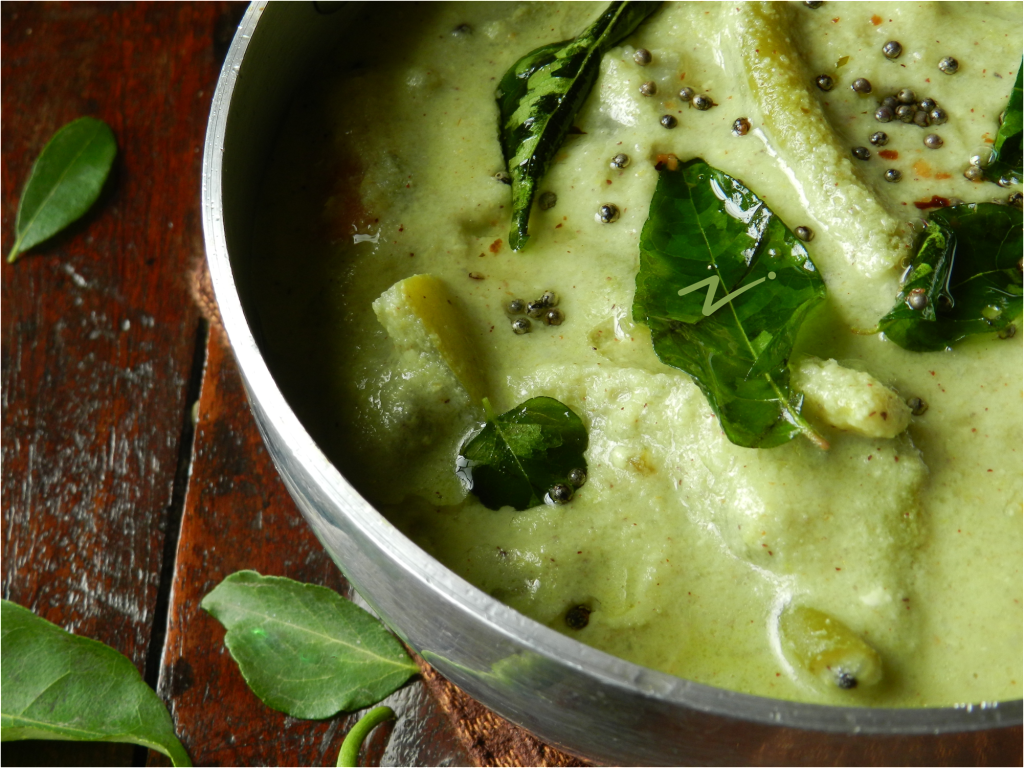 Few other traditional dishes served along with rice and make up Onam Sadhya –
Erissery – This is made from pumpkin, yam or raw banana. Main spices added in an erissery are green chillies, cumin, red chillies, coconut and then seasoned with mustard seeds.
Olan – Made from cucumber or brinjals boiled in water and flavored with coconut and curry leaves. Pulses may be added sometimes along with vegetables but an Olan is made sans green chillies.
Kalan – Kalan is made from buttermilk. Main ingredient would be plantain or yam. They are boiled in water and salt and then flavored with ground coconut, fenugreek, pepper, buttermilk and finished off with mustard seeds tempering.
Thoran – This is a dry curry made from chopped beetroot or other vegetables like beans, raw banana etc boiled in water with salt and chillies and seasoned with ground coconut and mustard seeds.
Avial – Another coconut based vegetable curry that is quite popular even outside Kerala. Various kinds of vegetable, including root vegetables are boiled and then topped with a coconut and cumin flavored paste. This is followed by some curd and topped with a tempering of curry leaves.
Coconut oil is a must in all of these authentic delicacies. Do not try and substitute it with any other oil please!!
Coconut trees are found in abundance in this state and the coconut find its way in all of the Kerala dishes. The entire state is dotted with numerous coconut trees with the sea, the river and plenty of greenery offering a majestic backdrop to the swaying trees. The State of Kerala is called 'God`s Own Country' and for a very good reason!
Here is one of the Sadya recipes – the Avial. This is my amma`s take on the recipe. It has all ingredients used in an authentic Avial plus her addition of onion and coriander leaves to the paste. Both these ingredients are purely optional and are not added to an authentic Avial recipe but it does take the dish to another level. Adding it does offer a variation to the Avial.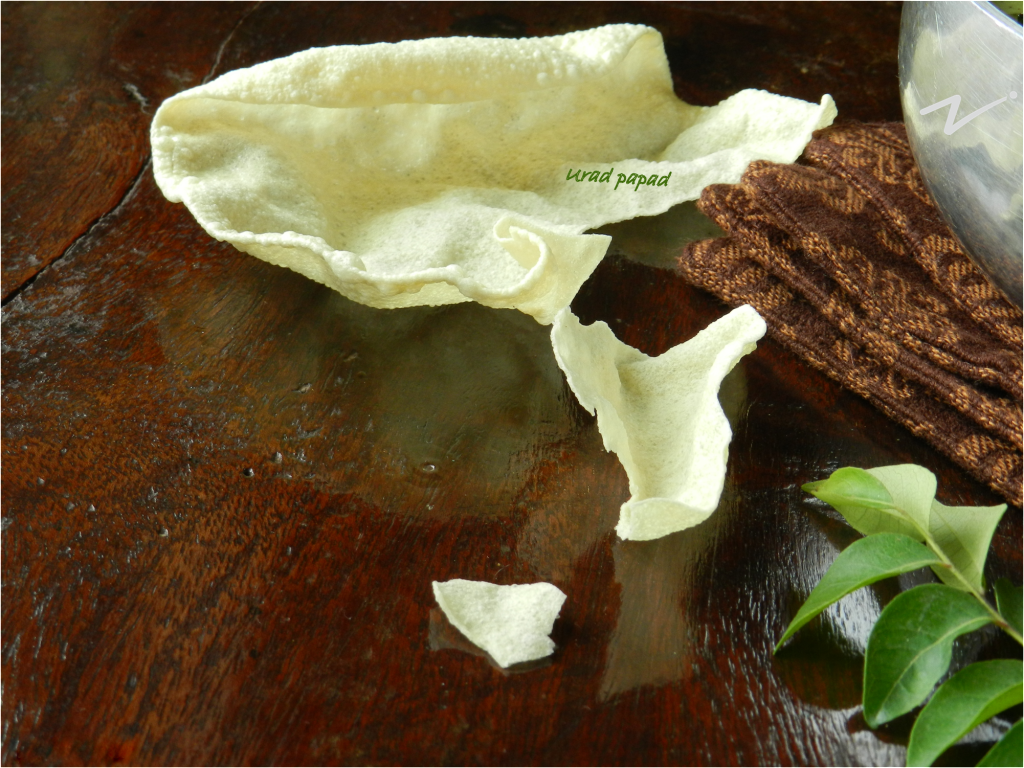 Kerala Avial
Mixed vegetables in coconut, chillies and cumin sauce
Your choice of mixed vegetables
tendli (potatoes, lauki (bottlegourd), drumstick, carrot, raw banana, cluster beans, ash gourd, yam(suran), beans, chow chow – 3 cups chopped (approx))
Green/ raw mango – 1 (optional (see notes))
Other ingredients
Curd (slightly sour – 1 cup)
Salt to taste
To grind to a paste
Half of a large coconut – grated
Cumin seeds/ jeera – 1 ½ tsp
Raw rice – 2 tsp
Green chillies – 2 to 3 (or add more as per spice level desired)
Turmeric powder/ haldi – 1/8 tsp
Fresh coriander leaves – 3 tbsp (optional)
Onion – 1 small (optional)
For tempering/ tadka
Coconut oil – 2 tbsp
Curry leaves – 7 to 8
Mustard seeds/ rai – ½ tsp (optional)
Wash raw rice. Soak 5 to 10 mins if req. Wash, peel, chop, vegetables as per their type – cut into even and medium size pieces.
Bring water to a boil in a large vessel. When water begins to boil add vegetables one by one – first put vegetables that normally take longer to cook (like ash gourd, drumstick, potato, etc). After a few mins add the other vegetables, raw mango (if adding).
Finally add salt, mix, cover and cook. Stir 2-3 times in between to cook vegetables evenly. Cook till all vegetables are 3/4th cooked. If there is excess water, drain some of it.
As the vegetables are getting cooked, grind together the ingredients for the paste. Add to the vegetables when 3/4th done. Boil/ simmer for 5 mins.
Add the curd, simmer 3-5 mins. Keep stirring in between to avoid curdling. Taste and adjust salt.Remove from heat.
For tadka, in a small pan heat coconut oil. Add mustard seeds and let splutter. Add curry leaves and pour this tempering over the avail. Immediately cover with the lid to retain the aroma. Set aside 1-2 mins.
Then serve hot with steamed rice and papad.
If adding raw mango, chop into medium chunks and add. Then reduce the amount of curd accordingly as the raw mango itself is sour.
Instead of adding tempering, you may pour 2 tbsp raw coconut oil over the avail after removing from heat.
To use yam – scrape yam and chop. Then wash under running water by turning them with the help of a perforated ladle. Then add to the vessel by draining yam in the ladle. Never touch washed yam with bare hands as it will leave marks in your hands.
Adding onions to paste is very optional. Traditional Kerala Avial does not have onions. But adding it gives it even more flavour and a nice consistency gravy.
Add vegetables of your choice from the above list. It is not necessary that all the mentioned vegetables be added.
Vegetables like cabbage, beetroot, cauliflower are not found in an avail.
Cut vegetables into even sizes for even cooking.
Coconut oil is a must – either in raw form or as tempering.