…for a bellyful of joy and some power packed food!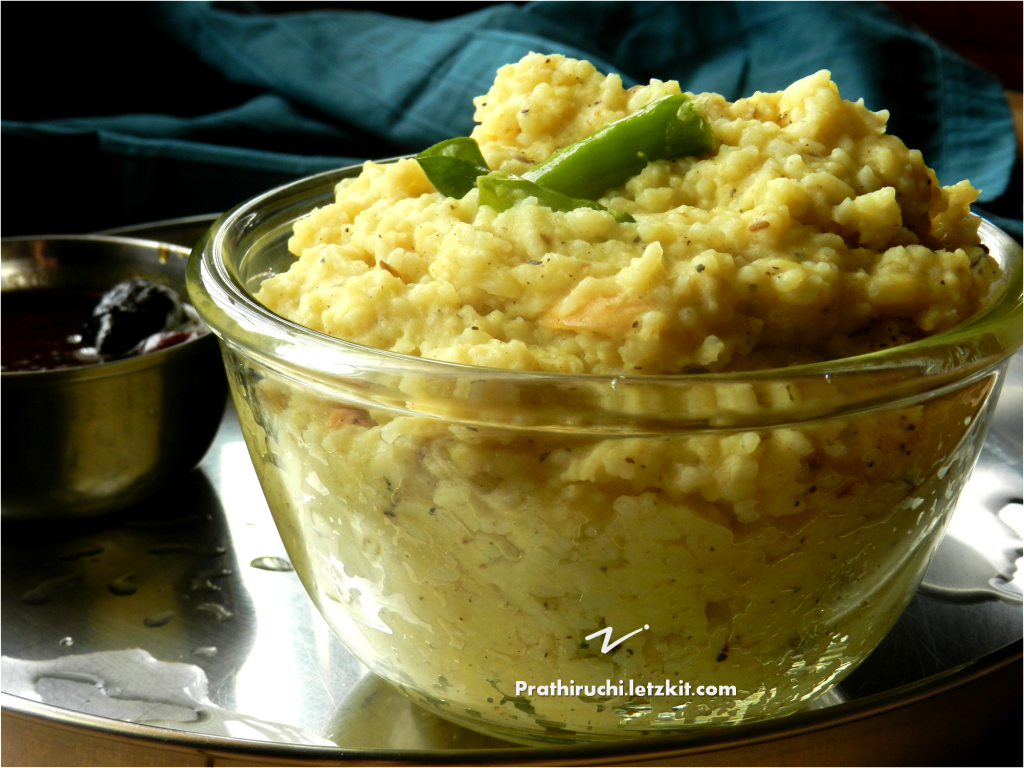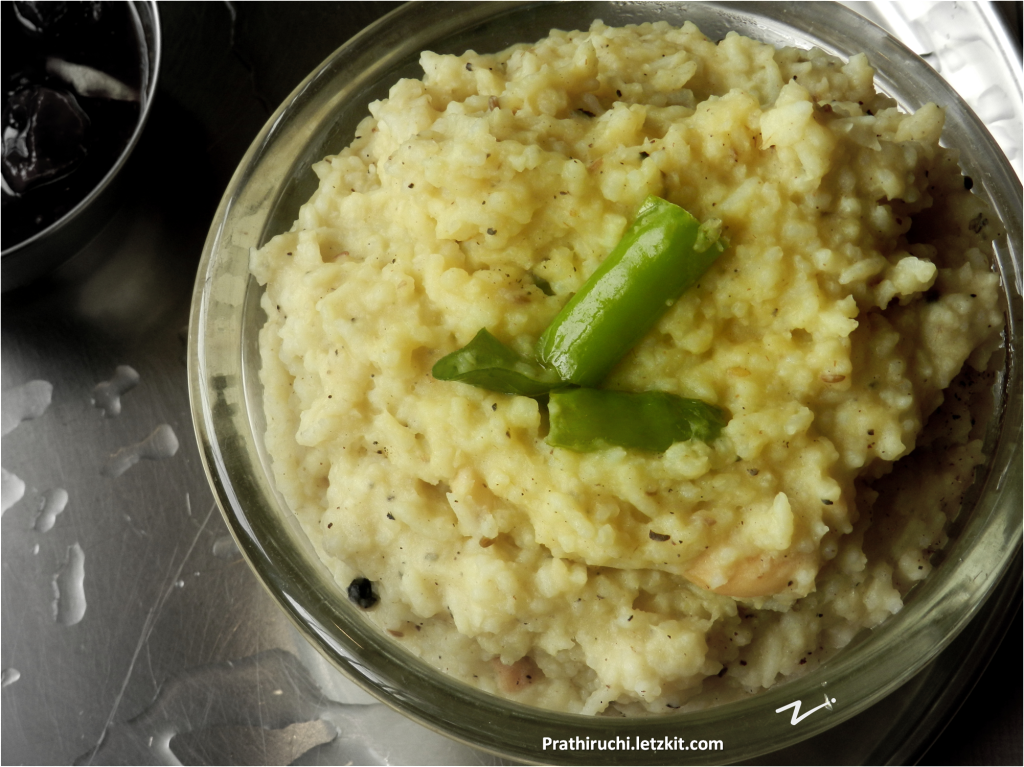 Pongal, a classic breakfast or a festival dish in South Indian homes. To make it more clear, it is a South Indian 'kichdi'. It is one of the soul foods, were a meal of pongal conjures up wonderful memories and of course promises a satisfying and comforting experience. Another reason to be making pongal often – it is pretty easy to prepare and needs almost zilch pre preparation! Now isn`t that a very good reason for it be popular? Besides it being laced with wonderful aromas of ghee, cumin and pepper or crunch from the cashew.
And there is the nutrient factor.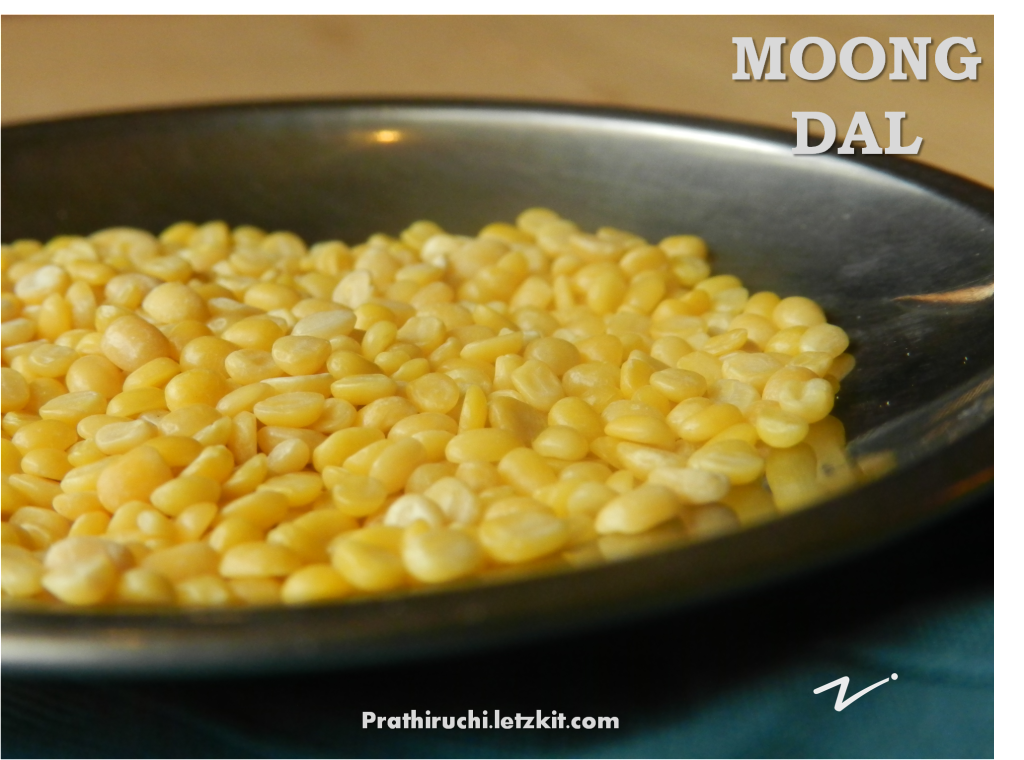 Moong or the 'queen bean'
* It is an excellent source of vitamin B and so good for steady and strong functioning of the heart in addition to other B vitamin benefits.
* Moong is also a good source of iron, the key to healthy blood and haemoglobin production. Wait, there is more. Moong also had good amounts of copper, without which iro cannot produce haemoglobin and zinc, which is necessary for maintaining normal blood sugar levels.
* Moong contains significant amounts of magnesium, which acts as a relaxant, relaxes muscles and calms the nerves. This means it can also prevent your heart from beating irregularly.
* Moong is also one of the most nourishing foods and also one of the easiest to digest.
Rice, one among 'beautiful foods'
'Rice is a beautiful food. It is beautiful when it grows, precision rows of sparkling green stalks shooting up to reach the hot summer sun. It is beautiful when harvested, autumn gold sheaves piled on dikes, patchwork paddies. It is beautiful when, once threshed, it enters granary bins like a (flood) of tiny seed pearls."
~Shizuo Tsuji, Japanese chef
"Rice is vitality, rice is vigour too, and rice indeed is the means of fulfilment of all ends of life. All gods, demons and human beings subsist on rice."
~Krishi Parashara, a book on agriculture written in Sanskrit
* Rice, an ancient, sacred food. Ayurveda considers rice as the perfect healing food that is soothing and nourishing.
* Rice is one of the easiest food to digest and completely free of allergens.
* Rice has no cholestrol and is low in fat and sodium.
* Rice in its unpolished form is rich in B vitamins and minerals like iron, magnesium, zinc and potassium.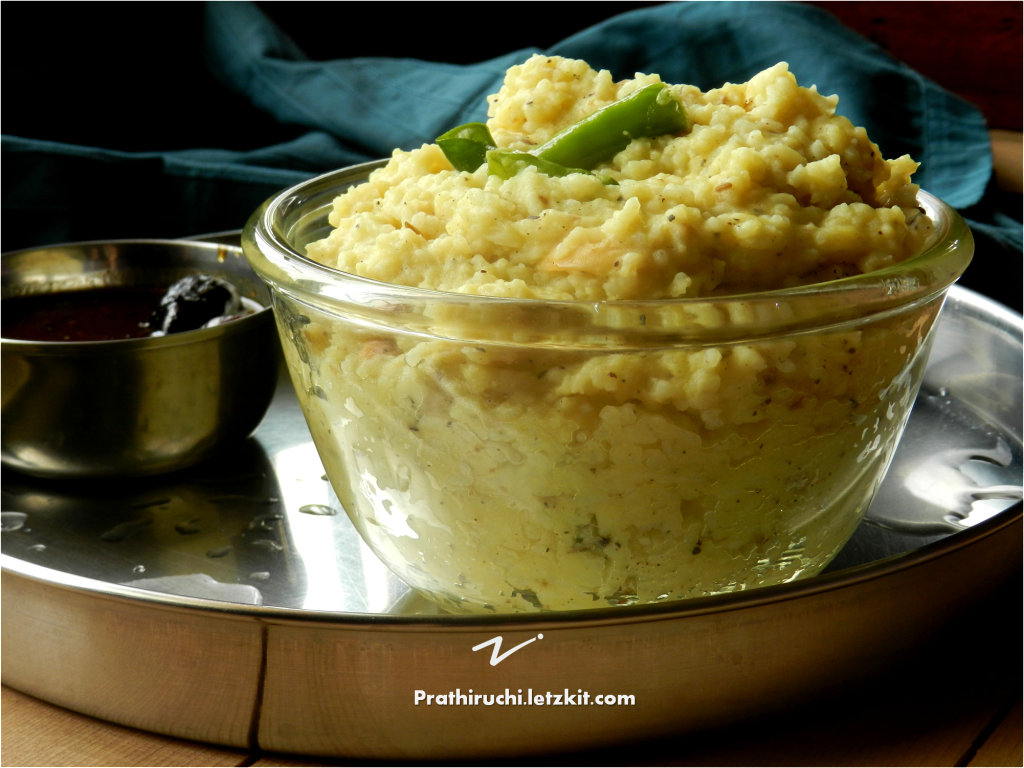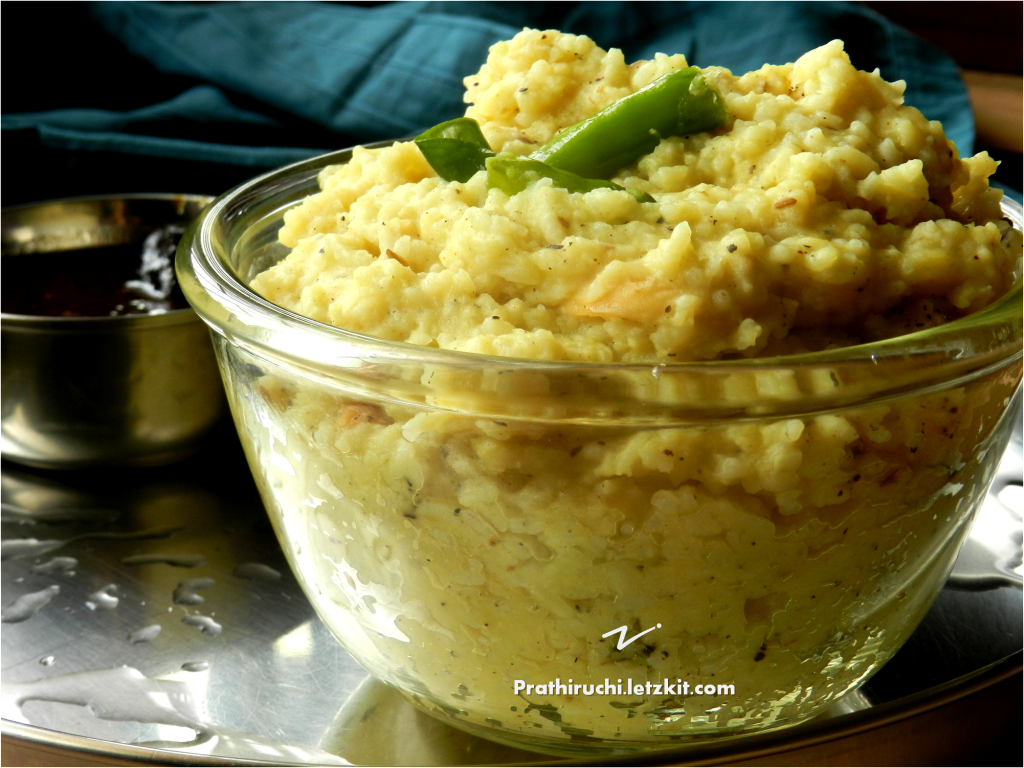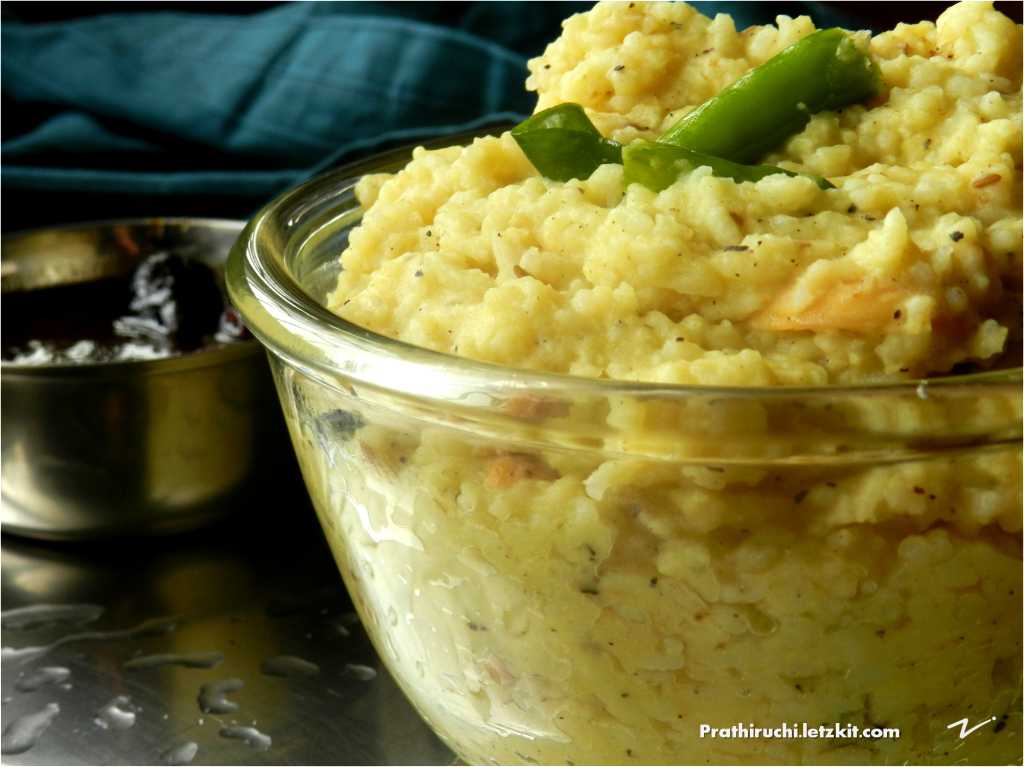 Pongal goes well with coconut chutney or onion pachadi, both authentic way of serving. Even sambhar or Gosthu or puli gojju make tasty accompaniments to a traditional pongal.
Now, enjoy pongal for breakfast, lunch or dinner. Whenever you want something quick, something healthy, something comforting and yet is tasty! And my dear mother -in-law Latha Rao`s version of this pongal is tasty no doubt!
Khara Pongal
A traditional and popular breakfast dish of South India.
Serves 4 to 6
For rice-dal mixture
1 cup rice (short grained variety – sona masoori or parboiled rice)
1 cup moong dal
1/2 tsp turmeric powder (haldi)
1 tsp whole black peppercorns
1 tsp cumin seeds (jeera)
1 tbsp ghee (clarified butter)
5 to 6 cups water
For tempering
3 tbsp vegetable oil
3 tbsp ghee
1 tsp mustard seeds
2 to 4 green chillies (slit)
1/4 tsp hing (asafoetida)
1 sprig curry leaves
3 to 4 tbsp cashew
Other ingredients
2 tsp whole peppercorns
2 tsp cumin seeds
1 " ginger – grate or crush roughly
salt to taste
To serve
coconut chutney or
onion raita (pachdi or)
puli gojju or
sambhar/gosthu
For the rice-dal mixture
Wash the rice and dal thoroughly. Drain.
In a pressure cooker put the rice, dal and saute till just warm. Add in the peppercorns, cumin, turmeric, ghee. Mix. Add 5 to 6 cups water (as per consistency desired). Close lid, keep weight and pressure cook for upto 3 whistles. Open lid once pressure drops.
Proceed
Meanwhile, pound together 2 tsp each of peppercorns and cumin to a coarse powder in a mortar and pestle/ mixer, set aside. Grate or grind ginger coarsely. Slit green chillies.
For the tempering, heat oil and ghee in a pa. Add cashew and let start to turn light brown. Then add in the mustard, green chillies, ginger, curry leaves, hing. Saute few seconds.
Then add the pepper-cumin powder. Mix and immediately add to the cooked rice-dal. Keep over heat and add salt, water if needed for consistency and heat through, for about 5 minutes.
Remove from heat and serve hot with accompaniment of your choice.
Adjust quantity of water as per desired consistency. Generally pongal is of moist consistency. Amount of water also depends on the type of rice, you may need less or more.
Adapted from Latha Rao`s recipe collection