It was one of the warmest afternoons last Sunday. One of those days when a sane person would decide to relax, sipping into some lemonade with the air conditioning humming at the background. But well, it was a different scene altogether at our home! Mom had just finished making a simple Goan Potato Curry for lunch and it was time for some 'Breaking Bread with Family'! . And yet there I was in the kitchen, literally planning on breaking bread, getting all ingredients ready to bake some bread! This was an easy bread recipe I had come across and just had to try it out, whether the weather was conducive or not!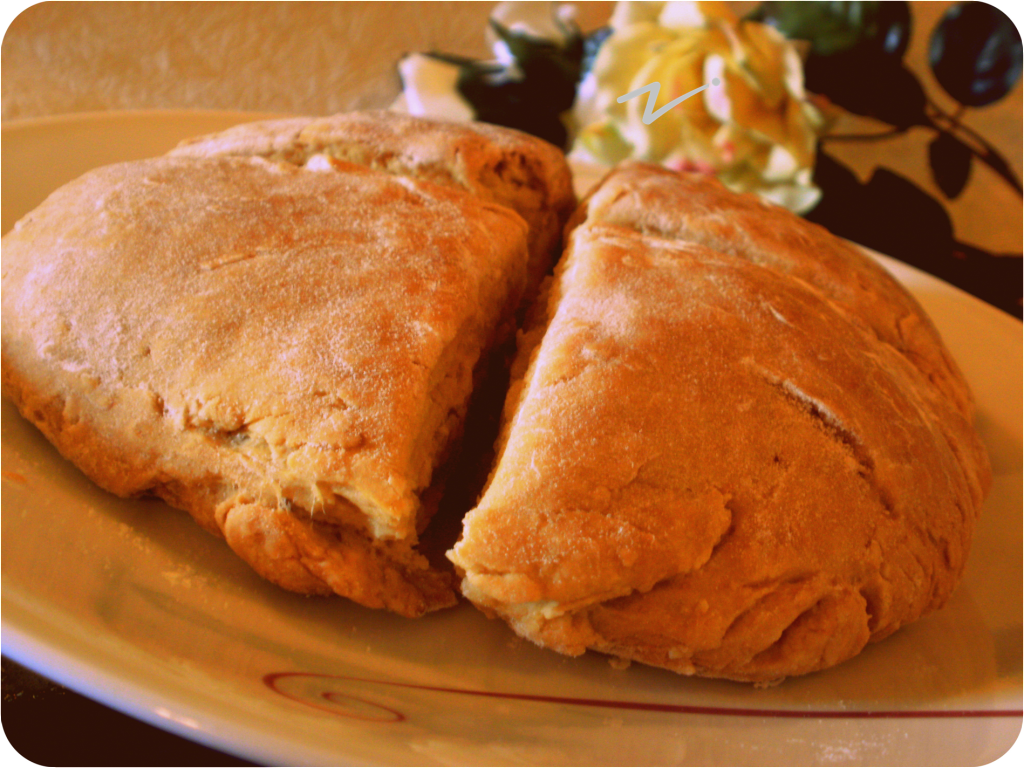 Though making bread had been on the top of my list, I had never attempted making them till I made this easy Irish Bread. Its the using of yeast that makes me hesitant to try it out. This particular recipe makes use of baking soda & buttermilk & seemed like the perfect bread recipe to start with. Its hard to go wrong here as it calls for few simple ingredients & a simple kneading process. It has a rustic look, is very mildly sweetened and goes perfectly with some spicy garlic butter.
Irish Soda Bread is a traditional and a quick bread recipe of Ireland. Here the flour is typically made from soft wheat, also called cake or pastry flour, which has lower levels of gluten than bread flour. There are various forms of soda bread, made from wholemeal or white flour.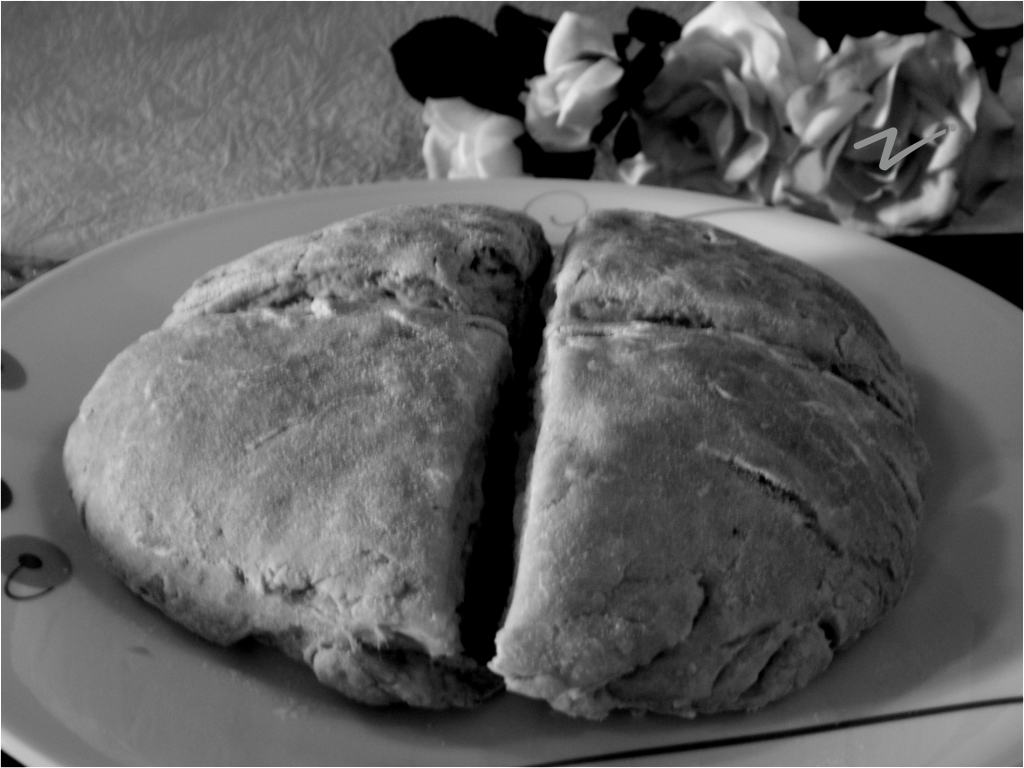 Irish Soda Bread
Quick bread recipe from Ireland.
1.5 cups plain flour
1 tsp baking powder
1 tsp baking soda
2 tbsp butter (softened)
1 tsp sugar
1/2 tsp salt
1 tsp honey
1/2 cup buttermilk
For spicy garlic butter
Softened butter
grated garlic
chilli flakes
Sieve together the flour, BP and baking soda twice.
In a mixing bowl put the softened butter, sugar, salt, honey. Mix well with spoon till well blended.
Add the buttermilk and mix once. Add the sieved dry ingredients and mix once with spoon. May add little more buttermilk if dough is too stiff. But it should be too sticky or wet.
Now knead/ mix with hands into a dough. If required you may add few more tbsp of buttermilk but 1/2 cup was all that I needed. Knead the dough over a floured platform lightly and without applying too much pressure. Sprinkle some more flour on the the platform if req. Knead till the surface of the dough is smooth. This wont take long, may be 5 to 7 mins.
Flatten the dough (not too thin, may be similar to the thickness of a thick pizza base). Keep the dough on a floured baking tray. Sprinkle a tsp or two of flour on top of the rolled out dough.
Make a vertical slit in the centre of the dough, not all the way through. It should be just enough to let the bread bake well and also to mark the portions for serving. Do the same horizantally. Now you have 4 equal slices. Sprinkle very little flour between the slits.
Bake in a pre heated at 160 C for 30 mins till most of the top turns light brown. Keep 5 to 10 mins more if req.
Serve this freshly baked bread warm or at room temp with Spicy Garlic Butter.
Mix together butter, grated garlic, chilli flakes & its ready! You may also add some dried oregano.
If the top is getting too dark when baking, cover the top with aluminium foil.
You may serve the bread as it is or toast the baked bread before serving.
You may also add some raisins to the dough.
This bread calls for minimum handling of dough and should not be kneaded too much.
Do not use self raising flour as the recipe already contains baking powder.