This is one recipe I found in my mom`s diary that I had planned on making since a long time. And just like other dishes, this one too did not materialize…until recently!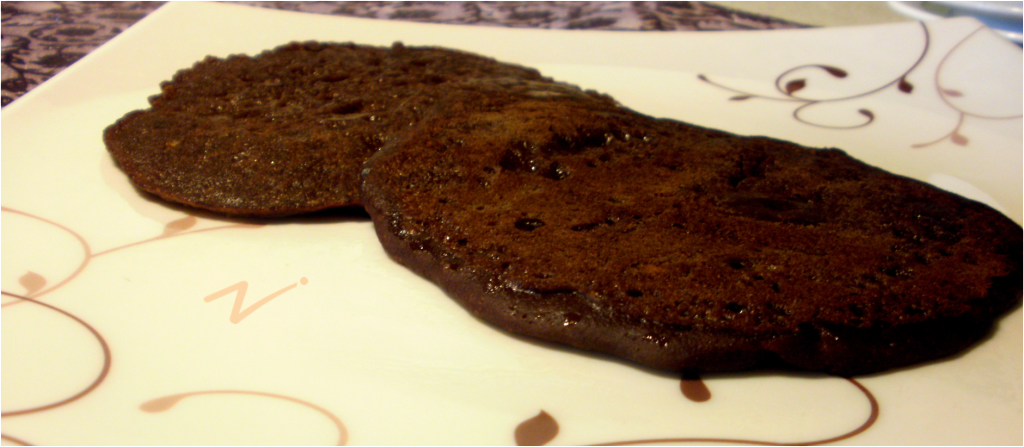 Mom does not remember from where she had noted this recipe and the actual measurements were not mentioned. So mom & I referred a few basic pancake recipes and worked out our own measurement. And they turned out perfect! Its pretty simple to make and will hardly take 30 mins! What caught my attention was the ingredients used – adding wheat flour makes it healthy along with goodness of apples, milk and you also have the 'chocolat-y' flavor in it..Kids would definitely adore these pancakes for breakfast or for eve..And when the pancakes are being cooked, it actually smells like a cake is being baked.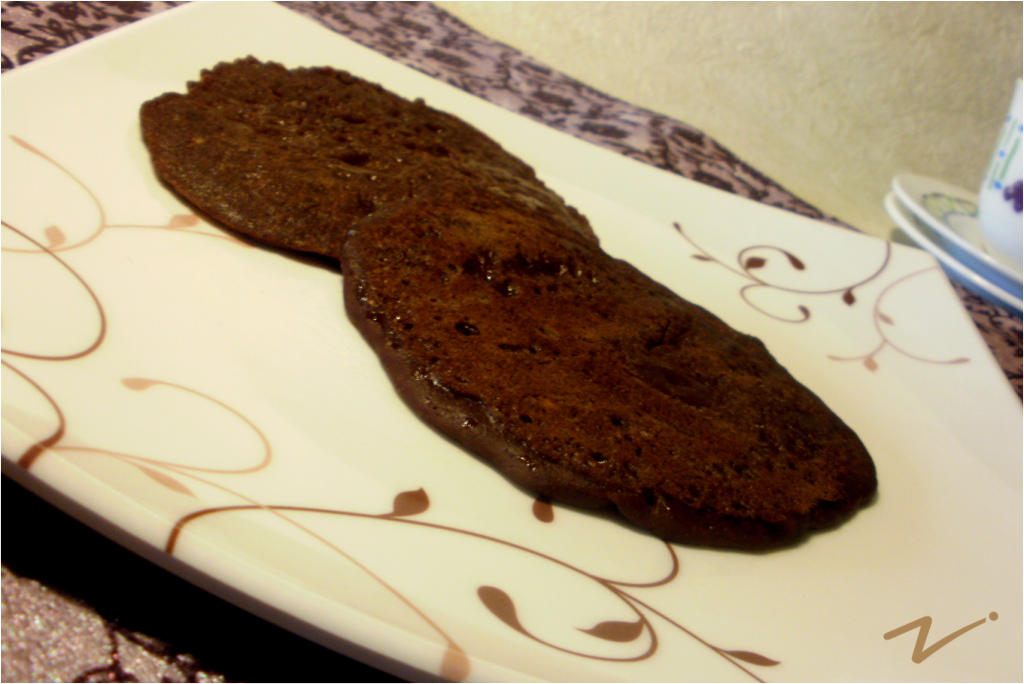 It was a delicious & not-to-be-soon-forgotten meal today eve..And just like lil kids, sis & I relished it watching 'Phineas & Ferb' on Disney channel! (And let this be our little secret!!)
Chocolate Pancakes
Cocoa and apple eggless pancakes!
2 cups plain flour or whole wheat flour
4 tbsp cocoa powder
1 big apple (firm variety)
2 tbsp melted butter
4-6 tbsp castor sugar
1/4 tsp vanilla essence
1/4 tsp baking powder
Milk – as required
Few tsps butter – to cook the pancakes
In a bowl add the flour, cocoa powder, BP. Then grate the apple into this flour mixture. You do not need to peel it.. Saves lot of time here!
Add the melted butter, castor sugar, vanilla essence & mix once. Then add milk & mix till you get the right consistency. We needed about 2 cups and may be a tad more milk. You need to get a pouring consistency as that of normal pancake batter but not thin as crepes. You don`t need to spread the batter in the pan.
Taste and add more sugar if required.
Heat a non stick pan & melt a little butter. Take a ladle and take batter in it upto 3/4 full & pour into the hot pan. The pancakes should not be too thick. Once the underside is cooked flip and cook the other side too till done. Check to see that the insides are not raw.
Remove and serve them hot drizzled with maple syrup or with any jam/ conserve of your choice. Makes one delicious weekend breakfast or a snack for the evening!
Adapted from Amma`s recipe diary