A tasty way to use leftover cooked rice!

How often do we hear the line "Failure is the stepping stone to success" when being given a pep talk by our well wishers! And these lines are supposed to rebuild one`s confidence to tackle difficult situations head-on, with a brave face. They are not a mere soliloquy but a trumpet call to the ones who have experienced hardships that seem to pull down, when in reality it can be turned into a learning experience!Life, as we know, is bound to have a few roadblocks on the way. You may look for a pit stop, a moment to pause, catch your breath and to contemplate. But of course the road to reach the destination is still quite long.Every challenge we come across gives us an experience from which we can build on or improve. Every difficulty we encounter builds our strength. Every failure teaches us a lesson. Its these eye-opening experiences, the new found strength and lessons learnt that can physically and emotionally make us a better person.With a little bit of faith, a little bit of commitment, a little bit of thinking and creativity a Herculean task can be transformed into a blessing or a wonderful experience!
~By Anjali Rao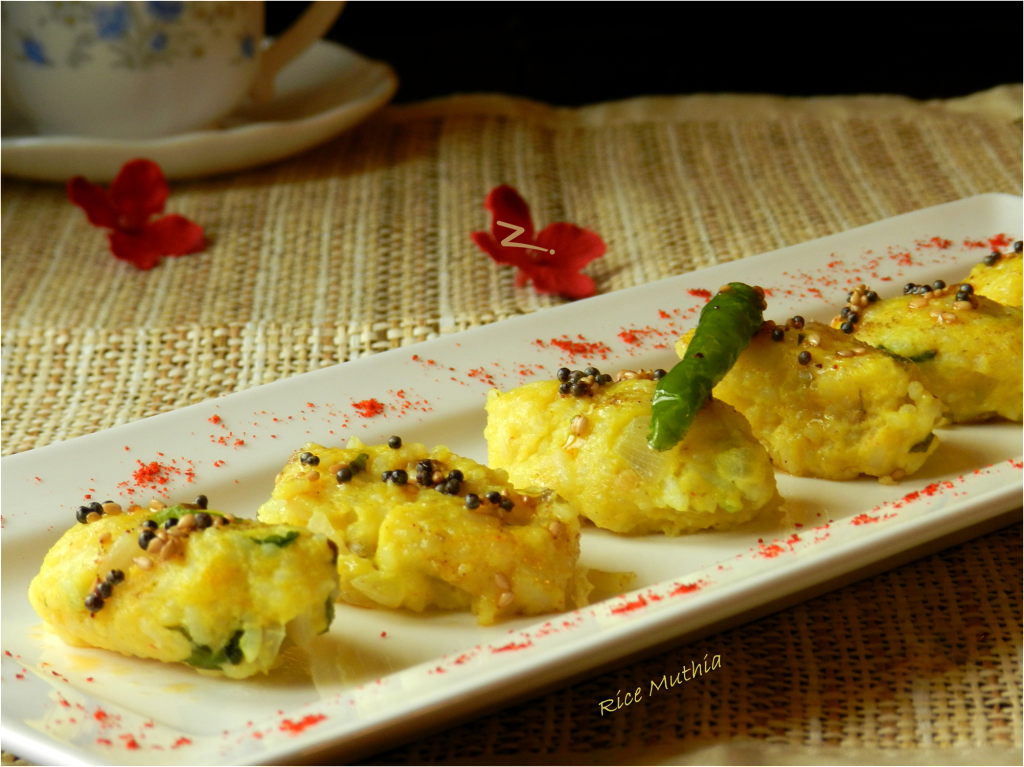 This inspirational write up by my sister got me thinking. A situation that calls for worries or negative emotions to surface or that makes us panic and think we will only be pulled down deeper into the unknown abyss can indeed be transformed to our advantage!
Like I said, this got me thinking. And like always I tried applying this 'philosophy' into daily cooking! Did the fact that I was hungry when thinking this over make my mind wander towards cooking?I wonder..Anyways how did I go about putting it into action? Well, a bowl of cooked rice sat at the kitchen counter. Now if its not wiped out soon it will make its presence at the dinner table once again! Now this situation would call for some negative emotions to surface – no enthusiasm to have dinner, criticisms because of the frequent appearance of this bowl of rice!!
I ponder all this while it still sits there at the kitchen counter unaware of all the drama to unfold! I grabbed the bowl of rice as I remembered a recipe I had come across using leftover rice.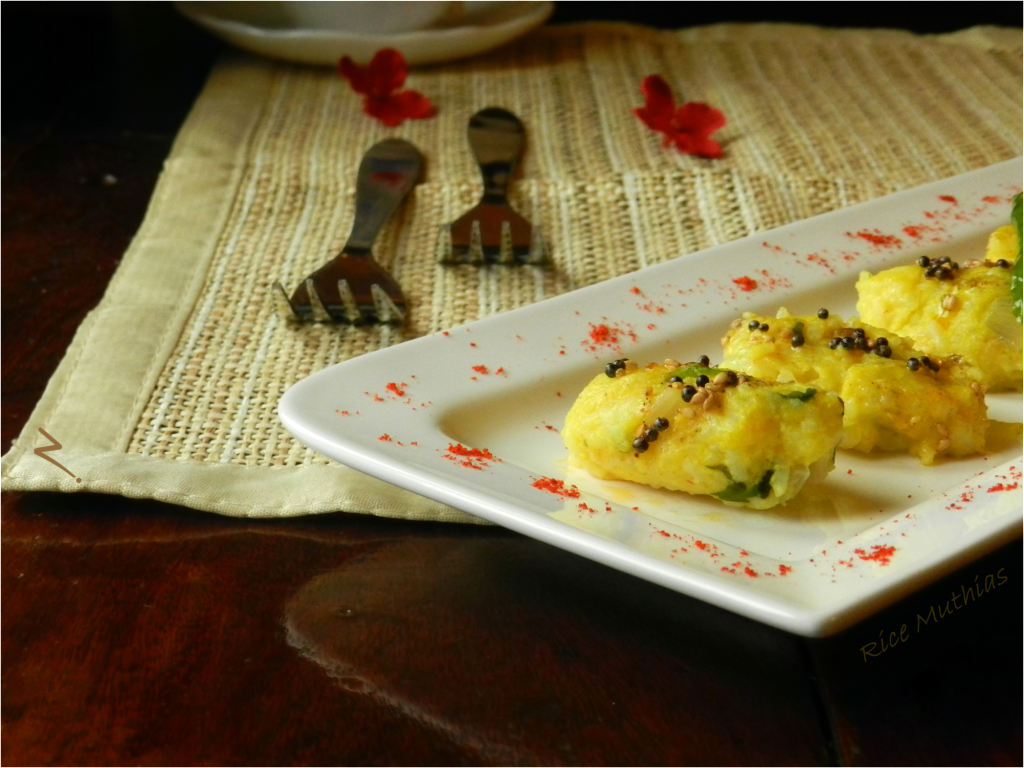 A traditional gujarathi dish called muthias are generally made from fenugreek leaves or bottlegourd (lauki), mixed with gramflour and steamed. Then tempered with sesame and mustard seeds these make delightful and healthy snacks.
The recipe I came across used the same recipe but replaced the vegetable with cooked rice! Trying it out was well worth the very little effort it needed. It made a quick, healthy, delicious snack for the evening and went on till dinner time!
Yes, the rice did make its appearance at the dinner table – but in its transformed form it was well accepted by all!
Leftover rice can even be used to make pakoras, kebabs, parathas, uttappams and I am sure plenty more tasty dishes. Will post the recipes sometime. Meanwhile hope you enjoy this tasty tiffin recipe!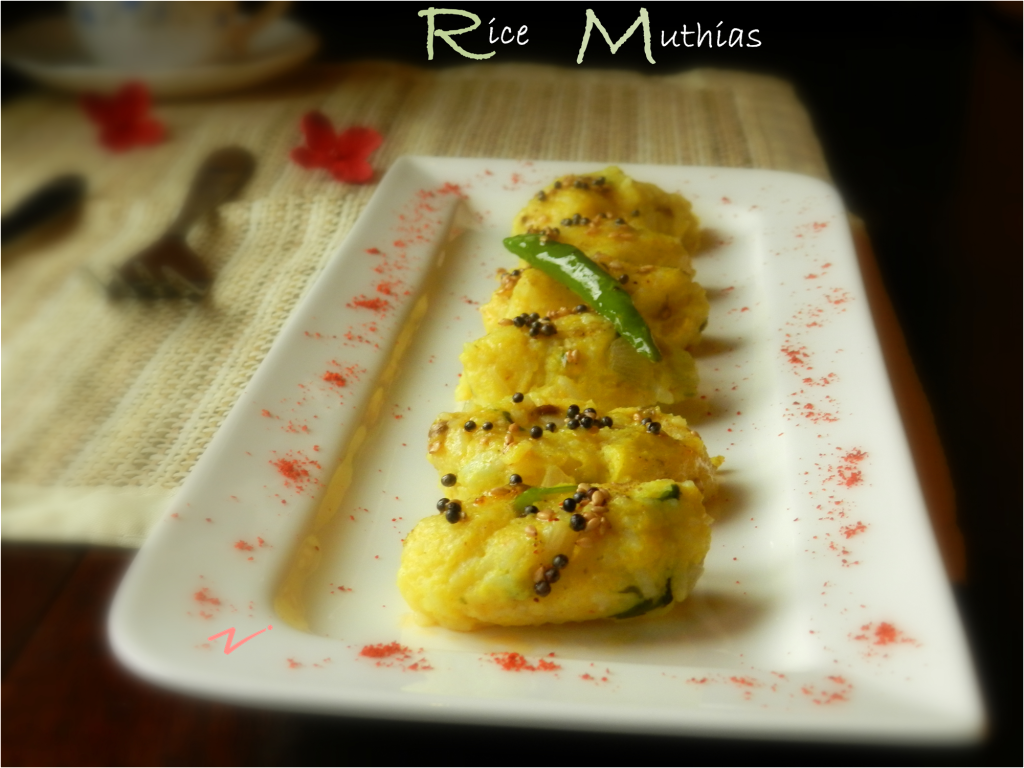 Rice Muthias
Traditional Gujarathi dish with a twist
Cooked rice – 1 cup
Besan/ gram flour – 2 tbsp
Onions – 1 small
Spring onions – 1 cup (green and white portion – optional)
Coriander leaves – 2 tbsp
Green chilli and ginger paste – 1 tbsp
[~ 2 to 3 green chillies & 1" ginger]
Red chilli powder – ½ tsp
Chaat masala – ½ tsp
Hing/ asafoetida powder – ½ tsp
Oil – 2 to 2 ½ tsp
Turmeric powder/ haldi – 1/8 tsp
Coriander seeds/ dhania – 1 tbsp
Salt to taste
Few tsps oil to grease/ drizzle
Chaat masala – to sprinkle
For tadka/ tempering
Oil – 1 tbsp
Rai/ mustard seeds – 1 tsp
White sesame seeds/ til – 2 tsps
Green chillies – 2
Kashmiri chilli powder – ½ tsp (optional)
To serve
Chop the onions, spring onions (if adding) finely. Wash and chop coriander leaves finely. Make ginger and green chilli paste. Slit the green chillies for tadka lengthwise. Mash the rice well with hands.
In a bowl add in all the ingredients from cooked rice to salt. Mix and mash well.
Keep a steamer over heat (with bottom filled with water as usual).
Grease palm and shape the rice mixture into muthias or make balls and flatten slightly or simply make it into desired shapes. But keep the size small so as cook well.
Arrange them on steamer plate. Drizzle muthias lightly with oil if required. Keep the plate inside the steamer and steam for 8 to 10 mins over medium flame. Remove and sprinkle with some chaat masala while still hot..
For tadka, heat oil and add mustard, sesame, let splutter. Remove from heat and add slit green chillies, chilli powder (if adding). Mix and pour evenly over the steamed muthias.
Serve hot with green chutney.
Muthias taste equally good even without the spring onions. You may increase the coriander leaves to 3-4 tbsp if not adding spring onions.
Adding chilli powder to tadka is just for color and optional.
Ideal recipe to use of leftover use leftover short grained/ sona masoori cooked rice.
Do not add too much besan as it will make muthias floury/ raw on the inside.