India is a country with diverse cuisine, from rustic to elegant, rich to simple, spicy to mild and sweet. One can travel all over the country, from North to South and East to West and come across plethora of flavors that are so very different and yet have certain similarities.
Today`s focus in on Konkan coastal cuisine, food of west coast of India. The konkan fare boasts of fresh and spicy cuisine. Coconut is widely used in most of its dishes. Vast varieties of red chillies are found and make their way into dishes and gives them their distinctive red hue and spice.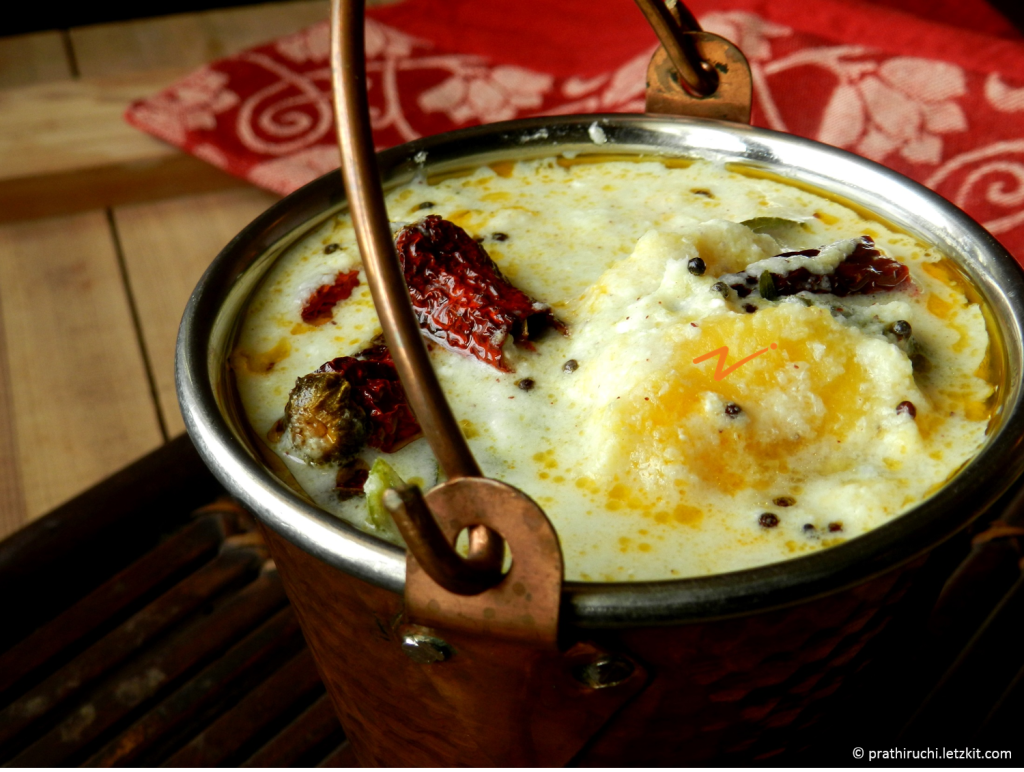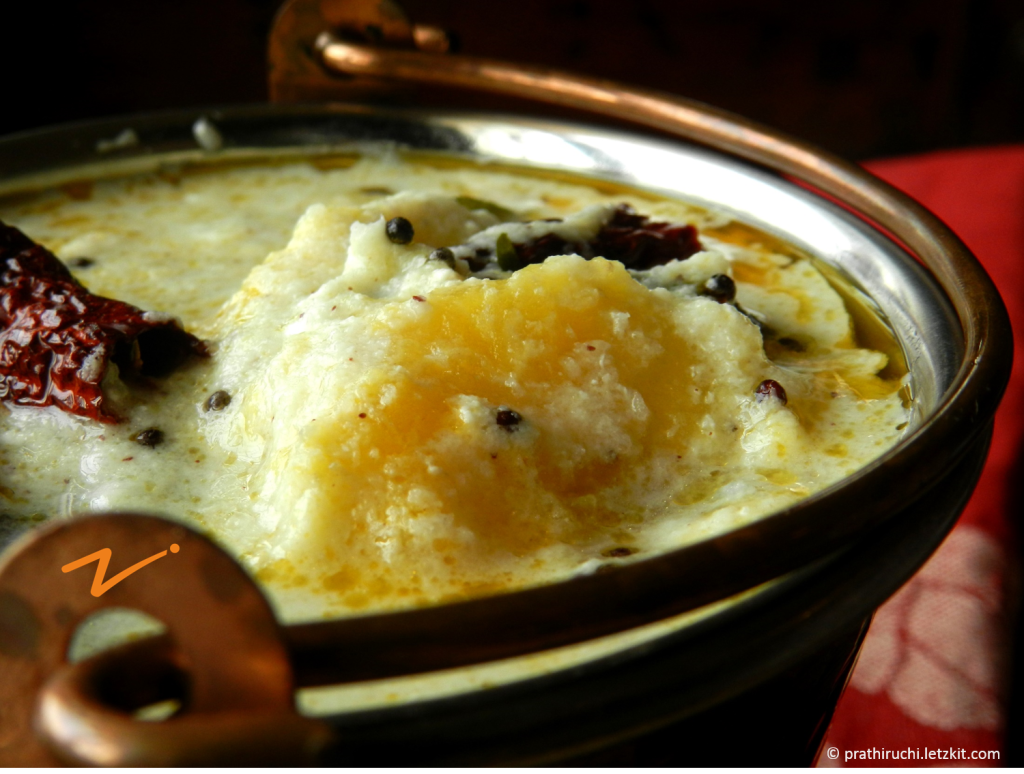 Talking about this cuisine makes me nostalgic. Though being miles away from this region, the whiff of palm fringed beaches, the aromas of fresh coconut masala, tantalizing flavors of Udupi rasam seem so real at the moment. The cuisine is a testimony to how just a few, fresh ingredients can create such alluring dishes. The Konkan cusine is not confined to Udipi cuisine alone but encompasses Shivalli Brahmin cuisine, cuisine of the Bunt community, cuisine of konkani speaking gowda saraswat brahmins, coastal areas of Goa and Maharashtra. Navigate through these classes and you will find distinctive features differentiating these classes. Udipi dishes are slightly on the sweeter side while most of the authentic mangalorean dishes are spicy.
What ties them all together is the use of fresh ingredients and produce. Like the coconut that is found in a abundance finds its way in most of the delicacies. One such dish is the 'Kai Huli', kai meaning coconut and huli is a gravy based dish. It is a coconut based dish that is mildly spiced and has tangy undertones to it. The main ingredient can be vegetables like mangalore cucumber, tendli, raw banana, pumpkin, brinjal, seemebadnekai (chayote squash). Or fried dal vadas too can be added in place of vegetables. Another lesser known ingredient used in the nendran balehannu or nendran variety of banana. This gives a dish a sweet flavor too. There is nothing elegant about the curry base. Yet when the final dish is put together it can be an extremely satisfying dish. The coconut base is not to be fiddled with much. The experiments can be in main ingredient. Adding different vegetables each time gives the dish unique flavors.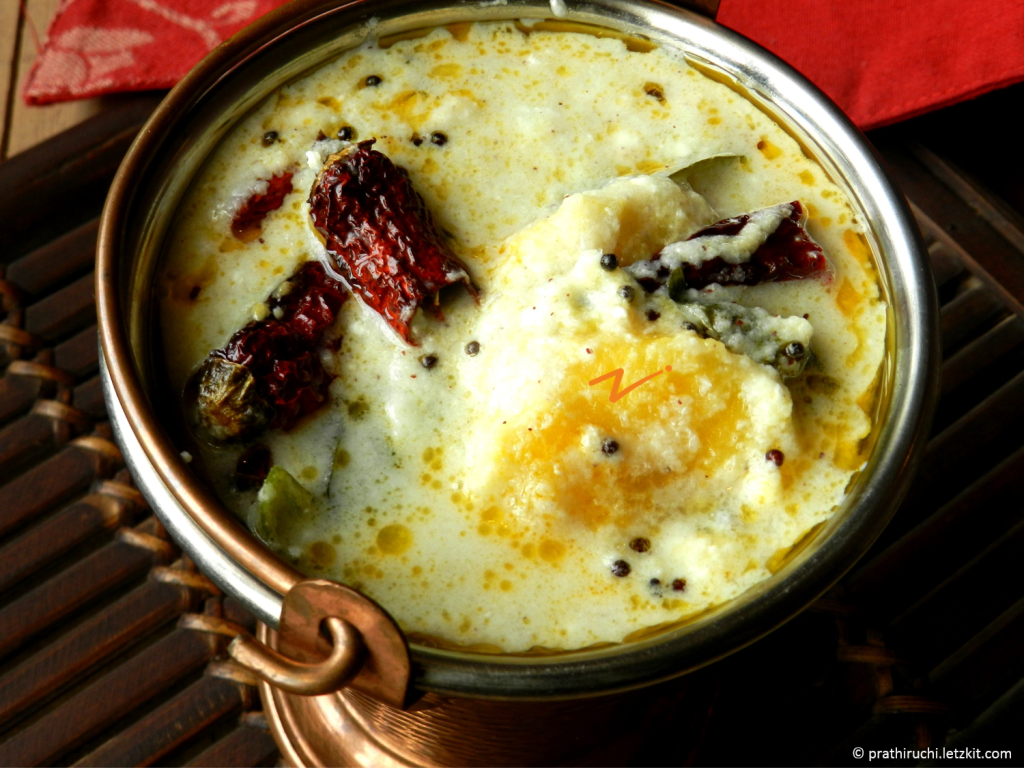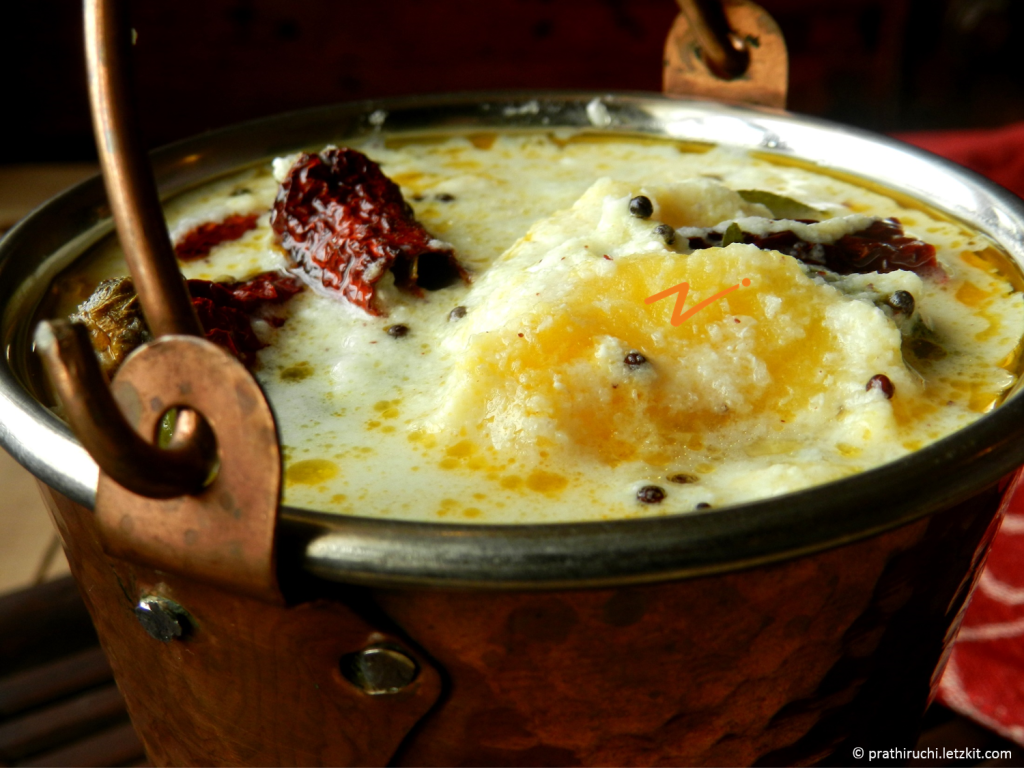 Nandran Balehannu Kai Huli
A coconut based gravy with nendran banana as the highlight!
1 to 2 nendran banana
1/2 to 1 cup slightly sour curd or plain buttermilk
For the masala paste
1/2 cup coconut
2 to 4 dry green chillies
1 tbsp raw rice
salt to taste
For tempering
2 tsp ghee
1/2 tsp mustard seeds
1/8 tsp fenugreek seeds (methi)
2 dry red chillies (broken)
1 string curry leaves
Grind together the ingredients for the masala paste with some water till almost smooth.
Peel and cut nendran into medium thick round slices. Beat curd/ buttermilk.
In a saucepan put the masala paste, nendran, some water as needed for consistency. Simmer till just comes to a boil and nendran is softer. Do not overcook the gravy.
Switch off heat and add the curd/ buttermilk. Mix well
For the tempering, in a small pan heat ghee. Add mustard, fenugreek. Let crackle. Add red chillies, curry leaves and pour this over the kai huli. Cover with lid immediately and set aside for 1 min.
Serve with steamed rice, shemige, kadubu, chapathis.
There is no substitute for ghee (clarified butter).
Fenugreek seed/ methi is the main ingredient for any kai huli.
Adjust quantity of curd or buttermilk as per your taste. The dish should be slightly sour and not too watery.
Some make the dish with red chilli too in place of green.
In place of rice for paste you can add little cashew.